Under normal circumstances, the Ohio State football team would currently be in its third week of spring practices and knee-deep in preparation for the upcoming season this fall.
Instead, coaches and the majority of players aren't even on campus as the Woody Hayes Athletic Center is currently closed, classes for the spring semester have moved online, all organized team activities are suspended indefinitely and it's uncertain when they will be able to resume due to the nationwide COVID-19 pandemic.
That's forced Ryan Day and his staff to adapt and find ways to continue coaching their players and help them prepare for the season that they hope will happen this fall, even though they aren't able to be with them in person.
So far, Day believes his players – with the help of Ohio State's football staff and academic advisors – are handling the situation quite well as they adjust to taking all of their classes virtually and being away from their teammates and team facilities. 
"It sounds like, just in the interactions that our coaches are having with our players, they're doing well," Day said Wednesday in a teleconference with reporters, his first time speaking with the media since spring practices were shut down. "Although it's kind of a strange time, they're handling it well. The communication through the classes virtually and online isn't as foreign to them as maybe it is to you and I. So they won't be as frustrated as maybe you and I might be."
Day believes it is crucial, though, for Ohio State's coaches to continue to communicate with their players on a regular basis to ensure that they are continuing to do well and receiving the same kind of feedback that they are accustomed to. 
"I think that this generation more than ever has gotten a lot more feedback, and is used to that feedback, so the interaction is really, really important. And I think the more interaction we give them, the better off they're going to be," Day said. "We have to just make sure that we're staying on top of the communication and that interaction, because I do think there's a void there, that they're gonna start feeling as time goes on more and more. And we'll just keep trying to address that as time goes on. But I think overall, they're doing OK."
Ohio State's assistant coaches are responsible for most of the individual interaction with players in their position groups – for example, wide receivers coach Brian Hartline tweeted a picture earlier this week of a virtual film session he held with Jaxon Smith-Njigba – while Day is currently holding two conference calls per week with his staff and virtual meetings with the team's leadership council, which consists of about 24 veteran players. It's difficult to hold full-team meetings remotely, Day said, but he does send messages out to the entire team through videos and texts.
This quarantine is not going to stop us from getting better.

You can never be to serious about something youre serious about.#Fight #BeDifferent #BeGreat #Buckeyes pic.twitter.com/WKqnqXk81F

— Brian Hartline (@brianhartline) March 23, 2020
Mickey Marotti and his sports performance staff have sent workouts to players, academic advisors and tutors are continuing to work with players on a daily basis, sports psychologists remain available to address players' mental health needs and the nutrition staff has even been able to send some food home to players to help them with their diets. 
Day and his staff are doing whatever they can to provide as many resources as possible to their players, but there are limitations to what they can do. For one, because they're no longer practicing, they're required to abide by offseason rules for countable athletically related activities (CARA), which means coaches can only require players to participate in meetings and work out for up to eight hours per week. And because the coaches aren't able to oversee workouts themselves, they're largely left to trust the players to take care of their business themselves. 
If that isn't happening in the first place, though, Day says the Buckeyes will have bigger problems.
"If we have to check on you anyways or if you say you're doing something and you're really not, then we're not much of a team," Day said. "So we have the guidelines and sent them out. We've talked to them about the different things that are there on a daily basis. Certainly they could not do it, but we have an awful team if that's the case." 
"I think that this generation more than ever has gotten a lot more feedback, and is used to that feedback, so the interaction is really, really important. And I think the more interaction we give them, the better off they're going to be."– Ryan Day on communicating with players remotely
The other challenge players will face until team facilities open up again is that they don't all have access to the same workout equipment and space – especially now that fitness centers are closed in most states and people are being encouraged to stay at home – which means players have to adapt their workouts to fit their individual situations. Day said Marotti and his staff, though, have done what they can to provide solutions for each player based on the resources they have available to them.
"There's not a lot of people who have full gyms at their house. So that's kind of out. There are some people maybe that would have access to some dumbbells or something like that in their basement, but then there's other people who don't," Day said. "So that's where Mick and our strength and conditioning staff is doing an excellent job communicating with them, and sent them some bands and different things, some body weight stuff, sending them some videos to help them with just how they're going to operate in their own home. And how they can keep their strength and their weight up. Even if it's just running down the street or whatever it is running-wise, trying to give them things based on what they have, because everybody's in a unique situation."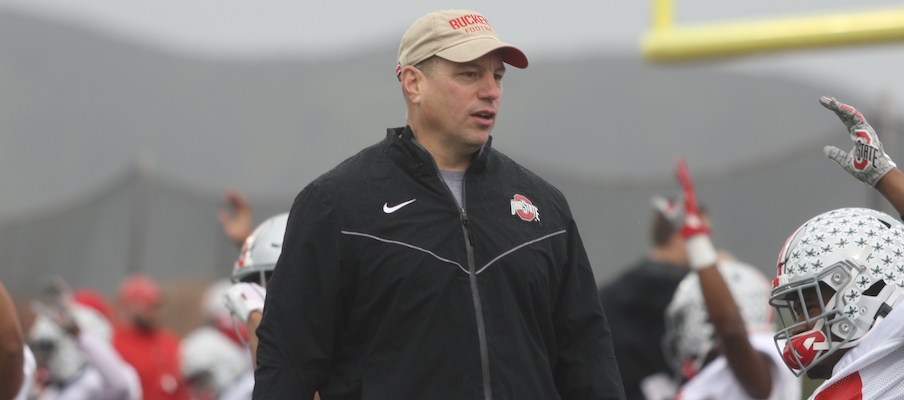 As for players like Master Teague who are rehabilitating from injuries, some of them have remained on campus – those who live in residence halls were able to file waivers with the university, as other students with extenuating circumstances could, to be able to stay on campus – and have access to the Jameson Crane Sports Medicine Institute so that they can receive continued treatment for their injuries. For injured players who have returned home to their families, Shaun Barnhouse and his athletic training staff have made arrangements for them to continue their rehab away from campus. 
Faced with unusual and unexpected circumstances, the Buckeyes – just like every other team in college football – are being forced to adjust and do the best they can to work through a difficult situation so they are prepared to return to the football field whenever that time comes. How far will this set college football teams back in their preparation if the season starts in September? Day doesn't know the answer to that question right now, because there's still so much uncertainty about when they'll be able to resume their usual routines.
What he does know is that it's up to him and the rest of his staff to do everything they can to keep the Buckeyes on track no matter how the upcoming months unfold, and up to the players to hold themselves accountable and do what they're expected to do to the best of their abilities.
"I think the accountability is at an all-time high in terms of making sure that these guys are doing what they need to do," Day said. "The older guys know what they're supposed to do. The younger guys need a little bit more guidance. But like everyone says, character is really shown when nobody's looking, and this is the ultimate test of that."