INDIANAPOLIS – As the 9 a.m. interview session began on the first day of media interviews at the NFL Scouting Combine on Tuesday morning, two former Ohio State teammates sat down at podiums next to each other in the middle of the room.
One of those podiums was set up for K.J. Hill, who completed his Ohio State career in December as the Buckeyes' all-time leader in receptions. Over the course of 20 minutes at the podium, Hill drew a steady stream of reporters who asked him about how he sees his game translating to the NFL, how Ohio State helped him prepare for the next level and which NFL teams he's met with in Indianapolis.
The spectacle of the day, though, was taking place to his right, where former Ohio State quarterback Joe Burrow – now the projected No. 1 overall pick in the 2020 NFL draft after he concluded his collegiate career as a Heisman Trophy winner and national champion at LSU – drew a horde of media that will likely be the largest crowd any player attracts in the media room all week.
While Hill is one of 11 players at this year's combine who finished his career at Ohio State, Burrow – who left Ohio State with two years of remaining eligibility in 2018, but could now return to Ohio if he is drafted by the Cincinnati Bengals – is this week's headline attraction in Indianapolis.
His former Ohio State teammates don't mind him stealing the spotlight.
"So super proud of that man," said Ohio State wide receiver Austin Mack. "I'm super happy for him, to see where he's at. His confidence is out the world right now, and it's awesome to see."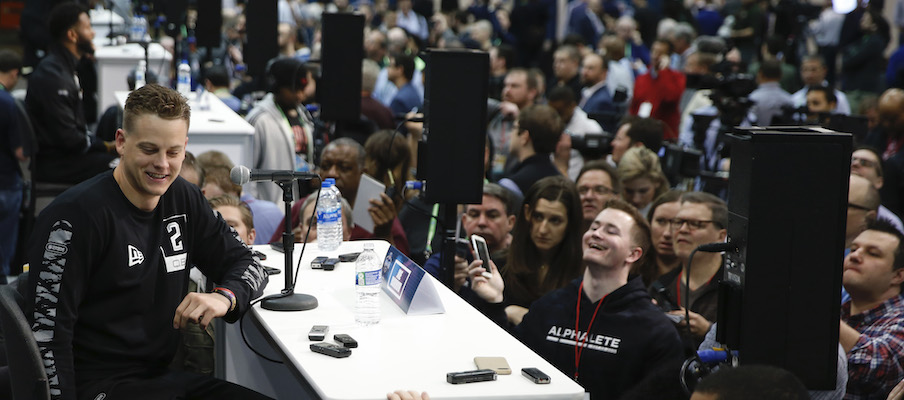 As the quarterbacks and wide receivers have gone through many stages of the combine process together this week, the three Ohio State wide receivers in attendance – Hill, Mack and Binjimen Victor – have enjoyed having the opportunity to catch up with Burrow, who never started a game at Ohio State but threw many passes to them in practice (and, in Victor's case, the first touchdown pass he caught as a Buckeye).
"We just been talking, playing around like we used to in the dorms back in the day. So it's great having him here and great seeing him," Hill said. "I'm just congratulating him, telling him, 'I thought we was gonna play against him (in the national championship game),' joking around and stuff."
Burrow's rise over the past two years, from a quarterback who faced the possibility of never starting a game if he stayed at Ohio State to a college football superstar now in line to be the face of an NFL franchise, has been spectacular. To many who only knew Burrow for being a backup quarterback for the Buckeyes, his breakthrough – at least to this extent – has been unexpected.
His former pass-catchers in Columbus, though, aren't surprised by his success.
"He is who he was back in the day," Mack said of Burrow. "A super hard, blue-collar, gritty guy who was going to work his ass off. All he needed was just the opportunity. And that's the same for anybody that goes to Ohio State. They can ball anywhere. You just need the opportunity."
"I'm super happy for him, to see where he's at. His confidence is out the world right now, and it's awesome to see."– Austin Mack on Joe Burrow
Hill considers Burrow's success to be another example, along with Cardale Jones leading Ohio State's run to the national championship in 2014, of how even the backups at Ohio State often have the talent to go on to do big things. Victor, like Mack, said the Buckeyes could see that Burrow had the right qualities to be a great quarterback once he got the chance to show it.
"He was always a good quarterback, he was always great actually," Victor said. "He made a lot of plays when he was with us. He knew the system and things like that. So he got an opportunity to do that somewhere else, and now he's doing it."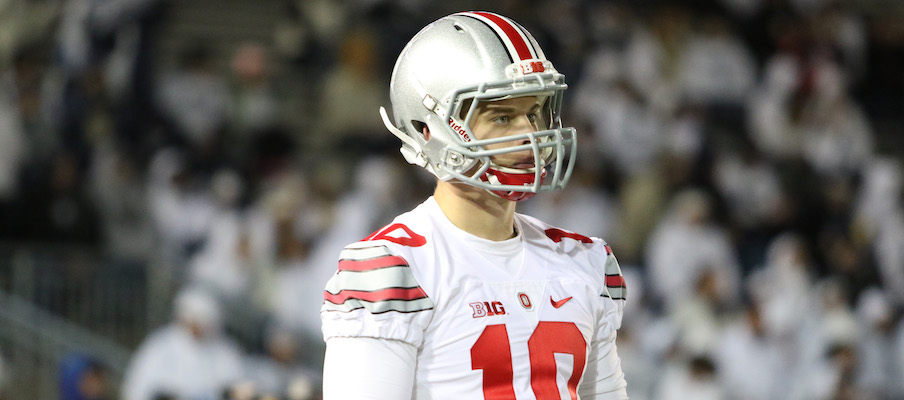 Although Hill and Burrow are in the same workout group that will take the field on Thursday, Hill won't have the opportunity to catch any passes from Burrow like old times. Burrow said Tuesday that he will not be working out at the combine, choosing to wait until LSU's pro day on April 3 to throw for NFL scouts.
That said, Burrow already answered the biggest question that was surrounding him entering the combine – that yes, he will play for the Bengals if they draft him with the top pick – and the Athens, Ohio native said Tuesday that the continued support he has received from Ohio State fans remains special to him.
"That meant the world," Burrow said. "I gave a lot to that program with my hard work. It didn't show on the field, unfortunately, but I did a lot of work behind the scenes. And for the fans to recognize that, it really did mean a lot to me, and I really did take notice."