There won't be any drama for Ohio State during next week's National Signing Day.
Having already inked 24 new players during the early signing period in December, Ohio State has only seriously pursued one additional recruit for the class of 2020 during the January contact period, and the Buckeyes can now rest assured that he will complete their class next week, as Cameron Martinez – who originally also planned to sign in December, but delayed his signing following Jeff Hafley's departure – reaffirmed his commitment to Kerry Coombs and Ohio State on Tuesday, confirming that he will sign with the Buckeyes next Wednesday.
Martinez's National Letter of Intent, barring any unforeseen developments over the next week, will be the only one Ohio State receives next Wednesday morning. The Buckeyes aren't awaiting any signing day announcements this year. With a 25-man class of 2020 prospects already – 14 of which are already on campus as early enrollees, with the other 11 set to arrive this summer – Ohio State's recruiting efforts have already shifted to 2021.
Ohio State's roster-building efforts for the 2020 season, in regards to adding scholarship players who could take the field for the Buckeyes this summer, are likely now complete.
While there are loopholes that would have allowed Ohio State to sign more than 25 players for the class of 2020 – the Buckeyes signed less than 25 players in 2019, so they could have retroactively counted a few of their midyear enrollees toward that class – there are no loopholes that allow a team to have more than 85 players on scholarship when the season starts, and including Martinez, the Buckeyes are now up to 87 scholarship players (not including incoming kicker Jake Seibert, who is expected to grayshirt) for 2020.
Ohio State is probably anticipating that at least two players will choose to leave the program and transfer elsewhere between now and September, but maybe not more than two – which is why the Buckeyes didn't pursue any additional unsigned 2020 prospects over the last few weeks. Unlike last year, when the Buckeyes summoned Justin Fields and Jonah Jackson from the portal, they don't appear to be making a serious run at any transfers, either.
Ryan Day and the Buckeyes didn't need to do that this year, though, because of how successful they were in keeping their recruiting class together – Clark Phillips, who flipped to Utah during the early signing period, was the only player other than Martinez who they expected to sign in December that ultimately didn't – and because they've almost no unexpected attrition in the month since the 2019 season ended.
Chase Young, Jeff Okudah and J.K. Dobbins were all expected to enter the 2020 NFL draft, so their decisions to leave a year early certainly didn't catch their coaches by surprise, but the Buckeyes didn't lose anyone else to early draft entry. Shaun Wade, Thayer Munford, Wyatt Davis and Josh Myers were all potential early draft entries that could have sent the Buckeyes to the transfer portal or back to the recruiting trail to add another player, but they all decided to stay.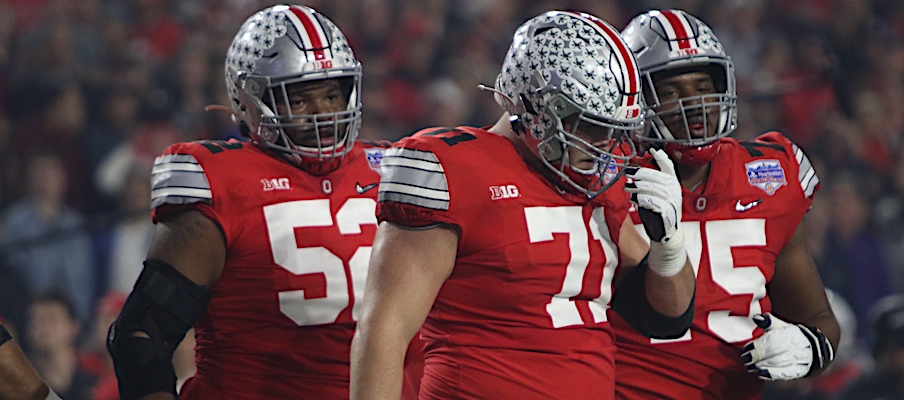 The only player the Buckeyes have lost to transfer since the end of the season has been Alex Williams, a defensive end who was buried on the depth chart at a position where Ohio State's numbers are still deep.
Reading between the lines, Day was probably expecting the Buckeyes to suffer more attrition over the past month than they actually did. When he was asked in December about the possibility of pursuing additional recruits for the class of 2020, he said there was still "some wiggle room" even though the Buckeyes were already projected to be over the 85-man limit. When he was asked earlier this month about pursuing additional recruits, Day said they probably wouldn't because "the numbers are pretty tight right now."
Ohio State certainly would have liked to add Phillips to its class of 2020, and while there weren't many unsigned options left to pursue at cornerback once he flipped, there's an argument to be made that the Buckeyes should have made a stronger push for a second running back like Jahmyr Gibbs or Zachary Evans. Considering how well both Fields and Jackson worked out for the Buckeyes last season, it wouldn't have come as a surprise if Ohio State had chased some top transfer talent, too.
That said, Day and his staff would much rather be in the position they're in now – with a full recruiting class that addressed just about all of the Buckeyes' needs for 2020 – than in the position of having to chase recruits in the final weeks of the cycle or find transfers to fill immediate needs in the starting lineup.
Bringing in Fields certainly worked out for Ohio State, but that would have never happened if Dwayne Haskins hadn't entered the 2019 NFL draft – an outcome they didn't know would be likely until after his one and only season as the Buckeyes' starting quarterback actually began.
The addition of Jackson was also a huge boost to last season's Buckeyes, and they're certainly glad to have Enokk Vimahi and Dawand Jones – their only two February signees last year – in their offensive line room now. But those additions likely never would have happened, either, if Michael Jordan hadn't entered the 2019 NFL draft and Doug Nester hadn't flipped to Virginia Tech during the early signing period.
While the Buckeyes likely would have tried to add more than just one more signee next week if they weren't already above the scholarship limit, they're unquestionably happy to have another year of Wade, Davis, Myers and Munford, any of whose departures would have left a significant hole to fill for 2020.
If there had been another unsigned high school senior or a player in the transfer portal who the Buckeyes firmly believed would make their team better in the short term or long term, they would have pursued that player. In the case of transfers, they still could if a top talent enters the portal or if an unexpected area of need arises between now and September (like it did at quarterback, prompting the imports of Chris Chugunov and Gunnar Hoak, in each of the past two years).
Day and his staff would prefer not to be in a position, though, of having to force returning scholarship players just to make the numbers work. Making any more roster additions at this point would increase the likelihood that they'd have to do that, and unlike last year – where the Buckeyes really did need to add a starting quarterback, a starting offensive lineman and more young offensive linemen to fill out their 2019 roster – they haven't had any unanticipated attrition that left them with a sudden need to address at any position.