Brock Davin played only six snaps in his Ohio State football career. He won't be going on to play the sport professionally, and most Buckeye fans probably never heard his name during his four seasons on the team.
Last week, though, everyone from Ryan Day to Kevin Wilson to Jordan Fuller took to Twitter to give Davin a shoutout after he landed a job as an operations analyst at Goldman Sachs, which the finance major set to graduate this May from the Fisher College of Business describes as "a dream come true."
And even though Davin never played more than a couple snaps at the end of a few blowout wins last season, he believes the four years he spent as a member of the Ohio State football program is a big reason why he was able to land that job before he even finishes college.
"This is definitely a dream job I've had since high school," Davin told Eleven Warriors. "So just seeing all the hard work on and off the field kind of come to fruition and come true is truly amazing and it's unbelievable."
Congrats to @BDman3 for accepting a full-time position as Operations Analyst at Goldman Sachs investment company in Chicago

Real Life Wednesdays testimony!#GoBucks #DevelopedHere pic.twitter.com/cXXiFrI87U

— Ohio State Football (@OhioStateFB) January 23, 2020
The biggest thing Davin learned from his four years playing for the Buckeyes, he said, was the elite work ethic that it takes to succeed as a football player – the same work ethic he will now take to Goldman Sachs, one of the world's leading investment banking firms.
"Playing for Ohio State football, from the winter training to spring ball to the summer workouts to the season, your work ethic has to be second to none," Davin said. "Every single day, from my freshman year, I was around J.T. Barrett, Nick Bosa, the most elite athletes, and then I tried to just take everything I learned from them on the field and tried to take it to the classroom."
Being a Buckeye also meant being a part of Real Life Wednesdays, the arm of the Ohio State football program dedicated to preparing players for life after football and setting them up with career advancement opportunities. Davin additionally participated in Ohio State's Bucks Go Pro program, through which he and Fuller both spent last summer interning with Anomaly Sports Group, a branch of Columbus-based law firm Porter Wright Morris & Arthur LLP which works directly with athletes.
Those opportunities, available to him because he was an Ohio State student-athlete, provided valuable experience that helped set him up for his next step.
"It honestly is the main reason I got the job was through Real Life Wednesdays," Davin said. "My freshman year, right when I came in, they taught me how to kind of build a résumé with Coach Meyer bringing in and Coach Day bringing in so many CEOs and so many top business professionals, and you're hearing them tell you what they're trying to look for, and they're naming the same characteristics that you're learning from your coaches and your strength coaches every single day."
Thanks to experiences & connections made through #RealLifeWednesdays & the @EDSLInstitute, @BDman3 has earned a full-time position as an Operations Analyst with Goldman Sachs #GoBucks #DevelopedHere pic.twitter.com/IJffqzc8bm

Ohio State Football (@OhioStateFB) January 25, 2020
Davin specifically thanked Ohio State director of student-athlete development Maddy McIntyre, who runs Ohio State's Eugene D. Smith Leadership Institute, and her staff for providing opportunities that helped him prepare for his life after college.
"What Maddy McIntyre and her staff do is unbelievable," Davin said. "They literally put on career fairs that are just only for student-athletes. You have so many companies from Columbus and beyond that are just coming to these career fairs only looking to hire student-athletes because they know that the traits that they possess is what they want in their company. And just knowing going into a career fair that you're going to be around other student-athletes and the companies are just there to hire you, it's unbelievable. And not only do they do the career fairs, they helped out with setting up LinkedIns, helped out with resume editing and they held so many events."
Davin also credited long snapper Liam McCullough, a fellow finance major who also dreams of working for Goldman Sachs and who had a micro-internship there through the Real Life Wednesdays program, with helping him prepare for his job interviews.
"We've talked about it a long time that we came to Ohio State to play for the most elite college football program, and now trying to work for the most elite investment banking firm," Davin said.
A Cincinnati native who had the opportunity to walk on at Ohio State in part because of a family connection to Kerry Coombs – Davin's late grandfather, Charlie Fredrick, was the athletic director at Greenhills High School (now Winton Woods High School) when Coombs was an assistant coach there – Davin acknowledged that he had second thoughts during his first couple years as a Buckeye about whether he should have gone somewhere that he could have played more. While Davin didn't have any major offers out of St. Xavier High School, he was recruited by several FCS schools and received late interest from Air Force.
Now, though, Davin feels assured that becoming a Buckeye was the best decision he could have made. In addition to landing a dream job at Goldman Sachs, where he will begin working at the Chicago office in July, Davin built close friendships with many of his Ohio State teammates – such as Drue Chrisman, who asked Davin to be the best man in his wedding – that he expects to continue for years to come.
"I'm in a house right now with all football players and they're all my best friends and I've created the most memorable relationships," Davin said. "And just coming to Ohio State and being within the business school here too, it's been honestly the most unbelievable experience. I wouldn't trade it for the world."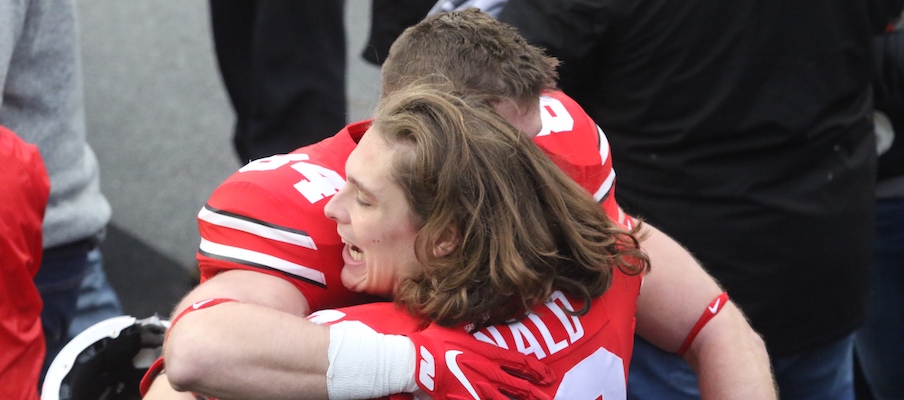 Even though he didn't get to play much, Davin said he always felt respected by his coaches and teammates – both when Urban Meyer was head coach and with Day – and he believes walking on at Ohio State can be a great experience for anyone who has the right mindset.
"You might be kind of overshadowed a little bit, and you're not going to be the most looked at guy clearly, but you got to just put your head down and grind and go as hard as you can," Davin said. "Take advantage of everything that Ohio State has to offer. You're playing at Ohio State. It's literally the most elite college football program in the world. And the amount of resources that they have for you from off the field is unbelievable. We have the best strength staff, we have the best nutrition staff, we have the best athletic trainers, we have the best of everything. So just take advantage of all those opportunities."
"Just coming to Ohio State and being within the business school here too, it's been honestly the most unbelievable experience. I wouldn't trade it for the world."– Brock Davin on his four years as a Buckeye
Receiving public recognition from his former coaches and teammates for landing his new job "means the world" to Davin, too, because he knows the happiness they have for him is genuine.
"Coach Day and his staff, they really do care about the total student-athlete," Davin said. "Clearly, the season didn't end the way that we wanted to and still for him to show that he really just cares at the end of the day of how the student-athlete's doing overall and how they're doing off the field … it really shows how true and how much they really care about the full student-athlete."