Ohio State's offensive and defensive depth charts for the 2019 College Football Playoff semifinal game against Clemson featured 11 former three-star recruits – including starters Chris Olave, Branden Bowen, Jonah Jackson, DaVon Hamilton, Malik Harrison and Damon Arnette – and the 2014 national championship squad was littered with three-stars as well.

Stars matter. They do. But that didn't take away from the fact that perhaps the two best teams of the decade had players ranked in the lower tiers who laid waste to those ratings to become notable contributors for the Buckeyes. 
There are a litany of former three-star recruits who have had successful careers in the scarlet and gray. As Eleven Warriors continues a look back at the past 10 years with our 2010s in Review series, we take a look of some of the best lower-ranked players of the past decade to make their way to the home locker room at the Shoe. 
Who did we egregiously leave off the list? Who deserves to be ranked higher? Other than No. 10 on our list, are there any former three-stars on the Buckeyes' roster now who could wind up on the 2020s All-Decade team? Who is the best candidate from the 2020 class to go from three-star to superstar?
Plenty of questions abound, but nevertheless, here's our list of the top 10 former three-star recruits who outshined their rankings at Ohio State during the 2010s.
10. Chris Olave
If Olave breaks right instead of left, the sure-handed receiver probably catches the game-winning touchdown pass in the Fiesta Bowl. If he catches that pass, he cements himself as a Buckeye legend. Instead, he broke off a post route, and Ohio State watched Monday's national title game from the couch. (To be clear, Olave's misstep is about the seventh or eighth reason the Buckeyes lost to Clemson, not the first, second or third.)
But that's how good Olave's career has already been through two seasons. The Michigan killer is already going to be remembered fondly by rational, intelligent Ohio State fans who understand the terrific season he had and that one mistake via miscommunication does not a career make. 
Olave came to Columbus by way of Mission Hills High School in southern California and was tucked barely inside the nation's top 400 overall rankings. He was ranked as the 68th-best receiver in the country and 47th-best recruit in the Sunshine State in the 2018 class. Olave sat out his junior season of high school football after a transfer, so that surely had an adverse effect on his ranking.
The Buckeye staff looked past those rankings. Olave, a basketball and track star during his preps career, told The San Diego Tribune's John Maffei that "all signs pointed to Ohio State," and when he was making a return to school following a visit to Columbus, he was driving with his dad when Olave saw – for the first time in his life – an Ohio State license plate in California. 
Buckeye fans are happy Olave experienced that serendipitous moment, and he has at least one more year to build on his career totals of 60 catches, 1,037 yards and 15 touchdowns (840 yards, 12 TDs in 2019) and tack onto what has the potential to be a great legacy following an All-Big Ten third-team selection by the coaches and media in 2019.
Hamilton, Bowen, Arnette and Landers each also have a case for the final spot on this list, if, for nothing else, the final season each of them had in 2019. Hamilton made third team all-conference, Bowen and Arnette were both second-teamers, and media darling Landers was named an honorable mention. Ultimately, though, Olave gets the nod over them.
9. Malik Harrison
Harrison will soon become the 56th Ohio State linebacker to be selected in the NFL draft, currently projected as a second- or third-round selection. That's a pretty great rise after he was ranked as the 683rd-best player in the nation, 48th-best athlete in America and 26th overall prospect in the state of Ohio's 2016 class.
Recruited by Luke Fickell out of Walnut Ridge High School, just 25 minutes from Ohio State's campus, Harrison was a high school quarterback, strong safety and punter. But Harrison ended up at outside linebacker at Ohio State, and as a junior he started all but one game for the Buckeyes.
As a senior, Harrison earned first team All-Big Ten honors after he led Ohio State in total tackles (75) and solo tackles (49) and was second in tackles for loss (16.5) and fourth in sacks (4.5) in 2019.
It feels like he did it subtly, but Harrison was one of the best Buckeye linebackers in recent history, even if his career went mostly under the radar. Just like a former three-star recruit would be used to. 
8. Jeff Heuerman
You all know about the Buckeyes' history of tight end usage, or lack thereof. But Heuerman, ranked No. 413 overall, No. 20 at tight end and No. 63 in Florida's 2011 class, rose to become a three-year starter and team captain on Ohio State's second national championship team this millennium.
The well-rounded tight end caught 52 passes for 792 yards and seven touchdowns, eventually working his way into the third round of the NFL draft, and he's carved out a five-year professional career that includes a Super Bowl championship for the former All-Big Ten second-team honoree. 
7. Cardale Jones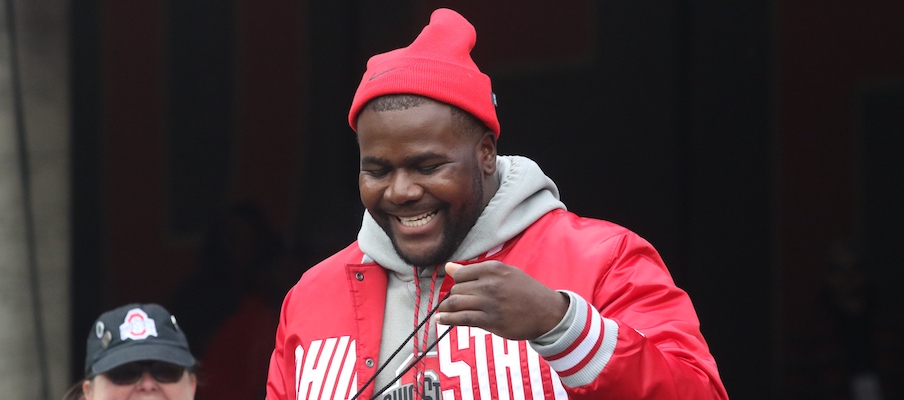 Incredible what one three-game stretch can do for one's life. 
Even though he never started a full season at Ohio State, Jones is a Buckeye legend who will be welcome in Columbus forever after he led the Buckeyes to a national championship in the final three games of the 2014 season. That much was evident during his return to the Shoe prior to the Penn State game, when he received a loud ovation as he walked through the tunnel. That will happen when you come in as the third-string quarterback to lead the first national-title run in more than a decade, especially after coming in as the 398th-ranked overall prospect in the nation.
Jones' rating had him as the No. 10-ranked pro-style quarterback and No. 22-ranked senior in Ohio in his 2011 recruiting class, coming from Cleveland's Glenville High School. 
Jones was once famous for his "we ain't come to play school" tweet, but after leading Ohio State to a national championship in his third season, he bypassed what could have been a first-round selection in the NFL draft to return to school and get his degree. 
Jones finished his final Ohio State season with 1,459 yards passing, eight touchdowns, five interceptions, a 62.3-percent completion percentage and a 141.7 QB rating in 10 games played after beginning 2016 as the starting quarterback but ultimately being supplanted by J.T. Barrett.
Jones will soon begin his XFL career after being picked up by the DC Defenders for the league's inaugural season.
6. Bradley Roby
Roby could have left Ohio State after his third season to become a first-round NFL draft pick. He was physically ready and was coming off a season in which he was named a second-team All-American. 
But the Georgia native, who had rankings of No. 650 (overall), No. 49 (cornerback) and No. 55 (state) in the recruiting class of 2020, chose to come back for a fourth season and earned his second straight All-Big Ten first team selection in 2013. 
Roby, who became the 31st overall pick by the Broncos in 2014, never won a national championship at Ohio State, but he had an impressive career after coming in as one of the Buckeyes' lowest-ranked recruits in the 2010 class. He finished with eight interceptions, 19 passes defended, 132 total tackles and three defensive touchdowns. 
That's before he joined former Buckeye teammate Heuerman as a Super Bowl champ in Denver.
5. Darron Lee
Like Harrison, Lee was listed as an athlete coming out of high school because of his positional versatility and all-around talent. At one time listed as a safety, Lee was the No. 636-ranked overall recruit, No. 42-ranked athlete and No. 36-ranked Ohio prospect out of New Albany High School. 
While at New Albany, Lee was a dual-threat quarterback who racked up nearly 2,000 yards of total offense and 21 total touchdowns before switching to linebacker. 
At Ohio State, he recorded 146 total tackles, 27 tackles for loss, 11 sacks, three interceptions, three forced fumbles and three defensive touchdowns. He earned freshman All-American honors, and he cemented his Buckeye legacy when he was the Defensive MVP in Ohio State's semifinal win over Alabama in the inaugural College Football Playoff.
Lee was eventually the 20th overall selection of the 2016 NFL Draft, becoming the second linebacker taken in the draft after recording the fastest 40-yard dash time for a linebacker at the combine (4.47 seconds, which was tied for the fastest by a linebacker since 2007) and the position's longest broad jump (133 inches). He currently plays for the Kansas City Chiefs.
4. Pat Elflein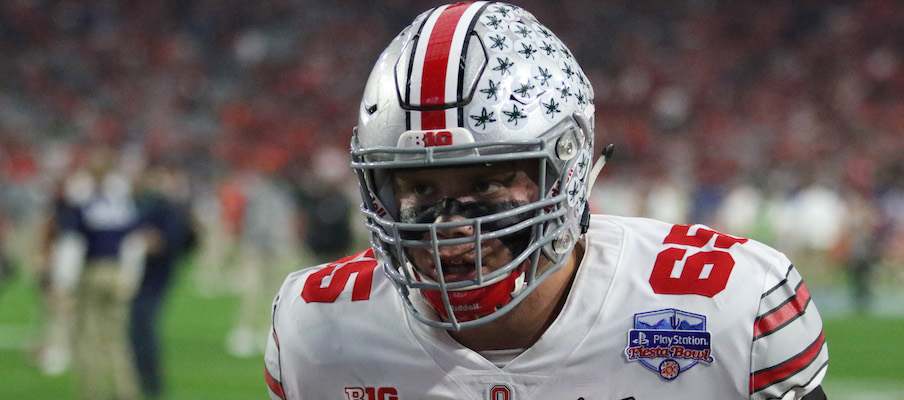 For the many people questioning why the Buckeyes decided to take Trey Leroux – ranked No. 1,129 overall, No. 89 at offensive tackle and No. 44 in Ohio – in the 2020 recruiting class, Elflein's career can be pointed to as a reason why someone of Leroux's rankings could become a contributor at Ohio State.
Coming out of Pickerington North in 2012, Elflein was the lowest-rated recruit for Ohio State, coming in as the No. 998 overall recruit, No. 55 offensive guard in the country and No. 61 senior in Ohio. 
Elflein ended up becoming a unanimous first-team All-American and Rimington Trophy winner as a senior and a third-round selection in the 2017 NFL draft. Hell of a rise.
3. Malik Hooker
Hooker's redshirt sophomore season could be considered the greatest season for a Buckeye safety in program history.
A unanimous All-American selection during that 2016 campaign, Hooker recorded seven interceptions, 74 total tackles and 5.5 tackles for loss and became the first Ohio State player to return three interceptions for touchdowns. That rise in his third season propelled him into becoming the 15th overall pick by the Indianapolis Colts in the 2017 NFL Draft.
All of that came after Hooker was one of the lowest-rated recruits in the Buckeyes' 23-man class in 2014, coming in at No. 360 (overall), No. 33 (athlete) and No. 9 (Pennsylvania). 
Those rankings came despite his illustrious career at New Castle High School in western Pennsylvania, where he earned The Pittsburgh Post-Gazette's male athlete of the year and basketball player of the year awards.
Hooker's younger brother Marcus, who was also a three-star recruit out of New Castle, will be a redshirt sophomore safety for Ohio State in 2020.
2. Devin Smith
Smith wasn't as low-rated as some of the other players on this list, but at No. 286 overall, No. 35 at receiver and No. 15 in the state, the Massillon Washington High School star still came into Ohio State as one of 11 three-star recruits in the 2011 class.
He left as the Buckeyes' leading receiver of the decade in yards (2,503), touchdowns (30) and yards per catch average (20.7), all of which rank in the top five in school history.

The Buckeyes will be hoping that their next receiver recruit from Massillon, four-star recruit Jayden Ballard in the 2021 class, will someday become a similar player who can take the top off the defense.
1. Michael Thomas
As Dan Hope points out on Eleven Warriors' Best of the 2010s All-Decade Team, Thomas might not have the stats of one of Ohio State's all-time great wide receivers. But Thomas has since become arguably the NFL's best receiver, and he developed those skills at Ohio State, where he came in as the nation's No. 765th-ranked overall recruit. 
While at Taft Charter High School in California, Thomas was ranked as the 89th-best receiver in America and the 79th-best recruit in California. 
He flipped that into 1,602 yards receiving on 113 catches and nine touchdowns at Ohio State before becoming a second-round NFL draft pick, and in his first four seasons in the league, he is already a two-time first-team All-Pro, two-time league receptions leader and the NFL's record holder for single-season receptions (149). 
Not bad for the Buckeyes third-lowest ranked recruit in the 2012 class.