The messaging, Cade Stover remembers, never changed.
Throughout his recruiting, Ohio State always wanted the four-star in-state prospect from Lexington to turn into a linebacker. Growing up idolizing James Laurinaitis, Stover envisioned himself as a hard hitter at the second level of the Buckeyes' defense. And even though his 6-foot-4 frame allowed for some positional wiggle room, the Buckeyes' coaches sold him on their vision of a future at linebacker and he bought in.
"It was pretty much all (linebacker)," Stover told Eleven Warriors at Fiesta Bowl media day. "Especially when coach Davis was recruiting me. He was always saying, 'I'll never let you go down there.'"
Stover was never coached by Davis, who wasn't retained when Ryan Day became head coach last offseason, but Al Washington and Greg Mattison stuck to their predecessor's vision initially. Stover enrolled in June and immediately began working with the strongside linebackers, a plan he followed for five months.
Then came Nov. 10. 
He remembers the day well. It was the Sunday after Ohio State's blowout of Maryland and six days ahead of the game against Rutgers. Larry Johnson, the team's famed defensive line coach, told Stover – for reasons he says he doesn't fully know – that he wanted to try him out in the next few days at defensive end. During practices that week, he spent his time during individual drills with the defensive linemen, which he has done ever since. 
"To be honest with you, I don't really know 100 percent," said Stover, trying to explain why he changed positions. "I think coach J said he saw some Sam Hubbard in that and the way I move and stuff. We kind of follow the same path. So I think defensive end is where I'm going to end up."
The transition never fully became official. Stover, who played in only four games this season in order to maintain his redshirt, still frequently played linebacker on the scout team. Yet by playing 22 snaps on the line against Rutgers and never returning to the second level during individual periods of practice, he has a strong inkling that his future lies at defensive end.
"I think that's the best option for me," Stover said.
Lke Stover mentioned, Johnson has done this before successfully with Hubbard, who turned into a second-team All-Big Ten honoree and third-round NFL draft pick.
"I think defensive end allows you to play freely and faster which will fit me better, I think, in the end."– Cade Stover on switching positions
Their similarities date back to high school. No, Stover wasn't discovered by Urban Meyer during a dodgeball game. Rather, he says, he and Hubbard both played free safety in 3-3 stack defenses at their respective high schools. As high schoolers, both stood at least 6-foot-4 and were freakish athletes who had notable accomplishments in other sports – Stover in basketball and Hubbard in lacrosse. And both were positioned to play linebacker at Ohio State before unexpected changes.
Hubbard's move to defensive end came in the fifth week of his freshman season, and Stover's came before the 10th game of his first year in Columbus.
The first four or five weeks after his own position change, Hubbard recalled years ago, he sat in the back of the room and "had no idea" what Johnson was talking about. Stover knows the feeling all too well. His first practice at defensive end, he remembers going through a drill with all the linemen flipping their hips and wondering, "'What are we doing?"
"It was terrible. So bad," Stover said. "I'm still, even today, I've been there for probably a month now, and I'm still learning so much. There's so much to learn, so much technique you didn't know was there that can help you. I'm still developing and getting better."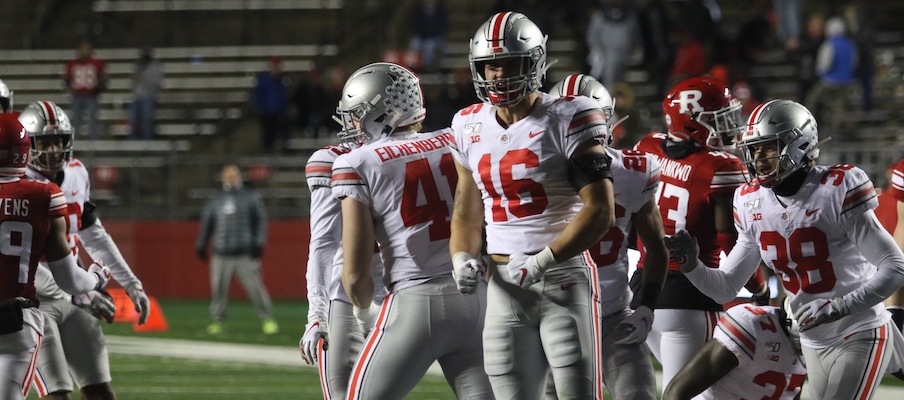 The first major adjustment Stover had to make dealt with his first steps.
As a safety in high school, he had gotten used to moving backward at the snap without too much concern about his footwork. He was somewhat able to stand up straight as plays began. Even at linebacker, there wasn't nearly the focus he now has to have at defensive end to completely eliminate backward steps and keep a low center of gravity. But it has paid off, he says, noting that his get-off and hand usage have developed more than any other aspect of his game.
To be fair, though, Stover had nowhere to go but up in terms of his hand-fighting. He remembers going to Johnson for help after fall camp practices because he had run into some trouble getting off blocks, but they never delved into the intricacies that he spent the past two months learning.
Johnson likes to refer to a defensive lineman's holster of moves as a toolbox, and Stover admits his was "pretty empty."
"Moving down there, I had speed, I had the quickness from the edge. But as far as using your hands, I didn't even know that was a thing, you know what I mean?" Stover said. "I knew as a linebacker you punch, you rip off and stuff. But as far as a side-scissors, other moves like that, Coach J, he gives you a counter move for everything the offensive tackle gives you. So just learning that and seeing things is the biggest part."
With less than two months of experience, Stover has quite a way to go, which he understands. The next steps in his development, he said, will come with further improving his get-off at the snap and his ability to quickly read whether offenses are running or passing.
Physically, though, Stover's body shouldn't hold him back from playing on the line. He entered the program at 228 pounds and was 248 pounds at the Fiesta Bowl. By spring camp, he imagines he will be around 250-253 pounds. At that size, combined with the athleticism that once made him a four-star linebacker prospect, Stover has plenty of optimism that a switch to defensive end fits his game.
"I think defensive end allows you to play freely and faster which will fit me better, I think, in the end," Stover said.