For the first time in the College Football Playoff era, Ohio State has the chance to make the four-team field without any Sunday drama.
The Buckeyes won the national championship in 2014, but they had to wait anxiously to find out whether they'd be the fourth team in the field even after their 59-0 shellacking of Wisconsin in that year's Big Ten Championship Game. They made the playoff again in 2016, but had to wait at home and hope their 11-1 regular season would be enough after their loss to Penn State kept them out of the conference title game. Ohio State won the Big Ten Championship Game in each of the last two years, but it wasn't enough to get the Buckeyes into the playoff after their lopsided regular-season losses to Iowa and Purdue.
This year, though, the Buckeyes have a chance to prove they belong in the playoff beyond any reasonable doubt. All they have to do is defeat a team they've already beat this season, when they play Wisconsin in the Big Ten Championship Game again on Saturday night in Indianapolis.

WISCONSIN BADGERS
10-2 (7-2 BIG TEN)
ROSTER / SCHEDULE
---
8:17 P.M. – SATURDAY, DEC. 7
LUCAS OIL STADIUM
INDIANAPOLIS, INDIANA
---
FOX
FOX SPORTS GO
Of course, that could be easier said than done. Wisconsin is the eighth-ranked team in the nation and has won 10 of its 12 games this season, including all four of its games since its 38-7 loss to Ohio State on Oct. 26.
The Buckeyes have been so dominant this year that they could theoretically make the playoff even without a win on Saturday. They're currently sitting in the top spot of the CFP rankings, have won all 12 of their games this season by an average margin of victory of more than 38 points and a more impressive résumé than any of the current one-loss teams – Georgia, Utah, Oklahoma and Baylor – still vying for a spot in this year's national semifinals.
Ohio State coach Ryan Day certainly doesn't want his players thinking that way, though. His mantra for his team this week has been simple: "Finish the race."
"The end of the first race is coming on Saturday night at 8 o'clock, and we have to accelerate through that finish line," Day said.
Wisconsin Breakdown
Overall, Wisconsin has been one of the best teams in college football this year. The Badgers won their first six games of the season, then bounced back from consecutive losses to Ohio State to finish the season 10-2, win the Big Ten West and make the Big Ten Championship Game for the sixth time in its nine-year existence.
2019 Statistical Comparison
 
OFFENSE
49.9
1st
POINTS FOR
35.8
17th
280.6
4th
RUSHING OFFENSE
243.9
15th
253.7
45th
PASSING OFFENSE
198.7
96th
534.3
5th
TOTAL OFFENSE
442.6
36th
.583
1st
3rd DOWNS
.503
7th
.892
31st
RED ZONE
.894
28th
DEFENSE
11.8
4th
POINTS ALLOWED
14.6
9th
91.2
4th
RUSH DEFENSE
96.6
7th
141.1
2nd
PASS DEFENSE
180.4
9th
92.1
2nd
PASS EFFICIENCY DEFENSE
107.6
5th
232.3
1st
TOTAL DEFENSE
277.0
6th
.271
3rd
3rd DOWNS
.257
1st
.667
5th
RED ZONE
.692
7th
SPECIAL TEAMS
8.0
62nd
PUNT RETURN
8.5
52nd
21.8
45th
KICKOFF RETURN
25.9
9th
39.0
48th
NET PUNTING
35.7
118th
MISCELLANEOUS
+1.0
5th
TURNOVER MARGIN
+0.2
49th
5.8
48th
PENALTIES
4.7
11th
13
EDGE
5
Wisconsin's offense ranked second among all Big Ten teams during the regular season in points per game and yards per play, while its defense ranked second in the conference in yards allowed per game, fourth in the conference in points allowed per game and yards allowed per play and in the top 11 of all three of those categories nationally.
The problem for the Badgers: Ohio State has been by far the best team in the Big Ten this season in all of those categories, and Wisconsin was clearly overmatched in its first matchup with the Buckeyes at Ohio Stadium.
Offensively, Wisconsin was held to just seven points and 191 yards by the Buckeyes in the regular season. Star running back Jonathan Taylor, who has rushed for 146.8 yards per game this season, was held to just 52 yards on 20 carries in Columbus.
If the Badgers are going to have any chance of upsetting the Buckeyes in Saturday's rematch, they know they're going to have to be able to move the ball more effectively.
"We got to make sure that we're winning on first down and we're able to move the chains," Taylor said this week. "We don't want to get behind the sticks too much because when you get quick three-and-outs and then your defense is back out there on the field, it'll wear down a defense over the course of a game. So we got to make sure we're helping our defense out."
Wisconsin's defense got off to a strong start in the first game against Ohio State, holding the Buckeyes to just 40 yards in the first quarter and 10 points in the first half. It did in fact wear down during the second half, though, when Ohio State scored four consecutive touchdowns to turn the game into a rout.
Ohio State's 38 points in that game remain the most Wisconsin has allowed all season, while the Buckeyes were also one of just two teams to top 400 yards against the Badgers (along with Nebraska) during the regular season. Badgers linebacker Chris Orr said Ohio State brought a different scheme to the field than what they were expecting, and they didn't play well enough to overcome that, so they have to be more prepared and execute better this time around.
"They did a good job of getting us in empty and kind of taking advantage of that, and then as well, they also came up with pretty much a new play that we haven't seen all year that was specifically designed for us and our defensive front," Orr said. "They pretty much do everything really well. They have good players in the right positions, and they scheme it up to get them the ball in space and let them do what they do, so it's going to come down to all 11 of us handling our business."
Wisconsin's bread-and-butter on offense remains its running game led by Taylor, but Badgers quarterback Jack Coan is coming off two of his best games of the year as a passer. He completed 15 of 19 passing attempts for 203 yards and two touchdowns with one interception in the Badgers' 45-24 win over Purdue, then completed 15 of 22 passes for 280 yards – a career-high 12.7 passing yards per attempt – and two touchdowns in Wisconsin's 38-17 win over Minnesota last weekend.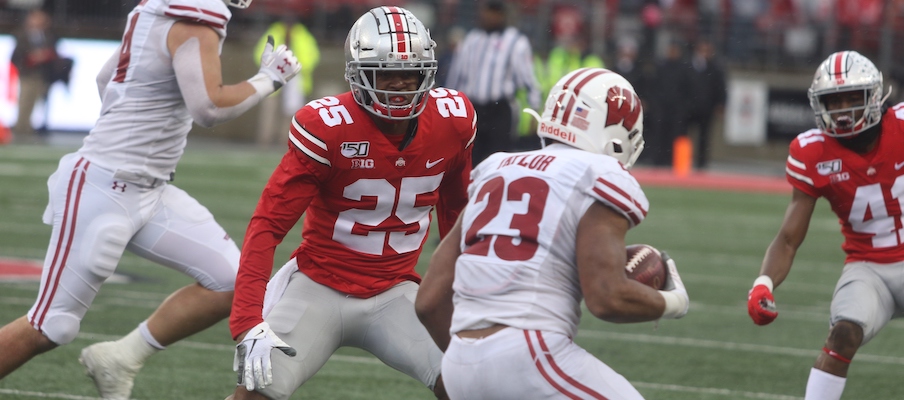 Defensively, the Ohio State game has been a microcosm of the Badgers' season, as they haven't been as strong in the second half of the year than they were in the first half. After holding each of their first six opponents under 300 yards, they've allowed more than 300 yards in five of their last six games. But Day and the Buckeyes still have high respect for the Badgers' defense because of the resistance they presented in the first matchup between the two teams – at least for part of the game.
"I thought they did a great job against us, especially in the first half. We didn't play very good on offense, and they played really well," Day said. "Of all the teams we've played, they've done the best job stopping us."
Given that, Day doesn't expect his team to overlook Wisconsin because of the result earlier this season, but rather recognize the Badgers as a team that is still capable of giving the Buckeyes a challenge.
"These guys definitely have our guys' attention," Day said. "They understand how good this team is and how tough they are and how physical they are, and they're a team that you got to go win. They're not gonna give you anything. They're very well-coached, they're disciplined."
Ohio State Breakdown
Because of how well Ohio State has played this season and how close it is to locking its first College Football Playoff berth in three years, it's hard not to look ahead to what could come next after this game – especially given that the Buckeyes have not only already defeated Wisconsin once, but done so convincingly.
Ohio State's regular season surpassed all realistic expectations for Day's first year as a head coach, and the Buckeyes are now in position to compete for a national championship – likely as the No. 1 seed in the playoff if they can beat Wisconsin again and improve to 13-0 on Saturday – which makes the Big Ten Championship Game feel like a formality to some extent.
That said, Day doesn't want his team to overlook the value of a conference championship, too. Ohio State has a chance to win its third Big Ten title in a row, and Day says accomplishing that would be a big deal, especially since this one would be paired with an undefeated regular season.
"To win this conference is a huge deal. I know it's been done before, but we don't take any of that stuff for granted for a second," Day said. "The first goal, as we all know, is to win the rivalry game, but this is a huge goal of ours, as well. If we win the Big Ten championship, we know a lot of things have gone well, we've won a lot of big games. So this is certainly a huge goal for us."
"The end of the first race is coming on Saturday night at 8 o'clock, and we have to accelerate through that finish line."– Ryan Day on the Big Ten Championship Game
Still, the chance to sew up its place in the playoff, and move into the next phase of the season as a frontrunner for the national championship, remains the main source of motivation for many – especially seniors like wide receiver K.J. Hill, who have won Big Ten championships before but have never won a national title.
"It just drives you even harder. To go even harder in practice, just a little harder in the game to execute, knowing what it's front of you," Hill said. "In my time here, we've never been in this position. So we've been stressing that, all the seniors been stressing that, we've never been in this position at Ohio State, this senior class."
Ohio State is certainly going into this week's game with momentum, especially on offense, after its 56-27 win at Michigan last week. The Buckeyes dominated their rivals' defense for the second year in a row, as Justin Fields threw for four touchdowns and J.K. Dobbins ran for four touchdowns while the team combined for 577 yards.
Fields is dealing with a sprained MCL in his left knee, which will force him to wear the bulky brace that he wore after aggravating that injury in the third quarter in Ann Arbor, but he expects to play the full game against Wisconsin on Saturday – or at least as long as the Buckeyes need him to play, which was only a full 60 minutes in two of their 12 regular-season games.
Ohio State's defense is coming off its shakiest game of the season, as it allowed Michigan to score five times and put up 396 yards – both season-highs against the Buckeyes' defense – but it should be bolstered this week by the return of slot cornerback Shaun Wade, who Day expects to be "ready to roll" after being ruled out of last week's game with an undisclosed injury.
Altogether, the Buckeyes were the most dominant team in college football during the regular season – and especially in the Big Ten – and the Badgers certainly recognize the tough test they're about to face once again on Saturday.
"I would definitely say they're a cut above (the rest of the Big Ten), for sure," Orr said. "They've shown that. They're really good in all three phases of the game: offense, defense and special teams."
Game Forecast
Unlike the first game, which was played on a cold, rainy day in Columbus, the Buckeyes and Badgers won't have to worry about bad weather this week. Saturday's game will be played indoors in Lucas Oil Stadium, and players from both teams expressed this week that they are looking forward to playing in a controlled environment instead of battling through the elements.
"I don't know what's better either playing for rings or being able to play inside," said Ohio State wide receiver Austin Mack. "Clear weather, playing against a team that we've already beat but knowing that we don't have to worry about the elements, I'm excited."
Ohio State's Previous Big Ten Championship Games

| Year | Result |
| --- | --- |
| 2018 | Ohio State 45, Northwestern 24 |
| 2017 | Ohio State 27, Wisconsin 21 |
| 2014 | Ohio State 59, Wisconsin 0 |
| 2013 | Michigan State 34, Ohio State 24 |
Playing indoors certainly offers the potential for this week's game to be a higher-scoring game than the first contest, especially if Fields and Ohio State's offense are clicking. Wisconsin's offense will certainly be looking to exploit any vulnerabilities in Ohio State's defense that the Wolverines were able to put on film.
Rematches in college football are unusual and can sometimes lead to unexpected results, like Ohio State's only rematch of the last 100 years did in 1975, when the Buckeyes suffered a 23-10 loss to UCLA in the Rose Bowl – which cost them an undefeated season and a national championship – after they defeated the Bruins by a 41-20 score in the regular season.
As long as the Buckeyes show up ready to play their best and avoid the letdown that they've successfully staved off all season, though, they should be capable of beating Wisconsin convincingly again on Saturday. 
Ohio State has had success stopping Taylor in each of its two matchups with the Badgers over the past three years, and if it can do that again on Saturday, Wisconsin will likely struggle to move the ball again. Defensively, Wisconsin showed in the first game that it can slow down Ohio State's offense to some extent, but it's hard to see the Badgers keeping the Buckeyes in check for four quarters, especially on a fast track in Indianapolis where Ohio State will able to use its speed to its full advantage.
The Buckeyes are projected as 16.5-point favorites for Saturday's game, and unless they beat themselves with costly mistakes or poor execution, Ohio State should cement its place in the playoff and celebrate its third consecutive conference championship on Saturday night.
---
ELEVEN WARRIORS STAFF PREDICTION: Ohio State 42, Wisconsin 14