Before each week's Ohio State game, Eleven Warriors catches up with a media member who covers the opposing team to get his or her perspective on the Buckeyes' upcoming opponent.
For this week's round two against Wisconsin, we're joined by Jesse Temple, who covers the Badgers for The Athletic, to get his insight on how the Badgers' season progressed since their 38-7 regular-season loss to Ohio State and whether they have what it takes to turn the tables in Saturday's Big Ten Championship Game.

WISCONSIN BADGERS
10-2 (7-2 BIG TEN)
ROSTER / SCHEDULE
---
8:17 P.M. – SATURDAY, DEC. 7
LUCAS OIL STADIUM
INDIANAPOLIS, INDIANA
---
FOX
FOX SPORTS GO
What new wrinkles or impact players could we see from the Badgers this time around, will they ever be able to make the leap from Big Ten West powerhouse to national championship contender and what needs to happen on Saturday for Paul Chryst's squad to have a chance?
Temple's answers follow in our conference title game edition of Across The Field.
Q: How does Wisconsin compare right now to the team that played at Ohio State on Oct. 26? Are there any ways in which the Badgers have significantly improved or changed since their back-to-back losses to Illinois and Ohio State?
Temple: Everyone I talked to this week, from Wisconsin coach Paul Chryst down to the players, insist that the Badgers are a better team this time around. I tend to agree given that Wisconsin won four straight November games against Big Ten West teams, including 9-3 Iowa and 10-2 Minnesota, to win the division. Wisconsin's offensive line was soundly beaten by Ohio State, and that loss provided a reality check for the group because the Badgers very rarely are dominated up front like that. Wisconsin shortened its offensive line rotation to a regular group of five rather than rotating four guards for two spots. That seemed to help because tailback Jonathan Taylor ran for more than 200 yards in three consecutive games.
Wisconsin also really opened up the playbook over the final two regular-season games against Purdue and Minnesota. The Badgers ran eight plays out of the Wildcat formation against the Boilermakers – something we saw a few times against the Buckeyes. But Wisconsin's unpredictability in running the Wildcat, end-arounds, jet sweeps, screen passes or airing the ball out downfield in situations that weren't obvious passing downs has been critical. Against Minnesota, for example, quarterback Jack Coan threw a pair of third-quarter passes to receiver Quintez Cephus that went for huge gains on first down. The first pass was a 31-yarder and the next was a perfect 47-yard touchdown pass in snowy conditions.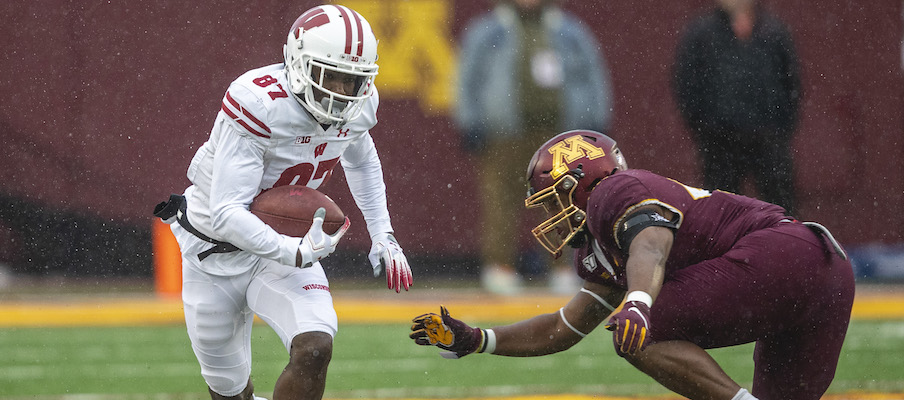 Defensively, Wisconsin has shown a propensity to give up big plays, even after playing Ohio State. Nebraska amassed 23 plays that went for at least 10 yards, and Purdue had some success with misdirection plays and speed in space as well. But Wisconsin's defense came up huge last Saturday against a Minnesota team that thrives on big plays. The Badgers recorded five sacks, forced a fumble and had an interception.
While Wisconsin has improved, my biggest question is whether that improvement is enough to overcome the gap that existed against Ohio State in the first matchup. As Badgers outside linebacker Zack Baun told me: "They definitely haven't gotten worse, that's for sure." Wisconsin was right there with Ohio State when it trailed 10-7 in the third quarter before the Buckeyes scored four unanswered touchdowns. Wisconsin defensive coordinator Jim Leonhard acknowledged the defense got worn down as the game went along and that he would likely have to use more players this time to stay fresh.
Q: Wisconsin has typically had a pretty clear identity, especially on offense, and Paul Chryst himself said earlier this week that the Badgers have to walk a "fine line" between trying to do something different and doing what they've done well. Given that this is a rematch, do you think Ohio State should expect to see different wrinkles than it did the first time around, or will the Badgers just try to execute better than they did the first time?
Temple: I think it's fair to say both things are true. Wisconsin can't expect to use the exact same game plan and think it will be enough to beat an Ohio State team that is this good. There is a reason that two of running back Jonathan Taylor's three worst rushing games in his career have come against Ohio State. It's because the holes close much quicker and the players on the other side are better than most opponents. Wisconsin still needs to figure out how to effectively run the ball – to simply execute better than it did – but the Badgers also have to throw in some different looks.
Wisconsin has done a better job of using a variety of playmakers beyond just Taylor on some of those jet sweeps and end-arounds to wide receivers or screen passes to running back Garrett Groshek and tight end Jake Ferguson. Quarterback Jack Coan has to deliver some downfield shots at timely moments, but he also needs the time to throw. I distinctly remember one instance in the last matchup against Ohio State in which he took a quick three-step drop out of the shotgun and just got a pass off as he was being drilled. That type of pass protection is not going to be good enough this time around (or ever, really).
Q: Paul Chryst said on Sunday that there have been more players contributing down the stretch than there were earlier in the season. Who are some of the players that have emerged that could make a bigger impact in this game than in the first game against the Buckeyes?
Temple: True freshman cornerback Semar Melvin, who has played in three games, made the first start of his career against Minnesota and responded well after giving up an early touchdown pass. He started in place of cornerback Rachad Wildgoose, who missed the game with a left leg injury and is listed as questionable for the game this week. Redshirt freshman Isaac Guerendo took the first touch of his career 49 yards on a kickoff return reverse against Minnesota. Reserve outside linebackers Tyler Johnson and Christian Bell have begun to see more time. Johnson recovered a fumble last week.
But Wisconsin also has received better play out of some of its regular starters. Defensive end Garrett Rand played the best game of his career against Minnesota and finished with seven tackles, a sack and a forced fumble. Fellow defensive end Isaiahh Loudermilk had four tackles. Those guys don't receive a lot of attention, but their play will be huge in this matchup. Cornerback Caesar Williams was spectacular in slowing Minnesota's downfield threats. He finished with four pass breakups and an interception. Wisconsin needs the guys it regularly relies on to play their best games of the season.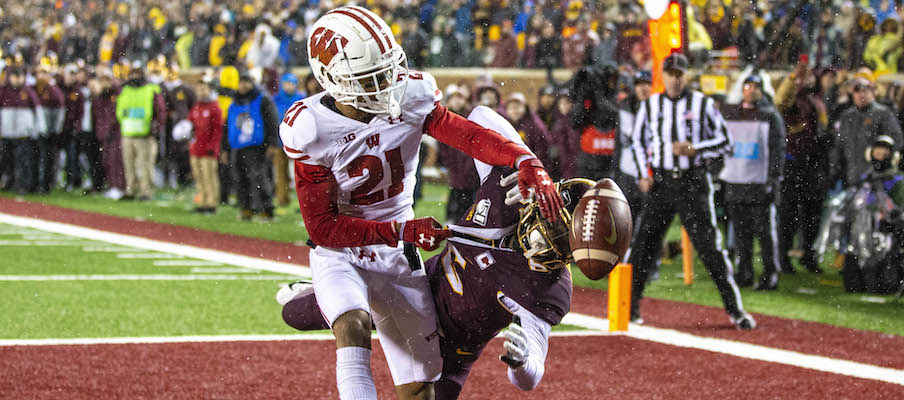 Q: Wisconsin is playing in its sixth Big Ten Championship Game in nine years, but it hasn't yet made a College Football Playoff. What do you think has made the Badgers so consistently successful in the Big Ten West, and what do they need to do to get over the hump and compete for a national championship?
Temple: I think Wisconsin's success comes down to knowing exactly what it is as a program, recruiting to those strengths and then developing that talent over four and five years. Wisconsin does those things as well as any team in the Big Ten West, and the week-to-week consistency in approach under Paul Chryst plays a role as well. There's no question Wisconsin has been the dominant team in the West. Wisconsin is 47-7 against teams in the West since the start of the decade, and Northwestern is the only opponent that has beaten the Badgers more than once in that stretch. It's really been an incredible run.
As far as competing for a national championship, it's going to take the right set of circumstances in a lot of seasons for Wisconsin to get there. Wisconsin is at a level where it regularly wins 10 games in a season. The Badgers have won double-digit games in four of the last five seasons under Chryst and eight of the last 11 seasons overall. This will be the third time in the last four seasons that Wisconsin entered the Big Ten championship game ranked in the top-10 of the College Football Playoff rankings. So it's not like we're talking about some pie-in-the-sky vision. Two years ago, Wisconsin finished the regular season 12-0 and had the ball in Ohio State territory trailing by six points with about 90 seconds remaining and a chance to reach the playoff. Obviously, Ohio State hung on for a 27-21 victory.
What does Wisconsin need to do? The answer is probably simple and difficult at the same time: Beat Ohio State. The Buckeyes are the gold standard in the Big Ten, have won the East Division for three straight seasons and figure to make plenty of appearances in the conference championship game in the future. The road to the playoff probably goes through Ohio State in most seasons. Wisconsin also can't cough up games it's supposed to win, like at Illinois earlier this season. If Wisconsin had won that game, then we'd be talking about a one-loss Badgers team with a chance to reach the playoff by exacting revenge against Ohio State.
Q: After losing 38-7 in the regular season, what does Wisconsin need to do to have a chance to upset Ohio State this time around, and how do you see the game playing out?
Temple: Wisconsin has to play close to mistake-free football in all three phases and hope Ohio State makes some uncharacteristic mistakes of its own. In that first matchup, there was an instance when Ohio State's Demario McCall fair caught a punt while falling on his backside. Quarterback Justin Fields was sacked and managed to keep control of the ball even though he didn't have it tucked as he went to the ground. What if similar situations present themselves this time and Ohio State fumbles? That's the type of help Wisconsin will need.
I'm most interested to see how healthy Fields is given his MCL injury and how much his potential lack of mobility impacts the game. If Wisconsin doesn't think Fields is a threat on the ground, perhaps the Badgers can focus more on slowing tailback J.K. Dobbins. He ran for 163 yards and two touchdowns against Wisconsin last time and has been pretty darn good the last two weeks against Penn State and Michigan, too.
I do think Wisconsin will play a closer game against Ohio State because the Badgers are better and more prepared. But this would be one of the biggest upsets in Wisconsin history, even though the Badgers are 10-2 and No. 8 in the College Football Playoff rankings. Wisconsin is either a 16.5- or 17-point underdog, depending on the betting line. That's the largest number for Wisconsin since the 1996 season. It probably says more about just how good Ohio State is right now. I think the game is close in the second half, but Ohio State wins by a couple of touchdowns.