ANN ARBOR, Mich. – For the first time all season, Ohio State's 2019 defense looked like its 2018 defense in the first half of Saturday's 56-27 win over Michigan.
The Buckeyes gave up 285 yards to Michigan's offense – tying the most Ohio State had allowed in any of its first 11 full games (Michigan State) – in the first two quarters alone. The Wolverines' passing offense accounted for 250 of those yards, as Shea Patterson completed 14 of his first 17 throws of the day.
Ohio State was plagued by repeated coverage busts and missed assignments that led to big plays, including a 22-yard end-around touchdown run by Giles Jackson on Michigan's opening possession, a 41-yard pass to Sean McKeon that led to a 25-yard touchdown pass to Donovan Peoples-Jones one play later and a 34-yard pass to Nick Eubanks to open its first drive of the second quarter. In total, Michigan had seven plays of 20-plus yards in Saturday's game, six of which came before halftime.
That was an all-too-familiar sight for the Buckeyes after last season, when they were among the worst defenses in the country in allowing big plays. It was an unfamiliar sight this season, though, as Ohio State entered Saturday with a defense that led the nation in points allowed and yards allowed per game and yards allowed per play.
Ohio State was without one crucial piece of its defense, slot cornerback Shaun Wade, who did not play due to an undisclosed injury. Against a Michigan offense that regularly had three or four wide receivers on the field, the Buckeyes appeared to miss him in a big way in the first half, as there were far more instances of pass-catchers getting wide open against Ohio State's first-team defense on Saturday than there had been in any other game this year.
Michigan drove the ball inside Ohio State's 25-yard line four times in the first half, but the Buckeyes caught a couple breaks that allowed them to still take a 28-16 lead into halftime. Quinn Nordin missed an extra point after Michigan's opening touchdown. Patterson fumbled a snap that Robert Landers recovered at the 16-yard line. Peoples-Jones dropped what would have been a 5-yard touchdown pass on 3rd-and-goal late in the second quarter (with help from Jordan Fuller, who got a hand on the ball), which led to a questionable decision by Jim Harbaugh to settle for a field goal.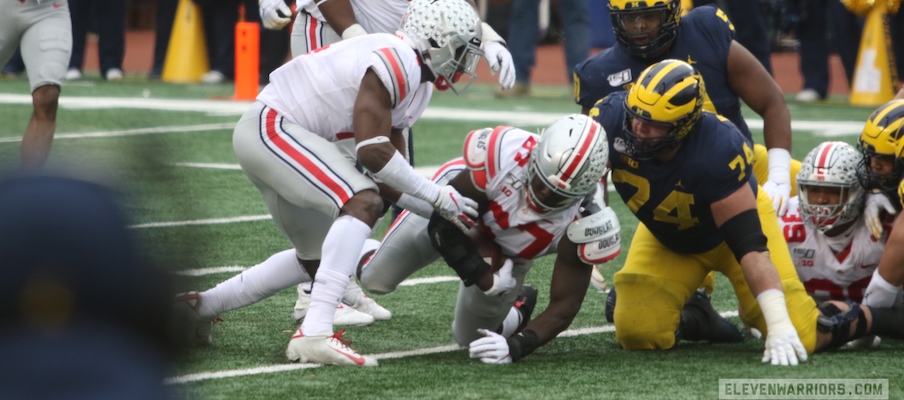 In the second half, Ohio State's defense stepped up, ultimately enabling the scarlet and gray to pull away. The Buckeyes allowed Michigan to gain only 111 total yards in the third and fourth quarters. The Wolverines scored two more times in the second half to finish with 27 points, the first time Ohio State allowed more than 21 points in a game all season, but had only one second-half drive that went more than 25 yards; three of their points came on a field goal after a muffed punt by Garrett Wilson gave Michigan the ball at the 26-yard line.
Patterson completed just four of his last 26 passing attempts of the game for 55 yards. On eight total second-half drives by Michigan, Ohio State forced three punts and two turnovers on downs and Amir Riep intercepted a pass.
Ohio State head coach Ryan Day credited his defensive assistants and players with responding to the first-half struggles and doing what they needed to do to turn things around in the final 30 minutes of the game.
"They got some really good receivers. Patterson's really talented, and their offensive line did a good job protecting, I thought. Had a good plan. But I thought at halftime, our defensive staff made some really good adjustments," Day said after the game. "That's a really good passing offense and some of the best receivers in the country, so hats off to our defensive staff, but the guys on defense played."
Day specifically singled out starting cornerback Jeff Okudah, who provided lockdown coverage and had two pass breakups, and Riep as well as fellow backup cornerbacks Sevyn Banks and Cameron Brown for stepping up with Wade out for the entire game and Damon Arnette leaving the game in the third quarter with an injury of his own. He also gave a shoutout to Marcus Hooker, who also saw more playing time than usual in two-safety packages, where he was called upon to play in the absence of Josh Proctor, who was also unavailable for Saturday's game due to an undisclosed injury. 
Star defensive end Chase Young didn't record any tackles in Saturday's game, in part because of the efforts Michigan made to double- and triple-team him, but he brought pressure on Patterson on several occasions and was proud of the way his defensive teammates stepped up to help the Buckeyes earn their eighth straight win over Michigan and improve to 12-0 on the season.
"Everybody on the defense stepped up today," Young said. "With Shaun being out, everybody stepped up and we got the win."
Ohio State's first-half defensive struggles in Saturday's game will certainly lead to some tough grading in the film room and a week of working on correcting those issues, as Michigan was able to exploit more flaws in the Buckeyes' defense than any other opponent had this year. The resiliency they showed in elevating their play in the second half, though, was enough for Ohio State to deliver a lopsided win over its rivals for the second year in a row.
"We had to kind of settle down," Landers said. "There were a few things that they did that we just hadn't seen on film, which has kind of been a trend all season, and it just came down to us making the proper in-game adjustments and halftime adjustments, and I think once we made those adjustments and got to kind of settle and get a little bit more comfortable with the reads and what we were seeing, I felt like it allowed us to play a lot faster.
"Sometimes you got to be a student and a player as you play at the same time. You got to know what's going on in the game to be able to communicate what you're getting, what you're seeing to the coaches so that we all as a collection can make the proper adjustments for everybody from top to bottom. So I give kudos to the defense as a whole for mentally being locked in, also physically, and being able to make those adjustments for us to excel toward the second half."