In just about every photo of him, Justin Fields wears the same facial expression. Eyebrows scrunched together. Intensity in his eyes. Never looking happy nor sad. Just locked in.
Regardless of whatever's happening, Fields rarely changes his demeanor. At this point, it's clear he'll maintain that whether facing Florida Atlantic or Alabama, Miami (Ohio) or Clemson.
"I don't really get excited," Fields said on Tuesday afternoon. "I'm kind of an even-keeled guy, so my emotions don't really change. I'm just going into this week like every other week. Same preparation. Same focus at practice."
Addressing the media at the Woody Hayes Athletic Center just four days before facing Penn State, which will be his first top-10 opponent as a starting quarterback, Fields had the same attitude. As if nothing at all is different.
Except both he and Ryan Day both admitted they're viewing No. 9 Penn State as a step up in competition.
"This is a talent-equated game," Day said. "We all know we have been in some games that we have had more talent than some of the other teams we have played. This is a team that talent equates. So when that happens it goes back to discipline, it goes back to fundamentals, it goes back to toughness, all of those things that come into play when your talent no longer matters. So those are the things and we got to do a good job putting a good game plan together, let the guys play, and then prepare them to go and then the team that's more prepared will win the game."
Fields essentially repeated his head coach's message about an hour later.
"Coach Day talks about when talent equates, it's not about who's bigger, who's faster, stronger," he said. "It's about who prepares the best and who goes about the meetings and stuff off the field, really, the best. So that's what we're going to focus on this week."
To call Penn State's talent equal to Ohio State's wouldn't exactly be true. Take a look at their recruiting rankings compared to each other.
2015: Ohio State ranked No. 7, Penn State ranked No. 14
2016: Ohio State ranked No. 4, Penn State ranked No. 20
2017: Ohio State ranked No. 2, Penn State ranked No. 15
2018: Ohio State ranked No. 2, Penn State ranked No. 6
2019: Ohio State ranked No. 14, Penn State ranked No. 12
The Nittany Lions have recruited better than every other team in the Big Ten outside of the Buckeyes, but they still have trailed them in the 247Sports composite rankings in four of the past five cycles. Even in the 2019 class, Ohio State had both more five-star prospects and a higher average prospect rating than Penn State.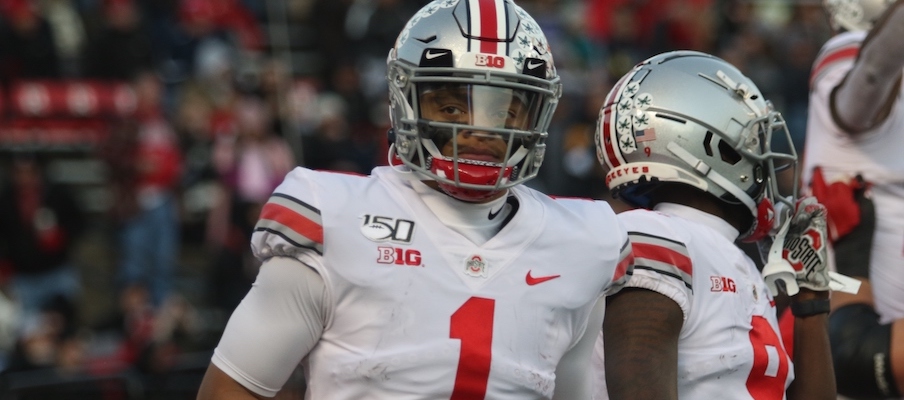 Ohio State has the edge in top-end NFL draft talent, too. On a recent 2020 NFL Draft big board, The Athletic's Dane Brugler placed five Buckeyes – No. 1 Chase Young, No. 6 Jeff Okudah, No. 35 Shaun Wade, No. 40 Damon Arnette and No. 50 J.K. Dobbins – in his top 50 while including only one Nittany Lion (No. 29 Yetur Gross-Matos), with K.J. Hamler falling just short at No. 52.
It's impossible to overlook the quarterback situations, too.
In an alternate universe, one that James Franklin would never publicly say he wishes for but one that everybody already knows he would prefer, Fields could be the starter for the Nittany Lions. At one point during his recruitment, he had committed to play for Penn State. Instead, once his recruitment blew up nationally and he became the No. 2 overall prospect in his class, he decommitted and selected Georgia. 
Twenty-nine months since the decommitment, Fields has become a star at Ohio State, rocking a 31-to-1 touchdown-to-interception ratio, and Penn State has turned to Sean Clifford, a top-200 recruit from Ohio who never received a scholarship offer from the Buckeyes. He has performed admirably, completing 59.6 percent of his passes for 2,450 yards with 22 touchdowns and six interceptions while rushing for 374 yards and five scores. Yet with Fields, an outside Heisman Trophy candidate, Ohio State has the clear advantage behind center.
The high-end talent has translated to a mighty high level of achievement for the Buckeyes, who have won six of their past seven games against the Nittany Lions – though the past three games have each been decided by three points or fewer.
With all that in mind, part of Day's point still stands. This is, unequivocally, the most talented team that Ohio State has faced this season. No doubt about that.
"I think Clifford's playing really well," Day said. "Hamler is one of the more dynamic players in the country, I think (Jahan) Dotson is as good a wide receiver as there is in the Big Ten and (tight end Pat) Freiermuth and some of those other guys are really talented as well. So I think you got a skill set over there of guys that can really hurt you. And then on defense, Micah Parsons is as talented as there is again in the conference, they do a good job up front with their front, they mix those guys in."
Jeff Hafley added: "This is the best football team that we've played this far."
At different points in the season, opponents have been viewed as Ohio State's first true test. And week after week, the Buckeyes have disposed of them with seeming ease. 
Could Penn State finally be the team that gives them a battle late into the fourth quarter? That might happen, and it might not. Ohio State's preparing for the possibility, at least. Regardless of whether the long-awaited game with a competitive fourth quarter happens or not, Franklin's team will offer the stiffest challenge yet purely in terms of talent.