While Ohio State did not look as impressive as its opening line suggested, the 56-21 victory over Rutgers should not be the cause of any hot takes. With a healthy roster, an undefeated team and a Predator returning, the Buckeyes look to be poised to take on their first top-10 matchup of the season in Penn State. 
In this week's Inside the Box, we'll take a look at Ohio State's new season-high in passing yards, the defensive line's pass-rushing struggles, and how the young, second-string linebackers beginning to shine. 
Bucks Hit New Season-High for Passing Yards
Justin Fields is good, haven't you heard?
His new career-high of 305 passing yards can be taken a number of different ways, but this angle is perhaps the most interesting: Fields is still probably going to New York as a Heisman candidate. He owns the third-best odds to win the award, with Joe Burrow as the big favorite. 
Considering the feats Dwayne Haskins had to perform to earn a similar honor a year ago, it is a testament to both Fields and the 2019 Buckeyes to have the quarterback's name in this conversation despite passing for more than 1,500 yards less than the Heisman frontrunner. 
While Fields was earning himself a new mark after playing just one series in the second half, Chugunov and Hoak moved the needle enough to push Ohio State to a new season-high 377 passing yards against Rutgers. Chugunov completed five of his 14 passes to 61 yards, though two of those incompletions were perfect throws to open receivers who dropped the ball. Hoak completed one pass for 11 yards and fumbled once. 
As the passing game reached new heights, it is only natural that the receivers hit new highs as well. On Saturday, it was Chris Olave who stole the spotlight, catching four of his five targets for 139 yards, his first career 100-yard game. Binjimen Victor caught five of his six targets for 68 yards and two touchdowns. 
Rushmen Struggled to Get to the Quarterback
Whether it was a delayed reaction to Chase Young's suspension or a lack of interest against an inferior opponent, Ohio State failed to put any pressure on Rutgers' passing game. The Buckeyes had just one sack and zero pressures, both of which were season-lows.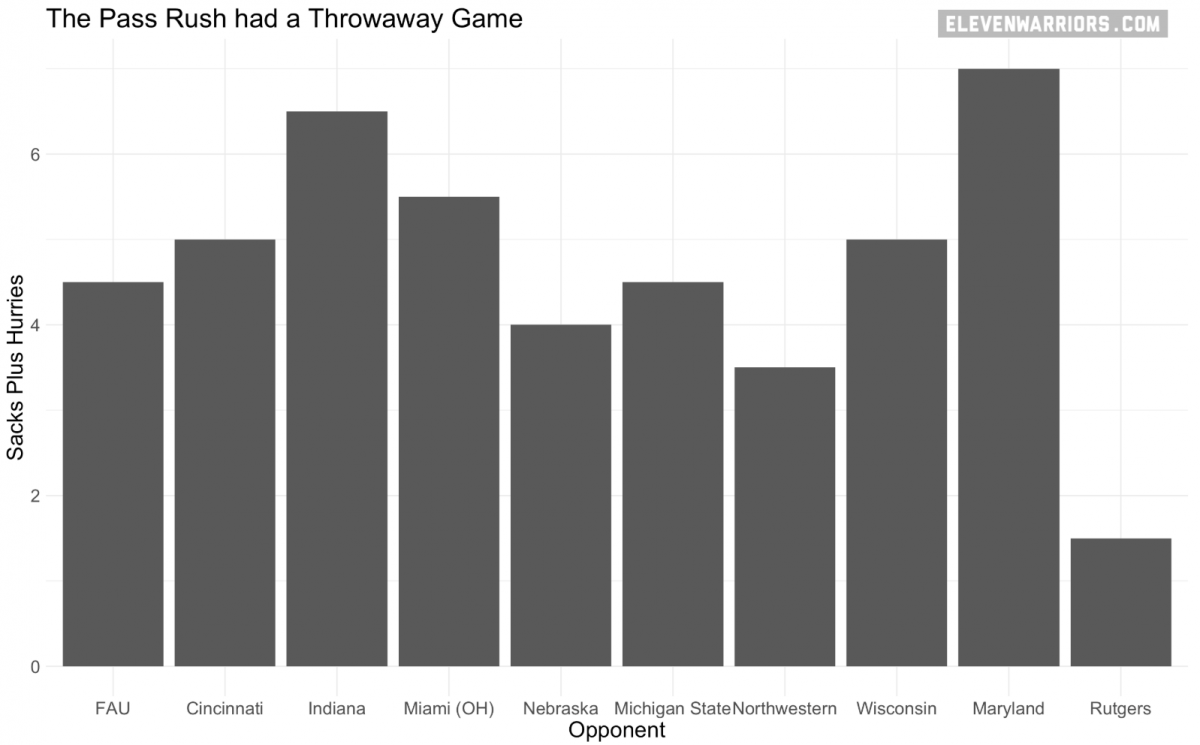 The Buckeyes' pass rush struggles were most reminiscent of their performance against Northwestern, another inferior team with a solid offensive line. In that game, Ohio State had just one sack but hurried the quarterback five times. Oddly enough, the Buckeyes recorded seven sacks, a season-high, last week without Chase Young. 
Ohio State has looked like it might experiment with Baron Browning, Teradja Mitchell, or Rashod Berry coming off the edge in the past, the Bucks ultimately decided against it against Rutgers. While it may have provided a spark, the coaching staff decided to let a number of underclassmen play through their mistakes. Zach Harrison and Alex Williams recorded three tackles each while Davon Hamilton and Tyreke Smith each got a tackle behind the line of scrimmage. 
With Chase Young returning and Penn State's below-average offensive line, I do not expect another poor performance from the pass rushers. 
Second-String Linebackers Shine
As Ohio State continued to pull away from Rutgers in the second and third quarters and second-stringers started to come into the game, a few made their presence felt more than others. Namely, the second set of linebackers, which consisted of K'Vaughan Pope, Dallas Gant, and Teradja Mitchell, performed nearly as well as the group of starters. 
Pope, a sophomore from Virginia, recorded his second interception in as many games and was tied with Malik Harrison as the team's leading tackler.
K'Vaughan Pope has his second interception in as many games pic.twitter.com/7sgGpoV96V

— Buckeye Sports Bulletin (@Buckeye_Sports) November 16, 2019
He now has 12 tackles on the year. 
Sophomore Dallas Gant was also impressive, finishing with five tackles, including one for loss. Mitchell, who was reportedly "pushing" Tuf Borland for the majority of the offseason, finished with four tackles, including one behind the line of scrimmage. He was also had one of the biggest hits of the day. 
Alex Williams tackling Dallas Gant > Teradja Mitchell tackling the Johnny Langan pic.twitter.com/hulUkwCeSc

— Colin Hass-Hill (@chasshill) November 16, 2019
The starting linebackers, however, have had quite the resurgence this year; Borland has been playing some of the best football of his career in recent weeks, Harrison is the team's leading tackler, Werner has impressed and has rendered the bullet unnecessary, and Browning has been great when he gets on the field.  
Because of the starters' play as of late, no one is calling for the benching of any of these four in favor of the younger (albeit exciting) sophomore trio like they were last year. Simply put, Ohio State does not have any backups in its linebacker unit; just more starters.