Based solely upon how the two teams have performed this year, there's little reason to believe that Saturday's game between Ohio State and Maryland will be competitive.
Ohio State has won all eight of its games this season by at least 24 points, is ranked among the nation's leaders in just about every major statistical category on both sides of the ball and is No. 1 in this year's initial College Football Playoff rankings.
Maryland is just 3-6 this season, has lost four straight games and has been unspectacular on both offense and defense.
Ohio State is favored to win Saturday's game by more than six touchdowns; the Buckeyes opened as a 44-point favorite, a full touchdown more than they were initially favored by against Miami (Ohio), a team they beat 76-5.
All of those are reasons to believe that Ohio State should cruise to an easy win over Maryland on Saturday. But the Buckeyes weren't expected to need overtime to beat a mediocre Maryland team last year, either, when the Terrapins came a two-point conversion away from pulling off a stunning upset before Ohio State escaped from College Park with a 52-51 win.
Ohio State has been exponentially better on defense than it was last year, which is why just about everyone is expecting a completely different game this year. But the Buckeyes will be without their best defensive player, Chase Young, after Ohio State announced Friday that it is looking into an NCAA eligibility issue from 2018 involving the star defensive end.
In a week in which Ryan Day has continued to preach the importance of focusing on one week at a time, and in which the Buckeyes are now facing their first real adversity of the year, last year's game against Maryland continues to serve as a warning not to take this year's game lightly.
"They have really talented players, and we learned that last year," Ohio State safety Jordan Fuller said this week.
Maryland Breakdown
Maryland's first season under new head coach Mike Locksley got off to a promising start, when the Terrapins earned a 79-0 shutout win over Howard in their season opener and followed that up with a 63-20 win over Syracuse in their second game of the year.
Since then, though, the Terrapins have won just one of their last seven games. They earned a 48-7 win over Rutgers, the worst team in the Big Ten, but have lost all of their other conference games including four losses by 26 points or more.
Offensively, the Terrapins have been plagued by injuries to some of their most important players. 
Starting quarterback Josh Jackson, a graduate transfer from Virginia Tech, missed time with an ankle injury and has completed just 49.7 percent of his passses this year for 1,065 yards and 10 touchdowns with five interceptions. 
Running back Anthony McFarland, who ran for 298 yards and two touchdowns against the Buckeyes last season, has also been plagued by an ankle injury and has rushed for just 438 yards and seven touchdowns in eight games this season. 
Jeshaun Jones, Maryland's top returning wide receiver from 2018, has missed the entire season with a torn ACL.
Collectively, Maryland is just 86th in yards gained per game (384.4), 76th in yards gained per play (5.68) and 63rd in points scored per game (29.6). 
Against top competition, Maryland's offense hasn't been effective – the Terrapins were shut out by Penn State and scored just seven points against Michigan and 10 against Minnesota – but they still have weapons who make them dangerous. Running back Javon Leake leads the Big Ten with 7.75 yards per carry (581 yards and seven touchdowns on 75 carries) and 10 all-purpose of 30-plus yards this season, including two kickoff return touchdowns, while wide receiver Dontay Demus – who had a 56-yard catch against the Buckeyes last year – has 32 catches for 491 yards and four touchdowns this season.
"They have some of the better skill guys we've seen this year," Day said this week.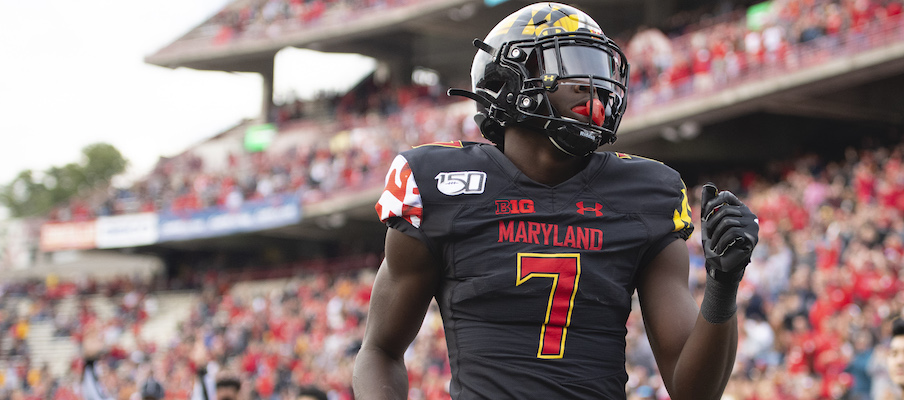 Statistically, Maryland's performance has been equally mediocre on both sides of the ball. The Terrapins defense ranks 85th in yards allowed per game (413.8), 77th in yards allowed per play (5.76) and 85th in points allowed per game (30.0).
That said, Day believes the Terrapins are coming off their best game of the season on defense, in which they held Michigan to 331 yards – the Wolverines' third-lowest total of the season, though they did score 38 points. Day also pointed out that Maryland is one of the surest tackling teams in the country; according to SportSource Analytics, the Terrapins rank second nationally with a missed tackle rate of only 6.8 percent.
"They have some good players – back end, front end, they give you a lot of different looks – coordinator (Jon Hoke)'s an NFL guy, gives you a bunch of different fronts," Day said. "So they're a challenge there."
Maryland's leading tacklers include inside linebacker Ayinde Eley, who has a team-high 65 total tackles; safety Antoine Brooks Jr., who leads the team with 52 solo tackles among 57 total tackles; and former Ohio State linebacker Keandre Jones, who now starts at strongside linebacker for the Terps and leads them with 11 tackles for loss and six sacks.
Buckeyes Breakdown
Until Friday's news that Chase Young would be unavailable to play on Saturday due to an NCAA violation, which he says stemmed from "accepting a loan from a family friend" that he has since repaid in full, everything had been going swimmingly for Ohio State this season. The Buckeyes have been dominant on both sides of the ball, and even still, there's little reason to believe Ohio State should have any trouble pulling away from Maryland for another convincing win this week.
2019 Statistical Comparison
 
OFFENSE
48.3
3rd
POINTS FOR
29.6
63rd
284.3
4th
RUSHING OFFENSE
184.2
50th
230.5
67th
PASSING OFFENSE
200.2
98th
514.8
6th
TOTAL OFFENSE
384.4
86th
.573
1st
3rd DOWNS
.348
108th
.897
34th
RED ZONE
.656
129th
DEFENSE
7.9
1st
POINTS ALLOWED
30.0
85th
91.5
9th
RUSH DEFENSE
151.0
57th
132.8
1st
PASS DEFENSE
262.8
111th
91.2
2nd
PASS EFFICIENCY DEFENSE
145.7
101st
224.3
2nd
TOTAL DEFENSE
413.8
85th
.264
3rd
3rd DOWNS
.403
82nd
.563
1st
RED ZONE
.842
76th
SPECIAL TEAMS
10.1
36th
PUNT RETURN
13.5
16th
21.3
58th
KICKOFF RETURN
25.3
13th
42.2
13th
NET PUNTING
38.2
73rd
MISCELLANEOUS
+1.4
3rd
TURNOVER MARGIN
+0.0
64th
4.9
16th
PENALTIES
6.4
76th
16
EDGE
2
Day was already on guard, though, against the possibility that the Buckeyes could be distracted by the outside noise surrounding the program now that they are the top-ranked team in the country.
Throughout this week, Day's message to his team has been that while they have accomplished their goal of starting the season 8-0 and putting themselves in a position to make the College Football Playoff, they must continue to focus on the process over the prize and work to continue getting better, and that it could take only one bad game to potentially extinguish their national championship hopes. They still have a month left to go in the regular season, so they can't afford to let up now.
"The only thing that matters is the end of the season, and I think our guys know that. I don't think that they're focused on that at all, doesn't mean anything," Day said of being No. 1 in the College Football Playoff rankings. "Our bull's-eye getting bigger and bigger every week, but we expected that going in. This is something we talked about: If we continue to take care of business week in and week out, it's going to get bigger and bigger, the games get bigger and bigger, and that's what we want."
Ohio State's players have bought into Day's messages and have maintained a tremendous level of focus and intensity all season, and that's seemingly continued to be the case this week. Day said Thursday that he thought the Buckeyes "had a better day of practice (Wednesday) than we've had in a long time," and Fuller was among the players who expressed this week that the Buckeyes remain far from satisfied with what they've done so far.
"I feel like we haven't accomplished much yet," Fuller said. "We've played well, but in terms of accomplishments, we've won eight games, right? That's about it. We got a whole lot of football left to play."
Ohio State's defense had its worst game of a bad season last year at Maryland, when it gave up a whopping 51 points on 535 total yards. This year, the Buckeyes' defense hasn't even come close to having a game like that, holding every one of its opponents under 300 yards and its last seven opponents to 10 points or fewer.
Being without their star pass-rusher in Young, though, will put a little more pressure on everyone else on Ohio State's defense to perform at their best in his absence. Jonathon Cooper is also out for this week's game due to injury, so the Buckeyes will be without both of their starting defensive ends, meaning they will rely on sophomores Tyreke Smith and Tyler Friday, true freshman Zach Harrison and redshirt freshman Javontae Jean-Baptiste to step up.
Offensively, Justin Fields and J.K. Dobbins will look to keep things humming for the Buckeyes, who have scored at least 34 points and gained more than 400 yards in all eight of their games this season. The Buckeyes have had impressive offensive balance, running for more than 200 yards in every game and throwing for more than 200 yards in every game until their last game against Wisconsin, and are currently ranked third nationally in points scored per game (48.3) and sixth in yards gained per game (514.8).
As long as the Buckeyes don't let this week's potential distractions get into their heads and play the same way they've played all year, they shouldn't have much trouble improving to 9-0 on Saturday. Day believes it is important, though, for his team not to let off the gas pedal at all.
"If we don't play our best game, we'll be in a game like we were last year," Day said. "So I think we have the team's attention, especially coming off a bye week. We have to start fast and have a sharp game."
Game Forecast
Even with the news that Young will not play against Maryland, Ohio State is still a 43.5-point favorite to win Saturday's game, which indicates the clear-cut advantage that the Buckeyes should still have over the Terrapins.
Ohio State's Previous Games Against Maryland

| YEAR | LOCATION | RESULT |
| --- | --- | --- |
| 2018 | College Park | Ohio State 52, Maryland 51 (OT) |
| 2017 | Columbus | Ohio State 62, Maryland 14 |
| 2016 | College Park | Ohio State 62, Maryland 3 |
| 2015 | Columbus | Ohio State 49, Maryland 28  |
| 2014 | College Park | Ohio State 52, Maryland 24 |
While Young is the most irreplaceable player on the team not named Justin Fields, Ohio State's defensive line should still have the advantage in the trenches over Maryland's offensive line, which has been shaky especially in pass protection. More importantly, the Buckeyes' linebackers and secondary – who struggled mightily against the Terrapins last year – have played much better this year.
Although the Terrapins were a mediocre team when they nearly upset Ohio State last year, too, they hadn't been beaten down by top competition in quite the fashion that Penn State (59-0), Minnesota (52-10) and Michigan (38-7) have this year, and the Buckeyes should pose an even tougher matchup than all of those teams.
Picking Ohio State to cover a spread of more than six touchdowns might not be a smart bet, especially considering that this is the first time all year that the Buckeyes' defense will be tested without Young, but Ohio State remains a safe bet to defeat Maryland for a sixth consecutive year and improve to 9-0 on the season, potentially with another blowout win in the process.
---
ELEVEN WARRIORS STAFF PREDICTION: Ohio State 52, Maryland 7