After four straight wins of at least 41 points and a week of being hyped up as one of the best teams in the country, there might be reason to worry about the Ohio State football team getting complacent and taking its foot off the gas pedal against a seemingly inferior opponent.
A look at the Buckeyes' recent history against Michigan State, though, should be enough to ensure they don't overlook this week's opponent.
Ohio State has lost three times to Michigan State in the past eight years – more than any other opponent in that span – including a 34-24 loss in 2013 that cost the Buckeyes a trip to the final BCS National Championship Game, and a 17-14 loss in 2015 that cost them a return trip to the College Football Playoff.
The Buckeyes have won their last three games against Michigan State, so only the team's fifth-year seniors have personally experienced a loss to the Spartans. But Ryan Day wants to make sure all of his players are aware of those losses headed into Saturday night's game at Ohio Stadium.

MICHIGAN STATE SPARTANS
4-1 (2-0 BIG TEN)
ROSTER / SCHEDULE
---
7:30 P.M. – SATURDAY, OCT. 5
OHIO STADIUM
COLUMBUS, OHIO
---
ABC
WatchESPN
"It's important to know the history of the two teams, and when they've played, what's happened and what you're up against each week," Day said this week. "This is a team that's come in and won a bunch of big games. They've gone on to win the conference, and they've also been spoilers. So we have to be ready to play these games, and that's what we're up against."
So far, the Buckeyes have yet to face any real adversity this season, as they've been able to dispatch each of their first five opponents with ease. But even though they are certainly more talented than Michigan State, as well, they know they can't take anything for granted against the Spartans.
"They don't give you anything. They make you earn everything, on both sides of the ball," Day said. "So this is a team that's gonna come in here and they want to win the Big Ten conference."
Michigan State Breakdown
Michigan State enters this week's game with a 4-1 record, including a 2-0 record to start Big Ten play, and is tied for the 25th and final spot in this week's AP poll.
The Spartans don't have any outstanding wins on their resume yet this season, and scored just seven points in their loss to Arizona State in their third game of the year. What stands out about Mark Dantonio's squad, though, is its defense, which is once again one of the best in the country – particularly against the run – this year.
Even though they are coming off their worst defensive performance of the season to date against Indiana, who totaled 356 yards before Michigan State ultimately went on to win 40-31, the Spartans rank second in the Football Bowl Subdivision in rushing yards allowed per carry (1.86), fourth in rushing yards allowed per game (55.8), sixth in yards allowed per offensive play (3.93), seventh in yards allowed per game (253.8) and 14th in points allowed per game (15).
"They have a defensive system that has been challenged for years and years, so they have answers," Day said. "They're really good at knowing what the defense is. They're not super complicated, but they have answers to everything that you do. So the minute you run a play, they're on top of it."
Michigan State's defense is one of the most experienced defenses in the country, led by six third-year starters: defensive end Kenny Willekes, defensive tackles Raequan Williams and Mike Panasiuk, middle linebacker Joe Bachie, cornerback Josiah Scott and safety David Dowell.
Willekes, the reigning Big Ten Defensive Lineman of the Year, is the Spartans' star.
He leads all Big Ten defensive linemen this season with 34 total tackles, including 6.5 tackles for loss and four sacks, after recording 78 total tackles with 20.5 tackles for loss and 8.5 sacks in 2018. He had 13 tackles with 3.5 tackles for loss in the Spartans' 26-6 loss to Ohio State last season, and Day described him as someone who stands out constantly when watching Michigan State's defense on film.
"He's really productive," Day said of Willekes. "I feel like he's in on every play when I watch a clip of film. His hands, he's got to be really, really strong because he gets off of blocks better than anybody I've seen in the last couple years on film in this conference. He plays really hard. His motor is off-the-chart. He's very difficult to block."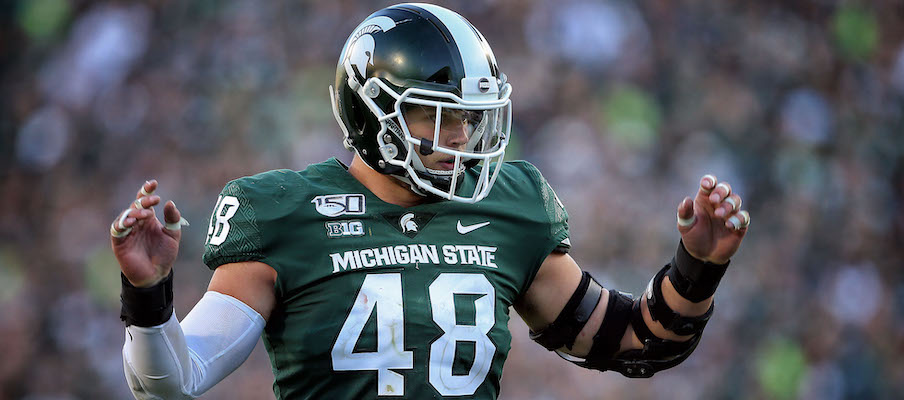 Bachie, who was named as a preseason All-American by several media outlets, currently leads the Big Ten with 46 total tackles this season.
Altogether, Day expects Michigan State to present the biggest challenge of the year to date for Ohio State's offense.
"They're one of the best defenses in the country, year in and year out, for a reason," Day said.
Michigan State's offense, at least on paper, doesn't appear to present nearly as tough of a challenge. The Spartans rank just 60th in the FBS in scoring offense (31.4 points per game), 71st in total offense (413.6 yards per game) and 77th in yards per play (5.74), and they are currently without multiple offensive linemen who were in line to be starters this year.
Senior quarterback Brian Lewerke has played better than he did last season, though, when he battled a shoulder injury for most of the year and was benched for part of the Spartans' game against Ohio State. In his first five games of this season, Lewerke has completed 104-of-174 passing attempts (59.8 percent) for 1,325 yards – the most of any individual passer in the Big Ten so far this year – and 10 touchdowns with only one interception.
"The way he manages the game, gets rid of the ball, he doesn't take a lot of sacks. He doesn't make a lot of bad decisions," Ohio State co-defensive coordinator Jeff Hafley said of Lewerke. "He'll throw the football away. He'll run it when he has to run it. And I think that's why he's playing so well."
The Spartans' running game is led by 6-foot, 217-pound redshirt freshman Elijah Collins, who has 413 yards and three touchdowns on 78 carries this year. In the passing game, they're led by senior wide receiver Darrell Stewart Jr., who currently leads the Big Ten in both receptions (35) and receiving yards (556). Other playmakers to watch on the Spartans' offense include junior wide receiver Cody White (20 receptions for 257 yards and two touchdowns) and tight end Matt Seybert (11 receptions for 133 yards and three touchdowns).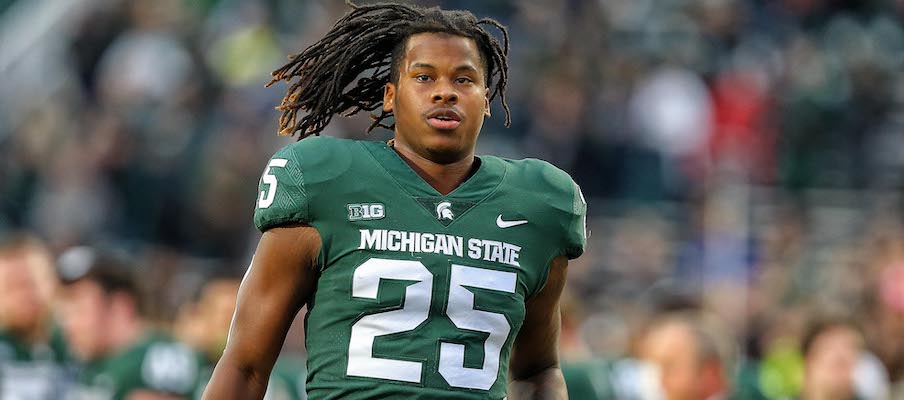 Michigan State doesn't have the most explosive offense or one that will score touchdowns in bunches, but the Spartans typically do a good job of controlling the field-position battle, which has led to 15 field-goal attempts – the most in the FBS this year – of which Matt Coghlin has made 10 so far this season. They also have just four turnovers this year, compared to 10 takeaways – the same numbers as Ohio State through five games.
The Spartans also have one of the Big Ten's most experienced coaching staffs, led by Dantonio, who is now in his 13th season as Michigan State's head coach.
"Coach Dantonio is one of the best coaches that's ever coached in college football in terms of fundamentals, technique," Day said. "They're really sound in what they do."
The Spartans certainly recognize, though, that they're in for a tougher challenge in front of a blackout crowd on Saturday night in the Shoe than they faced in their first two Big Ten games against Northwestern and Indiana.
"From my perspective, our deal, as a coach, is make sure we're motivated, make sure we have a great plan, and from a players' perspective, they've got to be motivated as well, and also we've got to execute," Dantonio said this week. "We've got to just take it one step at a time as we go down there, but we're looking forward to the challenge, national TV game, and it should be a very exciting atmosphere. We've got a lot of players from Ohio on our football team, and they'll come ready to play as well.
"We've had success down there in the past. We'll look forward to trying to replicate that," Dantonio added. "It will be a challenge as we go, but that's what this is about. At the end of the day, if you want to be Big Ten champions or the East Division champions, that goes through Columbus, Ohio."
Buckeye Breakdown
In the first five games of Day's first full season as Ohio State's head coach, the Buckeyes have been nothing short of dominant. They've outscored their opponents by a combined score of 262-43, and statistically, Ohio State has been the most complete team in the country.
2019 Statistical Comparison
 
OFFENSE
52.4
3rd
POINTS FOR
31.4
60th
281.6
7th
RUSHING OFFENSE
144.6
83rd
254.0
56th
PASSING OFFENSE
269.0
44th
535.6
8th
TOTAL OFFENSE
413.6
71st
.566
3rd
3rd DOWNS
.446
35th
.893
36th
RED ZONE
.913
30th
DEFENSE
8.6
4th
POINTS ALLOWED
15.0
14th
85.0
15th
RUSH DEFENSE
55.8
4th
138.8
6th
PASS DEFENSE
198.0
37th
92.6
6th
PASS EFFICIENCY DEFENSE
116.2
30th
223.8
2nd
TOTAL DEFENSE
253.8
7th
.247
5th
3rd DOWNS
.342
47th
.538
3rd
RED ZONE
.733
24th
SPECIAL TEAMS
11.1
41st
PUNT RETURN
8.8
60th
21.3
63rd
KICKOFF RETURN
19.9
81st
41.4
27th
NET PUNTING
41.1
30th
MISCELLANEOUS
+1.2
15th
TURNOVER MARGIN
+1.2
15th
4.4
12th
PENALTIES
7.4
102nd
15
EDGE
3
Ohio State is the only FBS team that ranks in the top 10 nationally in scoring offense (3rd), total offense (8th), scoring defense (4th) and total defense (2nd). 
The Buckeyes also rank 10th nationally in yards per offensive play (7.34) and second in yards allowed per defensive play (3.54). They are sixth in yards per carry (6.1), 13th in yards per passing attempt (9.5), ninth in yards allowed per carry (2.4) and sixth in yards allowed per passing attempt (5.1).
With its latest display of dominance in a 48-7 win over Nebraska, Ohio State became the first Big Ten team since the 1974 Buckeyes to win four straight games by 40 points or more.
Regardless of what you make of the Buckeyes' competition in their first five games of the season against Florida Atlantic, Cincinnati, Indiana, Miami (Ohio) and Nebraska, those numbers are impressive, giving Ohio State plenty of reason to be confident about what it's capable of accomplishing this season.
"I think we can become one of the best teams that has ever played at Ohio State," Justin Fields said this week. "I think if we play our game and do what we're supposed to do, I think we're definitely one of the best teams in the country, so as long as we continue to do that, I think we're going to have a great season."
As well as the Buckeyes have played so far, the conversation of whether Ohio State can be a national championship contender this year has naturally ramped up. 
Fields has thrust himself into the Heisman Trophy conversation by throwing for 1,092 yards and 16 touchdowns without a single interception and running for another 222 yards and seven touchdowns in his first five games as Ohio State's starting quarterback. J.K. Dobbins has re-established himself as an elite running back, already rushing for 654 yards and five touchdowns this season. Chase Young currently leads the nation with eight sacks, and Ohio State's defense as a whole has allowed just two touchdowns in its last four games.
The Buckeyes recognize, though, that they still have a long way to go if they want to reach their goals at the end of the season. There's still plenty of potential land mines remaining on their Big Ten schedule, and this week is one of them, so Day has preached to his team the importance of continuing to put in the same amount of work week in and week out.
"We're not where we need to be yet to win a national championship," Fields said. "Coach Day emphasizes that a lot, that we're not where we need to be, although we're having success right now. So we just emphasize really going out and having a great practice every day."
If Ohio State can continue to play at the same level it has so far this season, it's going to be tough for anyone outside of college football's elite to beat the Buckeyes.
Dantonio knows his team will need to play at its "very, very best" to have a chance to take them down.
"They have a tremendous football team, and they're primed in terms of what they're doing. You can look at any aspect of their team, and they're doing it well," Dantonio said. "I think Ryan Day is doing an outstanding job in his first year there as the permanent head coach. He's got them playing at a very high level, and he's done a great job getting everybody going in the same direction."
Game Forecast
Ohio State enters Saturday night's game as a 20-point favorite, which on one hand, seems like a big spread against Michigan State, who the Buckeyes have beaten by more than 20 points only once in the past eight years.
Ohio State's Last Eight Games Against Michigan State

| YEAR | LOCATION | RESULT |
| --- | --- | --- |
| 2018 | East Lansing | Ohio State 26, Michigan State 6 |
| 2017 | Columbus | Ohio State 48, Michigan State 3 |
| 2016 | East Lansing | Ohio State 17, Michigan State 16 |
| 2015 | Columbus | Michigan State 17, Ohio State 14  |
| 2014 | East Lansing | Ohio State 49, Michigan State 37 |
| 2013 | Indianapolis | Michigan State 34, Ohio State 24 |
| 2012 | East Lansing | Ohio State 17, Michigan State 16 |
| 2011 | Columbus | Michigan State 10, Ohio State 7 |
Yet as consistently dominant as the Buckeyes have been for the majority of the decade – they're 91-9, tied with Alabama for the best 100-game stretch among all FBS teams, dating back to Urban Meyer's first game in 2012 – this year's team has decimated its competition at a nearly unprecedented level that makes another lopsided win on Saturday, even against what might be the most well-rounded team Ohio State has faced all year, seem plenty possible.
Michigan State's defense is the best that Ohio State has faced all year, but it's not necessarily better than the Michigan State defense that a less explosive Ohio State offense tore through for 48 points on 524 yards in 2017, the last time the Spartans came to Columbus. And as dominant as Ohio State's defense has been so far this year, it's hard to envision Michigan State's offense scoring more than a couple touchdowns against the Buckeyes unless they can expose a flaw in Hafley and Greg Mattison's unit that no opponent has been able to yet.
Add in what should be the best environment of the season to date at Ohio Stadium, as the Buckeyes wear their popular black alternate uniforms and play their first primetime game in the Shoe since their 2017 non-conference game against Oklahoma, and Ohio State will look to feed off that home-field energy and take its game to an even higher level.
Michigan State certainly isn't an opponent that should be overlooked, and the Spartans have proven to be as capable as any other team in the Big Ten of taking advantage when the Buckeyes don't play at their best. But if Ohio State's offense can keep clicking, its defense can continue to play fundamentally sound at all three levels and the Buckeyes can avoid turnovers or other costly mistakes that give their opponent a chance, Saturday's game has the potential to be another statement win for Ohio State before its first bye week of the year.
---
ELEVEN WARRIORS STAFF PREDICTION: Ohio State 42, Michigan State 13