Before each week's Ohio State game, Eleven Warriors catches up with a media member who covers the opposing team to get his or her perspective on the Buckeyes' upcoming opponent.
With Michigan State set for its biennial trip to Ohio State to play the Buckeyes in a Saturday night showdown at the Shoe, we caught up with Matt Wenzel, who covers Michigan State football for MLive.com, to get his insight on whether the Spartans have what it takes to play spoiler to the Buckeyes again this year.

MICHIGAN STATE SPARTANS
4-1 (2-0 BIG TEN)
ROSTER / SCHEDULE
---
7:30 P.M. – SATURDAY, OCT. 5
OHIO STADIUM
COLUMBUS, OHIO
---
ABC
WatchESPN
Michigan State has defeated Ohio State three times since 2011, including twice at Ohio Stadium, but do the Spartans have enough firepower to have a chance against the red-hot Buckeyes this year? What should we make of the Spartans' 4-1 start, and what are their strengths, weaknesses and players to watch on both offense and defense?
Wenzel gives us answers to those questions and more in this week's edition of Across The Field.
Q: Michigan State is 4-1 so far this season with its one loss coming to Arizona State. How would you assess the Spartans' start to the season through five games?
Wenzel: Decent, but nothing that merits more than their tie for No. 25 in the AP rankings. The defense was strong through the first four games before Indiana chipped away with a short passing attack and racked up 31 points last week. The offense has been better than last year, although that's hardly saying much.
Bottom line: this team should be 5-0 heading into Columbus. The loss to Arizona State was ugly, with just one touchdown – somehow – on 404 yards of total offense, missed opportunities, execution and coaching errors, and a botched finish.
Q: The Spartans have one of the nation's top-ranked defenses once again this season, especially against the run. What do you think have been the keys to their defensive success so far, and how do you see them matching up with Ohio State's offense?
Wenzel: Michigan State's base defense is well-equipped to stop the run with a veteran front. Raequan Williams and Mike Panasiuk form a destructive defensive tackle combination while Kenny Willekes is one of the best edge defenders in the nation. Those three are all three-year starters, as is Joe Bachie, who is Michigan State's latest great middle linebacker and a talented run stopper. The secondary is also led by a pair of three-year starters in cornerback Josiah Scott and free safety David Dowell, although that group is coming off a rough performance.
Indiana quarterback Michael Penix Jr. and a solid group of receivers were a problem for the Spartans, which is a significant concern because Ohio State obviously has a lot more talent than the Hoosiers.  If Michigan State is going to have a chance to slow down the Buckeyes, it will have to limit J.K. Dobbins, tackle better in space than a week ago, prevent Justin Fields from picking up big chunks with his legs and make him pass to win. And that sounds funny for a guy who has completed almost 70 percent of his passes for 16 touchdowns and no interceptions.
Q: Brian Lewerke is seemingly playing much better this year than he did last year, but the Spartans still rank just 60th in scoring offense and 71st in total offense. How would you evaluate their offensive play so far this season, and what are their strengths and weaknesses on that side of the ball?
Wenzel: For starters, Lewerke is healthy and not playing with an injured throwing shoulder that reduced him a shell of himself the second half of last season. He's confident and making plays with his arm and legs while cutting down turnovers with 10 touchdowns and just one interception. That's a huge difference from the last time the Spartans faced the Buckeyes.
The Spartans also found a featured running back in Elijah Collins, whose emergence resulted in junior Connor Heyward entering the transfer portal. Darrell Stewart Jr. is off to a monster start to his senior season and ranks in the top 10 in the nation in receptions (35) and receiving yards per game (556) as he has become Lewerke's go-to target. The offensive line has been better this season, although the group has been playing shorthanded with its top three options at left tackle all sidelined.
Overall, the offense under new coordinator Brad Salem has been better than a year ago after a rocky start with just one offensive touchdown in two of the first three games and finishing drives was a major problem. The Spartans have mixed in tempo, been effective in two-minute drive situations and are getting impressive play from their seniors. It's still not a group that's going to average 40 points per game but that was never really expected. The offense merely has to do enough, if the defense lives up to its reputation.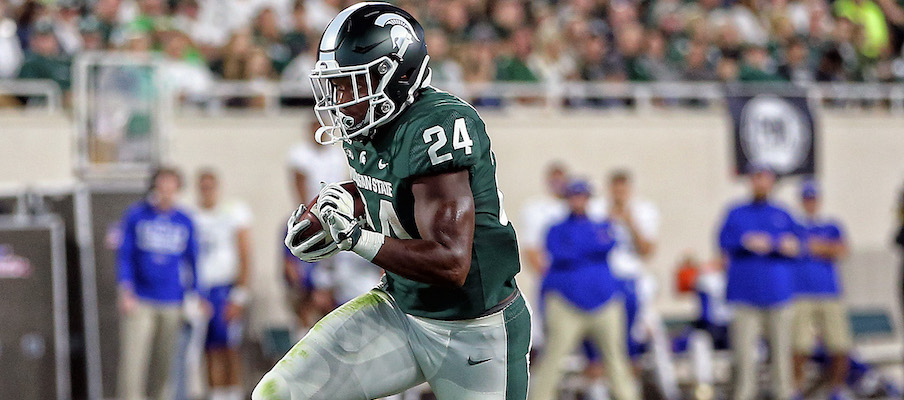 Q: Kenny Willekes and Joe Bachie are recognized as two of the nation's best players at their respective positions, but who are some of the less heralded players that Ohio State and its fans should also be paying attention to on Saturday night?
Wenzel: Starting on offense, look for Collins, a redshirt freshman who is shifty and is averaging 5.3 yards per carry with 413 yards and three touchdowns on the ground. Matt Seybert, a fifth-year senior tight end and former walk-on, has emerged as a threat with three touchdowns in the last two games. True freshman wide receiver Julian Barnett, a four-star prospect nearly every program in the nation wanted, has been used in a limited role but seems on the verge of having a breakout game.
Defensively, junior weak-side linebacker Antjuan Simmons (a former Ohio State commit) has been impressive in his first season as a starter and is tied for eighth in the nation in tackles for a loss with 7.5. Scott has the potential to be among the best corners in the Big Ten and will be attempting to bounce back from a rocky outing against the Hoosiers. He will probably be tested frequently by the Buckeyes.
Q: Ohio State is favored to win Saturday's game by 20 points, but Michigan State has a history of playing spoiler to the Buckeyes. Do you think this year's Spartans are capable of doing that again, and what needs to happen for them to have a chance at the upset?
Wenzel: I thought the Spartans had a chance of winning in Columbus in 2017, then had the top of my game story done before halftime. Sure, they've had unexpected success there before under coach Mark Dantonio and his team shouldn't be counted out.
If Michigan State is going to have a chance, I think it is going to have to keep the score below 30, which is asking a lot lining up against a team that's averaging 52 points per game. Keep it low scoring, make it a little ugly, win the turnover margin by at least two and get the best performance of the season, by far, from both sides of the ball. Do all of that, and the Spartans will have a chance. I just don't see them leaving the Horseshoe with a win this year.