LINCOLN, Neb. – In the first two seasons of his Ohio State career and the first three games of this season, Jeff Okudah never recorded an interception.
In the Buckeyes' last two games against Miami (Ohio) and Nebraska, Okudah has recorded three interceptions.
Two of those interceptions came in the first quarter of Ohio State's 48-7 win over the Cornhuskers on Saturday night.
Okudah's first interception of the night came on Nebraska's opening possession of the game, when he broke in front of an Adrian Martinez pass intended for Wan'Dale Robinson and secured a catch through contact with Robinson as he fell to the ground.
An Okudah pick leads to a @justnfields six. @OhioStateFB strikes first in Lincoln: pic.twitter.com/ItJsjn1Ci5

— Big Ten Network (@BigTenNetwork) September 28, 2019
The second interception, which came two Nebraska possessions later, was more of a lucky break; Martinez threw a pass too far for Robinson to catch it and Okudah, who had slipped to the ground, snagged the ball out of the air from his back.
Jeffrey Okudah: Laid back dude.

The @OhioStateDB gets pick No. 2 of the evening from the turf: pic.twitter.com/cDQaCNl8qC

— Big Ten Network (@BigTenNetwork) September 29, 2019
Okudah was already considered to be one of the nation's best cornerbacks even before he had an interception, the first of which came for the first time in the Buckeyes' 76-5 win over the RedHawks last weekend.
As opponents have seemingly started to target Okudah more as the rest of the Buckeyes' secondary has stepped up around him, more opportunities to pick off opponents' passes have come his way, and he's proven he can take advantage.
Okudah said his interception against Miami gave him more confidence that he could make more interceptions at Nebraska, but he said he's had more confidence all year because of what he has learned from the Buckeyes' new secondary coach, Jeff Hafley.
"He's one of the best coaches I've ever been around," Okudah said. "He's made me such a great player."
Hafley credited Okudah's consistent daily effort in practice with enabling him to make the plays he has over the past couple weeks.
"He just works every single day and he's bought in and he has confidence, and that's why he's getting better," Hafley said of Okudah. "I told him, 'The balls are going to come to you, man. Just trust it. Play with good eyes, play with good vision, don't press and you're gonna make plays.'"
With three total interceptions on Saturday, also including one by Jordan Fuller, Ohio State has now made seven interceptions through five games this season.
Browning makes his presence felt
Baron Browning isn't Ohio State's starting middle linebacker yet, but the way he played against Nebraska on Saturday night is going to make it increasingly difficult to keep him off the field.
While rotating in and out of the lineup with Tuf Borland in Saturday's game, Browning consistently made his presence felt when he was on the field, recording seven total tackles – tied with Malik Harrison for the team lead against the Cornhuskers, and his most in a single game in his career to date – including two tackles for loss.
After two underwhelming seasons to start his Ohio State career, Browning has consistently flashed this season with his explosive speed to the ball and powerful tackling, showing why he was ranked as the top linebacker in the recruiting class of 2017.
"I look at all of our guys that are getting better every week, and Baron is another one," co-defensive coordinator Greg Mattison said after the game. "He's a tremendously talented athlete, a great person, great character. And he just every day works as hard as he can and tries to do what he's supposed to do."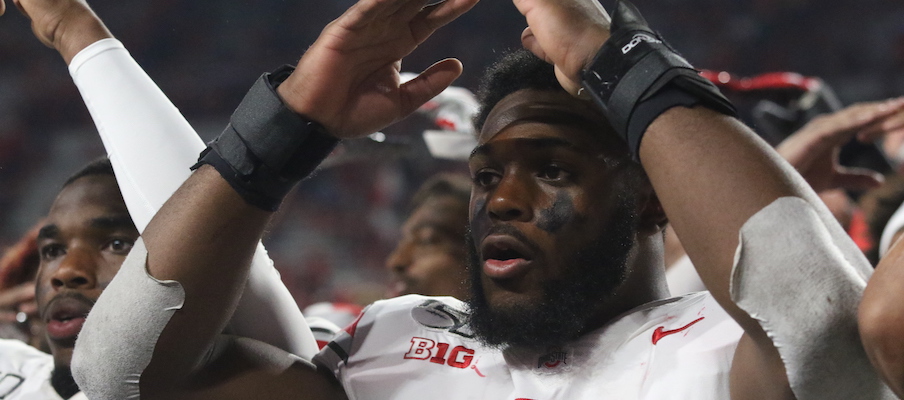 Borland has started every game at middle linebacker so far this season, and the Buckeyes could be reluctant to take him out of the starting lineup, given that he is a second-year captain and regarded as one of the team's best leaders. Browning has cut into Borland's playing time significantly, though, and made more plays when he has been on the field, which ensures that he will continue to see plenty of snaps regardless of who takes the first snaps going forward.
Noticeably, Borland was the only starter still on the field at the beginning of Ohio State's final defensive series of the game in the fourth quarter, though Browning also saw playing time on that series.
Alabi fills in for Bowen
With Branden Bowen sidelined for Saturday's game due to an undisclosed injury, Ohio State turned to fellow fifth-year senior Joshua Alabi to take his place in the lineup as the Buckeyes' starting right tackle.
The decision to go with Alabi over redshirt freshman Nicholas Petit-Frere came as a bit of a surprise, given that Petit-Frere was listed as a co-starter with Bowen on the depth chart Ohio State released Friday for Saturday's game, but the Buckeyes ultimately opted to turn to the more experienced Alabi, who filled in for Thayer Munford as the starting left tackle in last year's Rose Bowl and served as the Buckeyes' second-team left tackle for the first four games of the year.
Ryan Day felt that Alabi – who faced the possibility of finishing his Ohio State career this year without ever starting another collegiate game – deserved that opportunity, and his entry into the lineup seemingly didn't hurt the Buckeyes at all on a night where they averaged 7.7 yards per play, including 6.9 yards per rushing attempt.
"He's somebody who you talk about having a great attitude and being a team player, he comes in and steps in at right tackle, and we'll see how he grades out but I know that line did a good job blocking people," Day said of Alabi. "I noticed him on some plays doing really, really well. So to have a guy like step up and play I think the way he played, that's a tribute to our depth and Stud and everybody up front, and hats off to Josh, man. He played really, really well tonight."
Bowen, who was listed as a game-time decision on Friday's status report for Saturday's game, was in uniform and went through warmups with the rest of the Buckeyes' offensive line prior to the game, but he did not play. With Alabi's move into the starting lineup, Kevin Woidke finished out the game at left tackle and Petit-Frere finished out the game at right tackle with the second-team offensive line after the starters came out of the game.
Dobbins climbing the record books
Going into Saturday night's game against Nebraska, J.K. Dobbins ranked as Ohio State's 14th-leading rusher of all-time. By the end of Saturday night's game, Dobbins had moved all the way up to 10th.
In rushing for 177 yards against the Cornhuskers, Dobbins has now rushed for 3,110 yards in his Ohio State career, passing Antonio Pittman (2,945), Michael Wiley (2,951), Carlos Snow (2,999) and Pepe Pearson (3,076) along the way.
For the season as a whole, Dobbins has now rushed 654 yards – only 399 yards less than he had all of last season – in just five games.
Coming into the season, Dobbins was motivated to perform better after deeming his performance last year, when he averaged just 4.6 yards per carry, as a "failure." So far this season, Dobbins has performed much better – rushing for 7.1 yards per carry – but he isn't satisfied yet.
"I'm playing a lot better than last year," Dobbins said. "I got some things I can work on for sure. I can be way better. So I'm just going to keep getting better and better, try to work harder to get better."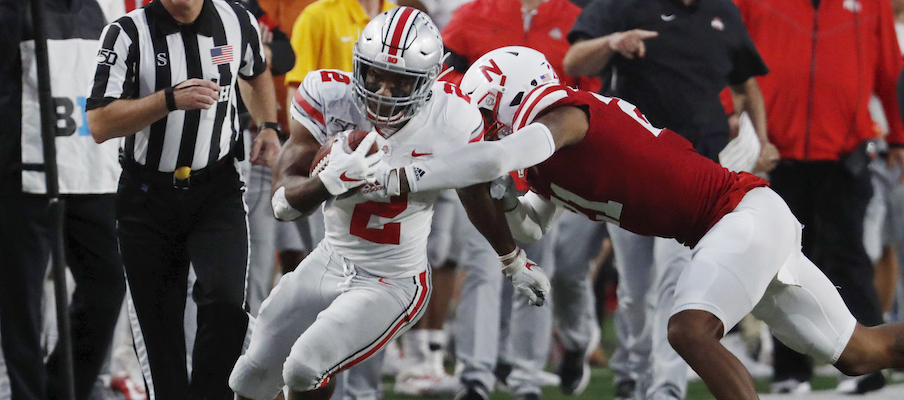 11 true freshmen make the trip, six officially burn redshirts
After bringing just eight true freshmen to Indiana for its first road game of the season, Ohio State brought 11 true freshmen to Lincoln as part of its 77-man travel roster this past weekend. Linebacker Cade Stover, safety Bryson Shaw and defensive tackle Jaden McKenzie, who did not make the trip to Bloomington, joined wide receivers Garrett Wilson and Jameson Williams, defensive end Zach Harrison, linebacker Craig Young, running backs Marcus Crowley and Steele Chambers and offensive linemen Harry Miller and Dawand Jones.
Ohio States travel roster for tonights game at Nebraska. Cameron Brown is incorrectly listed as No. 38, but still wearing 26. pic.twitter.com/lfAm1yaqF2

— Dan Hope (@Dan_Hope) September 28, 2019
Sophomore linebacker Teradja Mitchell and sophomore defensive end Tyreke Smith, who were unavailable for Saturday's game due to injuries, and safety Isaiah Pryor, who put his name in the transfer portal on Monday, did not make the trip to Lincoln after traveling to Bloomington.
Wilson, Williams, Harrison, Young, Crowley and Miller have each now played in all five of Ohio State's games this season, meaning they are officially no longer eligible to redshirt this season and are in line to continue seeing playing time all year. Chambers also saw playing time on the kickoff return unit, marking the third game he has appeared in this year, which means he can only play in one more game before he would no longer be eligible to redshirt.