Ohio State did what it had to do.
Entering all four games in the first month of the season as multi-touchdown favorites, the Buckeyes took care of business. They couldn't afford a bad loss, and they barely struggled outside of a funky game to open the season. 
A 45-21 win against Florida Atlantic to open the season. A 42-0 shutout victory to beat Cincinnati, the second-best team in the state. A 51-10 win versus Indiana on the road. A historically dominant 76-5 beatdown of Miami (Ohio). Ohio State has outscored its opponents by an average of 53.5 to 9 in its first four games, becoming the frontrunner to win the Big Ten in the process.
Now Ryan Day has to get his team to do what it's supposed to do.
Urban Meyer might have left the Ohio Stadium sideline, but the fans in the seats didn't change, and neither did the expectations for this program. At Ohio State, the football team isn't supposed to lose to any of the teams it faced in the first four weeks of the season, and it's expected to compete for – and frequently win, especially this year as the favorite at this point – the Big Ten championship.
The chase for the conference title truly begins with next weekend's showdown with the Cornhuskers in Lincoln, Nebraska, which kicks off what could be a tough stretch of games for the Buckeyes. Day didn't waste any time in the locker room after the Miami (Ohio) victory, bringing up the next game right away.
"To be honest with you, I'm ready for it too," center Josh Myers said. "I want to get in there, watch some film. I'm anxious."
When the team's flight to Nebraska touches down on Friday, the Buckeyes will likely be double-digit road favorites against a team that was a trendy breakout pick prior to the season. And unless something changes, Ohio State will likely enter every remaining game on its schedule as the betting favorite by at least a touchdown.
As Meyer used to say, that's just life in the big city. Now comes the difficult part, as the team's former head coach has also seen recently: getting through conference play unscathed and earning a College Football bid. 
"We've been talking about this since we was doing mat drills because we've got a stretch coming up. We've been working hard for this, and I feel like we're ready for it."– K.J. Hill on the upcoming schedule
Although Meyer compiled a remarkable 54-4 record in the Big Ten, his teams lost one game to an in-conference opponent every season since winning the national championship in 2014. They entered almost every one of those games as the favorite, just as the Buckeyes likely will do this fall.
Knowing that, center Josh Myers said, Ohio State has attempted not to make too much about the strong start to the 2019 season against four overmatched opponents.
"I think we have a really positive mindset," Myers said. "I think in the back of our minds we know that, and that's something we're very aware of. I think the biggest thing we can do is take what we've learned to this point with us to Lincoln next week and from them just slowly progressing. Each week, we're trying to get better, and that's the point, to get better each and every week. I think we've done that."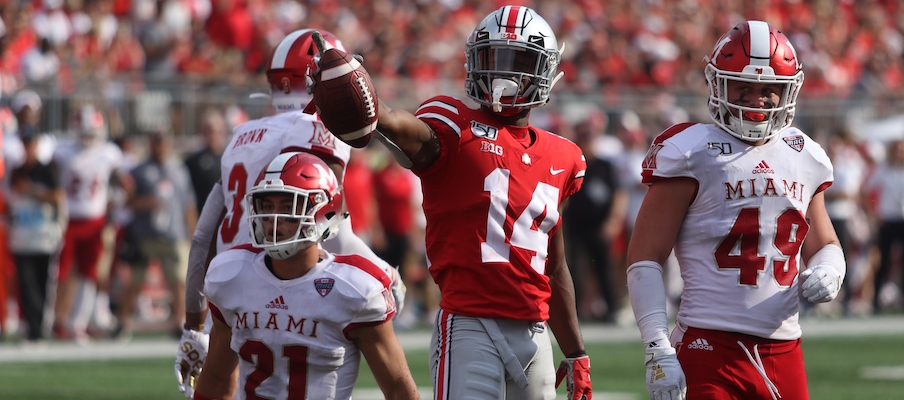 It's hard to argue with Myers' point about progress; Ohio State certainly hasn't backslid at all in the first month. But now it'll have to prove that the team has developed against stiffening competition.
Nebraska, up next, has a better offense and stadium atmosphere than any opponent up to this point. Michigan State, which follows, will challenge the Buckeyes with a stifling defense, even if its offense isn't particularly productive. A Friday night road matchup with Northwestern comes next, preceding a home showdown with Wisconsin, which just beat Michigan. After a pair of games against Maryland and Rutgers, Ohio State ends the season with a home game against Penn State and a road clash with the Wolverines.
"We've been talking about this since we was doing mat drills because we've got a stretch coming up," K.J. Hill said. "We've been working hard for this, and I feel like we're ready for it."
At times, it's been difficult to tell just how good just how polished Justin Fields is as a passer or just how dominant this defense is against both the run and the pass.
We might not learn everything all at once, but each game against more talented opponents will provide new insight into this team. And as so many players on this team learned the past few years, the better team sometimes loses. 
"I think we've prepared the winter, summer, and I think this team is mentally and physically prepared," Justin Fields said. "So we'll get in the film room tomorrow, see what we can get better at and just get ready for Nebraska."
Given the Cornhuskers' less than exemplary start to the season, they might not be the massive step up in competition as they once were thought of. But Ohio State has singled out this game as a significant point in the season since the spring, and that won't change this upcoming week.
"If we're going to go into Lincoln, a lot of things to clean up if we're going to go beat those guys next week," Day said. "Already on to those guys and focused on preparing for them next week."
It won't end there. A matchup with Nebraska just happens to kick off the next portion of the schedule.
Day hasn't ever been through the entirety of the Big Ten as a head coach, but he knows what's expected of him and Ohio State: A whole lot of wins.