The spread dropped a couple points after Ohio State opened as a 17-point favorite on Cincinnati, signaling the public's belief the Bearcats could keep it close.
Spoiler alert: they couldn't.
Ohio State pitched a shutout victory, winning 42-0 at Ohio Stadium on Saturday. Let's get into this week's stock report, which is significantly heavier on the positives than the negatives after such a win.
Stock Up
Justin Fields
Not until the 19th pass of the game did Fields throw a ball that fell incomplete due to anything other than a dropped pass or a throw away. He held the ball a bit too long on a couple occasions, but Ryan Day would prefer that over him trying to force it into a tight window with the possibility of a turnover.
Fields made impressive throws, and he didn't make any errors. He stood in and took a few shots while delivering throw, and he ran when he had to, scoring two touchdowns on the ground. He did everything Ohio State could want from its quarterback.
Through two games, Fields has completed 38-of-50 passes for 458 yards and six touchdowns, also rushing 21 times for 103 yards and three touchdowns. 
J.K. Dobbins
In the first game of the season, Dobbins had 91 yards on 21 carries, providing both him and everybody watching him with a flashback to last season when he averaged 4.6 yards per rush. The mediocre production especially stood out due to Master Teague running with speed and ferocity later in the game.
Dobbins bounced back on Saturday with 17 rushes for 141 yards and a pair of touchdowns.
More important than any single stat, Dobbins just looked rejuvenated. He bounced off would-be tacklers, ran through arm tackles and even exploded through a hole for a 60-yard rush, his longest carry since his freshman season. Ohio State needs him running at his best in its biggest games later this season.
Garrett Wilson
In the months preceding the season, Wilson made his name known as a likely early contributor as a freshman. But in the season opener, he didn't have a catch and couldn't snag a pass that was ruled a fumble since it went backward.
Wilson made up for his Week 1 error by pulling in a nine-yard touchdown that Day called "NFL material."
Get used to this combo. pic.twitter.com/GKzjDHjiAY

— Eleven Warriors (@11W) September 7, 2019
It remains to be seen just how much the coaches turn to Wilson in key moments. No matter his talent level, he still has played just two games at the college level.
Wilson's lacking experience doesn't hinder his skillset, though, which he showed on Saturday.
Shaun Wade
Two-and-a-half years ago, Ohio State landed the top two cornerbacks in the 2017 recruiting cycle. The top-ranked cornerback, Jeff Okudah, is in line to become a first-round draft pick in the spring. The second-rated cornerback, Wade, made a case on Saturday to have his name pop up early in the 2020 NFL Draft, too.
Wade forced a fumble on a sack, delivered a jarring hit to nearly cause an interception and had a ball bounce off him and into the hands of Tuf Borland. 
Greg Mattison and Jeff Hafley
Everybody heard about the alterations Mattison and Hafley made to Ohio State's defense throughout the offseason. But even as the players learning the new scheme seemed to buy into what their new defensive coordinators wanted to do, one constant remained true: we hadn't actually seen the improvements in the field.
Sure, Okudah and Wade seemed fully invested in playing zone and other coverages rather than playing press-man coverage. Damon Arnette believed enough in Hafley that the new coach helped pull him back to school for a fifth year. Jordan Fuller believed he'd have more opportunities for game-changing plays. The linebackers thought the new scheme would allow them to play faster. For eight months, we heard variations of those explanations but couldn't actually see the changes in games.
In the first two weeks of the 2019 season, the changes by Mattison and Hafley have produced the desired results. 
Florida Atlantic accumulated negative yardage in the first half of its loss to Ohio State, and the Buckeyes held the Bearcats scoreless the following week. Most importantly, everybody on defense looks faster and more confident flying around the field and hitting opponents. Just two weeks into the season, early returns are positive.
Chase Young
Since he did something he hadn't ever done before, his stock somehow continued to rise. Young got his hand on a field goal attempt on Saturday, blocking one for the first time in his career.
Chase Young: Nope. pic.twitter.com/HYZBga5eru

— Eleven Warriors (@11W) September 7, 2019
He almost had another first, coming close to an interception that fell out of his hands.
That bobble didn't do much to harm an otherwise dominant day, though. Young had 1.5 sacks and three tackles on Saturday, giving him three sacks and eight tackles in the first two games combined. He's arguably the most dominant non-quarterback in the nation, and he'll get rewarded for that skillset with an eight-figure contract in the spring.
Joe Burrow
Yes, Ohio State made the right choice by picking Dwayne Haskins as its starter last year. But yes, two years of Burrow leading the Buckeyes' offense would've been entertaining.
I mean, who throws for 471 yards and four touchdowns in a 45-38 win against a team that entered the matchup calling itself "DB U" and then immediately tweets this after the victory?
September 8, 2019
He's just different.
In an alternate universe, the Buckeyes would be just fine with Burrow as their quarterback in 2018 and 2019. But I don't think anybody could argue with taking the path of Haskins and Fields instead. It all worked out for all parties involved.
Now...what happens if Burrow and the Buckeyes happen to meet in December or January? There certainly wouldn't be any shortage of storylines.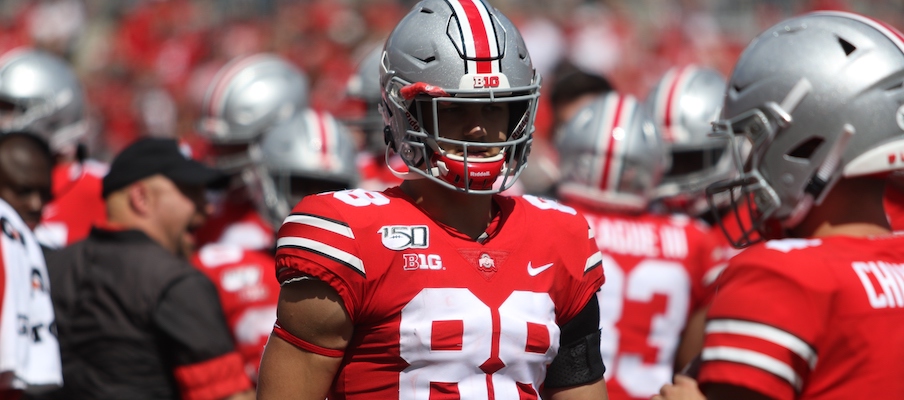 Stock Down
Tight End Targets
In the first game of the season, Jeremy Ruckert caught four passes and two touchdowns, and Ohio State employed under-center packages with as many as three tight ends on the field at once. With Rashod Berry returning for Week 2, an expectation of continued focus on involving tight ends in the passing game existed.
That didn't happen.
None of Ohio State's four tight ends – Luke Farrell, Jake Hausmann, Berry and Ruckert – caught a single pass, and the Buckeyes relied less on their under-center packages than in the season opener. Ohio State won't abandon the under-center package, but the frequency with which Day relies on it might depend on the matchup, which in turn alters tight end targets.
The fourth-down play call
Urban Meyer apparently took Day's headset to call a fourth-and-1 play in the first quarter.
At Cincinnati's 19-yard line, Day chose to have Fields take a designed run to the left in a similar fashion to what J.T. Barrett did so often. Unlike with Barrett, when the play seemed to succeed so often, Fields couldn't convert for a first down.
Ryan Day honoring Urban Meyer's legacy by refusing to sneak on 4th-and-short. pic.twitter.com/PhuySqHr3r

— Eleven Warriors (@11W) September 7, 2019
A run up the middle? A quarterback sneak? A pass to K.J. Hill? A play-action dump-off to a tight end? The Buckeyes needed to do something other than what they did on fourth down – though, it ultimately didn't factor much into the game's result.
Brendon White
Maybe preseason expectations for White were out of whack compared to reality, or maybe the correct matchup in which to deploy the bullet position hasn't materialized yet. Either way, we haven't seen much of White yet this season. He played 19 snaps in the season opener and 15 snaps against Cincinnati.
To be clear, this isn't a slight on White's productivity. Rather, it's a realization that he might be more of a situational player than anybody realized before the season. The coaches wholeheartedly believe in Pete Werner, and he has seemed to take the majority of snaps that otherwise would have went to White, the team's bullet.
Michigan
Though the Wolverines avoided a catastrophic loss to Army on Saturday, it's difficult to imagine those in Ann Arbor, Michigan, can feel good about where Jim Harbaugh has his team right now. 
Michigan will get a week off to regroup before it heads to Madison, Wisconsin, to face the Badgers at what will be a rowdy Camp Randall Stadium. All eyes in the Big Ten will be on that game.
Nebraska
Some of the luster of Ohio State's Week 5 opponent vanished this weekend. The Cornhuskers fell to 1-1 on Saturday, losing to Colorado, 34-31, in overtime.
Scott Frost's second year at Nebraska won't come close to what he did in his second year at Central Florida, when he led the Golden Knights to a 13-0 record after going just 6-7 the prior year.