Ohio State improved to 2-0 last weekend after a near-perfect performance against Cincinnati and looks to make it three straight wins to open the season tomorrow afternoon in Bloomington. 
Tom Allen's Indiana Hoosiers also sport a 2-0 record after dispatching of Ball State and Directional State. 
Will the Buckeyes keep the running game rolling? Who is Ohio State's most important receiver? Is it good or bad when Michigan loses? Do you like movies about gladiators? 
Our very own Kyle Jones, Johnny Ginter and David Regimbal share their takes on those queries and more in this week's installment of the 11W roundtable. 
---
Ohio State's running game looked better against the Bearcats averaging 5.9 yards per carry as J.K. Dobbins got back on track with 17 attempts for 141 yards in one half of action. Is the running game "fixed" in your eyes? Between offensive line play, playcalling, the backs finding holes or something else, what is the most important factor to the Buckeyes maintaining their effectiveness on the ground?
Kyle: This certainly looks more like the explosive, Urban Meyer ground game we've become used to seeing, thanks in large part to the threat of Justin Fields keeping to run himself. As we all know, that change in math is significant and forces defenses to be more honest when runners like Dobbins have the ball. In many ways, the scheme has been simplified for the new O-line, as most of the run plays have been zone schemes without pullers, which is part of the reason why they've looked so comfortable through two games. Running on FAU is one thing, but UC's defense has been stout since Luke Fickell took over, so this success should be sustainable
Johnny: As one of my peers pointed out in our 11W Slack channel on Saturday, there's one side of the offensive line that's performing significantly better in run blocking than the other parts. Once the coaching staff saw the same thing, it was pretty easy to gain traction against a Cincinnati team hellbent on stopping the run. J.K. has been running hard from the first snap of the season; he's had to break tackles at the line of scrimmage to get anything going at all, but given the right plays and blocking, he's still capable of putting up huge numbers, as we saw on Saturday.
David: The run game always starts up front with the offensive line, and you could tell both the left and right sides were fighting much harder against Cincinnati than they did in the opener. Bigger holes meant easier decisions for Dobbins to make, which easily explains the big plays. But I continue to bang the drum that the return of a running threat at quarterback will be the biggest boost to the rushing attack this season. The coaching staff doesn't have to run Fields as frequently as J.T. Barrett, but using him five to eight times a game will keep a defense from honing in on the running backs.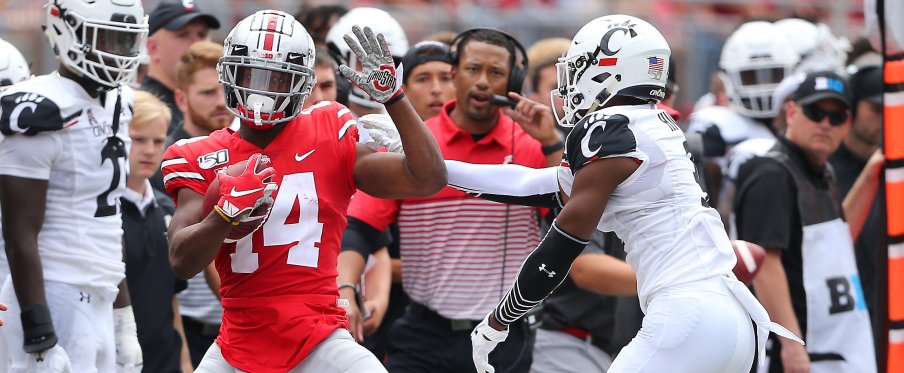 Through two games, K.J. Hill leads the team in catches with 11 while Binjimen Victor (134) and Chris Olave (128) lead the way in receiving yards. Who is Ohio State's most important receiver? Which one will lead the team in receiving yards for the year?
David: Hill has to be the most important because he's Fields' biggest safety net as the team's best route-runner. But through two games, both Victor and Olave have shown they made a big leap over the offseason and are making a huge impact. Victor is showcasing more consistency and Olave is proving to be a guy the coaching staff can rely on for a heavy workload. It seems unfair that Ohio State has this many great options at wideout after losing three starters from last year's squad.
Johnny: I still think Ohio State's most important receiver is K.J. Hill. He's been effective but sloppy in the first few games of the year, but his value as a focus of opposing defenses will wane if he can't be consistent. I expect that he will be, but the overall yardage leader will probably end up being Victor, who is an absolute nightmare of a matchup on long yardage throws due to his length.
Kyle: I wrote before the season that Hill will be the most important member of the receiving corps, and I still believe that. Though he isn't a home run hitter like some of the others, he has the best hands on the team and a knack for getting open. Whenever Fields finally does start to struggle in the passing game this season, having a security blanket like Hill who can make plays in underneath zones will prove to be invaluable. Given Olave's proclivity for making big plays, I can see him finish the season with more yards, but far fewer receptions than Hill.
Indiana put up 58 points last week against a FCS squad Eastern Illinois squad and 34 in a season-opening win over Ball State. The Hoosiers do have some playmakers in quarterback Michael Penix Jr., tailback Stevie Scott and a host of wideouts including Whop Philyor, Donavan Hale and Nick Westbrook. What do you expect the Buckeyes to do in an effort to slow down Indiana's attack? 
Kyle: This should be the first time we see Greg Mattison and Jeff Hafley unveil more looks from their revamped unit. Thus far, the OSU defense has largely sat in their base, Cover-3 Match defense with a free safety in the middle of the field, but this week we may see them include more two-deep looks to create confusion for Penix (or Peyton Ramsey). The Hoosiers pose the biggest test yet for this new staff, so I expect them to show far more wrinkles. Yet the focus will likely remain to keep everything in front and make tackles, challenging whoever lines up at quarterback for the Hoosiers to make enough plays to beat them.
David: With Penix Jr. a question mark for Saturday, Ohio State has to prepare for both Indiana's starting and backup quarterbacks. That backup, of course, is  Peyton Ramsey, who carved the Buckeyes defense up for 322 yards and three touchdowns a year ago. Both are capable signal-callers who have the ability to get the ball to their bevy of playmakers, but there's a reason Penix Jr. won the job during fall camp. If he can't go, the Indiana offense won't pack quite the same punch as it could.
Johnny: They'd be foolish not to attack Ohio State deep and early; connect on one or two longer passes within the first few drives and they can change the entire tenor of the game (which they've done against Ohio State in the past). If I'm Hafley and Mattison, I get creative with safety coverage and blitzes early to confuse their QB but also tell the corners to keep the ball in front of them and avoid busted plays.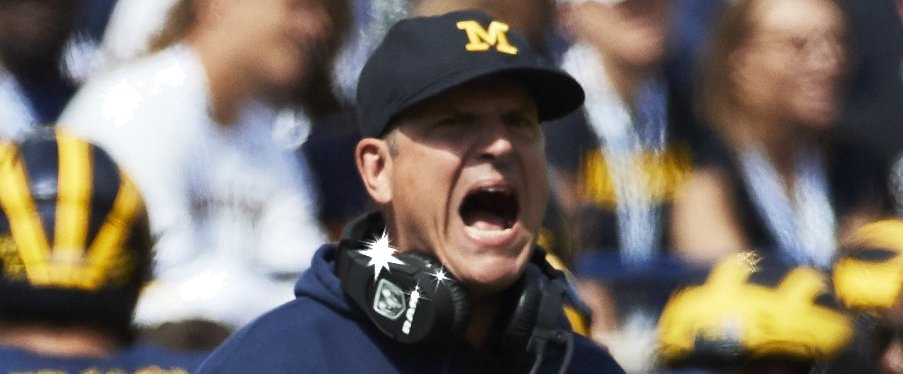 Michigan damn near lost to Army after averaging 2.4 yards per carry before prevailing 24-21 in overtime. I fully admit I hope Michigan loses every game and don't really worry that the Wolverines sucking can hurt Ohio State in the long run, rightly or wrongly. Where do you fall? Is it cool and good for Michigan to suffer as much as possible or is it better for Michigan to win every contest up until The Game at the end of each November?
Johnny: Michigan needs to be good for the rivalry to mean anything, and furthermore, Michigan being good is the only reason why the rivalry has ever meant anything. Every cultural touchstone of this rivalry, especially the Ten Year War and Woody versus Bo, is a product of Michigan being competent and a genuine threat. I personally wouldn't care about the Michigan game at all unless I sat angrily in front of a TV every year in the 90s getting increasingly pissed off. The anxiety we feel at the end of November is an essential part of why we care.
Simply put, if Michigan is bad the rivalry dies. Some people are fine with that, I guess. I think it'd be pretty awful to lose one of the most amazing parts of college football culture (and really one of the only things related to Ohio State that college football at large cares about no matter what their record is).
Let me put it this way: Ohio State has played Illinois almost as many times as they've played Michigan in the past 120 plus seasons, but I don't see us putting an X over every "I" on campus and adopting thousands of turtles every season.
Kyle: I am happy to see Michigan lose any game. Ohio State didn't miss the playoff the past two seasons because of the overall strength of the conference, but because they got smoked by average teams that should've been easily dispatched, so don't somehow equate a Buckeye title run with beating a strong Michigan team (remember, they went 5-7 in 2014). While it's certainly fun to crush the hopes and dreams of an arrogant fanbase that falls just short of achieving their championship goals, we all know the Appalachian State loss stung far worse than any loss to OSU this century. Hearing Michigan fans claim the Spartans were their real rivals, as was often the case under RichRod or Hoke, was as satisfying as any victory on the scoreboard.
David: I'm of the mind that I want Michigan to win every game, every year, except that final contest at the end of November. There are clauses to this logic, of course. If Michigan were still somehow able to get into the playoff after losing to Ohio State, I reserve the right to root against them. If the Wolverines' continued winning puts Ohio State's chances of winning the East Division at risk, I reserve the right to root against them. But so long as Ohio State is even with Michigan in the standings and has the chance to propel itself to championship weekend, while at the same time crushing theirs, that's the best possible outcome. The most satisfying wins over Michigan the last 15 years were in 2006 and 2016, when both games kept the Wolverines out of title contention while thrusting Ohio State into it.
With that said, I'm never sad to see them lose. I was tickled by their performance last Saturday.
Ohio State heads to Bloomington as an 18-point favorite. Do they cover? Give us a final score and game MVP prediction. 
David: The Buckeyes cover aggressively, winning 52-14. Fields will shine, adding five more touchdowns to his season total to complement 350 total yards of offense. Ohio State's new-look defense will stuff Indiana in a trash can.
Kyle: 38-14 OSU wins as Dobbins has another big day in Bloomington. For those that don't recall, he went for 181 yards in his OSU debut (though it was Antonio Williams who found the end zone twice that night), and although the Hoosiers have only allowed 2.14 yards-per-carry this season, they haven't finished a season among the nation's top 50 rush defenses in over a decade. I expect the OSU ground game to lead the way in a game that feels closer than the score appears, with Dobbins eclipsing the 150-yard mark for the first time this season.
Johnny: Yeah, they'll cover. I'm convinced, this defense is demonstrably better and more sound than it was last season, and while they might give up a long play or two, I don't see that cascading into a 2018 Purdue or Maryland type of game. Justin Fields is going to be the MVP, because not only will he continue to be solid in the passing game, but I wouldn't be shocked if he makes a big impact in the running game as well (as Indiana tries to take away the short and medium passing game). 45-17 Buckeyes.