He owns every piece of coveted jewelry a Buckeye can earn.
Gold Pants. Big Ten championship ring. National Championship ring. It's the holy trinity of bling, and this son of Ohio owns them all. He doesn't wear any of them these days though, only because his current employer is at odds with the program where he helped win the games that produced those charms.
These days he's investing his talent in beating Ohio State. The Buckeyes might not be the most important opponent on his schedule, but they're safely among the top three. Facing his former team and employer is deeply personal.
Seeing him in a Cincinnati Bearcats sideline Coaching Outfit For the first time won't ever feel right.
So of course it's emotional when he returns to try and beat them. His head coaching aspirations date back to when he was at Akron, charged with coaching up a defensive position group and making a name for himself in the Rising Stars circuit. There was always, at best, a non-zero chance his eventual big opportunity would give him the reins in Columbus.
And his name is no stranger to this conversation, either. He's just on the wrong sideline currently, even though in many of our hearts - he'll never leave the right one. Seeing him in a Cincinnati Bearcats sideline coaching getup for the first time won't ever feel right. 
What he did for the Buckeye defense will live in Ohio State history far longer than any damage he could possibly inflict on his former team during a random Saturday, no matter how painful it might feel in the short term. Rooting against him will never be easy.
But hey, enough about Mark Dantonio. It's Cincinnati week! Let's get Situational - 
THE DROUGHT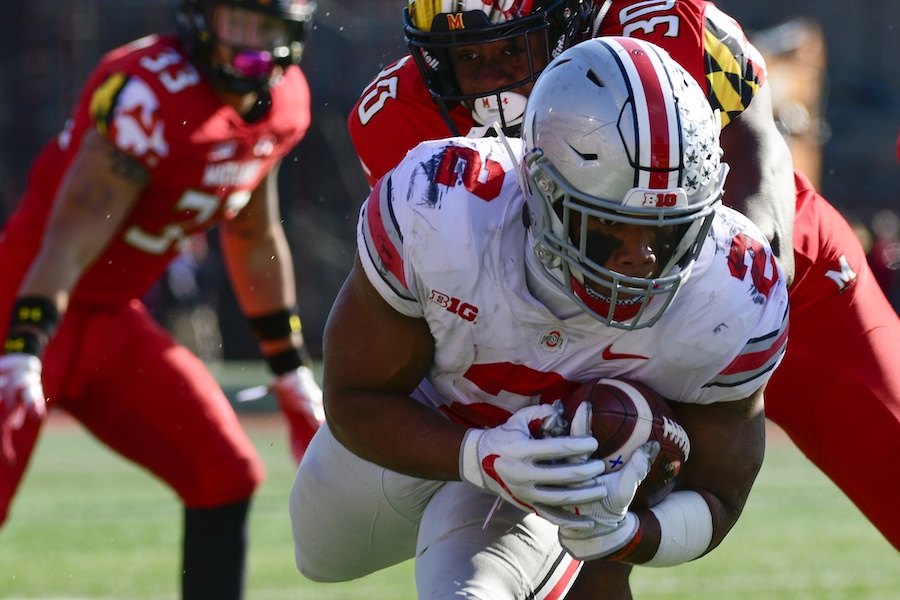 Ohio State hasn't had a 100-yard rusher since the photo above was taken last season. Saturday will be the fifth game since that one, and UC's defense doesn't slouch under Luke Fickell. Not great, Dob.
The Buckeyes current starter rushed for 203 yards on 37 carries at Maryland in a solo-duty performance that would still be shining in our collective memories had it not taken place on an afternoon when his team only survived the Terapins 52-51 in overtime. They had been favored by 17 with the over/under at 58.5, so we can forgive ourselves for not Remember When-ing JK's big day in College Park - until right now.
At some point, running the ball will not be optional.
Ohio State is a football program that's expected to win, cover, play ferocious defense and run the damn ball at will. It did two of those things against Maryland, Michigan and Northwestern. It only did one against Washington and Florida Atlantic. Those weird, entitled holes in our souls when the Buckeyes are victorious are rooted in those other expectations not being met.
The team has won seven straight going back to the latest installment of Purdue Harbor, but the last four have happened without the benefit of a 100-yard rusher. Dwayne Haskins put up video game statistics in a few of those and FAU never stood a chance on Saturday. Great. At some point, running the ball will not be optional.
Cincinnati only allowed two rushers to cross the century mark last season (first game, last game) and the Bearcats won both of those. They gave up just 82 on 26 carries to UCLA's top back last weekend - in an offense managed by Ryan Day's mentor. Not great, Dob.
If you're unconcerned with anything but the W and keying on the IU game next weekend for the return of a triple-digit rushing performance, well, neither JK Dobbins or Mike Weber had 100 against the Hoosiers last season either.
Just win. But maybe figure this out sooner rather than later. It gets cold and windy sometimes.
THE 1980s SAX SOLO INTERMISSION
In casually discussing this week's sax solo with parties who will remain anonymous, I was surprised to learn there are people who do not know how to pronounce Sade in the year 2019. That's messed up, and we need to correct this as a public service.
First - it's not SHAR-day, which is what the persons whose identities I'm protecting thought it was. Some Ohioans have a bad habit of inserting an R into a word where no R exists, like in the middle of Washington. Science has failed to give us an acceptable explanation to why this happens.
It's also not SAYD, which is half-Sade's fault for not choosing a phonetic stage name. Not that it matters, as I too have a phonetic name but no one outside of my parents has ever gotten it right the first time.
Here's how you pronounce Sade.
Now you know. If you're going to put her name in your mouth, get it right.
Let's answer our two questions.
Is the soloist in this video actually playing the saxophone? 
It's legit. Whenever Soul and Jazz have a baby, authenticity is in the DNA. That's science.
Does this saxophone solo slarp?
Damn it, there's no R in slap. Stop doing this. Yes, it slarps.
THE BOURBON

There is a bourbon for every situation. Sometimes the spirits and the events overlap, which means that where bourbon is concerned there can be more than one worthy choice.
Cincinnati takes disproportionate grief from the rest of the state for a number of its curious behaviors and customs, ranging from the indigenous population's odd, provincial obsession with high school (genuinely creepy and weird - dude, you're in your sixties) to its signature chili (Gold Star bad, Skyline good - this isn't complicated) to placing its airport in another state (charitable!) to its proximity to said state and cultural favorings toward things like UK basketball and Notre Dame football (just add Tucky; that's the joke).
To properly honor the rest of Ohio's playful views on Hamilton County, we're heading just south to Campbell County, right across the Ohio River to the northern tip of America's Cancer Belt, where Kentucky is one of 12 remaining states that still feature indoor smoking as a tourist attraction.
Newport is where you'll find the New Riff Distillery, a manufacturing facility and destination with the highest Adorable Creds possible. New Riff makes a single barrel bourbon I have not tried yet, as well as a bonded one pictured gigantically to the right.
Bottled-in-Bond (BiB) as we've previously discussed, had significant relevance prior to any of us being born:
The Bottled-in-Bond Act of 1897 is a law from the pre-prohibition era enacted as a countermeasure to a burgeoning whiskey industry where blends, artificially colored and flavored "whiskeys" (think Fireball, but sold out of wagons) began popping up. In order to be bonded, bourbon had to be:

Manufactured by one distiller at one distillery within one distillation season/calendar year.
Aged in a federally bonded warehouse under government supervision for four years.
Bottled at exactly 100 proof/50% alcohol by volume with a label identifying where it was distilled.
Made in America because damn it, it's bourbon.
Back then, people were getting sick or dying from drinking caramel-colored turpentine or urine disguised as whiskey, which - bonus - sometimes got its coloring from discarded chewing tobacco in an era where all 50 states celebrated smoking inside and crapping outdoors. BiB was countermeasures against grifters and hucksters, and it worked! Neither exist anywhere in the world in 2019; we're safe now. Bourbon is amazing.
These days being BiB is mostly for show; just a few distillers running up the score on the legitimacy/authenticity side of the experience. If you're a bartender with a carefully-manicured mustache wearing shirt-tie-vest combo upgraded beyond JoS.A. Bank standards, BiB is just part of your casting. It completes the look, but the floor for BiBs is definitely higher than the floor for the broader category.
New Riff goes 65/35/5 corn/rye/barley on the mash bill, which at the top means Sweet (corn) and as you finish means breathing fire (rye). High rye bourbons generally mean Something for Everyone. Like bang bang shrimp, basically. You like spicy dessert appetizers? Because New Riff is a spicy dessert appetizer.
It's available in Newport at its birthplace. It also doesn't care where you went to high school, which makes it a lot like literally anyone who doesn't hail from the Queen City.
SAY SOMETHING NICE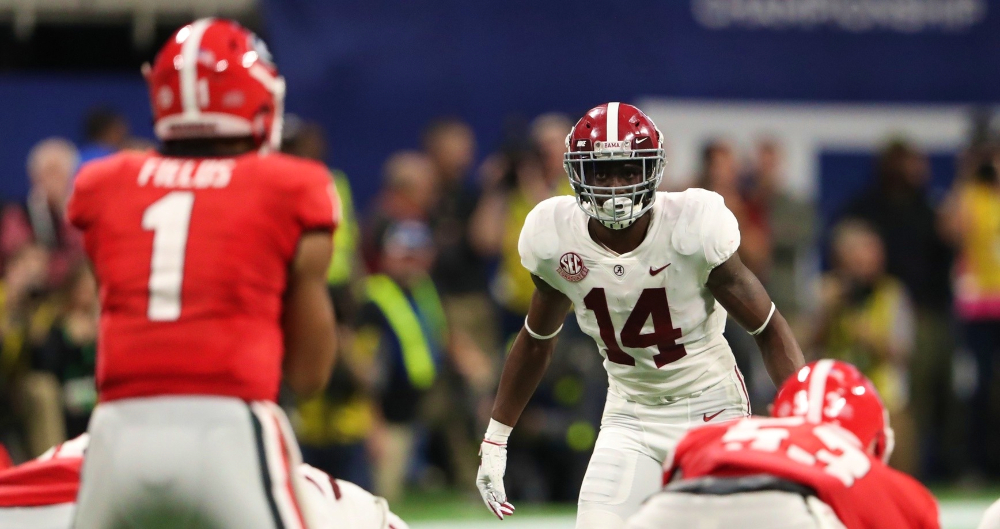 Ohio State put a season-high 62 points against Michigan on Nov 24, 2018. People forget that. Reminding the public of what happened that day is a public service on par with teaching people how to pronounce Sade.
That afternoon - right around the exact same time that the rEvEnGe tOuR was winding down - a freshman named Justin Fields entered the game in Athens, and Ohio State's current starting quarterback began accumulating statistics of his own.
GEORGIA vs. GEORGIA TECH | NOV 24, 2018

| QB2 | C/A | YDS | AVG | TD | INT | RUSH | YDS | AVG | TD |
| --- | --- | --- | --- | --- | --- | --- | --- | --- | --- |
| JUSTIN FIELDS | 2/3 | -13 | -4.3 | 0 | 0 | 3 | 10 | 3.3 | 0 |
Mop-up time featured taking a sack, a backup tailback fumbling and Fields taking a knee to end the game as Georgia made conference championship plans for the following Saturday 90 minutes to the west of Athens in a mythical world without traffic.
A week later, Ohio State put a season-high 45 on Northwestern's scrappy defense, winning a second-straight B1G Championship. Earlier that afternoon the Buckeyes current starter, pictured above, was accumulating statistics once again.
SOUTHEASTERN CONFERENCE TITLE GAME | DEC 1, 2018

| QB2 | C/A | YDS | AVG | TD | INT | RUSH | YDS | AVG | TD |
| --- | --- | --- | --- | --- | --- | --- | --- | --- | --- |
| JUSTIN FIELDS | 0/1 | 0 | 0 | 0 | 0 | 3 | 6 | 2.0 | 0 |
Fields got spot duty against Alabama and nearly missed the closest thing college football has to a trillion. That was his final appearance as a Georgia Bulldog, as QB2 did not enter the game in the the Sugar Bowl loss to Texas.
He left Athens for Columbus and took his first QB1 snaps on Saturday, and it went very well very quickly. We're engineered as a fan base to suck the joy out of anything that isn't quite perfect enough, but what Fields produced in his first-ever start was precisely that.
It was perfect enough. You saw the expanse of his runway for the first time, instead of just reading about it. And so did he. And so should the rest of the schedule.
Thank you for getting Situational today. Go Bucks. Beat Cincinnati.