Ohio State's seniors will dribble their way out of eligibility in six games or less.
They were a five-man class that quietly arrived on campus while we were still busy panicking over Jim Tressel's abrupt departure: LaQuinton Ross exited last year and currently plays for Vuelle Pesaro in Italy's Serie A, the country's top pro league. His classmates Trey McDonald, Amir Williams, Sam Thompson and Shannon Scott will matriculate into the real world following March Madness.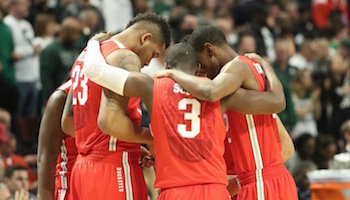 They were the top-ranked players at their positions from their respective states coming out of high school (well, except McDonald; Michigan's top-rated center not named Amir Williams). Only Matta's 2006 class of Greg Oden, Michael Conley, Othello Hunter, Daequan Cook and David Lighty was as celebrated prior to its arrival.
Lighty was the sole player from that class to stay in Columbus past closing time. Following this tournament these seniors don't have to go home - but they can't stay here.
The wins and postseason runs have steadily decreased over their tenure. They were part of a 31-win Final Four team as freshmen, then 29/Elite Eight followed by 25 wins and an opening game loss to Dayton their junior season. They're currently at 23 wins and a 10-seed entering their final tournament, having finished 6th in the conference - the lowest for any Matta team since his first one. 
The trend is undeniable, and Williams has hijacked much of the exasperation for what is a collective washout. You could argue they've had senioritis for all four years.
These seniors arrived on campus BACK WHEN we were still panicking over Jim Tressel's abrupt departure.
Ohio State went 1-3 against the Michigan schools this season and 2-3 against ranked teams; both wins coming in succession in late January when it peaked. These seniors are just one more loss from schola terminus and its likely they'll take the team's best player out the door with them. 
That said, here's to the Class of 2015 surprising us all and treating every opponent in the NCAA Tournament the same way their football counterparts treated Wisconsin in the B1G Championship game. School's almost out forever - let's get Situational!
---
The MISPLACED AlBATROSS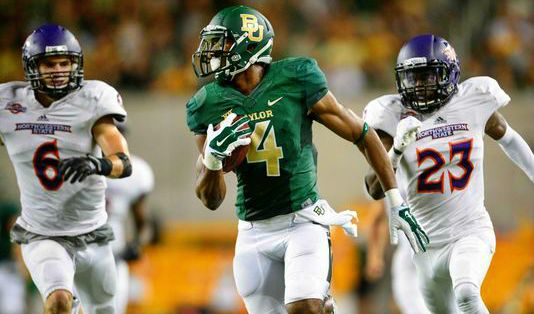 We're just three postseason Ohio State football victories removed from not being allowed to talk about the Buckeyes without using the words Virginia and Tech.
Baylor Bears 2014

| Opponent | W/L | Sagarin |
| --- | --- | --- |
| SMU | W | 207 |
| N'western ST. | W | 133 |
| @ Buffalo | W | 141 |
| @ Iowa State | W | 105 |
| @ Texas | W | 53 |
| TCU | W | 2 |
| @ West Virginia | L | 33 |
| Kansas | W | 115 |
| @ OKlahoma | W | 28 |
| OKIE STATE | W | 54 |
| Texas Tech | W | 79 |
| Kansas State | W | 17 |
| Michigan State | L | 6 |
Remember how Ohio State lost at home to the Hokies? That was a reaaaaally bad loss. The Buckeyes won 13 straight after that but no victory was complete without a helpful reminder of what happened the night J.T. Barrett started his first game in Ohio Stadium.
That lousy Saturday eliminated the entire Big Ten from playoff contention according to dozens of giddy, wrong people. Losing to Virginia Tech was an unforgivable crime until Urban Meyer decided to grant his own pardon in Indianapolis three months later.
Sure, the Hokies were not great in 2014 - but how bad were they? 
Virginia Tech ended its season as Sagarin's 40th-ranked team; a modest finish for a program normally carrying championship aspirations - but nothing approaching the mediocrity it was painted with when discussed in the context of beating Ohio State.
To find true mediocrity look no further than the schedules for Baylor and TCU, the two Big XII One True Champion™ programs who were loudest about being left out of the playoff in favor of the team that lost to the Hokies. Who was screwed harder; TCU or Baylor? Let's take another look at the crime scene.
TCU Horned Frogs 2014

| Opponent | W/L | Sagarin |
| --- | --- | --- |
| Samford | W | 106 |
| Minnesota | W | 38 |
| @ SMU | W | 207 |
| Oklahoma | W | 28 |
| @ Baylor | L | 7 |
| OKIE State | W | 54 |
| Texas Tech | W | 79 |
| @ West Virginia | W | 33 |
| Kansas State | W | 17 |
| @ Kansas | W | 115 |
| @ Texas | W | 53 |
| Iowa State | W | 105 |
| Ole Miss | W | 8 |
Baylor didn't face a team ranked in the Sagarin top 100 until October. TCU's non-conference opponents were 207th, 106th and 38th - that last, non-walkover game being Minnesota, a team Sagarin determined was of virtual equal strength to Virginia Tech and whom Ohio State also beat, though in Minneapolis and on the coldest recorded game in school history. It's hard to play football against anyone in those conditions.
In total they collected nine wins from teams ranked outside the top 100, including the Bears' win over Northwestern State of the FCS, pictured above. They racked up 720 yards of offense that night - while the Buckeyes were struggling with the Hokies - in winning their 12th straight home game.
During that streak Baylor scored at least 69 points an incredible six times. TCU and Baylor also shared six bye weeks, which means on 15 Saturdays during the 2014 season they either figuratively or literally played nobody.
Ohio State played one team outside the top 100; in-state paycheck sister Kent State. SEC East Champion Indiana was the second-weakest team on the slate per Sagarin. Third-weakest was (bowl team) Illinois followed by (bowl winners) Navy and Rutgers. Not exactly a murderers row, but significantly stronger that anything the Horned Frogs or Bears faced in the bottom halves of their schedules.
However, the point here is less about how TCU and Baylor willfully cushioned their schedules with awful teams, play in a league that decided against having a championship game and faced every school in the Big XII - meaning there was no skirting the Cyclones, Red Raiders or Jayhawks (3-24 combined in conference).
ON 15 SATURDAYS DURING 2014 TCU AND BAYLOR EITHER FIGURATIVELY OR LITERALLY PLAYED NOBODY.
It's that Ohio State's catastrophic loss to Virginia Tech was a weekly, relentless storyline all the way up through the B1G Championship Game and playoff seeding discussion, while Baylor and TCU's schedules - the weakest and second-weakest among Sagarin's top 20 teams, respectively - got a pass. That's how hard they got screwed.
Ohio State Buckeyes 2014

| Opponent | W/L | Sagarin |
| --- | --- | --- |
| Navy | W | 71 |
| Virginia Tech | L | 40 |
| Kent STate | W | 169 |
| Cincinnati | W | 57 |
| @ Maryland | W | 50 |
| Rutgers | W | 62 |
| @ Penn State | W | 46 |
| Illinois | W | 83 |
| @ MICHIGAN State | W | 6 |
| @ Minnesota | W | 38 |
| Inidiana | W | 89 |
| Michigan | W | 60 |
| WISCONSIN | LOL | 20 |
| ALABAMA | W | 3 |
| Oregon | W | 4 |
You were more likely to hear about how lousy the Big Ten was on a weekly basis, or how the Buckeyes lost to the Hokies than you were to hear anything about the Big XII's arduous path to the playoff. If anything, the fireworks the Bears launched against Northwestern State, a 6-6 FCS team, were lauded as style points.
It wasn't the same level of obsession we saw with the Tatgate media coverage in 2011 (because nothing is) but it didn't resemble how other blue bloods' losses are covered either: Like Ohio State to Virginia Tech, Auburn lost early last season to eventual 3-loss LSU by the identical score of 21-35 and steadily improved throughout the year. 
The Tigers didn't hear about their LSU loss every single week in the media, probably because...well, you know. After finishing September unranked the Tigers played Western Carolina, Florida Atlantic, Ole Miss and Texas A&M - and finished October ranked #8. Auburn was visibly getting dominant and being rewarded for it regardless of the competition.
Its athletic director declared leaving a one-loss SEC team out of the then-BCS title game would be un-American. Auburn fell short the title game against Florida State but finished 2013 a very worthy #4 in the Sagarin.
They weren't left out, and neither were the Buckeyes. That would have been getting screwed.
---
The Hindsight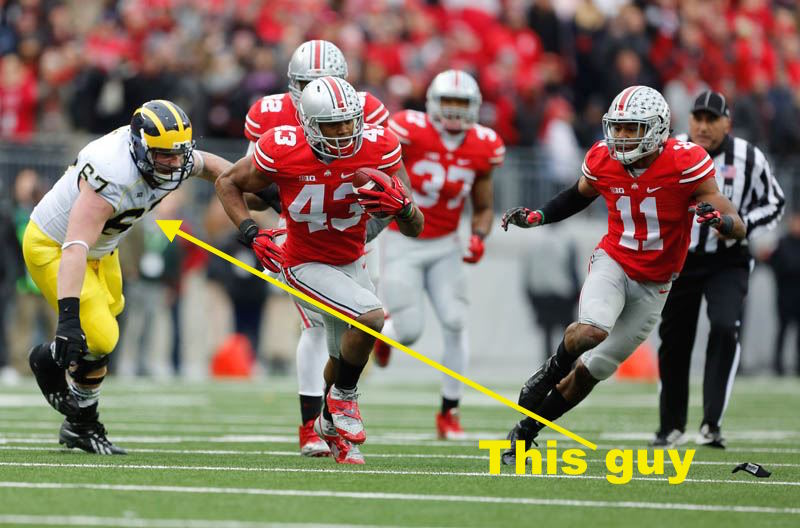 Four years ago Kyle Kalis phoned all-of-a-sudden interim Ohio State football head coach Luke Fickell intending to rescind the verbal pledge he had given to his predecessor. Forty-five minutes later: 
Kalis was back in the Buckeye fold, a member of the 2012 recruiting class.

"I know (Fickell) pretty well. He knows the way I'm a fighter and I don't give up on things. He said he went through the same thing in college and ended up going to Ohio State, and he said if I go to Ohio State, it will be the best decision of my life.

"He knew what I knew, that I wanted to be a Buckeye."

[...]

"I see myself as a very loyal guy."
We know how that turned out and it's both cheap and easy to use hindsight against people - but let's do it anyway. One month later upon hearing Brady Hoke's sales pitch - which included Ohio State's certain, irreparable cratering via NCAA purgatory (added emphasis):
"I can't go there (Ohio State) and take penalties for something I never did. Ohio State is a great program. I'm just not sure how long it will take them to recover. I want a solid, grounded coaching staff with a safe environment. Where there aren't such tough questions."

[...]

I believe the Michigan-Ohio border is now open. I think you're going to see eight or nine guys from the state of Ohio going over to Michigan this year.
Michigan football under Hoke and Dave Brandon will be remembered for many things, though solid, grounded coaching and a safe environment probably won't be among them. As for taking penalties for something he never did, Michigan wasn't allowed to participate in the 2014 postseason - but it was allowed to watch Ohio State play in two bowl games.
"He knew what I knew, that I wanted to be a Buckeye."
Anyway, after publicly flipping from I want to be a Buckeye to I believe the Michigan-Ohio border is now open Kalis dropped his famous there will be blood on the field and it won't be mine comment in this interview with Steve Lorenz, which included his recollection of Urban calling him upon replacing Fickell:
I heard the phone ring one night and I saw it was a 614 number and knew who it was right away because it was right after a speech he gave. Before I had a chance to stop my mom, she had picked it up, so I had to talk to him...it was really awkward...I was half listening, pretty much saying "uh-huh" the entire conversation. I was being respectful but in the back of my mind I just wanted it to end.

[,,,]

[Lorenz]: Give me your dream scenario in (the Ohio State/Michigan) game.

[Kalis]: A pancake on every play of the game, us putting up a ton of points on them and once again, a jersey drenched in red.
His de-commitment left Ohio State with just one OL pledge - Jacoby Boren - but within days of Kalis' departure Pat Elflein decided to make his pledge official. It wasn't seen as an even swap at the time, but Boren currently anchors the offensive line for the reigning national champions.
As for Elflein, coaches selected him 1st-team All-Conference in his first season starting. Michigan didn't have an offensive linemen make as much as honorable mention.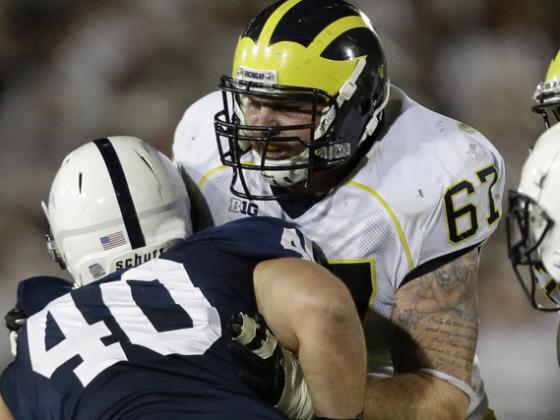 Kalis hasn't yet realized his dream of drawing blood while pancaking Buckeye defenders on every single play of The Game, but as he told Fickell he's a fighter. He still has plenty left on his to-do list as he completes his third year in college, like declaring a major and tasting victory against Ohio State. He still has those opportunities, which is all you can ask for as a scholarship athlete.
What Kalis also has - once again - is that solid, grounded coaching staff for which he abandoned Ohio State (now headed by a guy who as a player once broke his hand punching a TV analyst and as a college head coach got a DUI during the season) as well as his old high school coach reunited with him on the sideline.
Regrets? He's got two years left in Ann Arbor playing for one of football's brightest coaches at one of the best academic institutions in the world. Hindsight? Kalis got exactly what he wanted.
Inadvertently. Some of it. Albeit bloodless. And still in progress.
---
The Bourbon
There is a bourbon for every situation. Sometimes the spirits and events overlap, which means that where bourbon is concerned there can be more than one worthy choice.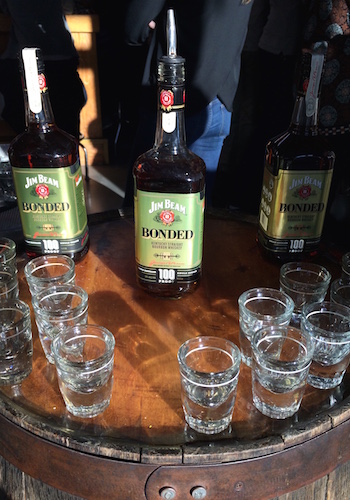 The Bottled-in-Bond Act of 1897 is a law from the pre-prohibition era enacted as a countermeasure to a burgeoning whiskey industry where blends, artificially colored and flavored "whiskeys" (think Fireball but sold out of wagons) began popping up. In order to be bonded, bourbon had to be:
Manufactured by one distiller at one distillery within one distillation season/calendar year.
Aged in a federally bonded warehouse under government supervision for four years.
Bottled at exactly 100 proof/50% alcohol by volume with a label identifying where it was distilled.
Made in America because damn it, it's bourbon.
The law was intended to create quality standards for bourbon and since the government ran it of course there were tax motivations behind signing up; a fair trade-off for consumers considering bonded bourbon meant you weren't getting rubbing alcohol flavored by tobacco spit instead of real whiskey.
Fast-forward to 2012 when Jim Beam first appeared in The Situational. I said:
Beam was created off of a strain of yeast after Prohibition ended, and it's still made from that strain today. You're drinking history when you drink Jim Beam.
Beam has been a quality standard-follower since its inception; a value bourbon that remains unique in both bouquet and flavor today despite dozens of other comers. It's what I typically bring with me for communion whenever I visit my favorite outdoor cathedral. Jim Beam is authentic bourbon - more on that shortly.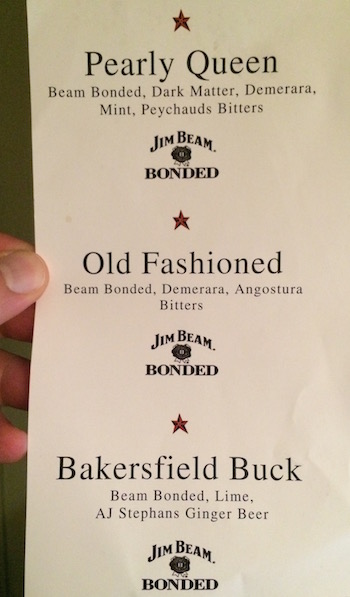 As you have already noticed by the photo above Beam is about to release its own bonded product priced in line with other first shelf affordable bourbons; the crowded space in a market whose growth is taking off on the premium end of the portfolio.
So why is Beam doing this? Jim Beam's actual grandson Fred Noe explains:
(Jim Beam Bonded) came from bartenders (and) people digging up old recipes calling for bottled in bond...Hell, that's an easy hit for us; just do what we used to do...we age pretty much everything 4 years already, just a matter of designing the package.
Beam is giving consumers what they want here, and good news for Beam - they already have the supply chain and production practices in place to do it: Make authentic bourbon; add gold label. Then have a launch party to tell people about it.
[Plug alert] I was invited by Dark Matter Coffee to the Jim Beam Bonded launch party in Chicago recently and got to sample the product neat as well as in the recipes listed to the right. It's a woody, traditional classic that tastes like a mild cigar smoked through a crème brûlée filter. In each of the suggested cocktails Beam Bonded provided a sturdy foundation without overwhelming any of its ingredient partners.
Here's Jim Beam Bourbon Ambassador Adam Harris (his formal job title - it's okay to be jealous) explaining the genesis of Beam Bonded at the Chicago launch party:
Note - I shot that video after consuming numerous Beam Bonded cocktails and my normally shaky hands were perfectly still. Quality bourbon standards may carry ancillary neurological benefits. <--- this is not an FDA-issued product claim
Harris mentions that American bourbon business significantly dipped in the early 1980s, directly coinciding with the rise of cocaine. Now that bourbon is annoyingly trendy, Beam appears to be getting ahead of the curve by introducing an accessible bonded product that joins Old Grand-Dad in the Beam Suntory portfolio.
Situationally, Beam Bonded has a very long runway. Authenticity, affordability, essence and flavor are rarely inappropriate. Make a spot in your bar now and look for it soon.
---
THE PLAY-OFF
March Madness is an American institution. Dick Vitale is too, because he has wrecked college basketball broadcasts with his relentless attention whoring for the better part of four decades some people enjoy insipid enthusiasm.
Ironically March Madness also coincides with his abrupt disappearance, as the tournament pushes Hurricane Vitale harmlessly out to sea where it is incapable of damaging tournament broadcasts the way it impairs regular season games on ESPN. We're deprived of Dickie V's contributions as soon as the brackets come available. That's just the way the television contract winds blow.
Perhaps you enjoy how he screams nothing of substance or appreciate how he blindly went to bat for his buddy Jim Boeheim in the wake of Syracuse getting hammered with NCAA penalties (not coincidentally, Vitale's foundation has had plans to present Boeheim with an award in a few weeks for well over a year now).
Maybe you're jealous of his recent, totally not creepy Ashley Judd kiss. Everyone is allowed to have questionable taste.
Regardless of where you sit on Vitale, here's a clip everyone can enjoy of him and the late Jim Valvano in a cameo as Italian movers on a lost episode of The Cosby Show.
There's your Situational. Go Bucks - beat VCU and then everyone else.
---