Ohio State's depth chart for Saturday's season opener against Florida Atlantic is out.
A look at how the Buckeyes' depth chart stacks up for the first game of the year, as was released by Ohio State on Friday morning: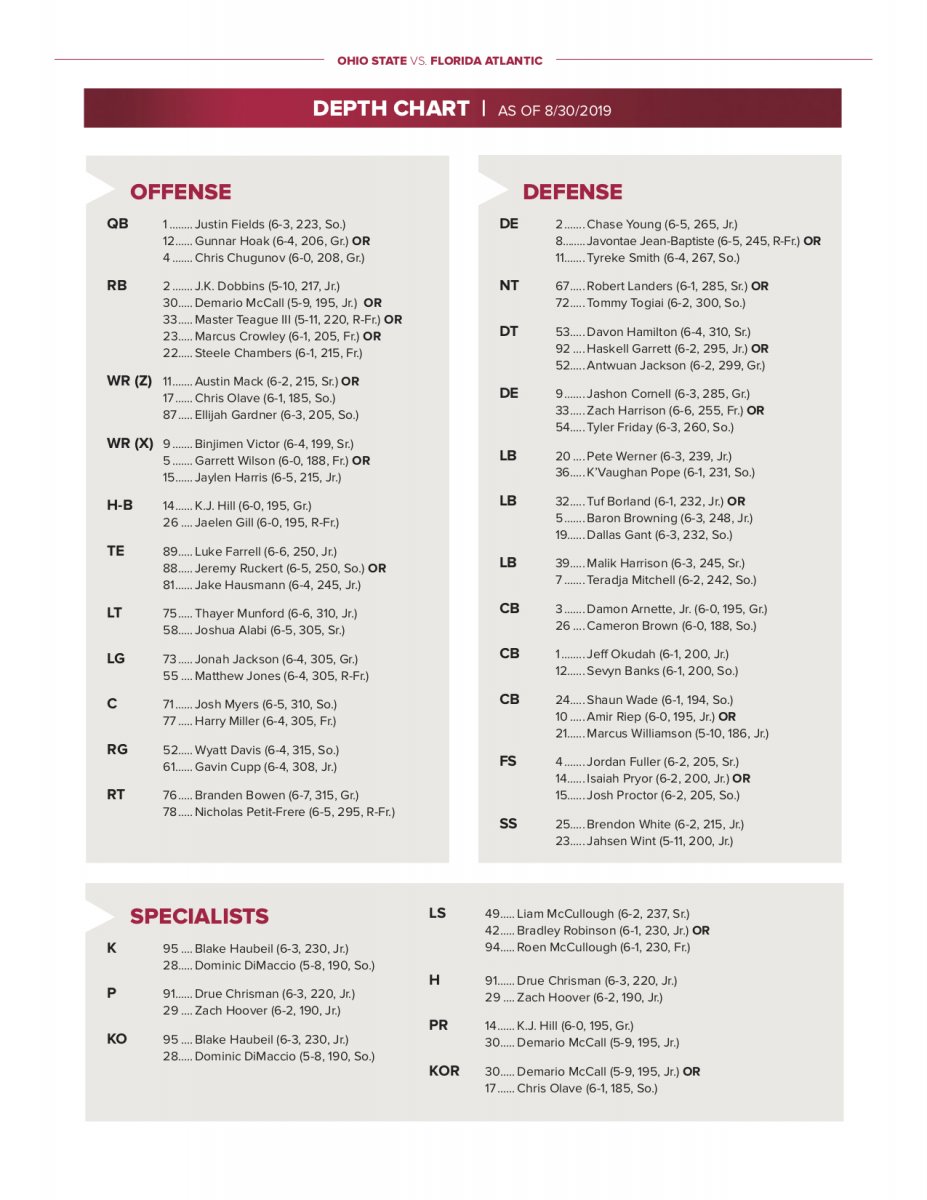 Perhaps most notably, Jashon Cornell is listed as a starting defensive end opposite Chase Young – with Davon Hamilton and Robert Landers listed as the starting defensive tackles – as Jonathon Cooper is among the Buckeyes unavailable to play in Saturday's game. Fellow defensive ends Tyreke Smith and Tyler Friday are also considered to be game-time decisions for Saturday.
Some other noteworthy takeaways on the first depth chart of the season:
Gunnar Hoak and Chris Chugunov are listed as co-backups at quarterback.
Demario McCall, Master Teague, Marcus Crowley and Steele Chambers are all listed as co-backups at running back. McCall is considered to be a game-time decision for Saturday's game.
Austin Mack, who missed time with an undisclosed injury in preseason camp, is listed as a co-starter at Z receiver with Chris Olave. Mack is not on the Buckeyes' status report for Saturday.
Hamilton is set to start at 3-technique defensive tackle, with Taron Vincent out and Cornell at defensive end, after rotating with Landers and Tommy Togiai, who is also listed as a co-starter, at nose tackle last year.
Tuf Borland and Baron Browning are listed as co-starters at middle linebacker.
Jeff Okudah, Damon Arnette and Shaun Wade are all listed as starters at cornerback, but the Buckeyes also list Brendon White as a starter at strong safety (bullet), indicating that they could rotate between three-cornerback and two-safety looks.
Isaiah Pryor and Josh Proctor are listed as co-backups to Jordan Fuller at free safety.
Olave and McCall are listed as co-starters at kickoff returner, while K.J. Hill is listed as the starting punt returner.
Five total true freshmen make the season-opening depth chart: Garrett Wilson as a co-backup at X receiver, Harry Miller as the backup center, Zach Harrison as a co-backup at defensive end and Crowley and Chambers as backup running backs.
Ohio State will release its depth chart on Fridays all season long, in tandem with the new status report the team is releasing on Friday mornings to announce which players will or might be unavailable for each game.
It's also worth noting that Ohio State's published depth chart hasn't always matched up with the team's actual depth chart in the past, so whether the Buckeyes' lineups and rotations in Saturday's game will mirror this depth chart exactly is uncertain, but the first depth chart is typically a good indicator of how players stack up at each position entering the season.