In his first two years as Ohio State's wide receivers coach, Brian Hartline has had five captains in his position group.
There's a new standard being set within the Ohio State wide receivers room. After two receivers – K.J. Hill and C.J. Saunders – were named team captains Monday, it became clear that Ohio State wide receivers are beginning to take the lead in shaping what modern leadership on a Buckeye team looks like.
It started with former Ohio State receivers Terry McLaurin and Parris Campbell, who were both named team captains in 2017, following a year in 2016 when there weren't any wide receiver representatives. 
McLaurin and Campbell then helped usher in Johnnie Dixon, as all three receivers played strong leadership roles throughout the season and during their journeys to the NFL. In just his second year as the Buckeyes' wide receivers coach, Brian Hartline has already coached five team captains.
"I think it's been a special run," Hartline said Tuesday. "The only thing that I can take from this run in our room – one is it's very honoring for our room – but to make sure we understand that that's the standard. So if that goes away, then shame on me and shame on what we have going on in our room."
What's become clear is that the receivers named team captains, and most players named team captains, don't need to be the most productive players on the roster. McLaurin had just 11 receptions the year before he became a team captain, and Dixon had 18. Saunders, who entered the program as a walk-on cornerback out of Dublin Coffman High School, had 10 catches in 2018, down from 17 the year before.
But, particularly when there is a new staff leading the team into a 2019 season, the veterans, players with strong chemistry with their teammates and understand the standard needed to win, will be the first players turned to in times of trial – times that will inevitably strike a program in some capacity during its first season after losing a coach like Urban Meyer.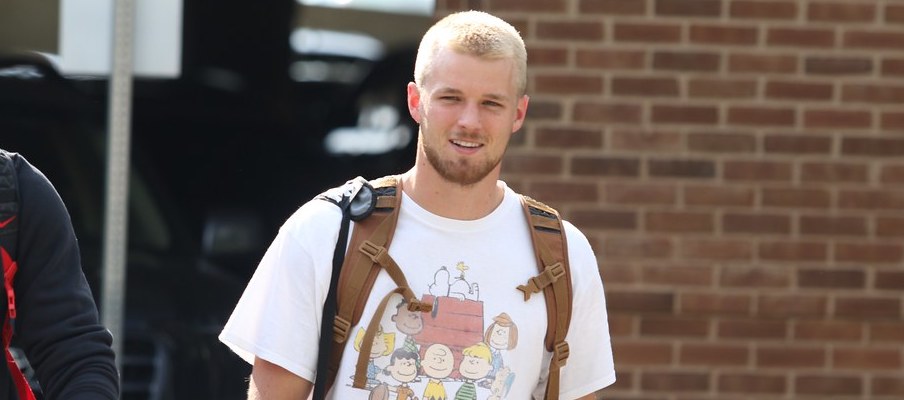 Hartline said, from his perspective, Saunders is one of those players, even though he's competing for a backup role at H-back.
"CJ, he's a phenomenal young man," Hartline said. "He adds great depth to our room. He's a warrior, he's a machine. When I need a guy, he's always that guy. We have a lot of work to do, and he will be the first to tell you that."
Hill is another receiver who, even though he is just 47 catches away from breaking David Boston's career receptions record, has earned the respect from his teammates. It only makes sense, given that he has already carved a role on the field for himself, unlike most of the receivers in the room on the 2019 roster. That will happen when one position loses three team captains in the same offseason.
Hill was one of the least surprising names mentioned as team captains, and even though he seems like he's leagues ahead of other receivers like Garrett Wilson, Chris Olave and even his two senior teammates, Ausitn Mack and Binjimen Victor, in terms of production, he's also approaching ground that's unfamiliar to him. He's never been a team captain, and he's never been the No. 1 option within the receivers room. 
But the standard is still there. If there's a carry-over from the previous wide receiver captains, it will shine through Hill in 2019.
"He's just a stud," Hartline said. "He understands zones and has some of the surest hands on the team. We really lean on him. With him being a captain, you can see some of the guys have similar respect for him. He's a mainstay in our room, and I can't say enough about him."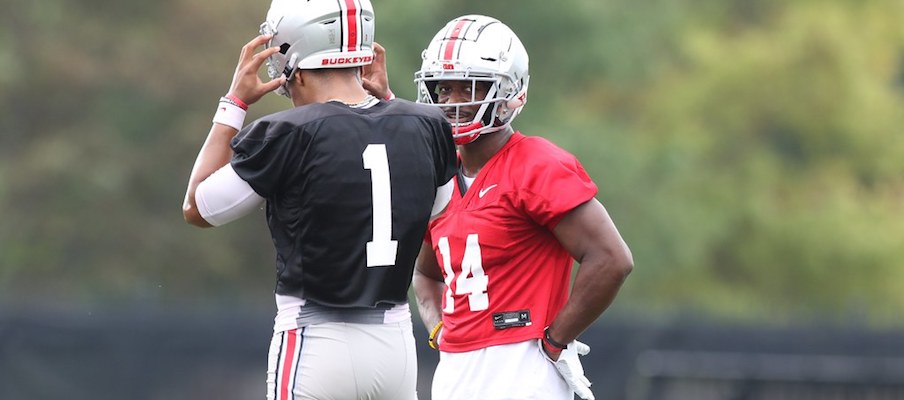 As the years go by and Hartline continues to build the receivers room, as he's already begun to do with the 2020 recruiting class, it's unknown whether two or three team captains will be the expectation from Ohio State wide receivers.
But Hartline seems to understand how to glue a group together. He's already led four of the top-100 2020 wideouts to consider themselves "a family" in a way that's very reflective of the Campbell-McLaurin-Dixon bond in 2018. 
Being a family within a family seems to be the trend in a Brian Hartline-led receiving corps, and when he or his receivers talk about the standard at wide receiver, it's clear that the number of captains doesn't necessarily matter, but that standard of leadership is what leads to that respect from other members of the team.
"It's kind of our own little competition without us meaning it to be," Hartline said about being named team captains. "It's very honorable that we can be represented as captains, but I think it says more about the young men we have in that room – young men we hopefully look forward to bringing in year after year."