Recruiting is a little awkward, don't you think?
Coaches and fans celebrate when a recruit verbally commits to a school three years before they actually sign to the school. Teenagers are expected to make huge life-decisions (and stick to them!) amongst immense pressure. 
But it is all worth it in the end, right? The moment that class is finalized, you can just feel the championship coming, right?
Well, kind of. It is no secret that recruiting is an integral aspect of college football. Obtaining talent is pretty important if you want to build a contender. 
The playoff era has only accentuated this point. Since 2014, only one team has had a composite team recruiting ranking outside the top twenty and advanced to the final four (Michigan State - 2015). Alabama has never been outside the top three. They have five playoff appearances. Clemson has only one year outside the top five. They have four playoff appearances. 
As of now, the statement "teams that make the playoffs have, on average, the most-highly recruited players" rings true. The opposite, however, is not. 
Programs can not simply recruit at a high level and automatically expect to compete for national championships. There is more to college football than Signing Day.
Florida State is a perfect example of this. The Seminoles entered 2018 with the third-best recruiting composite team score and the fourth-best average player rating. With all this talent, they managed an abysmal five wins. In 2017, they ranked second and third, respectively, and ended the season with seven wins. 
This trend continues when extended to all Power Five teams. Weirdly enough, talent does not always translate to wins.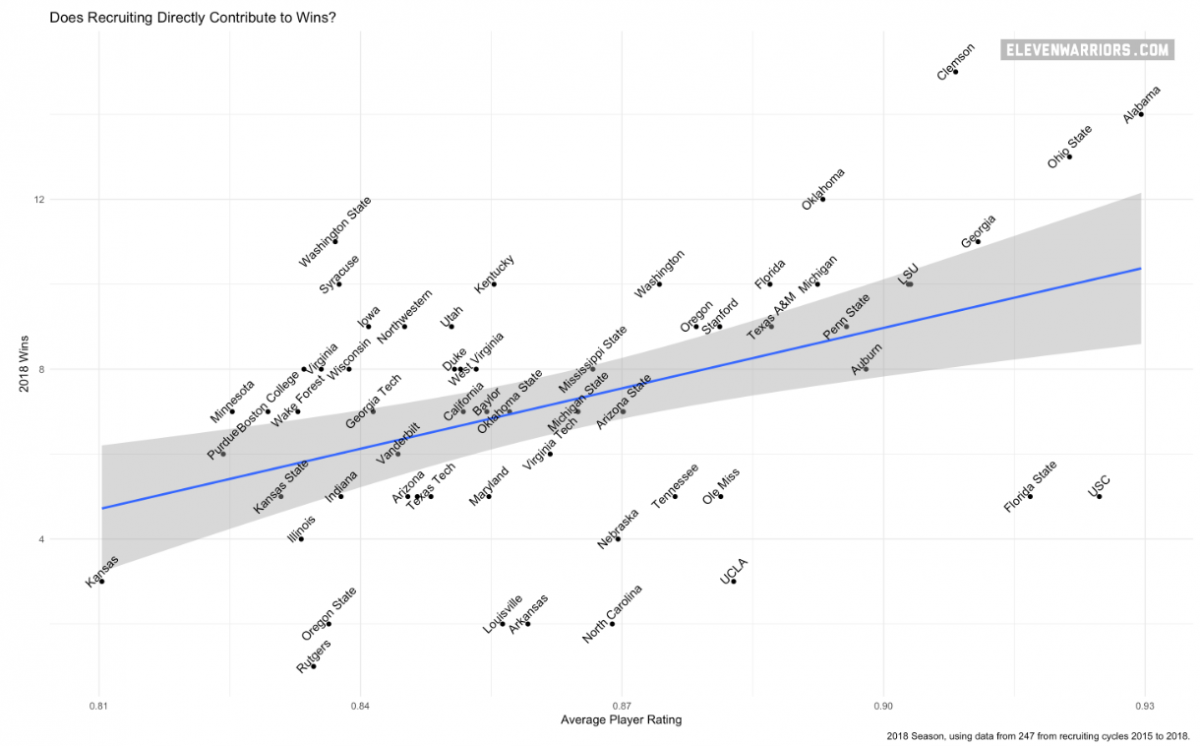 There is a positive correlation between the two variables, but the least-squares line explains just 18.8% of the variation in the data.
There is something else at play here. Coaching, player development, organization, and the ability to keep talent on-campus is just as important as landing the next five-star recruit out of high school. If a program neglects these, they are bound to end up like Tennessee or Ole Miss. 
Ohio State finished the 2019 recruiting year with the 14th best class in the nation, its lowest rank since 2010. The Bucks also recently missed out on five-star tailback Bijan Robinson and has commitments from eight non-four-or-five-star prospects, prompting some concern among fans despite holding the fourth-best class in the nation. 
As important as recruiting is, it should not be the end-all, be-all. Even if Ryan Day struggles on that front (though it does not look like he will), Ohio State will continue to run the Big Ten for as long as they do everything else right.