Urban Meyer brought in several three-star prospects that helped shape the identity of the Ohio State program. Ryan Day doing the same shouldn't alarm anyone.
There are 22 prospects committed to Ohio State's 2020 class already, with around 4-6 spots left to fill. With the speed of the commitments during the summer combined with the three-star ratings of nine commits, many Ohio State fans are concerned.
There are plenty of reasons to be optimistic about the class, though. For one, it's ranked No. 4 in the country behind Clemson, Alabama and LSU. It also features cornerstone prospects for Ryan Day's success in Columbus – Julian Fleming, Paris Johnson Jr., Jack Miller, just to name a few. 
There's also the fact that as the 2019 Early Signing Day was approaching, Ohio State lost its legendary coach to retirement amid controversy, lost some commitments and salvaged a 2019 class that ranked No. 14 in the country. That's around the time programs are propelled by momentum into the following recruiting cycle, but Ohio State naturally spun its tires after a coaching change. But that didn't last long. Day managed to sign on one of the top recruiters in the country and has put together a class that features eight top-100 commitments. 
Something some folks will never be able to turn a blind eye to is the fact that, excluding kicker Jake Seibert, there are eight commits that aren't four or five stars.
There are several reasons why fans are concerned about a three-star-heavy class, but what a common issue is regarding three-stars is that most see the class for its entire body of work and not that each prospect is an isolated addition. 
Cam Martinez is a three-star athlete who primarily runs the ball from the quarterback position but will likely end up at safety for Ohio State, and he will bring personality to the class that will eventually help shape the identity of future teams too. Ty Hamilton brings the versatility Larry Johnson is hoping for on defensive line, Grant Toutant has above-average athleticism at tackle, Josh Fryar is an above-average run blocker in the interior and Mitchell Melton could be a linebacker or defensive end, depending on how Ohio State develops his body. Each commit brings a particular strength within his skillset that Ohio State finds appealing. 
In comparison, the 2015 class, which makes up a large part of the identity on the current roster, featured 10 three-star prospects, and that was three years into Urban Meyer's tenure in Columbus. Among those three-stars were Robert Landers, Branden Bowen, Joshua Alabi, Damon Arnette and, since most recruiting services still struggle to rate specialists, Liam McCullough. 
Reaching further into the past, Malik Hooker was a three-star commitment in 2014, Chris Worley and Tracy Sprinkle were both three-star prospects in the 2013 class and Tyvis Powell, Jacoby Boren, Cardale Jones and Michael Thomas (No. 89 receiver) were three-stars in 2012. 
But in case none of that consoled a disappointed fan, here are a few examples on the current roster of players that came in as three-star prospects and will have significant roles this season.
Malik Harrison

Malik Harrison is probably the most prominent Buckeye for being a low-rated recruit and having a major impact on the field. He was rated as the No. 683 overall prospect and the No. 48 athlete in the Class of 2016, lower than all but three of Ohio State's current commitments. He played quarterback and safety in high school. As a three-star recruit, he saw the field immediately and played in 12 games. Now, Harrison is one of a handful of Buckeyes expected to be drafted into the NFL in 2020.
Damon Arnette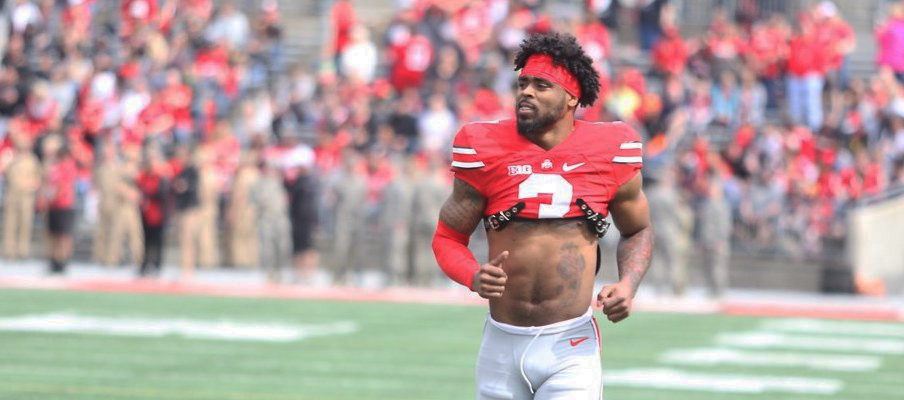 Even though Damon Arnette came out of powerhouse St. Thomas Aquinas, he was still rated as the No. 62 cornerback in the 2015 class. But entering the 2019 season, he has about as much experience – 40 games played, 25 games started, starter on two Big Ten Championship teams – as most cornerbacks have in their entire collegiate careers. He will be a big part of what Jeff Hafley hopes to do in his first year coaching the Buckeye defensive backs in 2019 too.
Branden Bowen

While Branden Bowen was ranked No. 6 in the state of Utah in 2015, he was the No. 543 overall prospect in the class, which would slot him behind four of the six current Ohio State offensive line commitments in the 2020 class and behind the fourth (Josh Fryar) by 126 spots. But Bowen earned a starting spot on the Ohio State front in 2017 before suffering an injury that would keep him out of the rest of that season and the 2018 season. 
Chris Olave

Chris Olave was ranked No. 68 among receivers when he signed with Ohio State in 2018. Later in that calendar year, he caught five passes for 79 yards and a touchdown in the Big Ten Championship game against Northwestern. In 2019, Olave has a chance to become a consistent on-field presence within the wide receiver rotation. He was ranked below Grant Toutant and just above Josh Fryar as the No. 399 overall prospect in his class.
Jahsen Wint

Jahsen Wint was the lowest-rated prospect coming into Columbus in 2016, and now in his junior year, he has a chance to staple the bullet position into the Buckeye defense. He struggled mightily in 2018 at safety, but the new position should serve him well. Out of high school, Wint was rated lower than all current commitments, save for Trey Leroux.