Sammy Watkins and Martavis Bryant would be waiting in Miami.
The Buckeye secondary saw some decent receiving tandems during the 2013 regular season, beginning with Buffalo's Alex Neutz and Fred Lee in the opener. Cal's Bryce Treggs and Chris Harper followed, along with Northwestern's Tony and Christian Jones and Michigan's Jeremy Gallon and Devin Funchess.
But none of those pairings sniffed the challenge Watkins and Bryant would present in the Discover Orange Bowl, especially with Christian Bryant unavailable. Ohio State's junior corners - All-B1G honorable mention Doran Grant and 2nd Team All America Bradley Roby - would be involved in the most intriguing matchup the game offered outside of Braxton Miller and Carlos Hyde against the Tigers' defensive line.
Except it did not happen that way. The Buckeyes fell short in Indianapolis against Michigan State, missing out on the final title game of the BCS era which sent them to, well, who cares. Roby had absorbed a bone bruise in the loss to the Spartans but practiced with the team leading up to the Orange Bowl, their consolation prize.
The 2019 Buckeyes return 13 All Conference players and a whole bunch of draft-eligible millionaires-in-waiting.
When he entered the stadium in plain clothes during the pregame he was greeted by a mix of cheers and boos from the Buckeye fans in attendance.
And that was right around the time Watkins and Bryant were done waiting. The two combined for four touchdowns on the evening, with Watkins catching 16 passes for 227 yards as Roby watched. Clemson's 15 flags for 144 yards were the most penalties and penalty yards ever racked up by an Ohio State opponent ever, and yet the Tigers still won largely because they could throw on the Buckeyes at will (we can discuss how Philly Brown fumbled that damn punt some other time, or preferably never).
We could quibble over if Roby was hurt or injured. He was a projected a 1st/2nd round pick (the Broncos ended up drafting him 31st overall) and the prospect of ESPN showing film of Clemson's receivers lighting him up the way they abused his backups, forcing him and his agent to explain how he was less than 100% healthy was one he chose to avoid entirely. 
Had Ohio State not gagged on Sparty, we could debate if Roby would have been healthy enough to play in Pasadena for the BCS title (NARRATOR: he would have played in the Rose Bowl). Anyway, Roby ended up making a cool $3.8MM in his rookie season. Perhaps if he had played that night in Miami it would have been the Buckeyes standing on the stage at midfield instead of the Tigers, triumphantly hoisting a large bowl filled with citrus fruits.
His injury might have healed more slowly, impacting his combine performance. Maybe he would have aggravated it chasing down Watkins and Bryant. If you're dismissive as to how one damn game might alter the earnings trajectory for a sure-fire NFL prospect, consider that Orange Bowl was the final time Miller ever played quarterback.
Four years later Denzel Ward benched himself just prior to kickoff of the Goodyear Cotton Bowl Classic without any Roby-like injury quibble, which *Gus Johnson voice* hurt some feelings. Ohio State had beaten Wisconsin for the Big Ten title, but Ward didn't see the field at Jerryworld until four months later when Arlington hosted the NFL Draft. He was the fourth player on the stage that night and made $5.3MM as a rookie.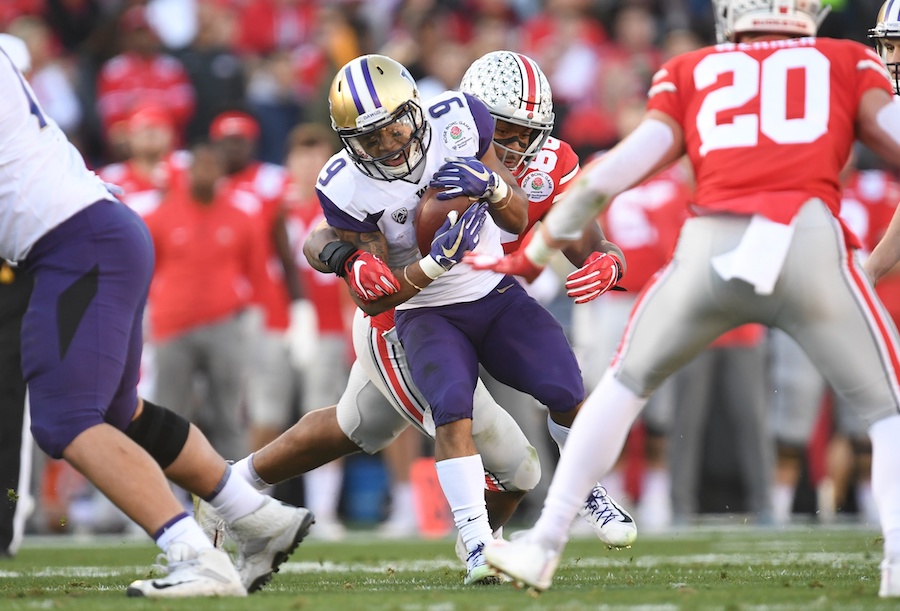 That could have been jeopardized with one freak play in a bowl game that you've already mostly forgotten. Gambling on college football is big business in Vegas, but nobody lost more than Jaylon Smith did on the 2016 Battlefrog Fiesta Bowl or Jake Butt did in the 2016 Capital One Orange Bowl. They both lost millions on those games without talking to a bookie or entering a casino. 
It doesn't mean NFL-ready prospects should just automatically skip bowl games out of self-preservation; the optics on sitting out a rivalry or an elite-tier postseason game as college eligibility winds down and draft eligibility ramps up would be terrible. But sitting out a second-or-worse shelf bowl game screams Business Decision these days.
One year after Smith and Butt got knee surgeries for Christmas, LSU's Leonard Fournette skipped the Citrus Bowl while Stanford's Christian McCaffrey no-thanksed the Sun Bowl. Two Heisman candidates passed consolation prizes in favor of self-preservation. Bad teammates? Good financial advisors.
Even as a freshman, Maurice Clarrett would openly talk about how he had a finite number of football plays remaining in his body. Each carry and every hit would pare away at that mystery number, by one. Eventually, he knew, his counter would hit zero and he would be done with the sport. Every player has a number of snaps that counts down until there are none left. No player knows what that number is. It's exciting and terrifying.
The best ones, through skill, circumstances and luck hit zero after their bank accounts have accumulated several of them. Nineteen players sat out bowl games last season, not including Nick Bosa - who could have come back to play for the first time in four months, risking both rust and aggravating a bad injury. He absolutely would have played had he not missed the previous ten games.
Butt's former teammates Devin Bush and Rashan Gary sat out last season's Chick-Fil-A Peach Bowl against Florida, correctly assessing their high draft statuses were worth protecting. They were both taken among the first dozen picks, and even in the absence of obvious foresight - they made the prudent decision. This does not mean every player with NFL aspirations should skip a dull bowl game.
JAYLON SMITH WENT FROM THE FIRST PICK OVERALL TO THE FOURTH LINEBACKER TAKEN. JAKE BUTT fELL FROM A TOP-60 PICK TO THE 5TH ROUND.
Their teammate Karan Higdon, who could have used another job interview to showcase his potential as a pro sat out Michigan's postseason as well, choosing to use that time instead to prepare for an NFL Draft that ended up not including him at all. He was a borderline draft pick prior to the Peach Bowl, and he literally did nothing to improve his stock by sitting it out.
The 2019 Buckeyes return 13 All Conference players, and a whole bunch of draft-eligible millionaires-in-waiting. Jeff Okudah, Chase Young, JK Dobbins, Jordan Fuller, K.J. Hill and Malik Harrison all seem like safe bets to hear their names called in Vegas next April. If Ohio State makes the Playoff, you'll see all of them in uniform for its duration. Immortality doesn't carry a dollar figure because it's as rare as it is invaluable. Also, those optics.
But if the postseason destination isn't quite so shiny, there is a non-zero chance at least one of those guys might be in street clothes. It will have nothing to do with quitting on their teammates, either. Every player has a number of snaps that counts down until there are none left. The back end of that countdown can be financially transformational.
Which means if gaudy game checks are going to accompany the countdown beyond college, it makes perfect sense to put them in a vault. Not on a field in Orlando or El Paso.