Time to go full offseason. Let's play a game.
Imagine a world in which Ohio State could take a player off another Big Ten team's roster. Who would Ryan Day target from each of his conference opponents? Well, for one article only, consider it a reality.
The rules of this are pretty simple. Ohio State gets to add someone from each Big Ten school. All of these scenarios are separate from each other. They'll only get the players for the 2019 season – otherwise, a decent portion of these selections would be highly rated incoming recruits.
Let's get into it.
Illinois: Running back Reggie Corbin
Why Corbin? The Illini don't have a particularly strong list of candidates to become Buckeyes. Corbin rises to the top based on his 1,085-yard season last fall. He has impressive change-of-direction ability and averaged at least six yards per carry in nine games last season. His career-best performance came in Illinois' October win against Minnesota, when he had 13 carries for 213 yards and two touchdowns. 
How would Corbin fit? With Mike Weber on the Dallas Cowboys, Ohio State has a void behind J.K. Dobbins. It expects Master Teague, Demario McCall, Marcus Crowley and Steele Chambers to fill in for the lost production. But why not snag another starter to give Tony Alford a proven secondary option in the backfield?
The second-best option, Alex Palczewski, was an honorable mention All-Big Ten right tackle last season. But he's not an obvious upgrade over Branden Bowen and Nicholas Petit-Frere, so Corbin is the pick.
Other options: Offensive tackle Alex Palczewski, linebacker Jake Hansen
Indiana: Offensive tackle Coy Cronk
Why Cronk? Few – if any – offensive linemen in the Big Ten have as much experience as Cronk. In his first three seasons, he has started 36 games, only missing one due to injury. All starts have come at left tackle. In 2016, he was named to the Big Ten Network's All-Freshman team. 
How would Cronk fit? He'd enter the mix with Petit-Frere and Bowen to start at right tackle, and given his experience, he might have an edge. Even as Indiana's best offensive lineman, he wouldn't walk into the Woody Hayes Athletic Center as an immediate starter. But his presence would ensure Ohio State has stout tackles on both sides of the line, either by winning the right tackle job opposite Thayer Munford or by getting beat out by someone better than someone with 36 starts. A win-win situation for the Buckeyes.
Other options: Running back Stevie Scott, kicker Logan Justus
Iowa: Defensive End A.J. Epenesa
Why Epenesa? Next spring, Epenesa will challenge Chase Young to become the top defensive end from the Big Ten selected in the NFL draft. He's that good. Various early rankings have him in the top 15, and some have him as a top-five prospect. He had 37 tackles, 16.5 tackles for loss, 10.5 sacks and four forced fumbles in 2018 en route to earning first-team All-Big Ten honors. Adding Alaric Jackson, a second-team All-Big Ten left tackle, would help any team, but it's impossible not to roll with Epenesa.
How would Epenesa fit? Seamlessly. Imagine Young on one side and Epenesa on the other. He'd send Jonathon Cooper to the bench to join Tyreke Smith in the rotation. Ohio State needs someone opposite Young to consistently rush quarterbacks, and there are few better options in college football than Epenesa.
Other options: Offensive tackle Tristan Wirfs, offensive tackle Alaric Jackson, quarterback Nate Stanley, defensive end Chauncey Golston, cornerback Matt Hankins, safety Geon Stone
Maryland: Running back Anthony McFarland Jr.
Why McFarland? Just go back to last year's Ohio State-Maryland game, and the reasoning becomes self-explanatory. For those who forget, the rising sophomore broke 21 carries for a career-high 298 yards and two touchdowns. His second and third rushes of the game went for 75 and 81 yards, respectively. Early in the second quarter, he scampered for a 52-yard run. 
How would McFarland fit? Dobbins needs someone to split carries with when he's fatigued, and McFarland would offer an explosive option to take advantage of beat-up defenses. He hasn't yet been a bellcow running back at Maryland, but he wouldn't need to be with the Buckeyes. He'd complement Dobbins and serve as the backup.
Other options: Safety Antoine Brooks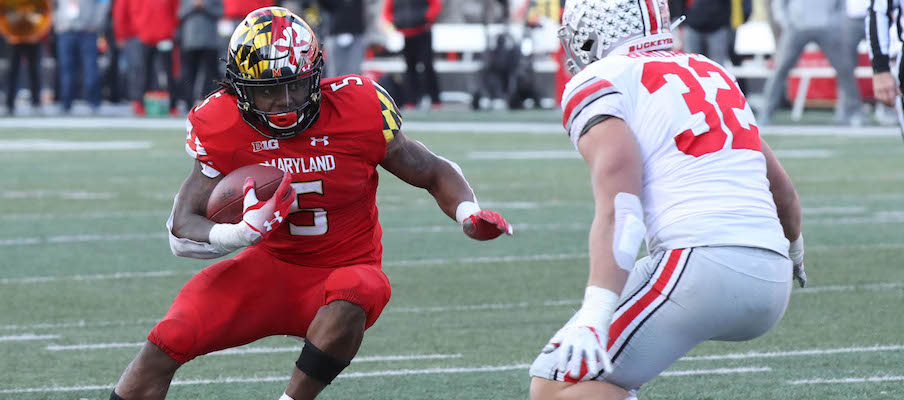 Michigan: Offensive tackle Jon Runyan Jr.
Why Runyan? After struggling prior to last season, Runyan became a first-team All-Big Ten left tackle in 2018. We could've gone with a few others here, including Donovan Peoples-Jones or Khaleke Hudson, but Runyan has a tantalizing combination of experience and talent at a position of need – offensive tackle – for the Buckeyes. 
How would Runyan fit? Putting a Wolverine – who, no less, is the son of a former All-Big Ten tackle at Michigan – in an Ohio State jersey seems, well, unlikely. But disregarding that, Runyan would likely claim the starting right tackle spot in this hypothetical world. He'd also increase the Buckeyes' depth up front.
Other options: Quarterback Shea Patterson, wide receiver Tarik Black, wide receiver Donovan Peoples-Jones, guard Ben Bredeson, center Cesar Ruiz, linebacker Khaleke Hudson, cornerback Lavert Hill, safety Josh Metellus
Michigan State: Linebacker Joe Bachie
Why Bachie? This came down to Bachie and Kenny Willekes. Ultimately, we chose Bachie due to the linebacker issues that plagued the Buckeyes last season, but neither of them would be the wrong answer. Bachie has two years of experience at middle linebacker for the Spartans, and he was a first-team All-Big Ten linebacker last season. ESPN named him a preseason All-American.
How would Bachie fit? Welcome to an easy fix to Ohio State's middle linebacker question. Introducing Bachie to the situation would give Al Washington someone to pair with Malik Harrison as an inside linebacker. The Buckeyes would enjoy such a simple solution. 
Other options: Wide receiver Cody White, defensive tackle Mike Panasiuk, defensive tackle Raequan Williams, defensive end Kenny Willekes, cornerback Josiah Scott, safety David Dowell
Minnesota: Defensive end Carter Coughlin
Why Coughlin? Both Tyler Johnson and Antoine Winfield Jr. certainly make sense, but Coughlin would give Larry Johnson his pass-rushing defensive end to pair with Young. He had 15 tackles for loss, 9.5 sacks and four forced fumbles as a junior edge rusher in 2018. In the final eight games of last season, he racked up nine sacks, and he'll attempt to carry that success into 2019. Coughlin thrived at the end of last season, which included a two-sack performance versus Ohio State.
How would Coughlin fit? At 245 pounds, Coughlin doesn't have the size of Young, but he'd give Johnson a versatile edge rusher who gets after quarterbacks with consistency. And though he has progressed well with the Golden Gophers, he'd surely continue to make significant strides under Johnson's tutelage. 
Other options: Wide receiver Tyler Johnson, running back Rodney Smith, safety Antoine Winfield Jr. 
Nebraska: Cornerback Dicaprio Bootle
Why Bootle? If we wanted to get crazy, we could've picked Adrian Martinez. But given the presence of Justin Fields, we went with Bootle, a relatively undersized (5-foot-10, 190 pounds) cornerback who earned third-team All-Big Ten honors last season. He had 39 tackles and broke up 15 passes, the second-most in Nebraska history.
How would Bootle fit? He'd join Jeff Okudah, Damon Arnette and Shaun Wade in a suddenly deep cornerback rotation. Jeff Hafley hasn't indicated he plans to rotate corners similarly to Kerry Coombs, but he'd have to consider it if Bootle all of a sudden ended up on the roster.
Other options: Quarterback Adrian Martinez, wide receiver JD Spielman, running back Maurice Washington, linebacker Mohamed Barry
Northwestern: Linebacker Paddy Fisher
Why Fisher? The first-team All-Big Ten honoree racked up 116 tackles last fall, cracking 100 for the second year in a row. He has 229 tackles, 14 tackles for loss, eight forced fumbles, seven passes defended and a sack in his first two seasons combined. 
How would Fisher fit? With no obvious solution yet at middle linebacker, Fisher would join the three others – Tuf Borland, Baron Browning and Teradja Mitchell – attempting to win the job. With his experience added to the equation, Al Washington would have a quartet of intriguing options.
Other options: Running back Isaiah Bowser, offensive tackle Rashawn Slater, defensive tackle Joe Gaziano
Penn State: Linebacker Micah Parsons
Why Parsons? In his first year as a Nittany Lion, Parsons became a freshman All-American and honorable mention All-Big Ten selection. He only started one of 13 games, but he recorded a team-high 83 tackles, five hurries, five tackles for loss and 1.5 sacks. Some early projections have him as an All-American this fall.
How would Parsons fit? In order to make it work, both parties would have to mend fences after Ohio State agreed to not recruit Parsons due to a self-reported NCAA violation in 2017. On the field, however, Parsons and his versatility would fit well, which is why the Buckeyes wanted him in Columbus years ago. He could slide in as both a linebacker and an edge rusher.
Other options: Tight end Pat Freiermuth, running back Ricky Slade, center Michael Menet, defensive end Yetur Gross-Matos, defensive tackle Robert Windsor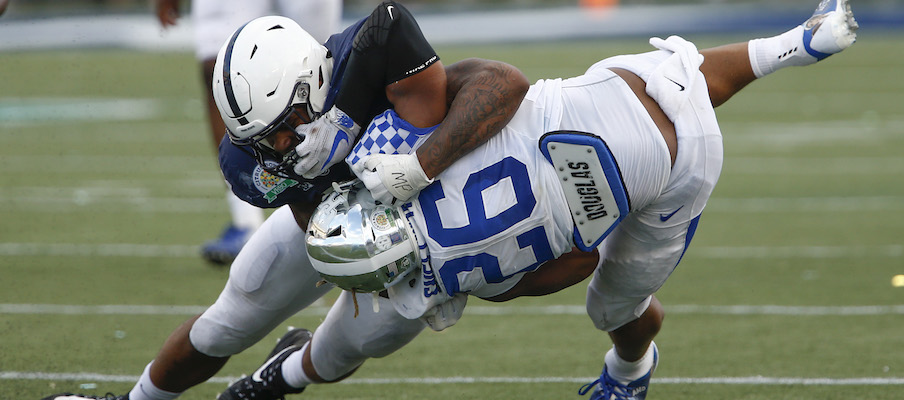 Purdue: Wide receiver Rondale Moore
Why Moore? This one needs no explanation. Moore had 114 catches for 1,258 yards and 12 touchdowns as a true freshman, racking up countless awards and All-American honors. He's one of the most explosive and versatile offensive players in the nation. Need we write anything else?
How would Moore fit? Without Parris Campbell, Johnnie Dixon and Terry McLaurin, Ohio State's receiving corps lost a bit of speed and big-play burst. Enter Moore. Ryan Day's only problem would be ensuring he touches the ball enough.
Other options: Tight end Brycen Hopkins, linebacker Markus Bailey
Rutgers: Kicker Justin Davidovicz
Why Davidovicz? Because the Buckeyes already took the only other option. Interior offensive lineman Jonah Jackson announced his transfer to Ohio State earlier this spring. Davidovicz is the only other Rutgers who might start in Columbus. He made 9-of-11 field goals and went 17-for-17 on extra points last season.
How would Davidovicz fit? A good old-fashioned kicker battle between Davidovicz and Blake Haubeil would ensue.
Other options: N/A
Wisconsin: Running back Jonathan Taylor
Why Taylor? Considering whether to add the reigning Doak Walker winner or go with someone else shouldn't be a difficult decision. Tyler Biadasz, a potential first-round pick in 2020, complicates the discussion a bit, but there's no way not to go with Taylor. He has racked up 4,171 rushing yards in his first two seasons. Only one team – Ohio State in 2017 – has held him to below four yards per rush in a game. He has 29 rushing touchdowns and averages 6.9 yards per carry.
How would Taylor fit? Dobbins probably wouldn't appreciate the addition much since he's ready to take the vast majority of carries in Ohio State's backfield, but imagine him paired with Taylor. Taylor has taken 606 carries in his freshman and sophomore seasons. Paired with Dobbins, his efficiency could rise. All of a sudden, the Buckeyes would go from having questionable running back depth to the best one-two punch in the country.
Other options: Center Tyler Biadasz, tight end Jake Ferguson, offensive tackle Cole Van Lanen, linebacker Zack Baun