MACEDONIA, Ohio – When Denzel Ward was growing up, his father Paul had a simple directive for Denzel and his older brother, P.J.: Make them know your name in a positive way.
As the former Ohio State cornerback enters his second season with the NFL's Cleveland Browns, Denzel Ward is doing his part both on and off the field to make that reality.
Ward, the No. 4 overall pick in the 2018 NFL draft, is coming off an excellent rookie season with the Browns in which he immediately became their top cornerback and was selected to play in the Pro Bowl. Away from the football field, Ward is working to raise awareness about heart health and give back to the community where he grew up – all in his late father's honor.
Paul Ward, who was the principal at Carylwood Intermediate School in Bedford, Ohio, died on May 2, 2016 – following Denzel's freshman year at Ohio State – when he suffered sudden cardiac arrest while participating in a spin class.
While there was an automated external defibrillator (AED) at the gym where Paul Ward collapsed, no one used it, so one of the main objectives for Denzel and his family through their new foundation – the Make Them Know Your Name foundation – is to educate people about how to use a defibrillator and how to perform CPR in order to help prevent future deaths by cardiac arrest.
"People might be intimidated by it, and not understand that it's really as simple as pressing a button and it walks you right through the process," said Nicole Ward, Denzel's mother and the executive director of her son's foundation.
The foundation's website includes information about how to perform life-saving measures in the event of a cardiac arrest, and the Wards are also raising money to purchase CPR and AED kits for local schools that might not be able to afford them.
Denzel, his brother and his mother believe there is no better way to keep their father and husband's legacy alive than to do good for others and specifically, do their part to help other families from suffering the same loss that they did.
"After what happened with my dad and everything, my family and I, we wanted to do something around that, just to kind of prevent other families from going through the same situation we went through," Denzel Ward told Eleven Warriors.
Wanting to give back to others once he made it to the NFL and received his first multimillion-dollar contract, Denzel came up with the idea to launch the Make Them Know Your Name foundation – named in honor of his dad's mantra – and his mother was happy to help.
"When Denzel asked me if I can help him to run the foundation, it was without hesitation: Yes, definitely," Nicole said. "Anything that we can do to carry on the legacy of my husband and the memory of him, of course, I wouldn't hesitate to do that."
P.J. also serves as a co-director of the foundation.
While the foundation was just launched in April, they have already held multiple events to begin raising awareness and give back to the community in other ways. The Wards hosted a "Drafting with Denzel" event at Fat Head's Brewery in Middleburg Heights, Ohio, on April 26, the second day of this year's NFL draft, to begin raising awareness and funds for their foundation.
On Friday, Ward hosted a free football skills camp for children in grades 2-8 at Nordonia High School, his alma mater. The camp was originally set to be for 200 kids, but a technical glitch allowed more than 400 kids to sign up through the foundation's website. The Wards didn't want to turn anyone away, so they accommodated all of them, even ordering more T-shirts so every kid who attended the camp would get one.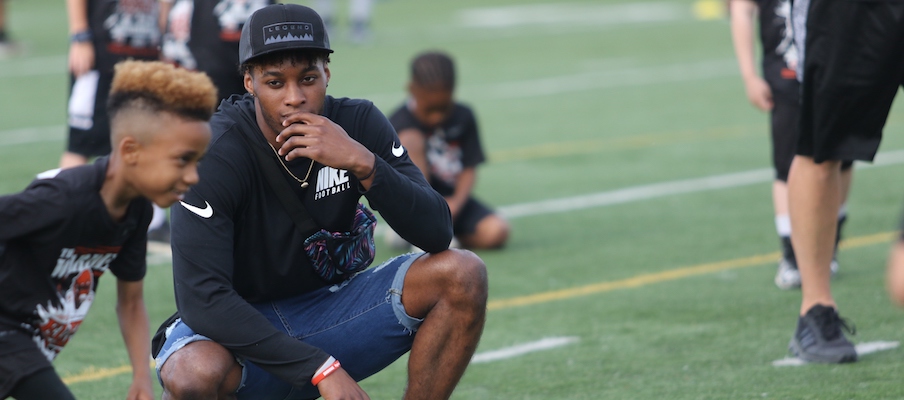 A station for the American Heart Association was set up near the entrance to Boliantz Stadium, giving those attending the camp an opportunity to learn more about heart health and how to treat sudden cardiac arrest, while a raffle was also held to raise funds for the foundation. Beyond that, though, Denzel simply wanted to give back to the kids growing up in his community – a kid he remembers being not all that long ago.
"Just being able to come back to my community, help out in the community, do things like this and run a free camp here for all the kids in the community to come out and have fun, learn new skills and everything … it was definitely something that I dreamed about, and something I wanted to do," Denzel said before Friday night's camp.
In addition to those events, the Ward family also funds the Paul G. Ward Jr. Memorial Scholarship, which presents a $500 annual scholarship to a Bedford High School student with financial need.
On Saturday, the Wards were recognized for their efforts off the field at the Heart & Stroke Ball hosted by the Cleveland chapter of the American Heart Association.
It was an honor for The Wards to be featured as one of the Stories of Inspiration at the 25th Anniversary of the @AHACleveland Heart & Stroke Ball tonight. We value our partnership with this wonderful organization! pic.twitter.com/XAqEUdtOea

— Make Them Know Your Name (@MTKYN_) June 9, 2019
With the financial resources that come with being an NFL player, Denzel could have given back to the Macedonia community where he grew up no matter what team drafted him. Being drafted by his hometown team, though, has certainly made that process easier and increased his platform in Northeast Ohio.
"I just remember when he was going through the draft process and he was visiting so many different teams and we were wondering where he's going to end up, and to end up back here at home, it was like 'Wow, who would have thought?'" Nicole said. "But at the same time, I just think God has a plan and this is where he was meant to be and to make an impact in this community. It's just so exciting to know that he grew up here, he went to school here at Nordonia, he went to The Ohio State University and now he's playing for the Cleveland Browns. I mean, the story can't get any better than that."
"Just being able to come back to my community, help out in the community … it was definitely something that I dreamed about, and something I wanted to do."– Denzel Ward on giving back
Denzel wants to be a positive role model for young people in his community, and the lessons that his father taught him growing up guide him as he looks to continue making a name for himself both on and off the field.
"He inspired me in a lot of ways," Denzel said of his father. "How to be a man, just being a man of my word and sticking to what I said I was going to do the moment I said I was going to do it … just a lot of things like that, and just how I carry myself in life."
Even though his father is no longer alive, Denzel is still motivated by trying to live his life in a way that would make his dad proud.
"Not how proud would he be, how proud is he, because I know he's watching down and I know he's extremely proud of him," Nicole said of her late husband.