In the early part of the 2003 season, Buckeye quarterback Craig Krenzel hyperextended his elbow and missed two games.
I don't remember it, even though I was then a student at Ohio State at the time and went to every home game. It's (probably) not that I didn't care; Krenzel is an all-timer who had just helped lead the Buckeyes to a national championship and is still one of my favorite players ever because of his clutch performances, toughness, and leadership.
More likely, it's that the quarterback position at Ohio State in 2003 didn't carry with it the same kind of importance and urgency that the quarterback position at Ohio State in subsequent years did. The ESPN article recapping Ohio State's 24-17 win against Bowling Green, the first game that Krenzel missed, doesn't even mention him or his injury until the 11th paragraph of the article, and when it does it says this:
Ohio State did not have quarterback Craig Krenzel, who watched the game from the sideline because of a hyperextended right elbow. Scott McMullen took his place and passed for one touchdown.
Aaaaand that's it.
McMullen was fine, which was all he needed to be because Craig Krenzel was usually also just fine, which was all he needed to be most of the time. 2003 Jim Tressel was perfectly content running Lydell Ross directly into an opponent's defensive line 30 times a game, praying his quarterback didn't throw more interceptions than touchdowns, winning by a touchdown and a half, and moving on to the next opponent. Which mostly worked, and the Buckeyes went 11-2 with a Fiesta Bowl victory against Kansas State. Cool.
That changed in 2005 and 2006 as Troy Smith won the starting quarterback job and then the Heisman trophy. In 2006 I went on a weekend trip to Washington DC, and missed the Minnesota game. I called my roommate to ask him how it went, and he told me that Troy Smith had hurt his leg and was going to be out for a few games, a lie which caused me to almost kill him when I got home.
So, to recap: Craig Krenzel, national championship-winning QB, out for two games. My reaction? "Wait, who?"
Troy Smith, great quarterback but one who hadn't even won a bowl game yet? "I'm going to murder you, Gary."
The importance of the two players wasn't even close, but not because one was used so much more often than the other. In 2003, Ohio State Craig Krenzel attempted 278 passes and ran the ball 109 times. Those 387 plays were 45% of the total amount of plays from scrimmage that the Buckeyes ran that season. Troy Smith in 2006? Accounted for about 47% of the plays from scrimmage.
The difference, of course, is that Troy Smith was a better quarterback. The potential drop-off in production and skill from the presumptive Heisman winner to Justin Zwick was way more precipitous than the drop-off from Craig Krenzel to another slow dude who generally completed about 55% of his passes.
That's one part of this story.
Here's the other part, which is that the quarterback position at Ohio State has in the last several years become much more like a handcrafted artisanal almond of soap with hints of sage, lavender, and myrrh than the unscented bar of Dial that it used to be.
Take Terrelle Pryor. In my salad days here at Eleven Warriors, I went to an Ohio State fall camp practice. Standing on the sidelines, Pryor almost ran my ass over after an offensive play went typically awry and he was chased toward the boundary by two thirds of the defense. It's impossible to accurately convey just how terrifying it is for a six and a half foot, 235 pound person to go whooshing past your gawky edifice at 500 miles per hour, but it suffices to say that it's freaky in every sense of the word.
Durability was another word that defined Pryor as the starting quarterback at Ohio State, and it's a damn good thing too, because his primary backup was Joe "We've made so many memes" Bauserman, a football and baseball journeyman who could accurately be described as Pryor's complete opposite.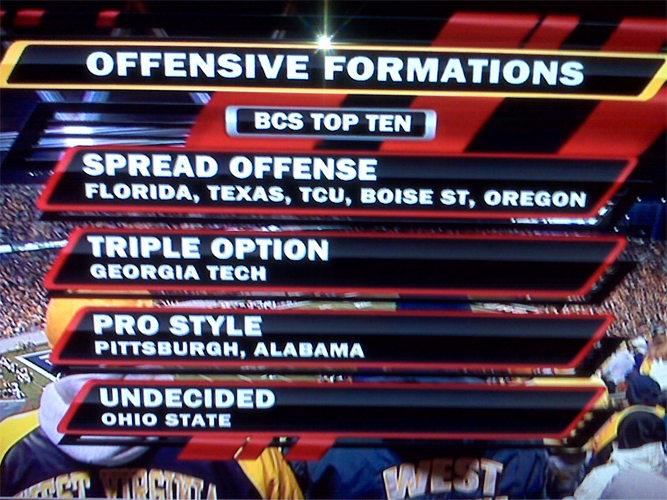 The offensive scheme surrounding Pryor was, uh, incomplete (to be generous), but it kind of worked because Pryor is who he is; an incomprehensible athlete who could make impossible stuff happen.
Bauserman was not, which is why the next quarterback on this list, Braxton Miller, took his job.
Braxton Miller is every bit the athlete Pryor was, but also probably a slightly better passer and a much more prolific runner. I say "prolific" because remember that usage stat I cited earlier? Okay, Braxton in 2012 dumps all over 45%, because in that first season under Urban Meyer he was used on a ridiculous 57% of offensive plays, making the necessity for a solid backup who could at least somewhat replicate what Miller was capable of all the more important.
Especially because Braxton was injured a lot. Bauserman was not the answer. Enter Kenny Guiton, who I could wax poetic about for several thousand words, or instead just post this:
And of course in recent years we can recount how J.T. Barrett stepped up in Braxton's place, and then Cardale Jones stepped into his, but none of that is news to anyone. You know why Ohio State fans like to (unironically) call ourselves "Backup QB U," and it's because our third string quarterback won us a freaking national championship.
So here's the rub: as the quarterback position has evolved to be more complex and essential to the Ohio State offense, the need for backups that can approximate the production of the biggest man on campus has also become more vital to the overall health of the team.
Dwayne Haskins is a much, much different quarterback than Pryor or Miller or even Barrett or Cardale, but that doesn't mean it wouldn't been any easier to replace his production on the field in the same way that a guy like Krenzel could be replaced.
With the presumptive departure of Matthew Baldwin and the thinning of the quarterback room, Ryan Day and Ohio State now finds itself in an unenviable and dangerous position: having a potentially great and unique quarterback for several years, and no one to adequately replace him should he go down.
The bad news? In five of the seven years of the Urban Meyer tenure, quarterbacks missed substantial playing time. The good news? Those two season it didn't happen were in 2017 and 2018. Let's hope that trend continues.