Not much of Ohio State's first spring practice of the Ryan Day era on Wednesday looked appreciably different to those in the past half-decade with Urban Meyer running the team.
Quinn Tempel, as usual, had the microphone, shouting instructions of where to go and what period of the practice the team was in. Mickey Marotti roamed the field in a grey Ohio State-themed sweatsuit. Positional drills appeared relatively similar to what they were the past couple years. Even the locations of where each position group practiced on the indoor field at the Woody Hayes Athletic Center were mostly the same.
Though Day spent the past two years as the team's quarterbacks coach, he made a concerted effort to roam around – often watching from afar like Meyer did. The first-time head coach watched special teams at the beginning of Wednesday's practice and didn't see the quarterbacks up close until after about a half hour.
"I do have to force myself to make sure I'm walking down to the defensive side every now and again to make sure I'm keeping an eye on that because my natural reaction is just to go down to the quarterbacks and get those guys going," Day said with a smile.
Don't think for one second Day won't be heavily involved with the quarterbacks.
He declared "it's going to be a battle" between Justin Fields and Matthew Baldwin this spring, and he revealed he'll call the offensive plays in the fall. But he doesn't want to give the offense or quarterbacks too much attention, ignoring other facets of the team. It's a tough balance to strike for someone who has never specifically coached defense or special teams.
"He's been focused on us because that's a big aspect of our team, and he knows that if we're great then we have a better chance of winning a national championship," Jonathon Cooper said.
Day saw what can happen if Ohio State has one of the top quarterbacks in the country and a mediocre defense. He helped Dwayne Haskins become a likely top-10 pick in the 2019 NFL Draft while Greg Schiano and Alex Grinch coordinated a defense that allowed 400 yards per game. 
"All in all, you're going to see a defense that's playing with a chip on their shoulder, a defense that's hungry to prove to the world that we are the Silver Bullets and we are held to the standard of being the best defense in America."– Jonathon Cooper
The Buckeyes can't afford to have a similarly poorly performing defense, and both Day and the players on that side of the ball understand that.
"The last couple of months have been just reflecting on what happened, where did we mess up scheme-wise and how did we play," Cooper said. "Went back and watched some film on the games and stuff and just figured out what happened. I feel like with the new coaches coming in, it was just kind of like a new start for everybody. And I feel like this defense definitely has something to prove this year."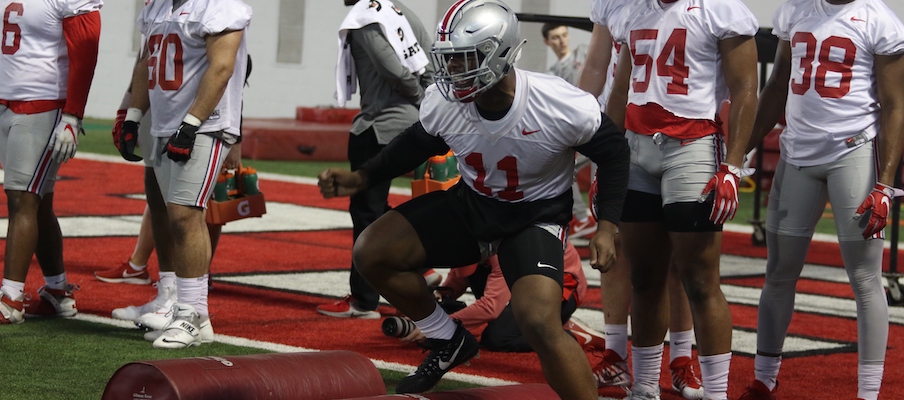 Almost the entire defensive staff turned over in the offseason.
Larry Johnson stuck around Columbus with a promotion to associate head coach, but Schiano, Taver Johnson and Billy Davis headed to the NFL, and Alex Grinch became Oklahoma's defense coordinator. Day hired Greg Mattison and Jeff Hafley as co-defensive coordinators to fix the unit that disappointed in 2018, also adding Matt Barnes and Al Washington as assistant coaches.
"Our defense is going to look different," Day said. "We obviously made a change there and assessed the situation. Not an easy decision, but that was a major deal. We had a bunch of new guys in the program. That's major."
The Buckeyes won't lack for new coaches on defense, but they had minimal turnover of players. 
Only Dre'Mont Jones and Kendall Sheffield left the program to head to the NFL after the season. Both starting defensive ends (Chase Young and Cooper), a starting defensive tackle (Robert Landers), all starting linebackers (Tuf Borland, Malik Harrison and Pete Werner), one starting cornerback (Damon Arnette) and both starting safeties (Jordan Fuller and Brendon White) are back for the 2019 season.
"Overall, I thought in Day 1 the defense was really swarming to the ball, running with energy," Day said. "They're very serious about their business. That's the thing I can say about those guys right now. Really serious. I think they have a little bit of a chip on their shoulder right now, which is great."
Day wasn't the only person to reference a chip on the defense's shoulder on Wednesday. Cooper used the same phrase when describing what to expect from the group.
"All in all, you're going to see a defense that's playing with a chip on their shoulder, a defense that's hungry to prove to the world that we are the Silver Bullets and we are held to the standard of being the best defense in America," Cooper said.
Ohio State couldn't even come close to calling itself the best defense in the Big Ten, let alone the country, last season. 
So, what will change in 2019?
"I feel like the intensity we bring every single game," Cooper said. "I feel like you'll see a defense that runs to the ball a lot harder. Really better at tackling. That's a defense getting after it, playing like the Bullets."
The Bullets. The Silver Bullets.
Ohio State's defense has a "new start," as Cooper said, but the goals and expectations remain the same.