Kaleb Wesson, sitting at the podium following Ohio State's 86-77 loss to Michigan State on Jan. 5, didn't mince words.
"Truly, I don't think we should've lost the game," he said. "I mean, I don't think they're any better than we are. We just had mishaps that happened late in the game that cost us the game, but I don't think there's any huge step or level that we need to take to be a team like that."
| Who | Where | When | TV |
| --- | --- | --- | --- |
| Michigan State (20-5, 11-3) | Breslin Center (East Lansing) | 1 p.m. | CBS |
The Buckeyes overcame an early deficit to pull ahead by seven points at halftime and soon extended their lead to nine early in the second half. But Cassius Winston dropped 18 second-half points to help the Spartans pull away for the nine-point victory.
Ohio State has a second chance to knock off No. 11 Michigan State, which is tied with Michigan for first place in the Big Ten, when it takes on the Spartans at 1 p.m. Sunday at the Breslin Center in East Lansing, Michigan.
The Buckeyes' 1-6 January record that featured a five-game losing streak didn't diminish Wesson's confidence or make him rethink what he said after the first matchup.
"To this day, I still feel the same," Wesson said after Ohio State beat Rutgers on Feb. 2. "We just have a lot of mishaps. Like I said, we have to control what we can control, and over the last month, we've turned the ball over a lot. That's just easy things that we can correct right now. To this day, I still think we're on the same level as them and that we can beat pretty much anybody in the country."
Ohio State will take on the Spartans coming off arguably its worst loss of the season. Its three-game winning streak came to an end on Thursday with a 63-56 loss to Illinois. Michigan State has won two games in a row, but a three-game losing streak preceded the back-to-back victories.
Opponent Preview
In the teams' first meeting of the year, Michigan State didn't attack Kaleb Wesson in similar manner to how other teams neutralized the 6-foot-9, 270-pound big man. Tom Izzo stuck 6-foot-9, 245-pound forward Nick Ward on Wesson and didn't offer much help. Wesson had one of his more productive games of the season, scoring 25 points, hitting 9-of-15 shots and going 6-for-9 from the free-throw line.
If the Spartans opt to allow Wesson the opportunity to take Ward one-on-one again, that might be Ohio State's best opportunity to win. The Buckeyes struggle to score consistently and frequently have ruts of three or more minutes without a single point. Their defense has been strong at times, but not enough to consistently overcome an offense without much rhythm.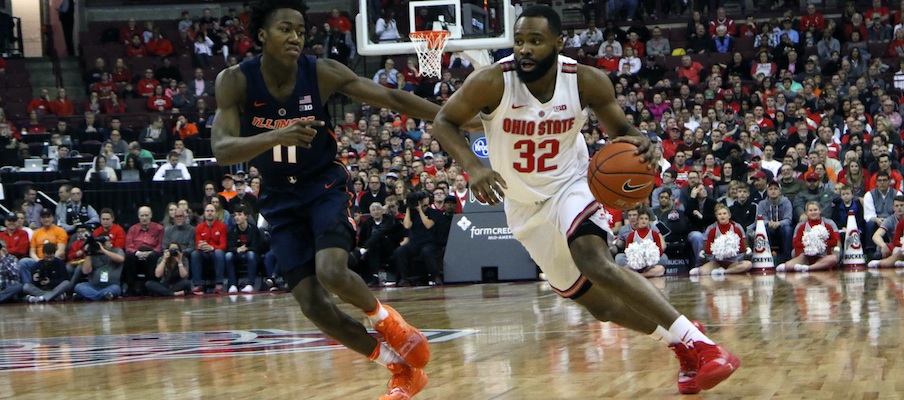 Luther Muhammad will be one of the more important Buckeyes on the court, for he – along with C.J. Jackson – could be tasked with guarding Winston for the second time in two months. Winston got the better of Muhammad and Jackson in January by dropping 25 points on the guards.
"Just stay disciplined," said Muhammad on Jan. 8 when asked what he learned from facing Winston. "Stay within the game. That's about it. Just stay disciplined, stay locked in. Pay attention to detail. Follow the scouting report."
Muhammad needs to make Winston work on the other end of the court, too. He had just two points in 30 minutes against Illinois.
Ohio State Preview
Stop me if you've heard this before, but Ohio State has to cut down on its turnovers to have any chance to pull an upset on Sunday.
C.J. Jackson and Keyshawn Woods combined for nine turnovers in the loss to the Illini, which played a big role in losing and would eliminate the opportunity to beat Michigan State. Jackson, at least, added some offensive production by scoring a team-high 17 points and making 8-of-11 free throws.
But Woods had just three points versus Illinois, and he scored only two points in his team's loss to Michigan State in January. He dropped 19 points in the third game of the season and had 18 points against the Illini in December.
"I think obviously we need that from him," Holtmann said after the loss to Illinois. "He just, he had a little bit of a tough night. He'll bounce back."
How It Plays Outs
There's a chance Ohio State can pull the upset – it looked for a while that it might beat Michigan State in the first meeting – but it will be a 12-point underdog. The Spartans are No. 4 in KenPom, while the Buckeyes are No. 36.
Not many people will pick Ohio State to win, especially after just losing to Illinois. Kaleb Wesson needs to get back to an offensive output similar to what he had against the Spartans in January, and Muhammad will be key on both ends of the court. But Michigan State might simply have too much talent to overcome.
Prediction: Michigan State 79, Ohio State 69