Urban Meyer brought in Ryan Day – along with Kevin Wilson – following Ohio State's disappointing 2016 season to adjust the faltering offense and make it more explosive. Two years later, the Buckeyes embarked on the most pass-happy offense of Meyer's coaching career, averaging 364.3 passing yards per game in 2018, beating the prior high of his career by more than 100 yards.
Dwayne Haskins set countless records in both the Big Ten and Ohio State in his only year as a starter, tossing for 4,831 yards and 50 touchdowns. Parris Campbell went from 39 catches for 587 yards in 2017 to 90 catches for 1,063 yards in 2018. K.J. Hill's receptions went from 55 to 70, and Terry McLaurin increased his touchdown catches from six to 11 in that two-year window. Johnnie Dixon caught 42 passes in 2018 after 18 receptions the year prior.
Before that ever happened, though, Ryan Day let Garrett Wilson know what was planned. He knew what the five-star wide receiver was looking for in a school, and he wanted him to be a part of the program's future.
"Every single bit of it, I loved it. Two years ago, I went in and I trusted what coach Day said to me about the passing game, because they haven't completely done it yet," Wilson said. "He told me that they plan to pass the ball a lot, so seeing it this year, it was just awesome to watch and fun to watch and I can't wait to be a part of it."
Wilson, the No. 20 overall prospect and the second-ranked wide receiver in the class of 2019, didn't need the proof of results to commit to Ohio State, which he did on April 29, but they were certainly a welcomed sight.
He grew up in Dublin and has a close relationship with Day, whom he compared to a family friend, but he chose Ohio State, in large part, because he has a chance to make a major offensive impact through the air.
"That was huge," Wilson said. "That was probably one of the biggest things that I had in my decision. I wanted to look for a school that was gonna throw the ball. I'm a receiver, I throw blocks when I want to, but I love catching the ball. So I wanted to go somewhere that's going to throw the ball, and coach Day, he told me that they wanted to do that, and this year, this past year, it showed. It was fun to watch, and I knew I wanted to be a part of that."
Not many freshman wide receivers have impacted games in their first years on Ohio State's campus. The top-rated wideout prospects in the program's past six recruiting classes combined for five receptions in their freshman seasons. Even Chris Olave, who caught a pair of touchdowns in the Buckeyes' 62-39 win against Michigan, finished the year with just 12 receptions.
Wilson is setting out to change that.
"His skill set is off the charts. His ball skills, adjusting to the balls down the field, route running ability, length, as good as I've been around."– Ryan Day on Garrett Wilson
Campbell, Dixon and McLaurin ran out of eligibility, leaving Olave, Austin Mack, Binjimen Victor and K.J. Hill as the most experienced returning receivers. When asked what it takes for a wideout to play as a freshman, Wilson began his answer by saying, "First off, it takes the right situation." Well, he's walked into a solid situation.
Jaylen Harris, Kamryn Babb, L'Christian Smith, C.J. Saunders, Jaelen Gill and Ellijah Gardiner will compete with him for the remaining pair of openings in the two-deep depth chart, but none of them have substantial experience. As an early enrollee, Wilson has ample time to adjust to the collegiate game and take advantage of the opportunity, earning early snaps.
There's no doubting whether he thinks he'd play well if given the opportunity, either. Wilson said he watched the Clemson-Alabama national championship, in which Clemson freshman Justyn Ross starred. Did he think he could make catches like Ross and Alabama freshman Jaylen Waddle?
"I'm a confident kid," Wilson said. "So, I'm going to answer the question like that with a 'yes' every time. I feel like that about myself, but I still have to come in, earn my stripes and get ready to play. Otherwise, a lot of different things can happen, so we'll see."
In the long term, Ohio State won't want to keep Wilson off the field, whatsoever. Day can't help but praise his talent.
"His potential, as good as he is, is through the roof," Day said. "Now he has to go through it. This is really the first time he's being challenged in the weight room. Coach Mick (Marotti) and his staff is all over him. Already gotten better and made strides. He has a long way to go physically. That being said, his skill set is off the charts. His ball skills, adjusting to the balls down the field, route running ability, length, as good as I've been around."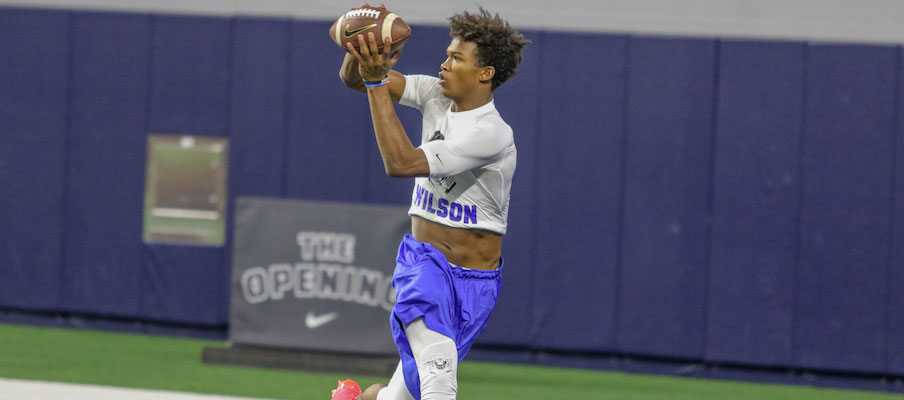 Wilson said he's best at making contested catches, despite standing 6-foot-1, 186 pounds, and he'll have a chance to go up and get passes this season from a quarterback he's known of for a couple years and one he's known personally for even longer.
Ever since Wilson was a young child, he watched the Elite 11, a competition pitting the best high-school quarterbacks against each other. So naturally, he tuned in for the 2017 event.
Justin Fields, then committed to Georgia, caught the eye of Wilson, along with everyone else at the event in Beaverton, Oregon. He beat out Trevor Lawrence and the other quarterbacks to win Elite 11 MVP, an award that has been given to Tua Tagovailoa, Shea Patterson, Aaron Murray, Matthew Stafford and Mark Sanchez, among others.
Unbeknownst to Wilson at the time, he'd be catching passes from both Fields and Matthew Baldwin, his high-school quarterback from Lake Travis in Texas, less than two years later.
Either Fields or Baldwin will be running Ohio State's offense in the fall, and Wilson wants to be a part of it. He watched what happened in the national championship with Ross, so he knows it's possible to make a substantial impact in Year 1.
"I think of myself as I am that caliber of player," Wilson said. "Now it is just time for me to prove that every time I am out on the field. Hopefully I am doing the same thing next year."