Ryan Day badly wanted Michael Jordan to return to Ohio State for one more season.
The 6-foot-7, 312-pound lineman became the program's first freshman since Orlando Pace to start as a freshman, then was an all-Big Ten left guard as a sophomore. Jordan moved inside to center last season where he became a first-team All-American. He never truly felt as comfortable at center as he did at guard, though, which he verbalized in an interview during Rose Bowl practices. That same day, Day campaigned for him to return for his senior season and acquiesced his request, saying it would be "nice" for Jordan to return to guard next season with Josh Myers starting at center.
Six days later, Jordan declared for the 2019 NFL draft, quashing Day's hopes. Without him, Ohio State has to replace four starters from an offensive line that had an up-and-down season. Left guard Malcolm Pridgeon, right guard Demetrius Knox and right tackle Isaiah Prince graduated.
Only Thayer Munford remains.
The 6-foot-6, 319-pound graduate of Massillon Washington High School developed quicker than many expected. Munford rose late in the recruiting process to become a four-star prospect, eventually earning offers from Alabama, Miami and Tennessee. He proved to be ready for action soon after arriving on campus. As a true freshman, Munford pushed for early playing time, seeing the field sooner than Wyatt Davis and Josh Myers, a pair of five-star prospects who redshirted their first years on campus.
By his sophomore season, Munford was ready to play full-time, becoming one of two brand new starters on the line, along with Pridgeon. He had his hiccups during the year, but finished as an All-Big Ten honorable mention while dealing with multiple injuries. Munford battled a hip injury for most of the year, missed the Maryland game with a leg injury and didn't play in the Rose Bowl due to an undisclosed injury.
Still, he provided Dwayne Haskins with more-than-adequate protection from his blind side. He typically gave the record-setting passer a clean pocket and served well as a run blocker despite it being just his second year in the program.
Next season, Ohio State will count on Munford for even more than his blocking acumen. He must be the leader on a line in flux. The team will rely on him to stabilize the offensive line, which will undergo quite an overhaul.
Davis stepped in for Knox, who suffered a season-ending foot injury late in Ohio State's win against Michigan, and started at right guard in both the Big Ten championship and the Rose Bowl. He's expected to start at guard in the fall. Uncertainty remains at the other three open starting spots.
Myers is expected to have the first crack at earning the starting center job. However, the Buckeyes have been linked to Rutgers graduate transfer Jonah Jackson, a two-year starter who has experience at both guard and center. The rising redshirt senior would have a chance to step in and start in his final year of eligibility.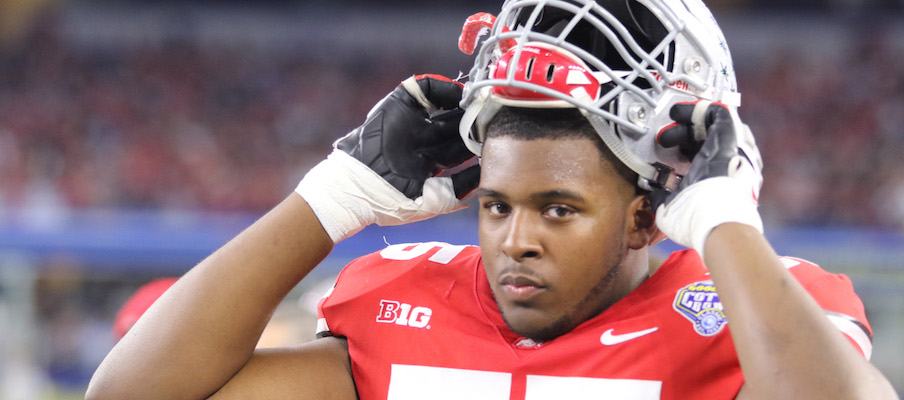 Branden Bowen, Gavin Cupp and Matthew Jones are the other potential candidates to start at guard opposite Davis. However, if Ohio State lands Jackson and he ends up at guard, Bowen could move back to right tackle, where Nicholas Petit-Frere and Joshua Alabi are slated to compete for the starting position.
Not a lot about the team's situation up front is certain entering the spring. The Buckeyes simultaneously don't have a ton of depth, considering the mix of youth and inexperience, and have a sizable amount of players competing to start at three positions.
Munford is one of the few knowns.
He proved last season that he's a reliable blocker on the blind side of either Justin Fields or Matthew Baldwin, and given that the offense under Day will likely have a higher rate of throws compared to runs than it did under Meyer, Munford's importance cannot be overstated. He's the only offensive lineman on the roster with more than six games of experience starting for Ohio State.
In the long-term, the Buckeyes should be just fine.
Offensive line coach Greg Studrawa believes his unit is in the best shape since he arrived in Columbus in 2016.
"No question. When I got here, there's nine guys that were in that room that aren't in that room any more for whatever reason," Studrawa said after the Big Ten championship on Dec. 1. "So now we're finally building that back up, and with the kids coming in this next class and Matt Jones and Max Wray and Bowen coming back and now Josh and Wyatt coming on, absolutely, yes."
But right now, Ohio State needs some certainty.
Could Davis and Myers become All-Big Ten performers like their recruiting rankings suggest they have the potential to be? Of course. Would Jackson be a major addition? Yes. Might Petit-Frere be the perfect tackle to play and develop opposite Munford? It's possible.
This upcoming season, though, with so much movement in personnel up front, the Buckeyes can take solace in knowing they have a proven commodity at left tackle with Munford returning.