Even though it's been more than eight years since Jim Tressel last coached a game at Ohio State, his tenure as the Buckeyes' coach will be well-represented in the Super Bowl.
All three of the former Ohio State players who will be playing in Sunday's game – Nate Ebner and John Simon of the New England Patriots, and Jake McQuaide of the Los Angeles Rams – became Buckeyes and played when Tressel was leading the program.
That's a point of pride for Tressel, who is now the president at Youngstown State University, knowing that his final season as Ohio State's coach was in 2010.
"It's really over the course of years been a thrill for all of our guys, dating back quite many years, to see them in the Super Bowl, the ultimate game," Tressel told Eleven Warriors. "These three, in particular, it kind of makes me smile, because anyone that is still in the NFL from my days is probably in the six to 15 years in the league realm, which the average (NFL) player plays less than three years. And so for people to have that type of career, it makes you proud."
McQuaide is in his eighth season in the NFL, while Ebner is in his seventh and Simon is in his sixth. Ebner, who has spent his entire career with the Patriots, is the only one among them who has previously played in a Super Bowl; McQuaide, who has spent his entire NFL career long snapping for the Rams, and Simon, who is in his first year with the Patriots after stints with the Baltimore Ravens, Houston Texans and Indianapolis Colts, are both set to appear in their first career Super Bowls.
Among all of Tressel's Buckeyes in the NFL, there might not be three better examples of the program Tressel had in Columbus than the trio that will be taking the field with an NFL championship on the line Sunday evening. All three are from the state of Ohio, and all three have made it to where they are now because of how hard they have worked along the way.
None of them are star players for their NFL teams, but they've all played important roles for their teams this year – with Simon seeing playing time for the Patriots at defensive end and linebacker, Ebner leading the Patriots in special teams snaps played and McQuaide snapping for kicks and punts – and Tressel isn't surprised that they've all found a way to make themselves valuable for teams that won conference championships.
"(They) clearly are the type of people who what was most important to them was the team, and so you know they're good team members. And if you can have a locker room full of good team members, you do have a chance to go on and do extraordinary things like the Super Bowl," Tressel said. "This opportunity for those three guys, it's just gratifying that people that do things the right way with the right attitude about it, in terms of the team, good things happen."
The NFL success of Ebner and McQuaide, who both began their Ohio State careers as walk-ons, makes Tressel especially proud because they earn their paychecks on special teams, which Tressel made a big area of emphasis for the Buckeyes.
"Knowing how we always talked about special teams, to see two of them are special teams guys, maybe reinforces that theory we had that special teams win championships," Tressel said. "It makes it even more special."
Tressel said that when Ebner joined his team in 2009 – having not played football in high school nor in his first two years at Ohio State – he sat down with Ebner, a standout rugby player, to discuss how he could make an impact for the Buckeyes. Ebner, who never became a regular on defense at Ohio State, embraced the opportunity to make his mark on special teams.
"It starts with special teams, because that's a one-play series, and you don't need a whole bunch of experience to learn what you need to do to become good at a one-play series," Tressel said. "And he just embraced that thought and became extraordinary in the special teams areas."
McQuaide, similarly, embraced the importance Tressel placed on special teams and became one of the best long snappers in the country, setting himself up for his opportunity to play in the NFL.
"Jake really bought into the fact that his role on the Ohio State team was every bit as important as anyone else's, and he was going to become the best he could be," Tressel said.
Simon, the only one of the three Buckeyes playing in the Super Bowl who was actually recruited to Ohio State as a scholarship player, worked just as hard as anyone, making an early impression on Tressel that later made him a two-time captain for Luke Fickell in 2011 and Urban Meyer in 2012.
"He's just one of those relentless guys that 'What position do you want me to play? What time do you want me to be at the facility? What film do you want me to study?'" Tressel recalled.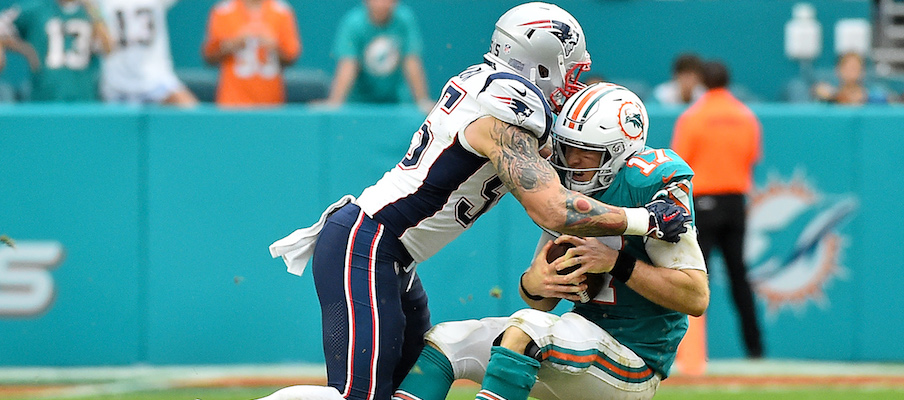 Both Ebner and McQuaide told Eleven Warriors in interviews last week that Tressel's program at Ohio State prepared them well for success in the NFL by setting high expectations and teaching them how to be professionals.
Ebner: "Being at Ohio State, you learn real quick what it's like to be a professional. You don't mess around. The meetings are no joke, practice is no joke, the weight room is no joke. Nothing we do is a joke. It's done at a very high standard, and it's done consistently. Day in and day out. And that's what it takes to be a pro."
McQuaide: "Coach Tressel used to say, 'Consistency is the hallmark of greatness.' So it was about every day showing up and every day doing things the right way, and I think just the whole program that coach Tressel put together … You can't argue that it was perfectly made to get guys to the league and get the team playing for championships."
Tressel – much like Meyer in succeeding him – said it was his goal to prepare his players for the next phase of their lives regardless of whether that meant playing in the NFL or going into any other career field.
"I think we tried to make that the case for not only if you became a professional football player, but if you became a professional in whatever was the next chapter or next few chapters of your life, that there were certain things that you had to embody and certain expectations and certain level of excellence in whatever your role happens to be," Tressel said. "And you had to truly believe that whatever role was, it was important. And that you would go about it with the belief that it was important, and you would go about it at a very high level."
There were still 14 former Ohio State players who played for Tressel playing in the NFL this season, and five of those players were on teams that made it to their conference championship games, with Ted Ginn Jr. and Kurt Coleman playing for the New Orleans Saints (along with four younger Buckeyes who played for Meyer). So while Tressel was rooting for the Patriots to beat the Kansas City Chiefs the AFC Championship Game because of Ebner and Simon, he would have been happy with either outcome in the NFC Championship Game.
Former Jim Tressel Players in NFL This Season

| Player | Team | Year in NFL |
| --- | --- | --- |
| NATE EBNER | NEW ENGLAND PATRIOTS | 7th |
| JOHN SIMON | NEW ENGLAND PATRIOTS | 6th |
| CAMERON HEYWARD | PITTSBURGH STEELERS | 8th |
| ANDREW NORWELL | JACKSONVILLE JAGUARS | 5th |
| CARLOS HYDE | JACKSONVILLE JAGUARS | 5th |
| BRADLEY ROBY | DENVER BRONCOS | 5th |
| MIKE NUGENT | OAKLAND RAIDERS | 14th |
| JOHNATHAN HANKINS | OAKLAND RAIDERS | 6th |
| ROD SMITH | DALLAS COWBOYS | 4th |
| MALCOLM JENKINS | PHILADELPHIA EAGLES | 10th |
| COREY LINSLEY | GREEN BAY PACKERS | 5th |
| KURT COLEMAN | NEW ORLEANS SAINTS | 9th |
| TED GINN JR. | NEW ORLEANS SAINTS | 12th |
| JAKE MCQUAIDE | LOS ANGELES RAMS | 8th |
"I couldn't lose as long as two of those three teams got in, and it turned out that it was the Patriots and the Rams, and it makes watching the game even more fun," Tressel said.
Tressel said he still tries to keep in touch with his former players as much as possible through text messages, so he sent each of the three Super Bowl-bound Buckeyes a congratulatory text following their conference championship game wins. He said he doesn't plan to text them this week, however, because he doesn't want to distract them from their preparation for the big game.
"The thing I texted to them after they got that opportunity was how proud we are of them and how special a moment it is and to enjoy every moment of it," Tressel said. "But now that they're in game week ... I don't want those guys to think they need to read my texts or text back to me or whatever. They got a job to do this week, and I'll text them (after the game) and let them know I watched them, and again that we're so proud of them."
As for how he plans to watch the game on Sunday, you won't find Tressel at a Super Bowl party, because he wants to be able to soak it in without distractions.
"The last thing I like to do, in terms of watching games, is to be amongst a crowd of 100 people, because everyone wants to talk to you about, 'Should they have called a timeout?' or 'What do you think about that?'" Tressel said. "So I like to watch a game, especially where I have personal interest like with these guys, I like to be glued in front of my TV and enjoy the game and enjoy just thinking about what a special opportunity that is for those kids. And plus, it's a big game, and it's fun to watch how those types of games unfold."