Tate Martell didn't commit to Ohio State to spend his time on the bench for the majority of his collegiate career, and Justin Fields surely didn't transfer to the university to watch from the sidelines.
After sitting behind J.T. Barrett during his redshirt season, then Dwayne Haskins last season, Martell was poised to start – at least, he thought he was. Ryan Day, though, preferred a healthy competition between Martell and Fields. Before the transfer of Fields became official, Martell guaranteed he would both stick around at Ohio State and win the starting job in the fall. But after the program announced Fields' transfer, things seem to have changed.
Martell opted to enter the NCAA transfer portal, which allows him to talk to coaches from opposing schools. He reportedly is considering leaving Ohio State for Miami, Louisville or West Virginia, and could make a decision in the next couple weeks. With Fields pursuing a waiver that would allow him to play immediately, a Martell transfer looks more possible than ever before.
If Martell opts to leave for another program, what would have been a three-man competition to become Ohio State's quarterback in the fall would be drastically simplified. However, depth at the position would become scarily thin.
No Martell would almost completely ensure Fields would start in the fall. He would have to compete with Matthew Baldwin for the spot, but it's hard to imagine the quarterback who was committed to Colorado State 14 months ago and who suffered a torn ACL 13 months ago would beat him out for the spot.
Ohio State wouldn't be in a terrible spot if Fields' NCAA hardship waiver, which would allow him to play immediately in the fall, is successful. The team would start Fields, the No. 2 overall prospect from the 2018 recruiting cycle, and Baldwin would back him up. Chris Chugunov would currently be the third-string quarterback.
Experts have been optimistic about Fields' probability to play in the fall without sitting out, though some uncertainty remains.
"I think there's a reasonable chance of success in this case, given what I know about the circumstances," Tim Nevius, a former NCAA investigator who now provides legal representation for athletes in cases against the NCAA, told Eleven Warriors last week. "But these outcomes are not guaranteed, and sometimes can be unpredictable."
Imagine what would happen if Fields' waiver isn't successful and Martell bolts for a school where he would undoubtedly start.
Baldwin, who spent the majority of his freshman season on the sidelines recovering from his ACL injury, would suit up as Ryan Day's Week 1 starter without having played a single collegiate snap. It might work out – Day is high on Baldwin and hand-picked him – but even after physically recovering from the injury, he had to spend time mentally recovering from it, re-learning to trust his knee. So many unknowns exist.
"It's going to be a huge offseason for me, it's going to be a huge spring hopefully for me," Baldwin said on Dec. 1 after the Big Ten championship game. "And it's all up to me. I'm just saying that if I want to compete, if I want to be great, then it's up to me just getting right."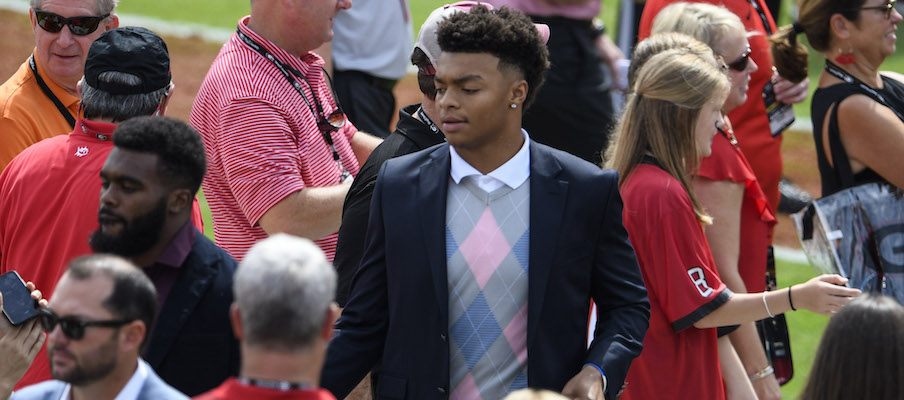 Behind Baldwin, if Martell were to transfer and Fields had to sit out a season? Chris Chugunov and no one else.
Despite being a scholarship quarterback on Ohio State's roster, not much has been written or discussed about Chugunov. After transferring from West Virginia in the offseason last year, he completely slipped under the radar. There's a simply answer: no one expected he would ever play any significant snaps for the Buckeyes.
All of a sudden, though, Chugunov could become important depth. Even if Fields is eligible and Martell leaves, Chugunov would be the third-string quarterback, and no one who follows Ohio State football needs anyone to explain how important a backup to the backup quarterback can be.
If Martell transfers, whether Fields is or isn't immediately eligible in the fall, the Buckeyes would have sufficient quarterback depth in Day's mind.
"We always want to have four guys on our roster," Day said on Dec. 19. "It's always a process of one guy is on the field, and it's hard to get two and three guys in the game. It's never going to change. We're going to always look to have four guys on the roster, and just like anything else, after Dwayne makes the decision, we'll go from there."
Haskins made his decision a week ago, and as Day said, they went from there, landing Fields. Now, things get tricky.
Martell visited West Virginia this weekend, takes a trip to Miami on Monday and will check out Louisville later this week. As each day passes, Martell seems more likely not to return, which would make it pretty simple. If Fields is eligible, he starts. If not, Baldwin starts.
Behind them? That's where the questions begin and concern percolates.