While there were many factors that led to Ohio State's defensive struggles this past season, one that the Buckeyes often pointed to was their lack of experience on that side of the ball.
Ohio State had just one senior on defense last season, Dante Booker, who didn't even see regular playing time at linebacker, playing only 77 total snaps on defense.
Not including Nick Bosa, Ohio State had only five returning starters on defense last season (Dre'Mont Jones, Tuf Borland, Damon Arnette, Kendall Sheffield and Jordan Fuller), and lost the majority of its leaders on defense from the previous season, including defensive ends Tyquan Lewis, Sam Hubbard and Jalyn Holmes, defensive tackle Tracy Sprinkle and linebacker Chris Worley, each of whom were captains in 2017.
When things started to go bad for Ohio State's defense this past season, the Buckeyes didn't have as much veteran leadership to right the ship as they had in previous years, and it showed.
"I don't think people realized how young the defense was to start the season, how inexperienced we were," former linebackers coach Bill Davis said before the Rose Bowl. "That always takes growth. And the only way you can get that experience is by playing the games and getting better."
Considering the level of talent on Ohio State's roster, inexperience isn't enough to excuse finishing 50th in scoring defense and 71st in total defense – allowing more points per game (25.5) and yards per game (403.4) than any previous season in school history – which is why new head coach Ryan Day replaced all but one of the Buckeyes' defensive assistant coaches from last season, including Davis.
It is reason, though, to have confidence in the Buckeyes' potential to turn their defensive performance around next season.
With Fuller, Arnette and Malik Harrison all deciding to return for their senior seasons, Ohio State is set to return at least nine of its defensive starters from last season. Sheffield has yet to announce whether he will return for his final year of eligibility or enter the 2019 NFL draft, but as of now, Jones is the only starter from last year's defense who has announced that he will leave for the NFL before his final season of eligibility (not including Bosa, who started the first three games of last season before suffering a season-ending injury and leaving the team early).
Depending on Sheffield's decision, and assuming all the other junior defenders from last season stay with the Buckeyes, Ohio State is in line to have at least nine – and possibly 10 – seniors on its 2019 defense. Defensive tackles Robert Landers and Davon Hamilton, defensive end Jashon Cornell, linebacker Justin Hilliard, Arnette and Sheffield (if he returns) will all be fifth-year seniors, while defensive end Jonathon Cooper, linebacker Keandre Jones, Harrison and Fuller will be seniors who did not take redshirt years.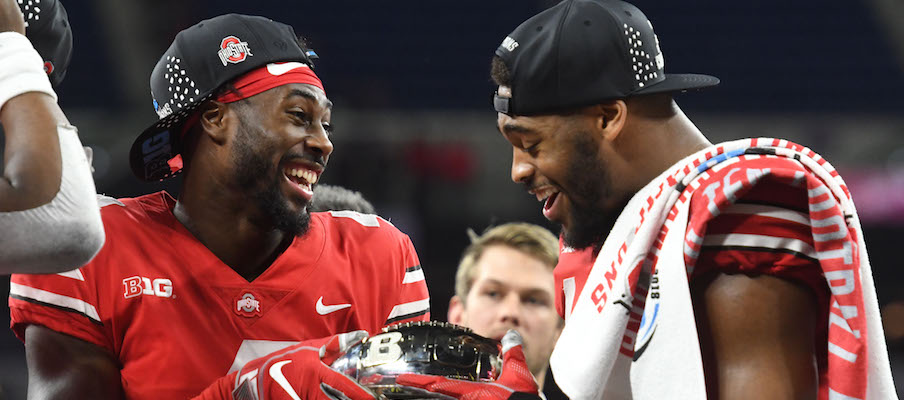 The Buckeyes will have two returning captains on their defense in Fuller and Borland, and with all of those seniors and other experienced players, there should plenty of other candidates to step up as leaders for Ohio State's defense next season, too.
In total, the Buckeyes are set to return at least 13 defenders who played at least 350 snaps this past season: Chase Young and Cooper at defensive end; Landers and Hamilton at defensive tackle; Harrison, Pete Werner and Borland at linebacker; Arnette, Jeffrey Okudah, Shaun Wade and potentially Sheffield at cornerback; and Fuller, Brendon White and Isaiah Pryor at safety.
Being one year older doesn't automatically mean that all of those defenders will be better, so it will be up to Ohio State's new staff of defensive coaches – co-defensive coordinator Greg Mattison, co-defensive coordinator and secondary coach Jeff Hafley, linebackers coach Al Washington and special teams coordinator and assistant secondary coach Matt Barnes, along with returning defensive line coach Larry Johnson – to not only help those players continue to develop, but determine whether the most experienced players are the ones who should continue to see the most playing time.
More experience is generally better than less experience, though, and that's not only true for the Buckeyes who were in the lineup regularly last season, but also for players like Tyreke Smith, Haskell Garrett, Tommy Togiai, Taron Vincent and Baron Browning – among others – who saw some playing time in 2018, but could be in line for more substantial snaps in 2019.
Altogether, Ohio State is set to return more experience at all three levels of its defense than it had last season, which should make the Buckeyes much more prepared and game-ready on that side of the ball – assuming their experienced players improve upon their weaknesses in the offseason, and their new coaches do a better job putting them in position to make plays – going into 2019 than they were in 2018.