As Ryan Day revamps Ohio State's coaching staff entering his first season as head coach, Eleven Warriors is checking in with media members who covered the Buckeyes' new assistant coaches to get their insight on what those coaches could bring to Columbus.
For our first new assistant coach edition of Across The Field, we caught up with Mark Cooper, who covers Oklahoma State for the Tulsa World, to get his perspective on new Ohio State passing game coordinator and quarterbacks coach Mike Yurcich, who was the offensive coordinator and quarterbacks coach at Oklahoma State for the past six years.
Statistics show that Yurcich's offenses were generally successful at Oklahoma State – his last four offenses ranked in the top 10 nationally in passing yards per game, while his last two ranked in the top 10 nationally in total yards per game – but how much a part did Yurcich play in that success, and why were those offenses?
Why, despite that success, were some Oklahoma State fans happy to see Yurcich go?
What did Yurcich's offenses look like at Ohio State, what kind of personality should Ohio State fans expect to see from him and what kind of impact can he make on the recruiting trail?
Cooper helps us answer those questions and more in the following Q&A.
Q: How would you describe Mike Yurcich's offenses from his time at Oklahoma State? Are there core principles that he believes in that have been defining factors of his offenses each year?

Cooper: Oklahoma State's offense has become somewhat standardized over the last decade, going back to Dana Holgorsen's hire as offensive coordinator in 2009, in that the OC who comes in learns the OSU offense while also adding a little of his own style. When Mike Gundy hired Yurcich, it was both because he was someone who had a lot of success with a similar, up-tempo offense at Shippensburg, and because he was a young coordinator eager to learn and mesh with what OSU had already established under Holgorsen and Todd Monken.

The first three words that come to mind when I think about Yurcich's ideal offense: Fast, explosive, balanced. When things are clicking and the offense is staying ahead of the chains, it moves at a rapid pace with little subbing. Yurcich clearly loves a quarterback who can throw it deep. OSU finished top-20 in the nation in completions of 40-plus yards in each of the last five seasons (three of those with Mason Rudolph). And he's persistent about trying to maintain balance with the run game. The number of runs vs. passes per season has typically been close to even (518 vs. 493 this year, 505 vs. 503 last year, 491 vs. 465 in 2016, etc.). In that regard, and with increased usage of tight ends and two-back sets, it isn't the stereotypical "Air Raid."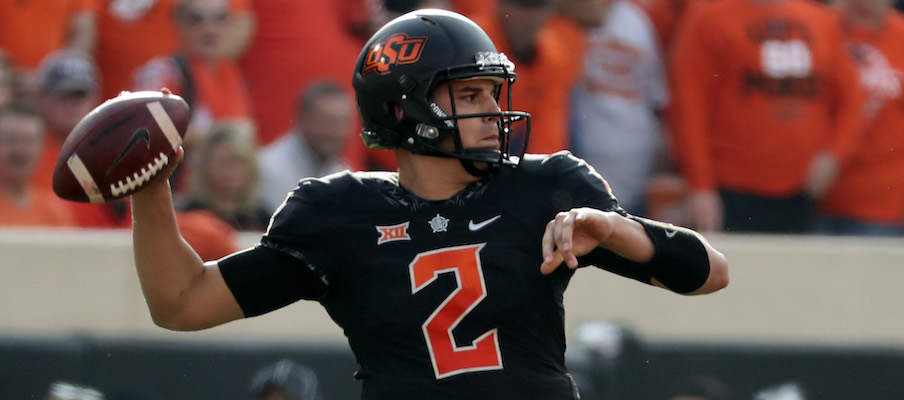 Q: Oklahoma State has ranked in the top 10 nationally in total offense for the past two years and in passing offense for the past four years. How much of a role do you think Yurcich has played in that success, and what have been the biggest keys to his success?

Cooper: Some credit is certainly due to the system/culture, but Yurcich has developed as a coordinator from when he first arrived. For one, he deserves credit for recruiting Mason Rudolph from Rock Hill, South Carolina, to Stillwater. He also had to work around subpar offensive line play for the first half of his tenure. OSU has had four offensive line coaches in his six seasons and the instability decimated its depth until Josh Henson took the position in 2017.

There are still some week-to-week inconsistencies in game plans that have driven some fans crazy (I'll get to that below), but his offense did generate 500-plus yards in eight of 13 games with a first-year starter and former walk-on quarterback in 2018. Even if the failures fall on coaching, he deserves credit for some of the success.

Q: Yurcich was also rumored to be a candidate for the offensive coordinator opening at Tennessee. Why do you think he decided to leave Oklahoma State now, and what do you think drew him to Ohio State over other potential opportunities?

Cooper: It's hard to pinpoint this without getting Yurcich's take directly, but you can put the pieces together as to why Ohio State would be more attractive than Tennessee or someplace else. His family ties (Euclid, Ohio) surely played a role. Aside from his six years in Oklahoma, he had spent his entire life in Ohio, Indiana and Pennsylvania. And he has never struck me as a coach interested in hopping from place to place every couple years.

The bump in pay ($150,000 raise) was probably also a factor. And I know Yurcich wants to be a head coach eventually. He interviewed for the head job at Kent State last offseason, but Kent State eventually paid its hire (Sean Lewis) $440,000, so he would have had to take a massive pay cut had he been offered the job. Perhaps he believes now that success at Ohio State will increase his head-coaching options in the future, I'm not sure. But that could be a factor, too.
Q: Despite the statistical success that Oklahoma State's offenses have had under Yurcich's leadership, there seems to be a portion of the Oklahoma State fanbase who is happy to see him go. Why do you think some Cowboys fans were ready for a change?

Cooper: ​Yurcich just didn't seem to get off on the right foot with a faction of OSU fans and it never changed during his six years. Part of it was the situation he inherited: The previous two coordinators, Holgorsen and Monken, were big personalities with flashy offenses. Monken helped deliver a Big 12 title and had the No. 3 and 4 offenses in the country in his two seasons. Replacing him with a coach from a school most (all?) OSU fans had never heard of? There was destined to be a little tension. For similar reasons, a portion of the fan base struggled to support a former walk-on (Taylor Cornelius) replacing Mason Rudolph this year.

His first two offenses ranked 37th and 85th, so he didn't light it up right away, either, and I think that was a factor. And there were some questionable lapses on offense this season that incensed the critics. For example: Star running back Justice Hill received only 11 carries in an inexcusable, 12-point performance at a lackluster Kansas State team this year. It also took a little too long for the game plans to cater to Cornelius' strengths, which differed from Rudolph's. When Yurcich got it right (see Texas, West Virginia and Missouri this year), the offense was electric. But when you hold it to the Monken standard (OSU scored 30-plus points in 25 of 26 games in 2011-12), it fell short for some.

Q: What is Yurcich's personality like? What should Ohio State fans expect to see from Yurcich during games and during interviews?
Cooper: Yurcich was often reserved, especially in large media settings and after games. I always wondered if that was an effect of his arrival from such a small school. In a smaller group of reporters or in a conversation during the week, he was at times more candid and could be fun to interview. He coached from the booth at OSU, so fans didn't really see him at all in games.
Q: How successful was Yurcich on the recruiting trail at Oklahoma State, and what would you expect him to bring to Ohio State in that regard?

Cooper: Yurcich recruited his position (quarterback) rather than a region for OSU. He wasn't afraid to look anywhere for a quarterback.

I used this tidbit on the December signing day: Oklahoma State signed six quarterbacks in six years with Yurcich as OC. They came from six different states: South Carolina, Oklahoma, Louisiana, Georgia, Texas and California. So he'll be comfortable looking far and wide for quarterbacks at Ohio State.

Success rate? A combination of home runs and whiffs. In terms of the star system, he recruited well by OSU standards. Three of the six signees (Rudolph, John Kolar, Spencer Sanders) were four-star QBs, per 247Sports, and another, Jelani Woods, had a Michigan offer. But after signing Rudolph in 2014, OSU had three consecutive "misses" at quarterback from 2015-17. Kolar (2015) never cracked the depth chart and recently transferred to Iowa State after graduating. Keondre Wudtee (2016) was the fourth-string option this year. Woods (2017) moved to tight end after his freshman year.
Everyone at OSU is high on Sanders, last year's Gatorade Player of the Year in Texas, and the 2019 signee, Brendan Costello, stayed with OSU after Georgia offered. But the stretch from 2015-17 was part of the reason the depth chart was topped by Cornelius and a Hawaii graduate transfer (Dru Brown) in 2018.