CARSON, Calif. – As Ohio State held its second practice of Rose Bowl week at the StubHub Center on Thursday afternoon, credentialed media members were welcomed to watch stretching and the first three periods of the Buckeyes' practice.
While more than 100 Buckeyes players were on the field and participating in practice, there was one notable non-participant during the open viewing window of Thursday's practice. Starting left tackle Thayer Munford was seated on a cart alongside fellow offensive lineman Demetrius Knox, who is sidelined by a Lisfranc injury. Ohio State has not disclosed an injury for Munford, but he did not appear to be available to practice, though he was in uniform.
With Munford sidelined, Joshua Alabi worked as the left tackle with the first-team offensive line alongside left guard Malcolm Pridgeon, center Michael Jordan, right guard Wyatt Davis and right tackle Isaiah Prince.
More observations from Thursday's practice:
No sign of Snead
Another player who was not spotted on the field during Thursday's practice was freshman running back Brian Snead, which came as less of a surprise. Snead has been suspended since the first two games of the season for an undisclosed violation of team rules, and it appears that he did not make the trip to the Rose Bowl with the rest of the Buckeyes.
With Snead absent, the Buckeyes' roster of running backs at Thursday's practice consisted of J.K. Dobbins, Mike Weber, Master Teague, Demario McCall and Robert Cope, with McCall also taking some reps at H-back and Cope wearing a purple No. 9 jersey, indicating that he is simulating Washington's Myles Gaskin on the scout team in practice. (Correction: This story previously misidentified Cope as fellow walk-on Amari McMahon.)
Running back drills during Ohio States second practice of Rose Bowl week. pic.twitter.com/VBE31fOeVi

— Dan Hope (@Dan_Hope) December 27, 2018
Local coach visits practice
Thursday's visitors to Ohio State's practice included UCLA coach Chip Kelly, who has several ties to the Buckeyes' coaching staff. A close friend of outgoing Ohio State head coach Urban Meyer, Kelly is also a longtime mentor to soon-to-be Ohio State head coach Ryan Day; Kelly was Day's offensive coordinator when Day played at the University of New Hampshire, and Day spent two years working for Kelly as a quarterbacks coach with the NFL's Philadelphia Eagles and San Francisco 49ers.
Ohio State linebackers coach Bill Davis has also worked for Kelly, serving as his defensive coordinator with the Eagles from 2013-15. Kelly was spotted chatting with Davis for several minutes at the beginning of Thursday's open practice viewing window.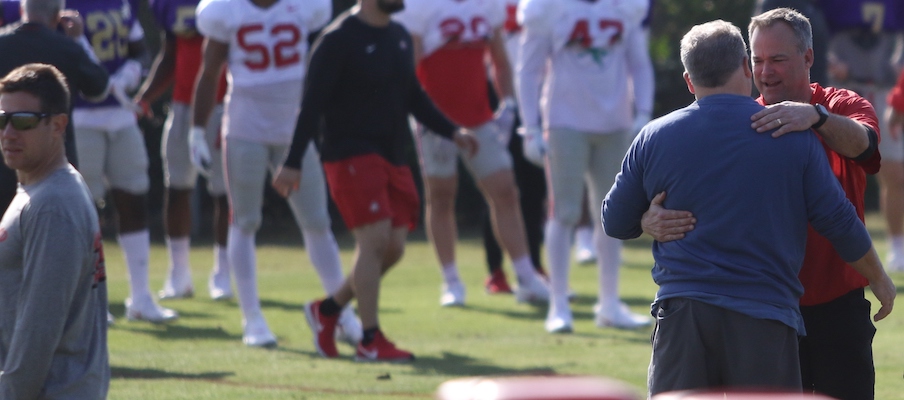 Still Meyer's team for now
While multiple Ohio State defensive players said Thursday morning that Day has taken a more active role in working with the entire team since he was named the Buckeyes' next head coach on Dec. 4, the current offensive coordinator and quarterbacks coach was still working specifically with the Buckeyes' quarterbacks – Dwayne Haskins, Tate Martell, Matthew Baldwin, Chris Chugunov and Kory Curtis, with Curtis wearing the scout-team jersey to simulate Washington's Jake Browning – during the open portion of practice on Thursday.
Meyer, meanwhile, continued to oversee the entire practice as he typically has, watching mostly from the middle of the field. Meyer also led the Buckeyes in their pre-practice huddle, with Day standing on the perimeter with the rest of the assistant coaches.
Soon, Day will be the one responsible for overseeing all of Ohio State's players and coaches, but for now, his primary responsibility remains making sure that the Buckeyes' quarterbacks and the rest of their offense are ready to play the Washington defense.
Pads cracking
The portion of practice that was open to the media on Thursday included a period in which Ohio State's linebackers and defensive backs participated in a tackling drills, showing that the Buckeyes aren't shying away from contact even with the season winding down and the final game of the year just five days away.
Tackling drills from Ohio States second practice of Rose Bowl week. pic.twitter.com/JOdxkwBnb4

— Dan Hope (@Dan_Hope) December 27, 2018
Ohio State's defensive linemen, meanwhile, spent most of the open portion of practice running through various bag drills that put their ability to change directions and pass-rushing skills to the test.
Defensive line drills from Ohio States second practice of Rose Bowl week. pic.twitter.com/6hGOTEnkku

— Dan Hope (@Dan_Hope) December 27, 2018