LOS ANGELES – Urban Meyer hasn't ever coached in the Rose Bowl, but a bunch of his players hadn't even been to California before Ohio State headed across the country to begin bowl preparation this week.
At first thought, the Rose Bowl didn't elicit memories of the USC-Texas thriller in 2006 or any other matchups throughout the year, but Chase Young began to imagine life on the west coast.
"I'm thinking Cali," Young said a couple weeks ago. "I've never been to Cali before. Experience how the weather is and how everything is different there compared to here."
Los Angeles is simply different from many cities in which Ohio State plays that are typically college towns.
State College, Pennsylvania. East Lansing, Michigan. Madison, Wisconsin. Ann Arbor, Michigan. College Park, Maryland. Lincoln, Nebraska. Many Big Ten cities have ample local charm, but they're of a different ilk. Most of those cities revolve around college football. In Los Angeles, college football is merely a footnote, despite the presence of multiple Pac-12 teams.
Many players from across the country, including at Ohio State, grow up imagining themselves among the stars in Los Angeles, one of the largest, widest stretching cities in the world. Just off in the distance the ever-present Hollywood sign is visible. Most Buckeye players haven't experienced the densely populated west coast city.
"It's fun, man," Campbell said. "We practice at the Stubhub Center where the Los Angeles Chargers practice. It's good. You just get a different vibe. The weather's super nice. It's just fun, man. You're able to just relax. You separate business and play. It's just a fun time."
The fun began Wednesday afternoon when both Ohio State and Washington were invited to Disneyland in Anaheim, which is a tradition that has been around for nearly 70 years.
Players spent as long as up to four hours wandering around the amusement park. Even Urban Meyer rode his first roller coaster in more than a decade, sitting two rows in front of Jordan Fuller, who is not particularly a fan of the ride.
Next comes the Lawry's Beef Bowl, an annual tradition that pits Rose Bowl opponents in a competition to see who can eat more. The Buckeyes will be served their meat on Thursday, giving Washington a target to hit when the Huskies eat on Friday.
All of the pre-bowl activities have to be interspersed with practice, of course, with the team hoping to send Meyer out victorious. Though getting the win is important, Meyer wants his players to enjoy the trip, which he had never made before. He admitted he's soaking up the moment, as well.
"Obviously we love California," Meyer said. "It's amazing how many players we have that haven't been to California. I didn't realize my son had never been to California. Great hotel and it's just taking it all in that you're going to play in the Rose Bowl."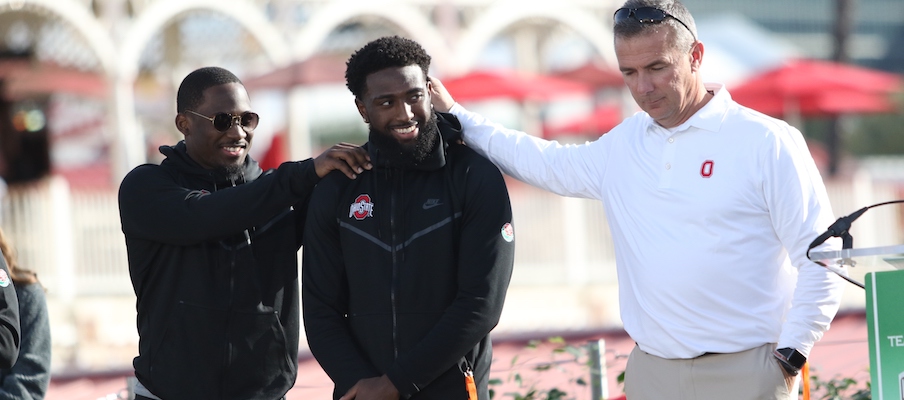 Those who shine brightest in the Rose Bowl have drastically increased their notoriety in the public eye. Meyer said he educated the team about the history of the bowl, but he was "pleasantly surprised" to hear that they already knew about it.
Dwayne Haskins remembers watching Vince Young take on USC in the Rose Bowl, which Texas native J.K. Dobbins fondly recollects, too. Terry McLaurin's favorite player growing up, former Trojan running back Reggie Bush, played in the game. It's a family affair for Jordan Fuller, whose brother, Devin, played for UCLA.
"I always used to watch the Rose Bowl growing up, watching Ohio State in it. I'm blessed to go out there. My brother went to UCLA and he got to play in the Rose Bowl every Saturday. He said the field is awesome. I'm ready for it."
At least some Rose Bowl education had to be done, though.
"I didn't really know too much about the Rose Bowl until recently," Robert Landers said a couple weeks ago. "I did my homework on it because I kept hearing, 'The granddaddy of them all, the granddaddy of em all,' and I was like OK what does that mean? So I did a little bit of homework and I understand. It's a blessing being a local guy just playing for Ohio State is a blessing for me."