We've covered every nook and cranny of Urban Meyer's retirement and hit you with countless articles on Ryan Day so to cap the work week, the latest edition of the 11W roundtable will hit on other topics. 
That said, if you're still thirsty or maybe just missed portions of our coverage, check out the entire Urban Meyer Retires bundle. 
In today's roundtable, we take some time to reflect on the CFP rankings, propose our own playoff systems and look at the 2018 Ohio State football season-to-date. 
Dropping the knowledge is our very own Dan Hope, Jake Anderson and Andy Vance. 
---
Did the committee get it right? Not just where Ohio State finished but the order of the entire top six. Which semifinal or other non-OSU bowl game are looking most forward to and why?
Dan: Ultimately, I think the committee got the four-team playoff field right. Alabama, Clemson and Notre Dame were all clear-cut choices. While there was a case to be made for Ohio State to get the fourth spot, Oklahoma was equally deserving as a 12-1 conference champion, and the Buckeyes' blowout loss at Purdue ultimately made the difference. 
I do disagree, however, with the ranking of Georgia above Ohio State, because the Bulldogs lost two games and weren't conference champions. The Bulldogs had their chance to punch their ticket to the playoff, leading Alabama in the second half of the SEC Championship Game, and they couldn't finish the job. If Oklahoma hadn't been in the equation and Georgia had made the playoff over Ohio State, there would have been rightful outrage.
I think Clemson will win easily over Notre Dame, so the game I am most looking forward to is Alabama vs. Oklahoma. Alabama certainly has the more complete team, but Kyler Murray and the Oklahoma offense will at least keep things interesting, and the matchup of two Heisman finalist quarterbacks will be fun to watch.
Jake: After Ohio State's performance last Saturday night, many were wondering if the Buckeyes had done enough to cause chaos. I considered Oklahoma in; there was simply no way the committee would penalize the Sooners after a double-digit win against the only team they lost to all season. So, I looked to Notre Dame. 
Let's face it, Notre Dame is going to get crushed by Clemson. They would also get crushed by Oklahoma, Georgia, and Ohio State. I certainly felt that Notre Dame deserved to at least drop to the four seed and, maybe, just maybe, drop out of the playoffs. Sure, the Fighting Irish went undefeated, but they played fewer games than their counterparts, did not have a conference championship, and had a weaker schedule. If you think Notre Dame will be able to compete against Clemson like Georgia competed against Alabama, the Cotton Bowl may be a rude awakening.
Andy: I wouldn't fight anyone over the Top 4, but the Top Six is another thing entirely. Alabama and Clemson I have no problem with, and Notre Dame in no way surprised me. I think there are fair questions to be asked – especially if the Tigers blow the Irish out of the water – about the free pass into the finals Notre Dame receives without playing a conference title game. That said, Notre Dame doesn't go undefeated year in and year out, so maybe it's not an issue in most years.
If I say Ohio State deserved to get in over Oklahoma it sounds like sour grapes, but in my mind the two offenses are roughly equivalent and Oklahoma's defense is almost orders of magnitude worse than Ohio State's. The Purdue loss is viewed as an unforgivable sin, but in my mind allowing four teams (including Kansas!) to hang 40+ on you is pretty unforgivable, too. The idea that we spend more time worrying about some teams' losses than we do their victories is pretty maddening, when we then turn around and ignore losses entirely when it comes to a team like Georgia, who has no business whatsoever being in the No. 5 spot.
Like a two-loss LSU hanging in the Top 10 way too late in the season, the UGA ranking was a giant slap in the face to every team not in the Southeastern Conference. And pundits making the argument that two-loss Georgia – who suffered a 20-point drubbing by the three-loss Bayou Bengals, no less – is one of the four "best" teams in the country come away looking like they've spent too much time drinking Greg Sankey's Kool-Aid.
But here's the thing: I'm not all that broken up about Ohio State missing the playoffs with this team and its obvious flaws. Losing that game to Purdue, if not unforgivable, is still pretty bad and indicative that this isn't really a championship team. Now if Oklahoma turns around and gives Alabama a ballgame, I might get salty all over again, but right now I'm pretty happy about renewing the tradition of the Big Ten vs. Pac-12 in the Granddaddy of Them All.
Not having any stated criteria is obviously annoying to most fans but what about the limit of four teams? What does your ideal playoff system look like? How many teams? Any automatic qualifiers? Any games played on campuses?
Andy: I'm far from a conspiracy theorist, but the way the current "system" is laid out makes it hard not to believe that something fishy is happening in that smoke-filled room in Grapevine, Texas, every week. It was pretty clear this season that the Committee had chosen its idea Final Four a few weeks early, and was simply rearranging chess pieces each week to support their decisions. Why else move Northwestern down a couple spots the week prior to the conference title games, and at the same time move Texas up a few spots? Like moving Fresno State into the Top 25 for Alabama a year or two back, this was a blatant move to say, "Well, OU beat a tougher conference opponent, and Ohio State beat a team barely in the Top 25." 
The ideal system is pretty dummy-proof, honestly. The Power 5 conference champions each get an automatic bid, the highest-ranked Group of 5 champion gets an automatic bid, and then the next two highest-ranked teams not already selected get the two "at large" bids. The Selection Committee will be disbanded, and the rankings will be determined by something akin to the old BCS formula - in other words, some average of human an computer polls, to remove the type of wheeling, dealing and goalpost moving the Committee has done over the first years of the Playoff. 
Play the first rounds on the campuses of the higher-seeds, and then play the semifinals and the championship game as currently constituted. This simply makes too much sense not to enact, in my mind.
Jake: A four-team playoff is too few; I expect little disagreement on this point. But the idea that eight teams can win the national championship is simply absurd. If a top team lost their star player to injury in a blowout against a two or three-loss team that had no chance, the country may fall apart. So, we go with the happy medium: a six-team playoff. The top two seeds would get first-round byes. The three and four seeds would get on-campus matchups against the five and six seeds. From there, the normal playoff would continue. 
One last thing: while the current playoff structure is frustrating and leaves out at least one conference champion a year, there should not be any automatic qualifiers. Teams with multiple losses should not be gifted with a playoff spot because they were able to win their awful conference. Leaving the Pac-12 out of the playoffs has been the only good move by the committee in the past couple of years. 
Dan: I've been of the mindset for several years that the ideal College Football Playoff would consist of eight teams, with each of the top four seeds playing their first-round games on campus. Could you imagine Ohio Stadium hosting a playoff game in December? Would be awesome. 
The way I see it, an eight-team playoff should consist of the five Power 5 conference champions, the top Group of 5 team and two at-large teams as chosen by a selection committee. So hypothetically, this year's playoff field would have Alabama, Clemson, Notre Dame, Oklahoma, Georgia, Ohio State, UCF and Washington. In my opinion, that wouldn't hurt the regular season much, because you'd still have to win your conference championship to earn a guaranteed spot, and losing two games could still be enough to keep you out (i.e. Michigan this year). 
Now that the committee has slotted Alabama to play Oklahoma and Clemson to take on Notre Dame, which two teams will advance to the championship game and which squad ultimately captures the national title?
Dan: I expect Clemson to beat Notre Dame, and I don't expect it to be particularly close. I think Alabama vs. Oklahoma will be a competitive game into the fourth quarter, but ultimately I believe Alabama prevails. It's hard to pick against the Crimson Tide, because they've looked like the best team in college football all season. But in my preseason predictions, I picked Clemson over Alabama in the national championship game, so I'm going to stick with it. The Tigers beat the Tide for the second time in three years.
Andy: It looks like a pretty sure Alabama vs. Clemson championship game to me. According to S&P+, Bama is a 7.6-point favorite over Oklahoma (who, by the way, has the 89th-ranked defense according to S&P+, compared with Ohio State's at 37th!), and Clemson is a 7.3-point favorite over Notre Dame. When Alabama and Clemson inevitably meet for all the marbles, Bama would be only a 1.8-point favorite based on current S&P+ stats... In other words, it's going to be one helluva battle.
Jake: As much as Alabama struggled against Georgia, they are still the best team in the nation. I expect the Tide to take full advantage of Oklahoma's embarrassing defense and drop at least 50 points on the Sooners. Kyler Murray does not stand a chance against that defense. Notre Dame is lucky to be in the playoffs and should lose by at least 20 points to Clemson, giving the nation another Alabama v. Clemson finals. Yay. 
Alabama and Clemson are both largely untested and I despise both teams, but I have to give the edge to the Crimson Tide. Alabama's defense is slightly better in my opinion and has been shutting out teams all season. Clemson has a freshman quarterback and struggled with Texas A&M. I expect a close game with Alabama winning another national championship. 
Finishing 12-1 with a blowout of Michigan and a B1G title is nothing to sneeze at and now that we're nearly a week removed from the CFP announcement, I think most fans are starting to realize this has been a very successful season. Saying that, where does this team stack up compared to the other six squads from the Meyer era? How did this group ultimately do against your personal expectations entering the season?
Jake: The 2018 Buckeyes feature Haskins, the best quarterback in Big Ten history. It also features one of the deepest receiving corps, a backfield duo that, despite never living up to expectations, ran for over 1,800 yards this year, and a great pass-blocking offensive line. On the other side of the ball, it was rough. If this team had a defense from any of Urban Meyer's other six teams, the 2018 Buckeyes might have been one of Meyer's greatest teams ever.
Overall, a Rose Bowl appearance is tough to sulk about. Even I, proudly part of the "Playoffs or Bust" crowd, am happy for this team and all they have accomplished this season.
Dan: 2014, of course, was Meyer's signature season. The 12-0 season in 2012 has to rank second, considering the Buckeyes went just 6-7 the year before. After that, there's a lot of room for debate for how the other five seasons rank, but here's what all seven of Meyer's seasons had in common: Ohio State won at least 11 games in every one of them, including wins over Michigan in every one of them.
My expectation going into the season was that Ohio State would lose one regular-season game but win the Big Ten championship, and that's exactly what they did. I did think the Buckeyes would make the College Football Playoff, and while I always thought Purdue could be the "trap game" on the schedule, I certainly didn't think they'd lose by 29 points to Purdue. I also didn't think they'd need overtime to beat Maryland, or struggle as much on the defensive side of the ball as they did. Ultimately, though, I think a season in which Ohio State won its second straight Big Ten championship and has the chance to win 13 games should be considered a successful season, especially considering everything that happened with Zach Smith and Meyer in the weeks leading up to the season.
Andy: Coming into this season I had serious questions about the offensive line and the linebackers, and probably significant but not serious questions about the receiving corps. Only one of those units has really blown me away, with Zone Sicks truly becoming Zone Six thanks to a competent position coach and exceptional signal-caller behind center. The offensive line has performed perhaps better than I expected, though nowhere up to the standard I think we all have for "an offensive-line-driven program."
And what can you say about this defense? Well, they're better than Oklahoma's, so they've got that going for them.
I posed the question on Twitter during the B1GCG, which team is more infuriating: this one, or 2015? And people seemed to unanimously respond with 2015, because everyone knew that this 2015 squad was destined to be national champions, and they pissed it all away. For me, though, this year's team was really, really, really frustrating to watch for a great deal of the season. Being one of the most-penalized teams in the country is simply unacceptable. Seeing a player cartwheel into the punter, knowing that the line would draw at least three flags a game for false start and three more for holding, continuing to see piss-poor angles and linebackers out of position... it was all so very, very frustrating for me. Will I remember that 5, 10, 15 years from now? Eh, maybe now. That epic, historic ass-whipping of Michigan is going to stick with me for a while.
And frankly, the swan song of Urban Meyer serving up that beating, then winning back-to-back Big Ten titles, and riding off into the Pasadena sunset with a Rose Bowl victory? Dang, that's a lot to be happy about.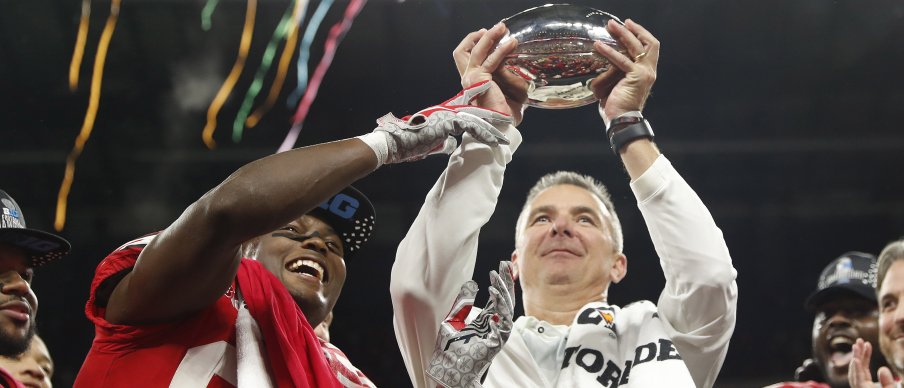 Through 13 games, there are quite a few surprising stats – good and bad – for the Buckeyes. For me, I think one of the most shocking is J.K. Dobbins only averaging 4.6 yards per carry after he damn near set the single-season record (for the team's leading rusher) last year at 7.2 per tote, finishing just a tenth of a yard from tying Carlos Hyde's record. What's one stat that catches your attention and why?
Andy: Here's one for you: Ohio State's most-prolific passer in school history may well leave Ohio State without a tree in Buckeye Grove. It hit me late this week as it became clear that either Tua Tagovailoa or Kyler Murray will win every major quarterback award and be first- or -second team All American on every major AA list, that Haskins is likely to be a First-Round Draft Pick and because of how this maddening season played out, he isn't going to be recognized the way, quite frankly, he should be at the national level. He's almost an afterthought, it seems, despite having one of the best statistical seasons in the history of the Big Ten conference.
Dan: I'm just going to go with the obvious here: Ohio State is tied for 123rd in the Football Bowl Subdivision this season with 23 plays of 40-plus yards allowed on defense. That's tied with Memphis, Rice and South Alabama, and ahead of only Oregon State, Kent State, Georgia State and Connecticut. Even when you factor in that the Buckeyes played 13 games while some teams have only played 12, that's a simply unacceptable number. Ohio State has a huge talent advantage over most of its opponents, so it should never be giving up that many home-run plays in a season. Giving up big plays was the Buckeyes' biggest weakness this season, and that statistic reflects it.
Jake: Haskins' touchdown to interception ratio of 5.9:1. The Heisman candidate showed fantastic decision making all season, posting the second-best touchdown to interception ratio in the nation. Ohio State's offense is typically conservative, but the way Haskins was able to push the ball downfield accurately was something Buckeye fans may never see again. 
Give us your favorite bowl name and be honest, did you have any idea that sponsor even existed before I asked this question? Since I always wrap up the roundtables asking for a gambling prediction, make a guess at which team will cover the spread.
Jake: The Bad Boy Mowers Gasparilla Bowl, featuring Marshall and South Florida, has to be the most insane bowl name this season. I have no idea who the Bad Boy Mowers are and I definitely do not have a clue what Gasparilla is. Marshall are a 1.5 point favorites and, as a huge Randy Moss fan, I have to take the Thundering Herd. 
Andy: This sounds sappy, but the Rose Bowl will always be my favorite bowl. The worst part of the CFP, honestly, is what it meant for the traditional bowl rivalries. Growing up watching the Tournament of Roses Parade, hoping every season that the Buckeyes would make the game and face some incredible West-Coast team like USC... that's what it was all about! I have the Buckeyes winning, and covering the spread in this one. And no, I had no clue who sponsored this year's game (Northwestern Mutual) until I looked it up. I still figured it was the "Rose Bowl Game Presented by Vizio" or some such nonsense.
Of the other bowls,  I spent more time thinking about the Camping World Bowl in Orlando than anyone should. The Stunning Mrs. Vance is a proud West Virginia native, so we back her by-God Mountaineers, too, and since they didn't make it to the Big 12 title game, they're relegated to this afterthought of the Florida bowl ecosystem. What is Camping World, exactly? I have no clue. I have to assume it has to do with camping, and that it's a retailer, rather than a theme park for the outdoorsy. In case you were wondering, the Camping World Bowl began life in 1990 as the Blockbuster Bowl (alas, poor Blockbuster, we hardly knew thee), and has basically been the [Insert Sponsor Name Here] Bowl ever since, changing names every two to three years. For one brief, shining moment it was sponsorless, and was the Tangerine Bowl in 2001. Then it was the Mazda Tangerine Bowl from 2002-2003 and then went back to the sponsor names thing again. Tangerine Bowl was much better. They should have kept that.
Dan: I had to check the bowl schedule to be sure, but ultimately, the reigning champ for best bowl game name is an easy winner: the Bad Boy Mowers Gasparilla Bowl. Marshall is currently a 2.5-point favorite, according to Vegas Insider, and there's a reason for that – South Florida lost its last five games of the regular season after starting 7-0 – but I'll take the Bulls to turn it around with an upset win.