After a 20-point road win against Michigan State saw Ohio State's defense hold Sparty to 54 rushing yards and capitalize on three turnovers, Urban Meyer's outfit again hits the road, this time to take on Maryland in College Park. 
In the annual Game Before The Game, the Buckeyes must keep from looking ahead to next week's showdown with Michigan in order to keep a Big Ten title and possible shot at a CFP berth in their sights. 
To get you ready for the test with the Terrapins, station yourself for a few as Colin Hass-Hill, Andrew Ellis and Johnny Ginter are faced with mysteries dark and vast. 
---
Urban Meyer altered his approach on trying to run the ball in the red zone as he inserted Tate Martell on a few different possessions, scoring one touchdown and seeing a bad snap near the goal line negate another scoring opportunity. What did you think of the strategy? Do you want to see more of Martell whether it be red zone or otherwise? Why or why not? 
Andrew: I was against this concept a while ago when people started to suggest it be implemented, but I have to admit that it has grown on me a bit. I don't think we need to see more Martell anywhere except the red zone, and I am fine with them employing him in this way from time to time. I'd like to think Dwayne Haskins is headstrong enough for this to have little to no impact on his game, and the given the struggles in the running game it could be a necessary red-zone wrinkle.
Johnny: I think the strategy is fine, but I'm more annoyed that coaches making a bazillion dollars to construct Ohio State's offense can't seem to scheme a way to run the ball on a consistent basis without the threat of a running quarterback. I like Tate a lot in this kinds of situations, but to me any formation with him in it is a concession to the idea that Urban Meyer is forever attached to his kind of offense and won't (or can't) change what he's doing based on the personnel that he's got available.
Colin: I had been waiting so long for Urban Meyer, Ryan Day and Kevin Wilson to test out Tate Martell in the red zone that I had completely given up hope of them doing so. It caught me off guard against Michigan State, but Ohio State might have been able to test it out just in time to worry Michigan. Had the Buckeyes tried out Martell by the goal line – or interspersed him into the game at different moment – earlier in the season, I would be more of a proponent of the scheme. However, with Ohio State playing just a single game before taking on Maryland, it likely will not – and, given the minimal time left in the season, should not – be a major part of the offense. I think it would be smart to show Michigan it is willing to throw Martell in the game multiple times to force the Wolverines to prepare for it, though.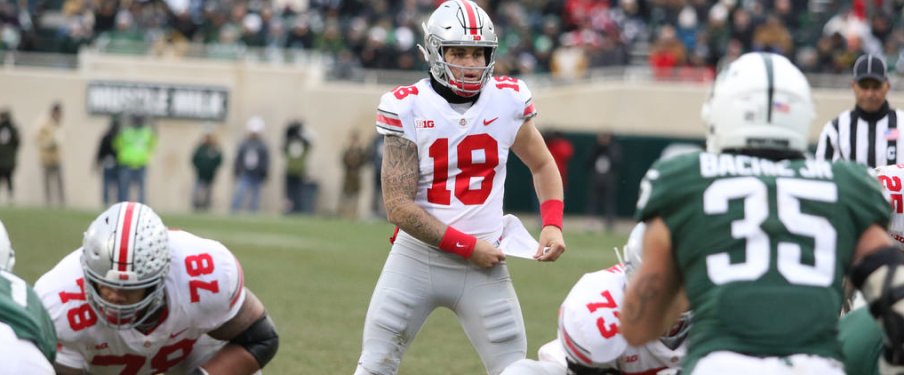 With the defense reducing the number of big plays surrendered and generally looking a little better since Brendon White seized a starting role, what is your chief concern based on Ohio State's remaining regular season matchups, most notably the showdown with Michigan next weekend? Maybe you aren't quite sold on the defense after it stymied a not-so-good Sparty offense? Or maybe it's the state of the running game or offensive line? 
Colin: It seems silly considering the optimism about him early in the season, but Dwayne Haskins has to get back in a rhythm. Is this the biggest concern? No, of course not. But I think the maximization of Haskins' talent should be the prime focus this week. It's the most important part of Saturday's game. He hasn't been picking up as many yards through the air lately, and he's the key to beating Michigan. If he's not right, then Ohio State will be in trouble. Beyond Haskins, I think the interior offensive line and linebackers are my biggest remaining questions.
Johnny: I'm still very much worried about the ability of the defense to handle the threat of a tight end releasing on some kind of drag route and running for 27 yards past some wrong-footed linebacker or safety. Brendon White has played really well, but there are so many holes in the back seven that can be exploited, especially with the threat of a mobile quarterback like Shea Patterson.
Andrew: I'm still concerned about the running game. A one-dimensional offense against a great Michigan defense would be bad news, so Ohio State needs to at least be able to move the ball somewhat on the ground. Obviously the offensive line is a big part of that and we really need to see some strides against Maryland or I'll be even more worried about the final contest of the regular season. 
The negatives have taken center stage so far this with the defense having its issues in limiting big plays and the rushing attack experiencing fits and starts and of course the 29-point thrashing doled out by a Purdue team sitting at 5-5 overall but what about the positives? More specifically, give us one or two unsung heroes that haven't quite gotten enough recognition based on overall impact to the bottom line. 
Andrew: The passing defense sits at No. 81 in America but I think I'll actually go with Damon Arnette and Kendall Sheffield. The defensive back seven has been criticized all season long (and for good reason), but I've been okay with how the cornerbacks have played for the most part. Things haven't been great for the linebackers and defensive backs and perhaps Sheffield and Arnette are sometimes lumped into that even though the secondary issues have been far more glaring at safety. 
Colin: There has been so much criticism of the offensive line, but how about Thayer Munford? He was a late addition to Ohio State's 2017 recruiting class that included a pair of highly regarded linemen, Wyatt Davis and Josh Myers. Though Davis is pushing for playing time, as Urban Meyer has said a few times, Munford earned a starting spot before both him and Myers. He hasn't been perfect, but he's been solid and hasn't been an issue.
Johnny: Dre'Mont Jones has had a monster year on defensive line, and I don't think he's getting nearly the kind of credit that he's deserved in stepping up after Nick Bosa's injury. He leads the team in sacks and tackles for loss, has an interception, and scored a couple of touchdowns. He's been by far the most consistent player on the defense that sorely needs it, and hopefully Jones gets the kind of recognition he deserves at the end of the year with some hardware.
Dwayne Haskins hasn't been as lethal the last two weeks as we've grown accustomed to seeing though some of that could certainly be the result of the run game waking up a bit. Any concerns over Haskins' recent passing efforts? Maryland 's defense enters Saturday's game leading the nation interceptions with 17 and ranks No. 2 in the B1G in pass defense giving up just 181 yards per game. What kind of afternoon do you expect to see from Haskins and the receiving corps? 
Johnny: Haskins' footwork has been bad at times in the last several games, and part of that could be attributed to him simply trying to make too much out of too little. Maryland has a decent pass defense, but I think going back to his bread-and-butter of screens and out routes will get him into a rhythm that the Terps won't be able to keep up with.
Andrew: I have zero concerns with Ohio State's passing game and I don't think Maryland's defense will do much to stop it. However, I look for it to be more of a balanced attack rather than one where Haskins throws the ball 50 times. He obviously has a history with Maryland so I can see him wanting to put together a nice showing. Let's say 300 yards and four touchdowns for Haskins and the pass catchers with Parris Campbell finding the end zone on two plays of 30+ yards.
Colin: I expect Haskins to throw, throw, throw. Ohio State needs to get him back on track after a few weeks of play that didn't rise to the level of his play early in the season. The Terrapins athletes in the back-end of the defense who undoubtedly want to show Haskins he made a bad decision by decommitting from Maryland. But Haskins' teammates said they have seen something different in their quarterback this week. He's been more locked in and focused, they have said. I expect Ohio State to throw on Maryland a bunch.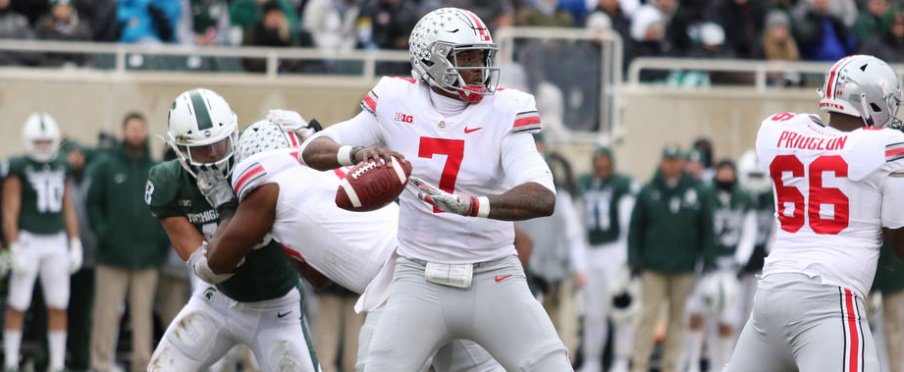 Ranked No. 10 in last week's College Football Playoff rankings, Ohio State kept pace as every team ahead of it was able to claim a victory. Obviously, the Buckeyes need to win out to have a shot at the Playoff. How likely do you think it is that the Buckeyes do indeed win out and if they do, what are the chances they make the playoff? What else needs to happen? 
Colin: I think they would more likely than not get in. Alabama remaining undefeated and eliminating the possibility of having two SEC teams make it might matter. Notre Dame losing to Syracuse would be huge. Keep an eye on Oklahoma, West Virginia and Washington State. I'd expect Ohio State to jump Washington State if the Buckeyes beat Michigan, but it's not a certainty that they'd leap either the Sooners or Mountaineers.
Andrew: I think it's unlikely at this point. I just haven't seen enough to make me think Ohio State will beat Michigan, but I do want to see how things go this week before I make a final call on that one. If the Buckeyes win out then I absolutely think they will be in the College Football Playoff. I'm not even sure if anything else needs to happen, but Oklahoma winning out could be problematic. I suppose Georgia beating Alabama for the SEC title could also complicate things, but right now – assuming everything else goes as expected – I feel Ohio State would be in with Alabama, Clemson, and Notre Dame.
Johnny: If they win out, I still think it's a 50/50 shot at best. My guess is that Alabama, Clemson, and Notre Dame are locks for the first three spots, and frankly, this seems eerily similar to last season when Ohio State looked kind of "eh" through most of the season, blew it as a heavy favorite on the road, and then hoped for other teams to look bad/lose to get in the playoff. I didn't see it happening last year and I don't really see it happening this year.
Ohio State heads to College Park as a 17-point favorite over the Terps. Do they cover? Give us your final score and game MVP prediction. 
Johnny: They cover, and win 39-14 with the Dwayne Train getting back on track with over 300 yards passing.
Colin: I picked the Buckeyes to cover by just a couple points. I'm going with a 42-21 win for Ohio State. It's the Buckeyes' final chance to test themselves before facing Michigan. I'm going with Haskins, in a homecoming performance, as the team's MVP of the game.
Andrew: I tend to pick Ohio State to cover and it's backfired multiple times this year, but hey let's keep that train rolling with a final score of 44-23. Not a bold pick by any means but I'll say Dwayne Haskins heads back to his old stomping grounds and comes away with an MVP performance.