EAST LANSING, Mich. – Ohio State knew what kind of game Saturday afternoon's tilt against Michigan State could turn into.
Last year's 48-3 blowout victory was an outlier. The prior six matchups between the two teams were decided by fewer than two touchdowns, and four games had a margin of victory of three or fewer points.
The 2015 game knocked the Buckeyes out of College Football Playoff contention. Ohio State beat the Spartans in 2014, then won the national championship. In 2013, Michigan State beat the Buckeyes to win the Big Ten championship. In Urban Meyer's first game against the Spartans as Ohio State head coach, his team eked out a one-point win.
"We know exactly what this would be, and it was," Urban Meyer said after the game. "That was November football at Michigan State."
Ohio State quarterback Dwayne Haskins added: "They're the No. 1 rush defense in the country, 16 points per game. They gave us a tough time, but it wasn't supposed to be easy."
The Buckeyes might have expected – and won – a 26-6 game that could be described as "November football at Michigan State," but it's not what they needed. They needed to get a win, of course, but they also needed to finally pair their aerial attack and run game together after months of offensive issues.
With just two regular-season games remaining and just 14 days until Ohio State takes on Michigan, time is running out.
Putting together lengthy drives and marching down the field wasn't top of mind for the offense, though. Against a stout defense in chilly, windy conditions, Meyer focused on winning the battle for field position, while trying to score when possible.
"We always talk about the offense's job in a game like this," Meyer said. "Get two first downs, get the ball in the midfield and let's get the ball downed inside the 10-yard line."
Drue Chrisman certainly had no problem pinning the Spartans near their goal line. However, more often than not, the Buckeyes couldn't manage to convert the pair of first downs that both Meyer and Dwayne Haskins said were the offense's goal.
Ohio State didn't have a drive longer than 10 yards until its fifth drive, which began in the second quarter, stalled out at the 27-yard line and ended with a missed field goal. On just four of their 14 offensive possessions (not including kneel-downs at the end of each half), the Buckeyes managed more than six plays that accumulated at least 35 yards. They only had two drives that went for more than 42 yards, and no drive was longer than the 11-play, 55-yard drive that ended in Ohio State's only offensive touchdown in the first 58 minutes of the game.
Meyer said the mood after the win felt different than after other recent victories, and he meant it as a positive.
"That was a big win. We're very satisfied," Meyer said. "The other ones, people don't feel like they won. That was a great locker room. That's the way it's supposed to be. Enjoy the win and get ready for the next one."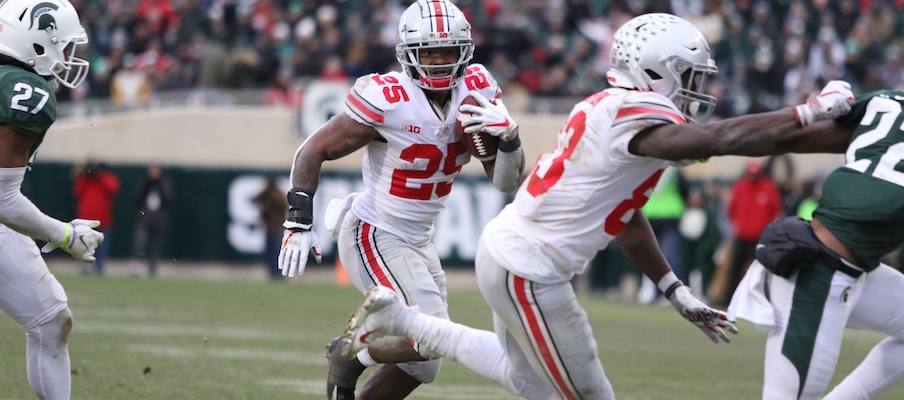 Still, something felt a bit off on offense.
The run game, which declined for the entire season before the Buckeyes put together a 229-yard performance last week while relying on designed runs instead of run-pass options, reverted back to its prior struggles.
Michigan State entered Saturday having allowed the fewest rush yards per game in the country, so it was always going to be a challenge. Meyer called it "outstanding" to have Mike Weber run for more than 100 yards, noting that three-fourths of his yards came after contact, but Ohio State managed just 14 yards on 16 rushes in the first half and finished the game with 45 rushes for 120 yards (2.7 yards per carry).
Even Mark Dantonio noticed the Buckeyes' issues to move the ball on the ground.
"Ohio State had a really difficult time running the ball," Dantonio said. "I think in the first half they only had seven yards or something, or two or whatever, and as the game wore on and they ran the clock in the fourth quarter, I think a majority of their yards were in the fourth quarter."
Also, Haskins didn't have a particularly impressive game. When he gets on a roll, he's one of the better quarterbacks in the Big Ten, if not the country. But he only managed to string together three or more throws of at least 10 yards on one drive.
He completed a respectable 24-of-39 passes for 227 yards and a touchdown, but missed a couple receivers and tossed two passes that easily could've been intercepted. Haskins said he was "pretty accurate all day," other than a slightly overthrown deep ball to Terry McLaurin that he admittedly missed. The wideouts didn't really help him, though, since they had multiple dropped passes.
"We didn't play our best ball, but the good thing is we have another game to play and we've got a lot of potential and we can keep getting better," Haskins said.
Some of the issues in both the run and pass games can be attributed to shaky play up front. Though the unit shored up in the second half, Ohio State's offensive line couldn't hold back Michigan State's pass-rush for stretches and didn't open enough holes in the run game.
Those issues aren't new, and neither are the problems in the red zone that led to Meyer turning to Tate Martell for a couple series near the goal line.
"When you start to get in that part of the field, it's rugged, especially against a defense like that," Meyer said. "I hope to use (Martell) more."
So, yes, a win is a win, as coaches say. And, sure, Michigan State has a stout all-around defense that ranks among the best in the country against the run.
But, the same questions – running and red zone – that have needed answers for weeks largely remain unanswered, and now the Buckeyes need to prove they can throw the ball with consistency like they did early in the season.