A loss last game should be more than enough motivation to blow out Nebraska tomorrow, but here are a few more reasons, just in case.
10. Omaha
Let me be clear, Omaha is fine, but if you've ever heard a Nebraskan talk about it you'd think it was a damn world city.
I get it, when it's flat for 500 miles in any direction you get a little titillated when you see a few decent-sized buildings, but let's not get carried away.
Omaha is impressive and good for what it is – a sizable oasis in America's corn desert – but it's not going to offer you anything more than at least three cities in the Great State of Ohio could, much less actual metropolises like Chicago or New York.
9. Tyjon Lindsey
Ohio State's 2017 class was so star-studded its easy to forget the Buckeyes actually lost one of their top prospects to Nebraska.
Tyjon Lindsey, then the No. 6 wide receiver and No. 38 overall player in the country, decommitted from Ohio State late in the recruiting cycle and soon after pledged his services to the Huskers.
It was quite a coup at the time, but now it's pretty low on the hate list because Lindsey lasted just one season at Nebraska before announcing a transfer to Oregon State earlier this season.
8. Runza
One of the most popular fast-food chains in Nebraska, the Runza's namesake item is basically a glorified Hot Pocket – and glorified might be putting it nicely.
This bread roll stuffed with beef, cabbage and onions looks like it came straight out of the frozen-food aisle; the cheese runza, topped with a slice of processed cheese food that might not even be melted, is even worse.
There's Runza locations all over Nebraska and concession stands at Cornhuskers football game, but eat one of these at your own peril – and don't stray too far from a bathroom.
7. Larry the Cable Guy
Imagine embracing Larry the Cable Guy as your team's unofficial celebrity spokesperson.
That's where Nebraska's at right now. He's a die-hard Husker fan, and actually a prominent booster to the program.
My favorite thing to come from this relationship was Larry the Cable Guy talking Huskers fans off the ledge when the team started 0-2 this season, as if some wins were just around the corner.
Get 'er Done, indeed.
6. They Share a Title With Michigan
Michigan fans are notoriously unbearable for talking up a two-decade-old national title that it didn't even win outright, and Nebraska should shoulder some of the blame for that since the Huskers allowed Michigan to climb into that No. 1 spot in the AP Poll.
Nebraska finished the season unbeaten, and was absolutely dominant in most of those games – except a narrow 45-38, overtime win against Missouri. The Huskers entered that game ranked No. 1 in the AP Poll and slipped to No. 3 afterwards, with Michigan jumping to the top after a big win over No. 2 Penn State. Nebraska never regained the top spot and Michigan never relinquished it.
Had Nebraska handled Missouri, perhaps the Wolverines never grab the top spot and never win the AP title, and we would never hear about it from the Michigan Men.
5. 2011
I'll be honest, this one still stings, even if it was just one of seven losses that season.
I watch replays of this game from time to time, because I guess I'm a masochist, and even though I very much know the outcome of the game, something inside of me says "maybe they'll win this time!"
I once did the math – if Joe Bauserman would have taken a knee every single play and punted it back to Nebraska after three plays instead of passing the ball, the Buckeyes almost certainly would have won.
I'm not even sure how much credit Nebraska even deserves for winning this game given Ohio State's unrealistic collapse, but Huskers fans celebrated it for months afterwards and even printed some (admittedly hilarious) shirts featuring this graphic: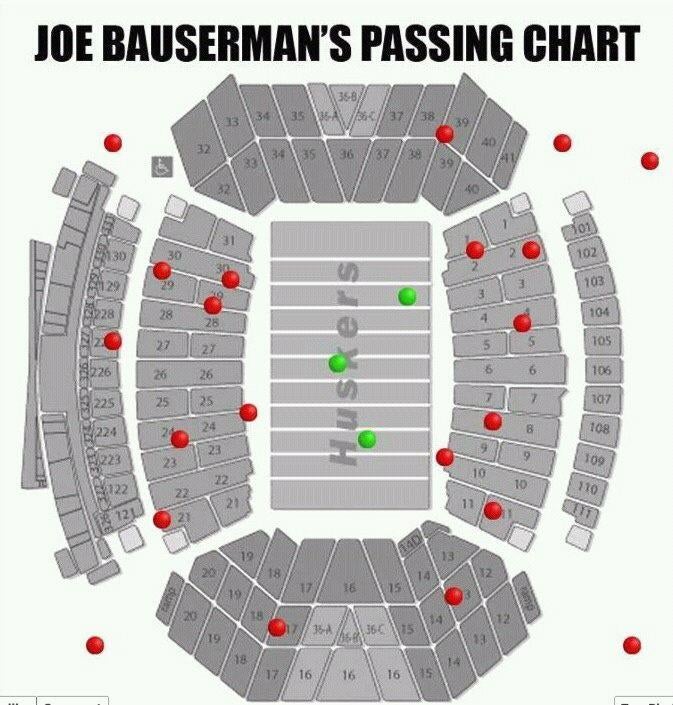 4. They Aren't a Real Big Ten Team
Watching Tommie Frazier highlights on BTN in the middle of the summer will never feel normal to me, and nor should it, because the Huskers didn't become a historic Big Ten powerhouse the second they joined the conference.
It feels weird as hell that everything about Nebraska football is just magically integrated into Big Ten history when the team wasn't part of the conference for the first 115 years of conference history.
But yeah, let's name it the "Rimington-Pace" Award.
3. Glorified Littering
For over 50 years, Nebraska has been celebrating its first scoring drive of the game with a massive balloon release, which is cool to look at I guess, but it's basically just state-sanctioned littering.
Nebraska has faced a federal lawsuit by an Omaha resident and continued pressure by a nonprofit group called "Balloons Blow," but they ain't budging, saying they only released about 3,000 balloons into the air per game last season.
2. They Lost Their AAU Status
The Association of American Universities is a prestigious group of 62 universities – 60 U.S. and two Canadian – that "continually advance society through education, research, and discovery."
13 of the Big Ten's 14 institution's are members of the elite group – except Nebraska.
In 2011, Nebraska became the first school in the AAU's 111-year history to be ousted from the group. Had that happened before the school was accepted into the Big Ten, there's a good chance Nebraska wouldn't be in the conference.
"All the Big Ten schools are AAU members," Harvey Perlman said shortly after Nebraska was admitted into the conference. "I doubt that our application would've been accepted had we not been a member of the organization."
1. They Think Ohio State's "Running a Little Bit Scared"
Never forget, Nebraska Athletic Director Bill Moos thought he had Urban Meyer and Jim Harbaugh trembling when he hired Scott Frost this offseason.
From Omaha.com:
"We're gonna run that uptempo offense we saw (at the spring game), and we're gonna get the Blackshirts back to being Blackshirts. And that's extremely important," Moos said. "You've got Urban Meyer and Jim Harbaugh thinking, 'We better put a little more into that Nebraska game coming up.' And that's the way we want it. They're running a little bit scared right now. And they won't admit it. We'll leave that at that."
To be fair, Ohio State hasn't even had to punt against Nebraska since 2012 and the Buckeyes have won the past two games by a combined score of 118-17.
It would be near impossible to face a less threatening Nebraska team than the past few years, so I guess he might have a point.