During the dregs of the offseason in July, I wrote about one offensive player to watch and one defensive player to watch for each of Ohio State's 12 regular-season opponents.
Both of Minnesota's players to watch are already out for the season.
Running back Rodney Smith, the Gophers' leading rusher in both 2016 and 2017, suffered a season-ending knee injury in Minnesota's second game of the season against Fresno State. Safety Antoine Winfield Jr., the son of legendary former Ohio State cornerback Antoine Winfield, had been the star of the Gophers' defense and in the punt return game before suffering a season-ending injury in their fourth game of the season against Maryland.
With Smith and Winfield sidelined, the Gophers don't have much star power or experience. They start several freshmen, mostly on offense – including a walk-on true freshman at quarterback – and have just five healthy players who earned All-Big Ten recognition in 2017 (wide receiver Tyler Johnson, left tackle Donnell Greene, linebacker Thomas Barber, defensive end Carter Coughlin, kicker Emmit Carpenter).
The Gophers (3-2, 0-2 Big Ten) are limping into their trip to Ohio Stadium, having suffered a 42-13 loss to the Terrapins and a 48-31 loss this past Saturday against Iowa. As a result, the Buckeyes (6-0, 3-0 Big Ten) are favored to win Saturday's game by 29.5 points, according to Vegas Insider.
Ohio State has had some well-documented struggles on defense, though, as well as inconsistency in the running game, leaving some areas that the Gophers could take advantage of if the Buckeyes don't improve. But will this weekend's visitors be capable of taking advantage?
We take a closer look at their roster in this week's Scouting Report.
Quarterback
5 Zack Annexstad – 6-3, 215, Freshman
It's almost unheard of for a walk-on freshman to be a starting quarterback at a Big Ten school, but that's exactly what Annexstad is. Without a single quarterback on the Gophers' roster who had thrown a single collegiate pass before this season, Annexstad beat out redshirt freshman Tanner Morgan to win the job.
Annexstad isn't the typical walk-on quarterback; a three-star recruit, he had scholarship offers from several Football Bowl Subdivision schools – including Illinois, Pittsburgh and Cincinnati – and actually beat out Artur Sitkowski, who is also starting as a true freshman this year at Rutgers, for the starting quarterback job at IMG Academy last season.
Still, the fact remains that Annexstad is only starting as a freshman because the Gophers didn't have a veteran option, and there have been growing pains. He's thrown five interceptions in Minnesota's last two games, and has completed just 52.4 percent of his passes for 6.5 yards per attempt (only better than Sitkowski among Big Ten quarterbacks who have started all season). He's also battled an ankle injury in the Gophers' last three games, which has limited his mobility.
One other player to watch at quarterback for Minnesota is 6-foot-4, 240-pound redshirt sophomore Seth Green (No. 17). While Green was moved to wide receiver earlier this season, he still sees situational playing time as a running quarterback (while he hasn't caught a pass all year), and has accounted for five of the Gophers' six rushing touchdowns while gaining 93 total yards on 28 carries.
Running Back
24 Mohamed Ibrahim – 5-10, 205, Redshirt Freshman OR 21 Bryce Williams – 6-0, 200, Freshman
With Smith sidelined, the load of carries that would have been his have instead been split by Ibrahim and Williams, with Williams carrying the load against Fresno State and Miami (Ohio) – with Ibrahim also sidelined for those game due to injury – but Ibrahim taking the bulk of carries against Maryland and Iowa.
Williams leads the Gophers with 79 carries for 311 yards, but Ibrahim has more effective in less work, rushing for 258 yards on 48 attempts. Only Williams has rushed for a touchdown, however, as Ibrahim has yet to reach the end zone, while Williams also had a 35-yard reception against Miami. Neither back has been able to match the productivity of Smith, who was not only the Gophers' most consistent runner over the past two years but also a receiving threat out of the backfield and a dangerous kickoff returner.
Wide Receivers
6 Tyler Johnson – 6-2, 200, Junior
13 Rashod Bateman – 6-2, 200, Freshman
3 Chris Autman-Bell – 6-1, 200, Redshirt Freshman
Johnson is easily the Gophers' most experienced and proven skill-position player. The Gophers' leading receiver in 2017 with 35 catches for 677 yards and seven touchdowns, he leads the team once again with 28 receptions for 402 yards and six touchdowns once again this year. He's a good route-runner with the toughness to make plays through contact and enough quickness to maneuver away from defenders and make them miss in space.
Bateman and Autman-Bell has emerged as playmakers alongside Johnson to give the Gophers a solid trio of wide receivers. Bateman, one of the top prospects in Minnesota's most recent recruiting class, has caught 27 passes for 257 yards and three touchdowns, with all three of those touchdown catches coming in the last two games. Autman-Bell has caught 14 passes for 220 yards. Both first-year receivers have become increasingly productive as the season has progresses, and have demonstrated the ability to make challenging catches.
No other Minnesota receiver has caught more than two passes this year.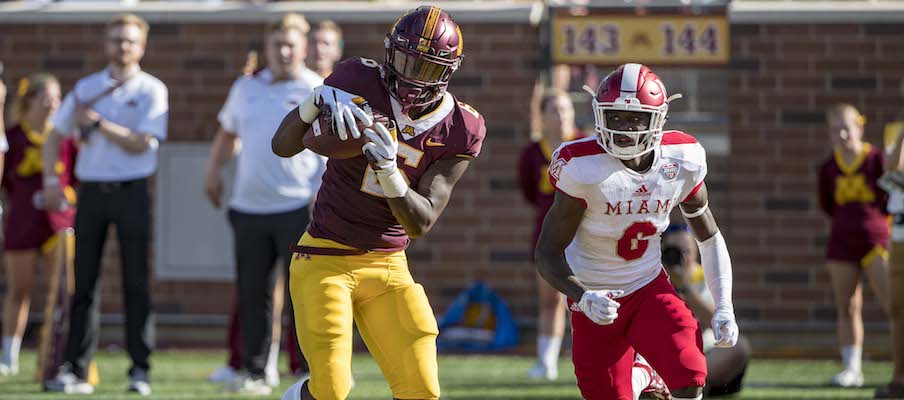 Tight Ends
42 Ko Kieft – 6-4, 250, Redshirt Sophomore
Ohio State won't have to worry about much of a threat from the tight end position in the passing game this week. Kieft is a solid run blocker, but he's only caught one pass for 19 yards this season, and no other Gophers tight end has made a single reception.
Offensive Line
73 Donnell Greene – 6-7, 320, Redshirt Senior
64 Conner Olson – 6-5, 300, Redshirt Sophomore
62 Jared Weyler – 6-4, 300, Redshirt Senior
77 Blaise Andries – 6-5, 315, Redshirt Freshman
70 Sam Schlueter – 6-6, 305, Redshirt Sophomore OR 78 Daniel Faalele – 6-9, 400, Freshman
Even though Greene, Olson, Weyler and Schlueter are all returning starters, Minnesota's offensive line has been one of its biggest weak links this season. The Gophers have allowed 13 sacks, tied for the most in the Big Ten, while a lack of push up front has also hurt the Gophers in the running game, as they are averaging 3.5 yards per carry, third-lowest in the conference.
The Gophers made one big change, literally, to their offensive line in the second half of last week's game, when Faalele – an enormous offensive tackle from Australia who is in just his second season of playing competitive football – replaced Schlueter in the lineup. A coveted recruit out of IMG Academy despite his lack of football experience, Faalele provided a boost to the Gophers against Iowa but was originally slated to redshirt this year, and it's uncertain whether his substitution into the lineup against Iowa will lead to a start or even playing time against Ohio State.
Defensive Ends
45 Carter Coughlin – 6-4, 245, Junior
46 Winston DeLattiboudere – 6-3, 250, Redshirt Junior
A defensive end who often plays like a linebacker, Coughlin is the Gophers' best pass-rusher and arguably their best overall player. He leads the Gophers with five sacks, including a strip sack that set up a touchdown against Iowa last week, and is tied for the team lead with 6.5 tackles for loss. He's not the stoutest run stopper in the trenches, but he can win around the edge with his speed and use of hands and can drop back into coverage and make tackles in space.
Outside of Coughlin, however, the rest of Minnesota's pass-rush is subpar, as none of the Gophers' other defensive ends have recorded a sack this season. DeLattiboudere is an experienced player who has started games for three years, while 6-foot-6, 260-pound redshirt freshman Esezi Otomewo (No. 9) has also flashed potential, but they haven't consistently threatened opposing quarterbacks.
Defensive Tackles
19 Gary Moore – 6-4, 300, Redshirt Senior
99 O.J. Smith – 6-2, 320, Redshirt Senior
Smith, an Alabama transfer in his first playing season for Minnesota, pairs with Moore to give the Gophers a solid pair of starters on the interior defensive line. 6-foot-4, 270-pound redshirt junior Sam Renner (No. 30) and 6-foot-3, 300-pound redshirt junior Royal Silver (No. 97) also rotate in for regular playing time, and all four defensive tackles have recorded at least five tackles this season.
None of them are highly disruptive players who regularly make plays in the backfield – none of them have more than one tackle for loss this year – but they mostly do a good job holding their ground and challenging the run at the line of scrimmage.
Linebackers
41 Thomas Barber – 6-1, 235, Junior
36 Blake Cashman – 6-2, 235, Senior
21 Kamal Martin – 6-3, 235, Junior
A third-team All-Big Ten selection in 2017, Barber is one of the top leaders and most reliable players on Minnesota's defenders. The Gophers' leading tackler with 115 tackles last season, Barber ranks second on the team with 33 total tackles so far this year. He's not the flashiest player, but he does his job well, particularly as a run defender.
Martin is also a returning starter for the Gophers at outside linebacker. The star of Minnesota's linebacker corps, though, has been Cashman, who was a backup for the Gophers last year but leads them with 34 total tackles and 6.5 tackles for loss this year. He's the fastest linebacker of the bunch, showing the athleticism to get into the backfield and make plays as well as to chase down ballcarriers from sideline to sideline.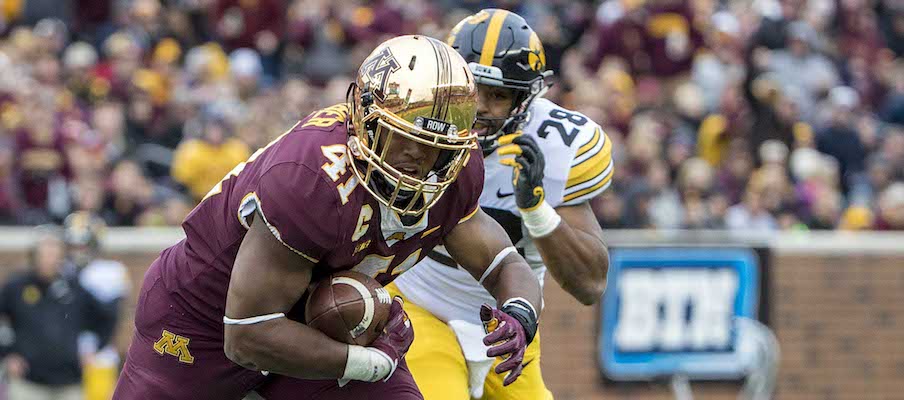 Defensive Backs
4 Terell Smith – 6-1, 195, Freshman
2 Jacob Huff – 5-11, 210, Senior
34 Antonio Shenault – 5-11, 190, Senior
6 Chris Williamson – 6-0, 200, Redshirt Junior OR 31 Kiondre Thomas – 6-0, 190, Redshirt Sophomore
With Winfield out of the lineup, Minnesota has had to move some pieces around in its secondary. Shenault, who had been starting at cornerback, has taken Winfield's spot at safety. Williamson, a Florida transfer, made his first start as a Gopher against Iowa though Thomas, who was suspended for the previous game against Maryland due to a violation of team rules, also saw considerable playing time against the Hawkeyes.
Smith has started all five of the Gophers' games this season as a true freshman at cornerback, and has been their top playmaker against the pass, recording one interception and a team-high six pass breakups. Huff has also started all five of the Gophers' games this season, at safety, and has recorded 32 total tackles (most on the team among defensive backs) with one interception, two pass breakups and a forced fumble.
Without Winfield, though, this group had its worst game of the season to date against the Hawkeyes, allowing 314 passing yards and four passing touchdowns.
Specialists
38 Emmit Carpenter – 6-0, 200, Redshirt Senior (Kicker)
47 Jacob Herbers – 6-2, 215, Redshirt Junior (Punter)
The Big Ten Kicker of the Year in 2016 and an All-Big Ten honorable mention in 2017, Carpenter has been one of the conference's best kickers once again so far this year, making eight of nine field goal attempts – including two 50-plus-yard field goals against Fresno State – and all 15 of his extra-point attempts.
Herbers is off to an adequate start in his first season as the Gophers' starting punter, averaging 41.5 yards per punt with 10 of 26 punts inside the 20-yard line and five punts of 50-plus yards.
Overall Outlook
To have any chance of upsetting Ohio State at Ohio Stadium on Saturday, Minnesota likely needed to have its roster at full strength coming into Columbus. With arguably their two best players sidelined, and coming off losses in two straight games, the Gophers don't look like they should pose a substantial threat to the Buckeyes this weekend.
Ohio State's secondary is coming off a rough game against Indiana, and Minnesota's receivers are good enough to take advantage if the back end of the Buckeyes defense continues to struggle. Ohio State's defensive line is substantially better than Minnesota's offensive line, though, and if the Buckeyes can take advantage of that mismatch, they should be able to force Annexstad into more freshman mistakes.
Defensively, the Gophers have proven vulnerable against both the run and pass, allowing 315 rushing yards and four rushing touchdowns against Maryland before giving up 314 passing yards and four passing touchdowns against Iowa. With minimal pass-rushing threats outside of Coughlin and a patchwork secondary on the back end, Dwayne Haskins and Ohio State's passing attack should have the upper hand.
In the spectrum of Big Ten opponents that Ohio State has played, Minnesota appears to fall somewhere between Indiana and Rutgers. The Gophers should keep things somewhat more competitive in the Shoe than the Scarlet Knights could, but they're also likely to pose less of a test than the Hoosiers.