Although most of Ohio State's coaching staff is currently on vacation, it won't be long before they are back in the office and beginning to focus in on preparing and game planning for the season ahead.
While the focus of the spring was primarily on player development and fundamental work, and recruiting was the primary focus in subsequent weeks, Ohio State's coaches will place their attention squarely upon getting ready for the games this fall as soon as they return to the office.
That means preparing for the Buckeyes' season opener against Oregon State on Sept. 1 at Ohio Stadium, but also starting to look ahead to the rest of the opponents on this year's schedule.
It might be too early to construct specific game plans for the teams the Buckeyes won't play until October or November, as they'll need to see both their own team and those opponents in action before determining their best plans of attack for those games. It's never too early, though, to begin identify which players could be the biggest threats for each opposing team.
So after taking a look at one offensive player to watch on each of Ohio State's 12 regular-season opponents for this upcoming season, we now turn our eyes to the defensive side of the ball, and players who could have the potential to make game-changing plays for each team the Buckeyes will face.
Note that the following list is not specifically intended to identify who the best defensive player on each of Ohio State's regular-season opponents is, but rather to identify players who could be breakout stars, potentially pose threats to the Buckeyes or are otherwise intriguing.
Oregon State: David Morris, S

Oregon State's defense was one of the worst in all of college football last season, ranking 121st in total defense (473.1 yards allowed per game) and 128th in scoring defense (43 points allowed per game), but David Morris was one of the few bright spots.
Among the top-ranked players in Oregon State's recruiting class of 2017, Morris immediately emerged as one of the Beavers' best defensive players in his true freshman year, recording 75 total tackles (tied for second-most on the team) and an interception. He was named as an honorable mention for the All-Pac-12 team.
The 6-foot-3, 208-pound rising sophomore was recently named by Rivals affiliate BeaversEdge.com as Oregon State's third-best player for the upcoming season, making him the highest-ranked defensive player on the list.
Oregon State is going to need defensive players to step up and make big plays to have much chance of hanging with the Buckeyes on the opening Saturday in the Shoe, and Morris looks like the top candidate to be that playmaker.
Rutgers: Elorm Lumor, DE/LB

Elorm Lumor enters the 2018 season as an unproven but talented redshirt sophomore, having recorded 17 total tackles with one sack and one forced fumble in his first playing season for the Scarlet Knights. He might have the most potential of any player on the Scarlet Knights' defense, though, to emerge as a breakout star.
At 6-foot-3 and 245 pounds with very good athleticism for his size, Lumor plays the "Jack" position for Chris Ash's squad as a hybrid defensive end/linebacker. He's set to become the starter at that position following the departure of Kemoko Turay, who offered a similar physical skill set and was selected in the second round of this April's NFL draft by the Indianapolis Colts.
The secondary, where Rutgers has four returning players with starting experience (Blessuan Austin, Isaiah Wharton, Saquan Hampton and K.J. Gray), appears to be the strength of the Scarlet Knights' defense. But they desperately need more playmakers to emerge in their front seven, and Lumor will be counted on to be just that.
Ohio State won't have a ton of tape to go off in preparing for Lumor in preseason film study, but the Buckeyes will need to be aware of the upside he has.
TCU: Ben Banogu, DE

While college football's class of defensive linemen for the upcoming season and potentially for the 2019 NFL draft has been hyped as potentially being one of the best ever – with players like Houston's Ed Oliver, Michigan's Rashan Gary and Alabama's Raekwon Davis joining loaded defensive lines from Ohio State and Clemson – a defensive end who might be overshadowed nationally because of all that talent is TCU's Ben Banogu.
In his first playing season for the Horned Frogs in 2017 after transferring from the University of Louisiana Monroe, Banogu earned first-team All-Big 12 and Big 12 Defensive Newcomer of the Year honors, recording 49 total tackles with 16.5 tackles for loss, 8.5 sacks and three forced fumbles.
A 6-foot-4, 249-pound defensive end who shows the ability to both beat tackles around the outside with his speed and stunt inside to make plays between the tackles, Banogu could be a tough early test for an Ohio State offensive line that is breaking in new starters at left tackle (Thayer Munford) and center (Brady Taylor).
Tulane: Jeffery Johnson, NT

Although Jeffery Johnson is just a true freshman, he could quickly emerge as one of Tulane's best defensive players this season.
It's not very often that the Green Wave land a recruit over some of college football's powerhouse programs, but that's what they did with Johnson, a three-star defensive tackle who was also recruited by Alabama, Florida State and Ole Miss among several other Power 5 schools in the Southeast.
An early enrollee who participated in spring practice, Johnson is expected to start for the Green Wave at nose tackle. At 6-foot-3 and 312 pounds, Johnson has prototypical size for the position – and he was a more highly touted recruit than any other projected starter on Tulane's defense.
He has the potential to be a (literally) big difference-maker for the Green Wave's interior run defense, so even though there's no collegiate tape of him yet, the Buckeyes will want to have a plan in place for handling his size and strength.
Penn State: Koa Farmer, LB

In his first full season as a starter in 2017, Koa Farmer emerged as a playmaker for Penn State's defense – particularly against Ohio State, when he recorded seven total tackles including two tackles for loss, returned a fumble 26 yards and returned a short kickoff 59 yards in the Nittany Lions' 39-38 loss at Ohio Stadium.
Going into 2018, though, the Nittany Lions will need Farmer to be a playmaker every game, as the now-senior linebacker is the only returning starter from last season in the entire back seven of Penn State's defense.
As he demonstrated last year against the Buckeyes, Farmer – who began his Penn State career as a running back before moving to safety and eventually ending up at linebacker – has the athleticism to make plays all over the field and can be dangerous if he gets the ball in his hands.
With more experienced linebackers around him and defensive backs behind him last year, Farmer was able to fly under the radar. This year, though, he's expected to be a leader for Penn State's defense and should be a focal point in preparation for all opposing offenses, including Ohio State.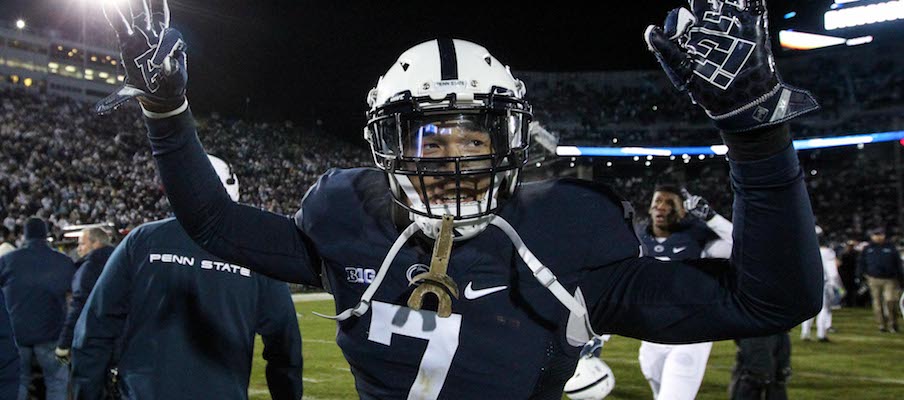 Indiana: Marcelino Ball, S/LB

Despite playing in just three games in 2017, Marcelino Ball is expected to be a star on Indiana's defense – and perhaps its top playmaker – in 2018.
Ball burst onto the scene for Hoosiers as a true freshman in 2016, recording 75 total tackles, 4.5 tackles for loss, two interceptions and eight pass breakups. Ball also got last season off to a productive start, recording 10 tackles in the Hoosiers' season-opening loss to Ohio State, but suffered a knee injury in Indiana's third game of the year that ended his season prematurely.
Playing the "Husky" position as a hybrid safety/linebacker for the Hoosiers, Ball demonstrates the ability to be the difference-maker both around the line of scrimmage and downfield. At 6-foot and 218 pounds, Ball is athletic enough to keep up with tight ends and running backs in pass coverage, but can also be a weapon as a tackler in the running game.
He's the type of player who opposing offenses need to be aware of wherever he lines up on the field, and with the Hoosiers losing their top three tacklers from last season, Ball should play an even bigger role this season.
Minnesota: Antoine Winfield Jr., S

If you take a look at the Minnesota football team's roster before it plays at Ohio Stadium on Oct. 13, there's one name that will almost certainly jump off the page to you if you're a longtime Buckeyes fan.
Antoine Winfield Jr. carries name recognition in Columbus, of course, because his father is one of Ohio State's all-time great cornerbacks, winning the Jim Thorpe Award during his senior season in 1998. Winfield Jr., though, has shown the makings of being a great defensive back in his own right.
Like Marcelino Ball above him, Winfield made an immediate impact for his team as a true freshman in 2016, recording 52 total tackles and returning an interception 82 yards for a touchdown. Also like Ball, Winfield's sophomore season was cut short by injury, though he recorded 20 total tackles before suffering a hamstring injury in the Golden Gophers' fourth game that sidelined him for the rest of the year.
Nonetheless, Winfield is expected to be one of Minnesota's top defensive players in 2018. He certainly shouldn't catch the Buckeyes by surprise, considering who his father was, but he'll certainly have his sights set on making plays in the Shoe – where Winfield Sr. once made many plays of his own – in his first trip to Ohio State as a Golden Gopher this year.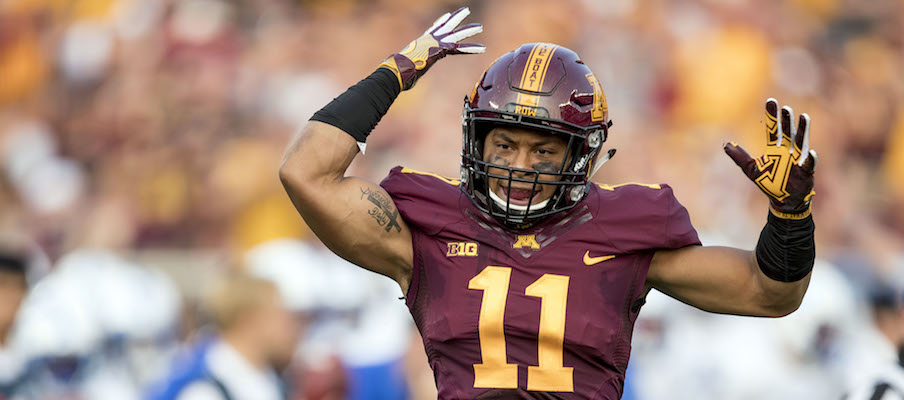 Purdue: Markus Bailey, LB

As Ohio State prepares for what has sometimes been a treacherous trip for the Buckeyes to West Lafayette, Markus Bailey stands out as one of the players they will certainly need to be aware of.
Bailey has been one of Purdue's most productive defensive players for each of the past two years. He led Purdue with 97 total tackles and four interceptions in 2016, then followed that up with 89 total tackles, including 11 tackles for loss and a team-high seven sacks, in 2017.
A weakside linebacker who sometimes rushes and sometimes drops back into coverage against the pass – while, as his numbers indicate, he's been very productive against the run – Bailey is a three-down player who is expected to be the leader of an otherwise inexperienced Purdue defense this year.
A Columbus native, Bailey didn't receive an offer from Ohio State out of Hilliard Davidson High School, but he should have the Buckeyes' attention in 2018 as he plays his hometown university for the first time as a Boilermaker.
Nebraska: Ben Stille, DE

As a redshirt freshman last season, Ben Stille led Nebraska with 9.5 tackles for loss and 3.5 sacks. He did so while only appearing in nine games and while playing away from his natural position.
Stille moved from defensive end to outside linebacker midway through last season, but now, Stille is back at defensive end – even though the Cornhuskers, with a new defensive coordinator, are still running a 3-4 scheme.
Regardless of where he lines up, Stille will be a player to watch this season, but now that the 6-foot-5 defender has reportedly bulked up to about 280 pounds – per Parker Gabriel of the Lincoln Journal Star – he has the potential to be a difference-maker as an interior pass-rusher as well as on the outside.
On a defense that struggled mightily last season, allowing more yards (436.2 per game) than any other team in the Big Ten, Stille is among the players who appear to be the strongest candidates to elevate their play and Nebraska's defense as a whole this season.
Michigan State: David Dowell, S

The Spartans return nine of their 11 defensive starters from last season, so there will be plenty of players to watch on that side of the ball in East Lansing this year. One playmaker who will surely make teams take notice, though, is David Dowell.
A first-team All-Big Ten safety last season as a sophomore, Dowell had five interceptions in 2017 – the most among all returning players in the conference – along with 52 total tackles.
Dowell – whose twin brother, Andrew, is also a player to watch as a starting linebacker for the Spartans – also showed last year that he had a proclivity toward playing his best in the biggest games. His five interceptions came against the three other top teams in the Big Ten East – two against Michigan and Penn State each, and one against Ohio State – while he also had a season-high nine tackles in the Spartans' loss to the Buckeyes.
That should make Dowell a player who is high on the Buckeyes' radar when they face him again this year on Nov. 10 in East Lansing.
Maryland: Byron Cowart, DE

At this time three years ago, no one would have guessed that Byron Cowart would be entering 2018 as an unproven redshirt junior at Maryland. Ranked as the No. 1 player in the recruiting class of 2015 by both Rivals and ESPN (and as the No. 3 overall player in 247Sports' composite rankings), Cowart went to Auburn with superstar expectations, and it wouldn't have surprised anyone if he was going into his rookie season in the NFL right now.
Cowart, however, never lived up to the hype at Auburn, recording just 12 total tackles over two seasons before transferring to play last season at Hillsborough Community College.
Now, though, Cowart is getting a fresh start in College Park, where he could provide a huge spark to the Terrapins' defensive line if he can emerge as anything close to the player he was projected to be three years ago.
At this point, the 6-foot-4, 270-pound defensive end is an enigma, but he was a far more highly touted prospect out of high school than any other player on Maryland's roster. That makes him the most intriguing player on the Terrapins' defense, and a player who all of their opponents will be need to be aware of as a potential breakout star.
Michigan: Khaleke Hudson, LB

The Wolverines' defense is loaded with talent at all three levels, giving them more than a half-dozen players who could legitimately be the choice for this list.
Rashan Gary, of course, is one of the most talented defensive linemen in the country; Michigan's other defensive end, Chase Winovich, is a very good pass-rusher in his own right. Devin Bush was a second-team All-American last season at linebacker. Lavert Hill and David Long give the Wolverines an excellent pair of starting cornerbacks, while Tyree Kinnel is a playmaker on the back end at safety.
As intriguing and as difficult to prepare for as any player on Michigan's defense, though, is Khaleke Hudson because of his versatility. Playing the "Viper" position that Jabrill Peppers previously occupied, Hudson was a more productive defender than Peppers ever was in 2017, recording 82 total tackles, 18 tackles for loss, eight sacks, two interceptions, nine pass breakups and two forced fumbles.
With the skill set to line up everywhere from around the line of scrimmage to deep as a safety, Hudson gives Michigan defensive coordinator Don Brown a myriad of options for how to deploy him, and that presents a challenge for any offense – especially with all the talent around him, limiting an opponent's ability to game plan for any one individual player.
The Wolverines have the talent to have one of the best defenses in all of college football in 2018, and all of the players named above bear watching. Hudson's proven ability to make game-changing plays in a multitude of ways, though, could make him the player – especially for opponents that have offensive lines that can battle toe-to-toe with Gary – who gives opposing offensive coordinators the most nightmares.