Before each week's Ohio State game, Eleven Warriors catches up with a media member who covers the opposing team to get his or her perspective on the Buckeyes' upcoming opponent.
In advance of the most anticipated games of the season, we caught up with Ben Jones, who covers Penn State as the sports editor of StateCollege.com, to get his insight on the Nittany Lions before the Buckeyes travel to State College for Saturday night's game.
Penn State has been Ohio State's top competition in the Big Ten East for the past two years – defeating the Buckeyes in their last trip to Beaver Stadium in 2016 – and it looks as though Saturday's game could go a long way in determining who wins the division again this year. The Nittany Lions are currently ranked ninth in both major polls, boasting a 4-0 record and the No. 1 offense in the country in points per game (55.5), and are always a tough team to beat in front of their raucous home crowd.
That said, the Nittany Lions have also had some struggles this season – needing overtime to beat Appalachian State in their season opener, and trailing early in the third quarter before scoring 42 unanswered points last Friday against Illinois – and have looked vulnerable on the defensive side of the ball, allowing more than 400 yards in both of those games.
Who are some of the unheralded players who have helped Penn State's offense soar to a hot start out of the gates, and what have the Nittany Lions' shortcomings been on defense? How anticipated has Saturday's game with Ohio State been in Happy Valley, and are the Nittany Lions a legitimate championship contender if they can beat the Buckeyes? Finally, will they beat the Buckeyes, and where should you go besides the game if you're traveling to State College this weekend?
Jones answers those questions for us in this week's edition of Across The Field.
Q: What has the build-up for this game been like around Penn State and its fanbase? Has this game been circled on the calendar since last year's loss at Ohio State?
Jones: I think the Ohio State game, in general, is always going to generate hype around any Big Ten team hosting the Buckeyes, and Penn State is no different. The change now is that Penn State and Ohio State are on fairly similar footing as programs in the modern era. So in that respect, it goes from the "can they pull off the upset game" to the "this has implications for everyone game."
I think in a similar sense, there isn't tons of animosity with fans about last year. It was a great game, Penn State lost and sometimes that's how great games go. On the other side of the coin, Penn State is replacing a lot of people Ohio State fans would have known, and the occasional issues on defense and the sometimes inconsistent execution on offense has made people unsure what to expect from a young team.
From the outside, Penn State looks to have earned its top 10 ranking, and nobody is saying otherwise, but at the same time nobody really knows what to expect. If Penn State almost winning at Ohio State last year seemed reasonable, this season nobody seems to know if this team is going to hang with the Buckeyes or lose by 20. In turn, there is something of a tentative hype.
Q: Penn State currently leads the nation in points scored per game. Trace McSorley is already a household name, and Miles Sanders appears to be well on his way to becoming one as Saquon Barkley's replacement at running back, but who are some of the less heralded players who have enabled the Nittany Lions' offense to perform at such a high level to start the season?
Jones: KJ Hamler will be a name Ohio State fans know in the slot, be it this year or down the road. He's as fast as anyone and he has something of a Barkley-like ability to turn nothing into something, except as a receiver. He isn't a tall guy, but he's someone you get the ball to because he can make things happen.
Juwan Johnson was kind of buried in the offense last year because of the weapons Penn State had, but he's rounding into form after a slow start this year, and is more nationally known for his game-winning catch against Iowa last year. At 6-4, you have to respect his size and ability.
Penn State's PPG are sort of inflated by garbage time, but that's not a knock on what the first team can do. Between Hamler, Brandon Polk and DeAndre Thompkins this might be the fastest wideout group Ohio State has had to deal with, but half the battle is speed, the other half is actually catching the pass.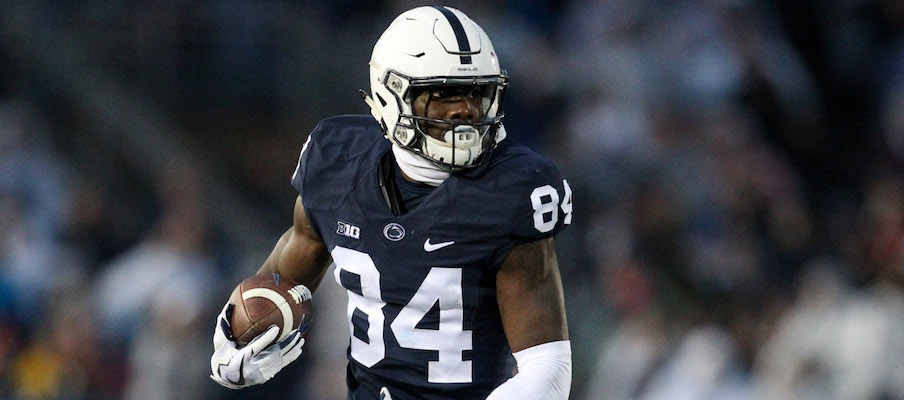 Q: The Nittany Lions haven't performed as well this season on the defensive side of the ball, and they haven't faced an offense like Ohio State's. What have been the biggest issues for that unit so far this year, and what do you think will be their keys to success against the Buckeyes?
Jones: For the most part the past two seasons, Penn State's defense has been the same group of guys. So unless you really, really followed Penn State as an Ohio State fan, most everyone not named Shareef Miller and John Reid (who dropped the INT a play before Penn State's block-six in 2016) is going to be new to you. That's basically the issue. Everyone is new, for the most part young and generally, not that experienced. That's the issue Penn State faces moving forward beyond Ohio State.
The offense can put up points, but can the defense grow up fast enough to stop anyone? Micah Parsons has been okay at linebacker, but he isn't in the starting rotation, Amani Oruwariye is an all-Big Ten corner but it's easy enough not to throw it this way. If this group can grow up and avoid dumb mistakes, bad tackles and miscues, then this game is anyone's to win. But this group is also why Penn State fans are excited but also understanding of the fact Ohio State could drop 50 if this group isn't rounding into form this week. Penn State's defense will probably figure things out well enough to win 8-9-10 games, but if it's ready in time for this week is anyone's guess.
Also of note, not that it makes going to OT "okay," but App State is really good and you should watch them.
Q: The winner of this game has gone on to win the Big Ten in each of the past two seasons. If Penn State wins this game, do you think the Nittany Lions can win the conference and make a College Football Playoff run?
Jones: It comes down to the defense, but in general, I think everyone sees Ohio State as the toughest game, so if you can beat Ohio State you can in theory beat anyone. Biggest issue is Penn State plays damn near everybody. After Ohio State, it's Michigan State, Iowa and Wisconsin all at home, which sure, you play them at home, but its not like those are all easy wins. Add in a road trip to Michigan and the general fact Rutgers and Maryland will get Penn State at the end of a long year, and it makes sense to pick the winner of this game to go to Indy, but there will be work left to be done for Penn State.
As far as a playoff run, if you have a quarterback in college football you have a chance, so I wouldn't count Trace McSorley out of anything. But he can only do so much.
Q: How do you see this game playing out? Do you have a final score prediction?
Jones: This honestly is the most confusing team I've seen in my eight years of covering Penn State. I could see Penn State winning by a touchdown or losing by 21, and I'm not going to pretend to know which will happen. Generally I think Ohio State is further along than Penn State, so I'm picking Ohio State by 14-17, but I've seen this series produce some weird games, so anything can happen in a White Out.
Q: For those who are making the trip to State College for Saturday's game, are there any restaurants or other attractions that you recommend visiting while in town?
Jones: As much as I love State College, it isn't a rocket science town. Walk around Beaver and College Ave and you'll find a place to drink and eat. The Champs on Allen Street is pretty popular. If you want to get out of the way a bit, Otto's on Atherton is a nice local brewery. There is also a new HighWay Pizza past the main stretch of College Ave that doesn't get many students.
If you're into a 20-25 minute drive for a cool walk outdoors, there is a nature center with a lake and "birds of prey" that was just reopened (Shaver's Creek), and it's a great place when the weather is nice. But for better or worse, drinking downtown is the place to be and what State College does.