I hate Penn State. You hate Penn State. Here are 10 reasons to really hate Penn State.
10. Micah Parsons
Micah Parsons is currently an outside linebacker for the Nittany Lions and was a top target for the Buckeyes for the 2018 recruiting class. While Ohio State initially pulled out all of the stops to recruit Parsons, Urban Meyer eventually stopped recruiting him. 
Ohio State self-reported recruiting violations on Parsons by having him on College Gameday for the Ohio State vs. Oklahoma matchup last year. The Buckeyes then stopped recruiting him and Parsons soon signed with Penn State. 
While this may be the reason for the recruitment stall, it is likely not true. After the Oklahoma game, the No. 4 player in the nation was set to have a meeting with Coach Urban Meyer. That meeting never happened. Some people have pointed to his tweet about J.T. Barrett as the reason. 
I would and his name is @dh_simba7 https://t.co/MZGrGyvPt0

— BLESSEDMVP (@Micah_Parsons11) September 10, 2017
This seems unlikely, however, as five-star recruit Jackson Carmen said something similar but continued to be recruited by the Buckeyes (he eventually went on to sign with Clemson). 
Whether it was issues with Parsons's character, his disrespect of J.T. Barrett and the coaching staff, or an NCAA rules violation that led to Ohio State not having him on its roster, he now suits up for Penn State.
That reason alone should be enough to hate him.
9. They almost lost to Appalachian State
In what has been an awful start to the season so far for the Big Ten, it's hard to believe it could be worse. But, if Penn State would have lost to Appalachian State on its 11th-Anniversary of their sweet, sweet upset of Michigan, it would be difficult to anticipate much of a contest on Saturday.
I strongly dislike pay-to-play games and PSU losing to an FCS team at home would have been a disaster for the Big Ten. Instead, No. 4 Ohio State and No. 9 Penn State, the only remaining undefeated teams in the conference, are set to give fans the best game of the season so far. 
8. Penn State is not a True State School
Pennsylvania State University, despite its name, is not a true state school. Sure, it is partially funded from the state of Pennsylvania, but it is not in the same class of state schools as Ohio State and Michigan State. 
The result? High tuition prices, no true classification of a public institution, and less transparency for the citizens of Pennsylvania.
As a student, I can say that lower college tuition is, in fact, a good thing. After much research, I can conclude that Penn State has no respect or awareness for their students (mostly joking). 
7. The Whiteout
I don't hate this one as much as I respect it. 
The whiteout makes Beaver Stadium one of the toughest places to play in the nation. Penn State fans are loud and surely want to prove themselves on a national stage. 
Penn State's commitment to this new tradition is undeniably amazing.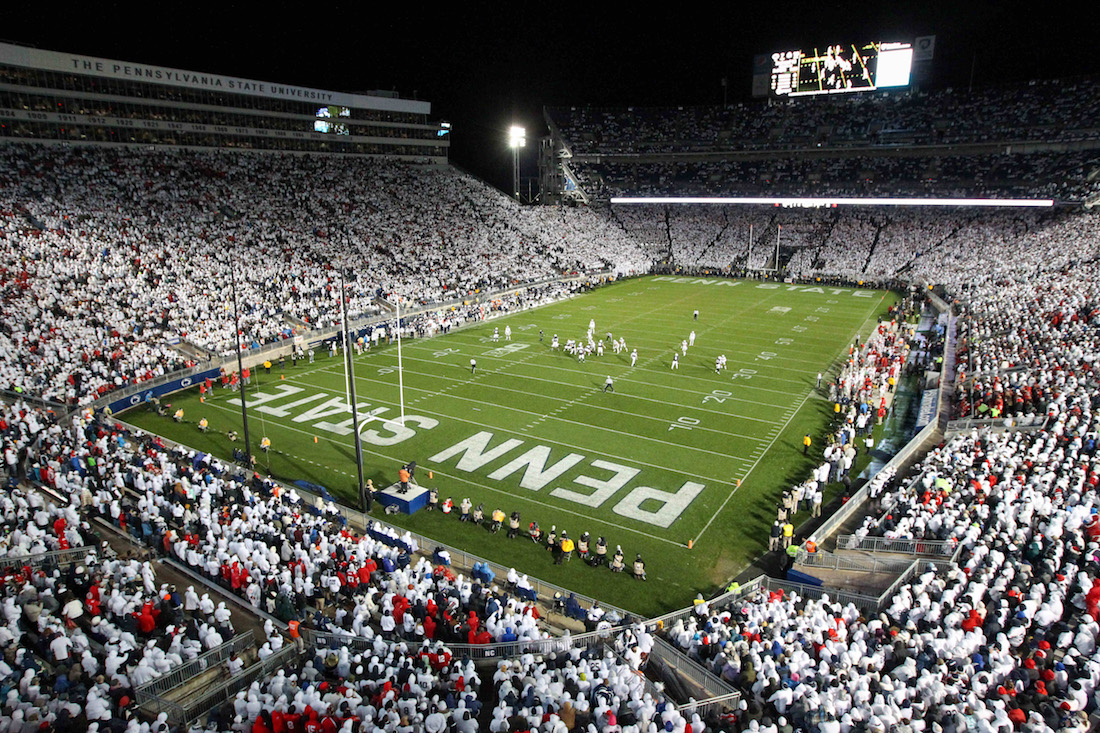 This is not just students. This is the entire fanbase rallying behind a theme. On a bad note, however, it boosts Penn State's thought that Ohio State is their rival (more on that later).
But, let's start hating it. Back in the early years of the tradition (the first attempted whiteout game for Penn State took place in 2004) when Ohio State traveled to Beaver Stadium in 2007, let's just say Coach Jim Tressel was not impressed with the home crowd's effort. 
Jim Tressel following 2007 OSU @ PSU game: "Oh, I thought the white out was for us. We were the ones wearing white."

— Dave Biddle (@davebiddle) September 28, 2018
Let's hope history repeats itself tomorrow night. 
6. Their Fan Base's Reputation
I understand that every fanbase has bad fans. I understand that this opinion is subjective and could be biased. With that being said, Penn State's fans do not have a good reputation. 
In 2014, Penn State fans sat outside of the hotel where Ohio State's football was staying and blew air horns all night. Supporters (I am not sure I can call these people fans) of Penn State have thrown bottles, cups, and even urine at opposing players and fans. 
I understand 99% of Penn State fans have done nothing wrong, but a few bad apples can ruin the bunch and give an entire fanbase a bad reputation. 
5. Their History
For a program that is tenth is all-time wins, one would expect a lot of success. But in the past 20 years, Penn State has had little to show for their work. 
Their last national championship came in 1986 and only 3 top-five finishes in the postseason AP poll. The program had found some success recently but has not been able to make the college football playoff or BCS Championship game since the two were established. 
Penn State has gone through a revival of sorts with head coach James Franklin and is trending upwards, but his inability to consistently beat the opponents in his division has resulted in little program success. 
4. #WeAre
For Ohio State, the go-to call is #GoBucks or O-H. For Alabama, it's #RollTide. For the University of Pittsburgh, it's #HailPitt. All of these slogans mention either the school or its mascot, something that Penn State refuses to do. 
Penn State's #WeAre has a debated history, but the bottom line is that it is a mediocre slogan. Why even make it two words? It might as well be #We're. 
Continuing, what is #WeAre? What are they? Four-time Big Ten Champions since they joined the conference in 1990? Wow, impressive. That's one more than Northwestern in the same time span. But hey, it's tough to win the conference when you're going against one of the best programs in history. 
3. Trace McSorley
I'll never forget watching the 2016 Penn State Ohio State game for a number of reasons. One of which is Trace McSorley. 
It was the first time he had played against Ohio State. He was the quarterback for an unranked Penn State team that lost to Pittsburgh and got destroyed by a Michigan. And he didn't even play well; he was 8/23 with a 30.9 quarterback rating.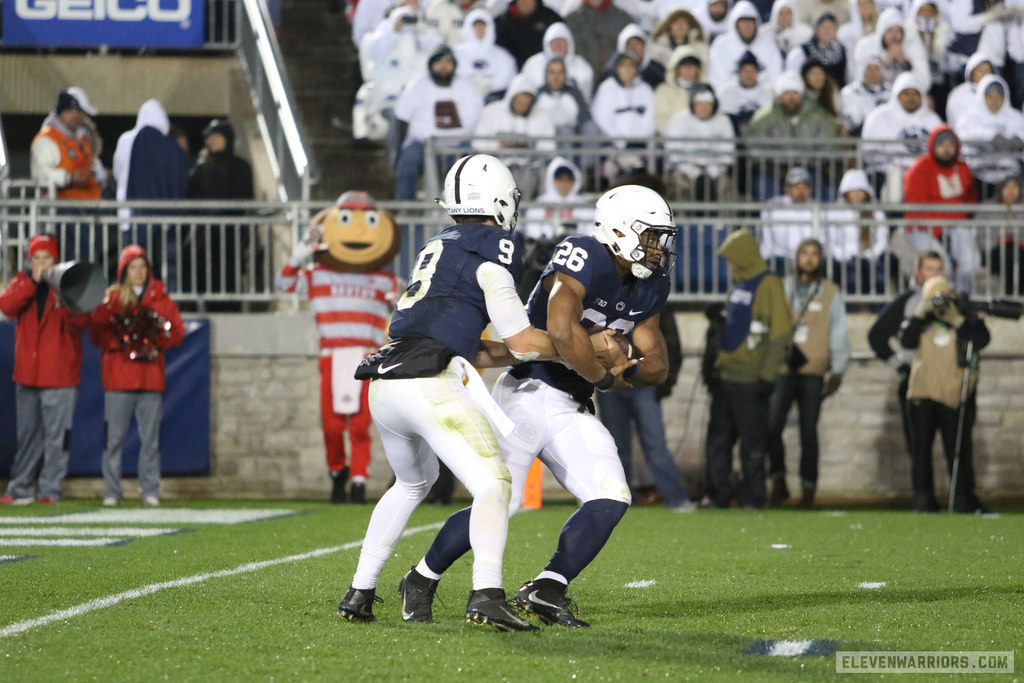 But he was cocky. Oh, was he cocky. His baseball swing after touchdowns makes my blood boil to this day.
McSorley was a Heisman candidate for a while this season, but then Vegas and everyone else realized that he completes as many passes as former Michigan quarterback John O'Korn and averages less than 200 passing yards per game this season. 
2. James Franklin
Hailing from the SEC, James Franklin is the pinnacle of fake-nice coaches. James Franklin is a fiery coach that is beyond petty. He never forgets what other coaches/players say and never fails to bring them up whenever possible. 
If not for a blocked field goal in 2016, James Franklin would not have won the conference Coach of the Year award and more than likely would have been fired. It's crazy what one play can do for a man. Penn State managed to win the Big 10 that year in one of the craziest conference seasons in recent memory. 
1. Penn State is Not Ohio State's Rival, No Matter how Much they want to Be
Penn State is not Ohio State's rival. Once and for all. The Buckeyes' rival is Michigan, and everyone else comes second. 
The State of Ohio has a legitimate historic distaste against the State of Michigan. No such rivalry exists between Ohio and Pennsylvania. Hatred of Michigan is ingrained in the minds of infants across all 88 counties in our great state while Penn State is just another good team on our schedule. 
Penn State vs. Ohio State has been one of the most exciting games of the year for the past couple of seasons, starting in 2016 with their signature whiteout-upset. 
Sure, Penn State has been competitive to Ohio State recently. So has Michigan. Penn State is an executed field goal away from being 0-4 in the James Franklin era against Ohio State. 
Sure, they have some history against the Buckeyes and are in their division, but that does not make the Nittany Lions Ohio State's rival. It just means that, recently, fans are treated to one of the best games of the year when they face-off. 
That does not make them Ohio State's rival. Just another team the Buckeyes seek to destroy.