Ohio State's defense is set to face its toughest test of the season when the Buckeyes play at Penn State on Saturday night (7:44 p.m., ABC).
Through their first four games this year, the Nittany Lions have scored 55.5 points per game, more than any other team in the Football Bowl Subdivision (and the only team who has scored more points per game than Ohio State).
Defensively, however, the Nittany Lions haven't been as strong. Penn State gave up 38 points and 451 yards in its season opener against Appalachian State (which went to overtime before the Nittany Lions' 45-38 win), and gave up 24 points on 411 yards on Friday against Illinois. Even in its 51-6 win over Pittsburgh in its second game of the season, the Nittany Lions' rushing defense struggled mightily in the first half – allowing 214 rushing yards on 31 carries – before tightening up in the second half.
The Nittany Lions have just two returning starters on defense, and their inexperience on that side of the ball has shown.
As Ohio State begins one of its most pivotal weeks of the entire season, with a game that could have huge implications on who wins the Big Ten East this year, we take a closer look at Penn State's offense and defense to get a better idea of why the Nittany Lions have been able to score so many points this year yet have also looked vulnerable to giving up points.
Quarterback
9 Trace McSorley – 6-0, 201, Redshirt Senior
Ohio State and its fans should be plenty familiar at this point with McSorley. A third-year starting quarterback for the Nittany Lions, McSorley quarterbacked Penn State to a 24-21 win over the Buckeyes in 2016 and was the signal-caller once again for Penn State's 39-38 loss in Columbus in 2017.
McSorley isn't the best pure pocket passer, and his statistics against Ohio State have indicated that; he completed just eight of 23 passes for 154 yards in 2016, and just 17 of 29 passes for 192 yards in 2017. He's completed only 53.8 percent of his passes through Penn State's first four games this season.
That said, McSorley has a knack for making big plays when games are on the line, and he's dangerous with his feet; he's already run for 235 yards and six touchdowns this season, and his biggest plays often come when he is able to escape the pocket and throw on the run. That combination of skills will force Ohio State to play disciplined defense to contain McSorley on Saturday night.
Running Back
24 Miles Sanders – 5-11, 215, Junior
8 Mark Allen – 5-6, 184, Redshirt Senior OR 4 Ricky Slade – 5-9, 198, Freshman
While Saquon Barkley was the most high-profile offseason departure for the Nittany Lions, he wasn't their most significant loss. Although they certainly miss Barkley and his spectacular playmaking ability as a runner, receiver and returner, Penn State still appears to have one of the best running backs in college football in Miles Sanders.
A five-star recruit who was ranked as the No. 1 running back in the class of 2016, Sanders has looked the part so far in his first season as the Nittany Lions' feature back, running for 495 yards and five touchdowns on 71 carries in Penn State's first four games.
Sanders isn't yet the pass-catching threat that Barkley was, nor is he as explosive as an athlete, but he still shows the speed to break away from defenders and agility to make them miss while also being a strong runner who can lower his shoulder and finish through contact. He's a more downhill, north-south runner than Barkley, and he'll likely be expected to carry a heavy load for the Nittany Lions on Saturday.
Allen, who was Sanders' primary backup for Penn State's first three games of the season, did not play against Illinois. That opened the door, though, for Slade to have his own breakout performance against the Illini, rushing for 94 yards and two touchdowns on 10 carries. A five-star prospect from the 2018 recruiting class, Slade also offers excellent speed and shifty feet, and if his performance against Illinois leads to a bigger role against Ohio State, he's another big-play threat the Buckeyes will have to account for.
Wide Receivers
1 KJ Hamler – 5-9, 173, Redshirt Freshman
84 Juwan Johnson – 6-4, 225, Redshirt Junior
10 Brandon Polk – 5-9, 179, Redshirt Junior OR 3 DeAndre Thompkins – 5-11, 188, Redshirt Senior
The breakout playmaker in Penn State's receiving corps early this season has been Hamler, who leads the Nittany Lions with 170 receiving yards and three touchdowns on just nine catches (along with a 32-yard rushing touchdown against Pittsburgh) while averaging 31.5 yards per kickoff return. With top-end speed and very quick feet, Penn State's new starting slot receiver has proven to be a tough man to cover and an immediate big-play threat in his first playing season for the Nittany Lions.
Johnson, the only one of four Nittany Lions who caught 50 or more passes last season who is still on the roster this season, has a team-high 12 receptions for 141 yards and one touchdown. The big target in Penn State's receiving corps, Johnson can elevate for high catches and is a skilled route runner who shows good ability to get open in all areas of the field.
Polk and Thompkins, meanwhile, split snaps at the Z receiver position and give the Nittany Lions another pair of speedy playmakers in the passing game. Both receivers have six catches this season; Polk has 119 receiving yards and two touchdowns. Thompkins, who has 111 receiving yards and one receiving touchdown this season and had a 37-yard touchdown reception against Ohio State last season, is also a dangerous punt returner; he took a punt 39 yards for a touchdown in the Nittany Lions' week-two win against Pittsburgh.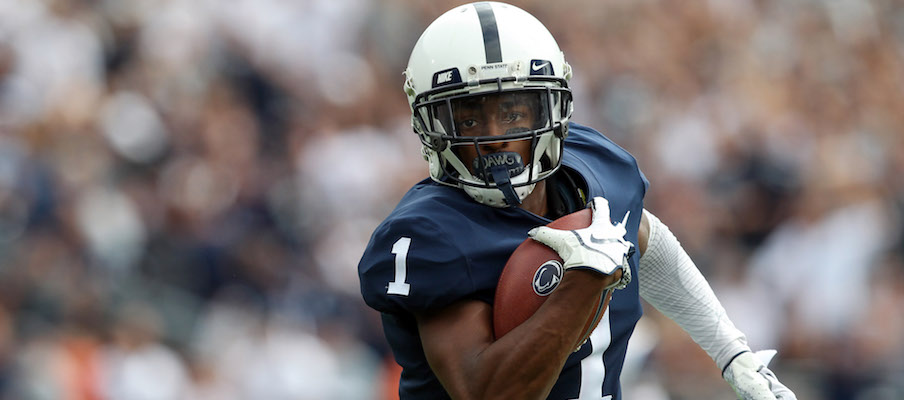 Tight Ends
18 Jonathan Holland – 6-4, 252, Redshirt Junior
80 Danny Dalton – 6-4, 247, Redshirt Sophomore OR 87 Pat Freiermuth – 6-5, 258, Freshman
While Penn State doesn't have one consistent game-changer at tight end like they did the past couple seasons with Mike Gesicki, the Nittany Lions appear to have three quality players at the position in Holland, Dalton and Freiermuth, who all demonstrate a solid combination of size and blocking ability as well as athleticism and pass-catching skill.
Holland, Penn State's starting tight end for each of its first four games, has shown the most downfield receiving ability, catching seven passes for 114 yards. Freiermuth could be another player to watch, though, after the true freshman recorded his first career touchdown catch against Illinois.
Offensive Line
52 Ryan Bates – 6-4, 302, Redshirt Junior
74 Steven Gonzalez – 6-4, 325, Redshirt Junior
62 Michal Menet – 6-4, 298, Redshirt Sophomore
66 Connor McGovern – 6-5, 323, Redshirt Junior
71 Will Fries – 6-6, 306, Redshirt Junior
Bates, Gonzalez, McGovern and Fries are all returning starters (while backup right tackle Chasz Wright, who also sees playing time, also has starting experience), and their experience as a unit has shown so far this season. Through four games, the Penn State offensive line has allowed only five sacks while paving the way for 6.4 yards per carry and an FBS-best 20 rushing touchdowns in the ground game.
This is an athletic offensive line that does a very good job pull blocking to open holes between the tackles in the running game. Menet is the most vulnerable to getting overpowered and pushed backward, but the entire group is solid in pass protection, too. They'll be put to the test by Ohio State's defensive line, but this will be the best offensive line that the Buckeyes have faced yet this season.
Defensive Ends
48 Shareef Miller – 6-5, 260, Redshirt Junior
99 Yetur Gross-Matos – 6-5, 259, Sophomore
Miller, who is one of the two returning starters on Penn State's defense from last season, is the Nittany Lions' best pass-rusher, leading the team with six tackles for loss and three sacks this year. A third-team All-Big Ten selection in 2017, Miller is an explosive athlete off the edge who should put Ohio State's offensive tackles to the test.
Gross-Matos, who starts opposite Miller, is also a solid edge player. He does his best work against the run, but has recorded three tackles for loss and 1.5 sacks this year. Shaka Toney, a 6-foot-3, 241-pound redshirt sophomore, also rotates in regularly off the bench and has recorded 3.5 tackles for loss and one sack this season, giving the Nittany Lions a solid top trio of defensive ends.
Defensive Tackles
30 Kevin Givens – 6-1, 285, Redshirt Junior
54 Robert Windsor – 6-4, 295, Redshirt Junior
Givens, who started six games in 2016 and five games in 2017, is the Nittany Lions' most experienced and productive defensive tackle, having recorded 11 total tackles with 2.5 for loss in just three games played this season. While he's undersized for a defensive tackle, he has great athleticism for the position and uses it well to get into the backfield and make plays.
Windsor has also shown solid ability to work his way into the backfield and disrupt plays early this season. They haven't been particularly stout as point-of-attack run defenders, however, and could be physically overmatched by Ohio State's massive interior offensive line.
Linebackers
7 Koa Farmer – 6-1, 230, Redshirt Senior
36 Jan Johnson – 6-2, 234, Redshirt Junior
6 Cam Brown – 6-5, 223, Junior
Farmer, the other of Penn State's two returning starters on defense, had a big game against Ohio State last season – recording seven total tackles with two tackles for loss, a fumble recovery with a 26-yard return and a 57-yard return on a short kickoff – but his play has been mediocre so far this season, as he's recorded 10 total tackles with one tackle for loss and hasn't emerged as the difference-maker the Nittany Lions needed him to be this year.
Johnson leads the Nittany Lions with 24 total tackles, while Brown has emerged as Penn State's most impactful linebacker, recording 18 total tackles, four tackles for loss and one forced fumble this year. The Penn State linebacker who has flashed as much as anyone this season, though, is a player whose name should be familiar to those who follow Ohio State recruiting: Micah Parsons, who has come off the bench to record 22 total tackles in his first four games as a Nittany Lions, showing the athleticism that made him a five-star prospect.
As a unit as a whole, though, Penn State's linebackers haven't been imposing enough around the line of scrimmage and have been inconsistent in filling running lanes and making tackles. If they don't get better this week, Ohio State could pick on them in the running game and with short passes.
Cornerbacks
21 Amani Oruwariye – 6-1, 205, Redshirt Senior
28 John Reid – 5-10, 180, Redshirt Junior OR 5 Tariq Castro-Fields – 6-0, 186, Sophomore
While Oruwariye wasn't a starter for the Nittany Lions in 2017, he still earned second-team All-Big Ten honors after recording four interceptions and eight pass breakups. As Penn State's No. 1 cornerback this year, he's shown that ability to make plays on the ball once again, recording interceptions in each of the Nittany Lions' first two games – including the game-sealing interception in overtime against Appalachian State – as well as a forced fumble in the season opener and a team-high five pass breakups this season.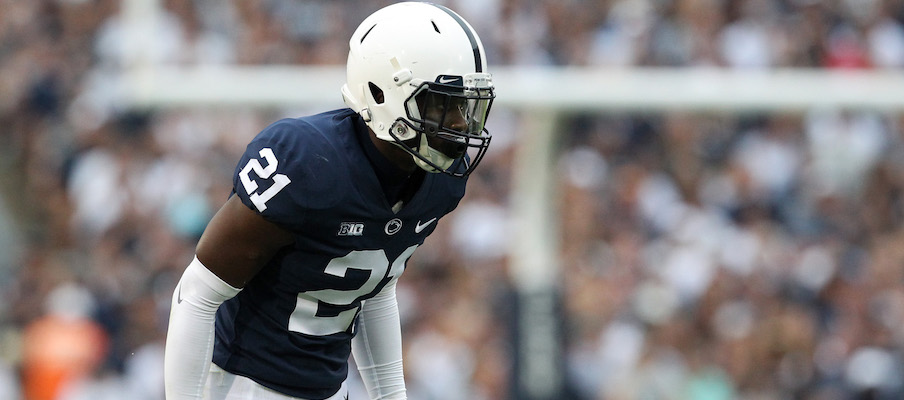 As a unit, though, Penn State's cornerbacks haven't yet been able to provide the consistent quality of coverage that Grant Haley and Christian Campbell did for the Nittany Lions last year. Reid, who was a starter in 2016 before missing the 2017 season with a torn ACL, has struggled in his return to the field this year, and each of the top three cornerbacks have been burned for big plays at one point or another this year. Castro-Fields has flashed promise in both breaking up passes and tackling in run support, but he needs to be more consistent, while even Oruwariye was beat for a 47-yard touchdown against Kent State.
If the Nittany Lions' cornerbacks don't step up their game this week, they're likely to be exposed by Dwayne Haskins and Ohio State's passing attack.
Safety
4 Nick Scott – 5-11, 200, Redshirt Senior
17 Garrett Taylor – 6-0, 203, Redshirt Junior
Like at cornerback, the Nittany Lions had to replace two strong starters from last year at safety (Marcus Allen and Troy Apke, who are both now playing in the NFL), and also like at cornerback, their play has dropped off as a result. Scott, in particular, has been a weak link at free safety, as he has too often been out of position in coverage and allowed plays to be made in front of him.
Taylor has performed well against the run at strong safety, recording 23 total tackles, including a team-high 16 solo tackles. This is another group, though, that has looked vulnerable in the middle of Penn State's defense, and the Buckeyes should find ways to attack them for potential big plays on Saturday.
Specialists
92 Jake Pinegar – 6-2, 197, Freshman (Field Goal Kicker)
93 Blake Gillikin – 6-2, 192, Junior (Punter)
90 Rafael Checa – 6-2, 205, Freshman (Kickoffs)
Gillikin is one of the Big Ten's top punters, earning second-team all-conference honors last season, but both of the Nittany Lions' new kickers – both true freshmen – have been shaky to start this season. Pinegar has made only one of three field goal attempts, while Checa has had three kickoffs out of bounds. So in a game in which every play could matter, Penn State's kickers have the potential to be a liability on Saturday.
Overall Outlook
Even with the losses of Barkley, Gesicki and top wide receiver DaeSean Hamilton from last season, Penn State's offense is as dangerous as ever this season, with Sanders and Hamler emerging as the Nittany Lions' new top playmakers around McSorley this year. The Nittany Lions still have plenty of skill-position weapons who can make big plays, McSorley brings experience and dual-threat ability at quarterback and a strong offensive line leads the way up front.
The Nittany Lions' personnel losses on defense, on the other hand, have proved much more problematic through their first four games of the year. Players like Jason Cabinda at linebacker and Allen, Campbell and Haley in the secondary appear to be sorely missed, and the Nittany Lions have struggled to stop offenses that aren't nearly as talented as Ohio State's (though Appalachian State's offense has also been among the nation's most productive to start the season) as a result.
Given that both teams have been outstanding on offense and inconsistent on defense to start the season, Saturday's game in State College appears primed to be a shootout. That said, Ohio State's defense will be the most talented defense that Penn State has faced yet this year, too, so the Nittany Lions will have to prove they can still score in bunches against stronger competition.
Considering that, Ohio State appears to have a slight edge on both sides of the ball going into Saturday's game, as Haskins has been a more potent and consistent passer than McSorley. The Buckeyes' defense has been similarly vulnerable to giving up big plays, but they've also shown more ability to make big plays of their own.
That said, Beaver Stadium is always a tough place to play, and the Nittany Lions are certainly talented enough to beat Ohio State if they play their best game and the Buckeyes don't.