Ohio State's game against Tulane on Saturday at Ohio Stadium might as well have been over at halftime.
Unless you wagered on Saturday's game and were waiting to see if the Buckeyes would score that one final touchdown to cover the spread (they finally did, on a 2-yard run by Tate Martell with 1:01 remaining in the game), the second half was basically devoid of intrigue. After taking a 42-6 lead into halftime, Ohio State took nearly all of its starters out for the final 30 minutes of Saturday's game, and coasted to the finish in its 49-6 win.
The question now is, was that a good thing going into one of the Buckeyes' most important games of the season – which will also likely be one of their toughest tests of the season – against Penn State next week?
Ultimately, the first order of business for the Buckeyes on Saturday was to take care of the Green Wave quickly. And they did that, scoring touchdowns on every one of their six first-half possessions – while only allowing one touchdown on their six first-half defensive series – to seize full control of the game by the end of the second quarter.
Ohio State quarterback Dwayne Haskins had another spectacular performance passing the ball on Saturday, completing 21 of 24 passes for 304 yards and five touchdowns, and the Buckeyes didn't lose any turnovers. Ohio State's defense, meanwhile, recorded 14 tackles for loss and held the Green Wave to just 256 yards and one score on 11 total drives.
Buckeyes coach Urban Meyer, in his first game back on the sidelines after serving a three-game suspension to start the season, was happy with how his team played on both sides of the ball.
"We played pretty good defense, still can get better, but overall very pleased," Meyer said. "Then offensively, Dwayne was 21 for 24 for 300 yards, five touchdowns, and we didn't turn the ball over."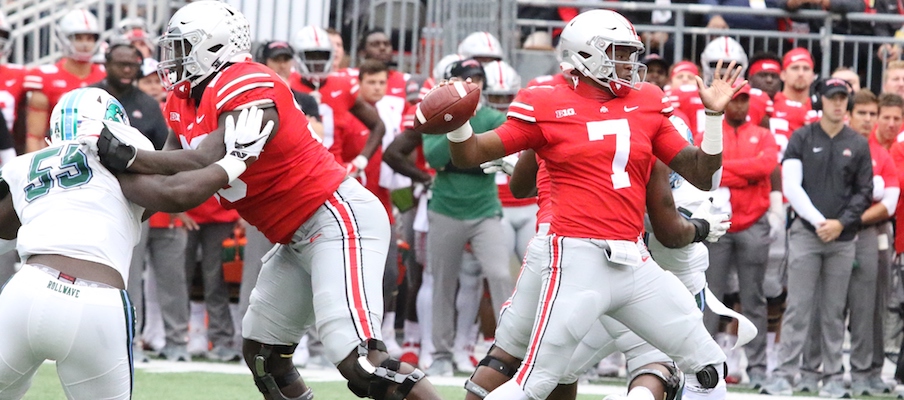 Of course, Saturday's competition wasn't nearly as tough as that which Ohio State will face at Penn State next week; Tulane is just 1-3 on the season, with its only win coming against a Football Championship Subdivision school (Nicholls State), and was clearly overmatched against Ohio State from the get-go.
Nonetheless, it was another great showing for Ohio State's offense – which accumulated 435 yards in the first half before the backups came in – and a step in the right direction for the Buckeyes' defense, which needed improvement after giving up 28 points and 511 yards, including several big plays, against TCU.
Once the outcome was in hand for the Buckeyes on Saturday, the second order of business was staying healthy for next week's much-anticipated game in State College, and for the most part, they accomplished that as well. Running back Mike Weber limped across the field and did not return after taking a hit on the Tulane sideline in the second quarter of Saturday's game, but Meyer described Weber's injury as just "a little strain on his foot" and said Weber "should be fine for next week." Defensive tackle Robert Landers was also held out of Saturday's game was an undisclosed injury, but he's expected back for the Penn State game too.
Keeping his team healthy and fresh was at the top of Meyer's mind when he made the decision to pull the team's starters – who did see some second-half playing time in similarly lopsided games against Oregon State and Rutgers – after halftime on Saturday.
"We played 80-plus plays down at TCU against a very fast team and in a very stuffy environment … then we show up on Tuesday, Wednesday, Thursday, and it's 90 degrees. Turned up the heat on us," Meyer said after Saturday's game, in which the Buckeyes did have the benefit of cooler, more moderate weather. "So we've been very cautious just about the burnout of a player and the health and welfare of our guys. That's one of the reasons we decided at halftime to end it and to get ready for (Penn State)."
Going into a game next week that is fully expected to be a four-quarter battle, Ohio State's starters will have only played a full game in one out of four games this season. Physically, that's less wear and tear on their bodies, but it also means they have to be prepared to play for four quarters without much experience doing so this year, and defensive end Chase Young acknowledged after the game that he'd like to have a little more playing time under his belt.
"Obviously you want to play some more football, but at the end of the day, it's God's plan," Young said.
The clear positive, though – after a game one week earlier in which the Buckeyes did have to overcome adversity against TCU – is that they never had to worry about losing to Tulane on Saturday, meaning that by the time the game was over, they were already mentally preparing themselves for the trip to Happy Valley.
"It's kind of already happened," Ohio State defensive tackle Davon Hamilton said with a laugh after the game when asked when he would start preparing for Penn State. "We were just talking about it actually in the locker room. Tomorrow's a big day. It's a big stepping stone. So we're going to be ready for it."
Ohio State didn't face much of a test this Saturday, but that's going to change in a big way next Saturday, as Penn State also has a 4-0 record going into next week's game, and beat Ohio State the last time the Buckeyes played at Beaver Stadium in 2016.
But while the Buckeyes expect next Saturday's game to be difficult, they say they're looking forward to the challenge.
"Playing against TCU last week got us ready for this game coming up, but last time we went to Happy Valley we didn't get a happy taste in our mouth," Haskins said. "So we're excited for this one."