When a defensive player gets ejected from a college football game, it's usually for an illegal hit.
Chase Young's ejection from Ohio State's 52-3 win over Rutgers on Saturday, however, resulted simply from getting a little too excited.
After blowing by the outside of Rutgers right tackle Kamaal Seymour and obliterating Scarlet Knights quarterback Artur Sitkowski for a sack in the second quarter, Young was penalized for unsportsmanlike conduct for spiking the football in celebration – giving him the American football equivalent of a yellow card.
Then, in the fourth quarter, Young was penalized for unsportsmanlike conduct again, this time for running onto the field from the sideline to celebrate an interception by teammate Shaun Wade – and that turned his yellow card into a red card.
By rule, any player who receives two unsportsmanlike conduct penalties in an NCAA football game is automatically disqualified from the game.
Because it's far more common for a player to be ejected from a game for targeting – which results in a suspension for the first half of the subsequent game if it occurs in the second half of a game – there was some confusion after Young's ejection as to whether he would be suspended for the first half of next Saturday's game against TCU. An Ohio State spokesperson confirmed after Saturday's game, though, that Young would not have to serve a suspension for his unsportsmanlike conduct ejection.
Other than the 15-yard penalties that came with each of his infractions, Young's ejection was ultimately meaningless, as he almost certainly wouldn't have returned to the game after that point anyways, with the Buckeyes up by 49 points after scoring their final touchdown on the possession following Wade's interception. Still, there's no question that Young heard about his penalties from his coaches on Saturday, as it's not something they will want to see happen again in the future.
"I love the emotion and the fever that he plays with," said defensive coordinator Greg Schiano. "We just got to make sure that we don't let it get in the way. In a tight ball game, it would be a shame to lose Chase. He understands. I think he's a young guy, but he plays with great emotion, and he's a really good player. He's really hard to block. So that's not going to be a big thing. We just got to kind of make sure it doesn't happen."
Before his ejection, Young recorded two sacks in Saturday's game.
Fuller returns to the lineup
After missing Ohio State's season opener with a hamstring injury, starting safety Jordan Fuller returned to Ohio State's lineup on Saturday, playing every snap with the first-team defense and recording three tackles and one pass breakup.
With Fuller back in the secondary, Ohio State's defense played substantially better against Rutgers, allowing only three points on 134 yards, than it did against Oregon State, who had 31 points on 392 yards against the Buckeyes.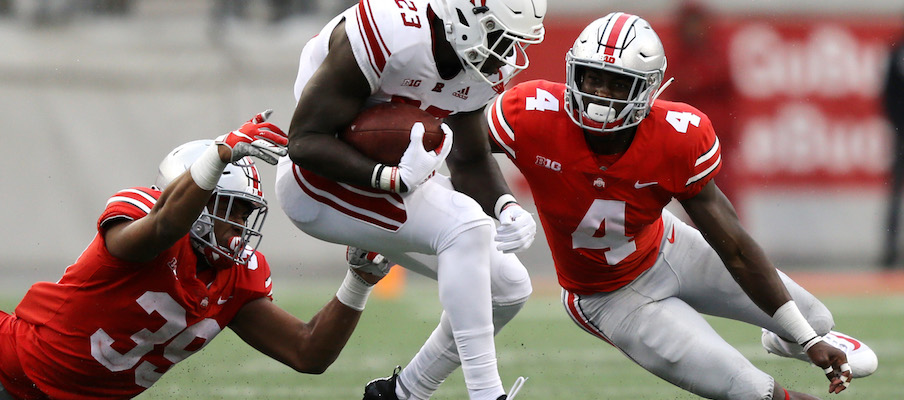 Certainly, Ohio State's improved defensive performance against the Scarlet Knights had to do more with than just Fuller. But considering that Ohio State safeties Isaiah Pryor and Jahsen Wint were victimized on multiple big plays against the Beavers, and that Schiano said last week that Fuller was a "sweeper" and an "insurance policy" on the back end of the Buckeyes' defense, it's fair to make the connection between Fuller's return and the lack of big plays by Rutgers' offense.
"He's such a stabilizing force," Schiano said after Saturday's game.
Fuller said it was difficult to have to watch the season opener from the sidelines, and it was important to him to be back on the field to play against Rutgers – from his home state on New Jersey – on Saturday. But he also expressed confidence that Pryor and Wint could have gotten the job done without him if they needed to.
"The main job of a safety is if the ball pops, get it on the ground," Fuller said. "So I definitely try to take pride in that, and I feel like it's my job to get him on the ground if he does. But I mean, I think if Jahsen was in that situation, I think if Isaiah was in that situation, they would have made the same play."
Pryor remained in the starting lineup alongside Fuller on Saturday, but Wint also rotated in with Pryor for multiple series with the first-team defense alongside Fuller. Both safeties also recorded three tackles in Saturday's game.
Wade plays a big role, too
Fuller's return to the starting lineup wasn't the only change in Ohio State's secondary on Saturday, as redshirt freshman cornerback Shaun Wade was promoted to the nickel cornerback position after playing only nine fourth-quarter defensive snaps in the season opener.
While the Buckeyes had previously played Damon Arnette at slot cornerback in their nickel defense dating back to last season, the Buckeyes kept Arnette on the outside on Saturday – continuing their three-man outside cornerback rotation of Arnette, Kendall Sheffield and Jeffrey Okudah – while trusting Wade, in his just second game as a Buckeye, to take on a significant role with the first-team defense.
In addition to his aforementioned interception – which came as an outside cornerback with Ohio State's second-team defense – Wade recorded two tackles and an additional pass breakup on Saturday.
When Schiano said Thursday that the Buckeyes would "move Shaun all over the place" and that Wade was a player who could get "a bigger and bigger role as time goes on," the speculation was that Wade could see playing time at safety on Saturday, particularly if Fuller wasn't ready to return to the lineup. With Fuller back on the field, though, Schiano and the Buckeyes decided playing Wade at nickel cornerback was the best way to get him more heavily involved.
"Shaun has just been progressing in practice, and as we always talk to our players about, it's the most competitive environment in college football," Schiano said after Saturday's game. "And everybody, when you get your opportunities, if you make the most of them, you're going to get more opportunities. And they're not unlimited. So you have to take advantage of the ones you get. And Shaun has done that."
Dixon returns to familiar territory
Johnnie Dixon doesn't always catch passes for Ohio State, but when he does, he often ends up in the end zone.
Dixon reached the end zone twice on Saturday, scoring 38-yard and 44-yard touchdowns on a pair of deep balls from Dwayne Haskins, on a day that he caught four total passes for a team-high 89 yards.
That means that Dixon has now scored 10 touchdowns on just 23 catches – averaging more than 22 yards per catch in the process – dating back to the start of last season.
Dixon said after Saturday's game that he doesn't necessarily believe that he has any special ability, in comparison to Ohio State's other wide receivers, that makes him so prone to scoring touchdowns. He does feel fortunate that it's been working out that way, though, after he was sidelined by injuries for most of his first three years at Ohio State.
"I just hope God continues to bless me," Dixon said. "That's all it is. Almost leaving the game and not having any catches or any touchdowns, and it's just nothing short of a blessing."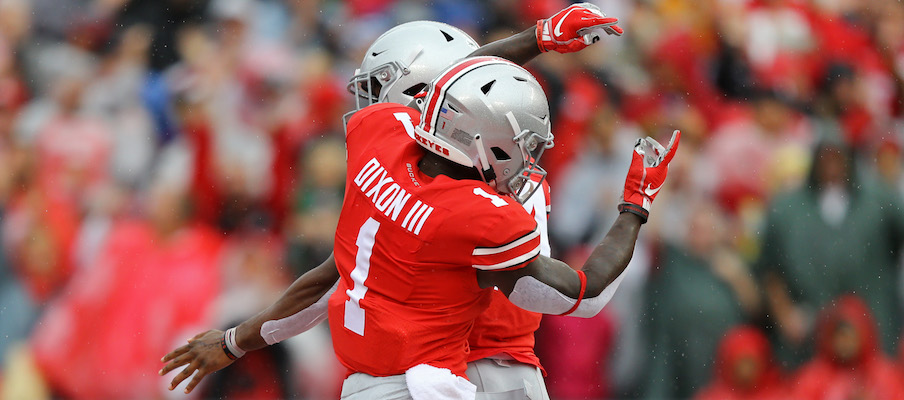 Haskins, however, said after the game that "Johnnie is definitely a home run maker every time he touches the football." And acting head coach and offensive coordinator Ryan Day described Dixon as "a big-play guy," and said the Buckeyes did look to target him because of that ability on Saturday.
"He's down-the-field and he can track the ball," Day said of Dixon's ability. "On those plays, we were trying to take a shot. There was a young corner there on the field. We thought if we got the right look, we'd take that matchup."
Saturday's game was Dixon's fourth two-touchdown game of his career, having also accomplished that feat against Rutgers last season, as well as against Penn State and Iowa last year.
Several Buckeyes make their debuts
While many of Ohio State's freshmen made their Buckeyes debuts in the season opener against Oregon State, there were several other players – specifically on the offensive side of the ball – who saw the first playing time of their Ohio State careers against the Scarlet Knights.
Redshirt sophomore offensive lineman Gavin Cupp saw the first playing time of his Ohio State career in the third quarter of Saturday's game, lining up at left guard with the second-team offense, and redshirt freshman wide receiver Ellijah Gardiner made his debut as a Buckeye on the same series.
Graduate transfer quarterback Chris Chugunov made his Ohio State debut in the fourth quarter of Saturday's game – first, for one play, when Tate Martell had to check out of the game after a hard hit, and later on the Buckeyes' final possession of the contest.
True freshman H-back Jaelen Gill, who did not play in the season opener, saw his first Ohio State playing time on the final possession of Saturday's game.
Several walk-ons also played for the first time for Ohio State's offense in the fourth quarter of Saturday's game, including senior tight end Tate Duarte, sophomore wide receiver Garyn Prater, sophomore running back Mitch Rossi and freshman wide receiver Sam Wiglusz.