Michael Jordan didn't know until this summer that he could end up being Ohio State's new starting center this season.
Throughout spring practices, Ohio State's plan was to keep Jordan at left guard – the position at which he started every game for the past two seasons – as Brady Taylor, Josh Myers and Matthew Burrell competed to replace Billy Price at center.
But after neither Taylor nor Myers was able to seize a stronghold on the job, and Burrell transferred out of the program to Sam Houston State, while Malcolm Pridgeon emerged as another strong candidate to start at left guard, Ohio State offensive line coach Greg Studrawa approached Jordan about the possibility of moving to the middle of the line.
Meeting with the media on Wednesday for the first time since making the move to center, Jordan said Studrawa left the decision up to him. Jordan agreed to make the move, though, because he felt it was the best interest of his team.
"He wasn't going to force me to do it, so it was my choice, and I ultimately chose to play center," Jordan said. "Just the fact that we can have the five best guys out there at all times."
With only a few months between finding out he would move to center and Saturday's season opener against Oregon State, Jordan had to adjust quickly – and it certainly was a significant adjustment – to playing a new position that comes with the added responsibility of snapping the ball and directing the rest of the offensive line.
Playing center is also more challenging, Jordan said, because it requires the offensive lineman to be ready to block even quicker.
"It's much faster, because the guy's right in front of you," Jordan said. "You have a little bit more space to come off the ball at left guard, and even more space at left tackle – or right guard or right tackle – so the guy's right there and you really have to be quick."
The transition wasn't as hard as it could have been, however, because of the way Ohio State coaches its offensive linemen to be prepared to play positions other than their own.
"If you're playing offensive line at Ohio State, your job is to know all five positions," said Jordan, who is in his junior year.
Jordan certainly has big footsteps to follow, as he's the third straight Ohio State starting center to move into that role after previously starting at guard, and each of the previous two – Price last year, and Pat Elflein in 2016 – went on to win the Rimington Trophy as college football's best center.
He says that motivates him to try to be one of college football's best centers himself.
"It motivates me every day to make sure my snaps are good, and make sure that I'm doing my assignments, and make sure I'm organizing the O-line, and make sure that I have everything right," Jordan said.
Jordan said he has gotten advice from Price, who is now the starting center for the Cincinnati Bengals, over the past few months as he has made the transition.
"He just really told me, he said, 'Work on taking short steps and really firing off the ball,' and he said, 'Don't think about snapping,'" Jordan said. "Once you start thinking about it, that's when you're going to mess up."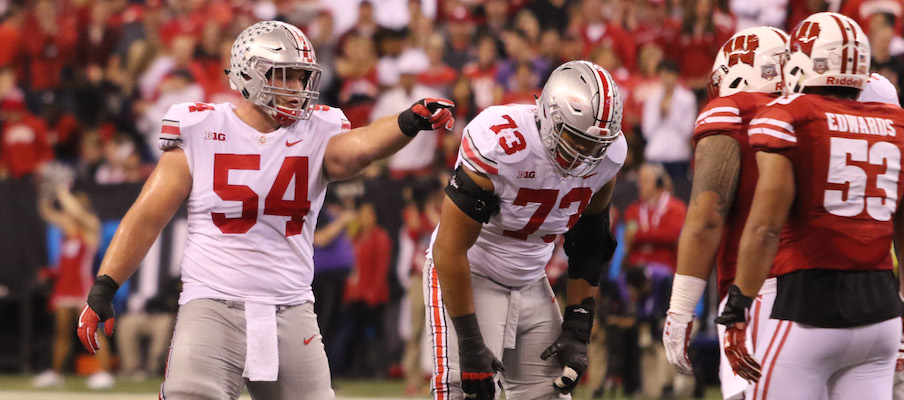 Like Price and Elflein, who is now the starting center for the Minnesota Vikings, Jordan should get his opportunity to play in the NFL after his Ohio State career is over. Also like Price and Elflein, playing center this year – and demonstrating the versatility to play both center and guard – could elevate his stock for either the 2019 or 2020 NFL draft, depending on whether he decides to declare for the draft after this season.
That said, Jordan said his agreement to move to center wasn't motivated by his pro prospects.
"It was really just what does my team need, and something my coach asked me to do," Jordan said.
Jordan is a different player than Price and Elflein, in part that he is significantly taller than the typical center – while Price measures in at 6-foot-4, and Elflein measures in at 6-foot-3, Jordan is 6-foot-7 and 312 pounds.
That can make it more challenging to play center, as the position requires flexibility to bend down and snap the ball before coming back up to block, but Jordan said he has worked on stretching techniques – actually taking yoga classes at Ohio State this summer – in order to improve his flexibility.
"It's much faster, because the guy's right in front of you. You have a little bit more space to come off the ball at left guard, and even more space at left tackle – or right guard or right tackle – so the guy's right there and you really have to be quick."– Michael Jordan on the adjustment to playing center
It was hard for Jordan to evaluate whether he was actually good at playing center during fall camp, he said, because he was going up against Ohio State's vaunted defensive line – specifically, in most instances, against starting nose tackle Robert "BB" Landers – which meant he was always facing tough competition.
"It's really challenging going against our D-line, and our D-line's really good, especially going against BB," Jordan said.
But after a strong first start at center in Saturday's season opener, in which the Buckeyes had 721 total yards of offense and he was graded by his coaches as a "champion," Jordan said he is now feeling comfortable in his new position.
"There's definitely a lot more room for progress for me, but I didn't think it was too bad for my first time," Jordan said.